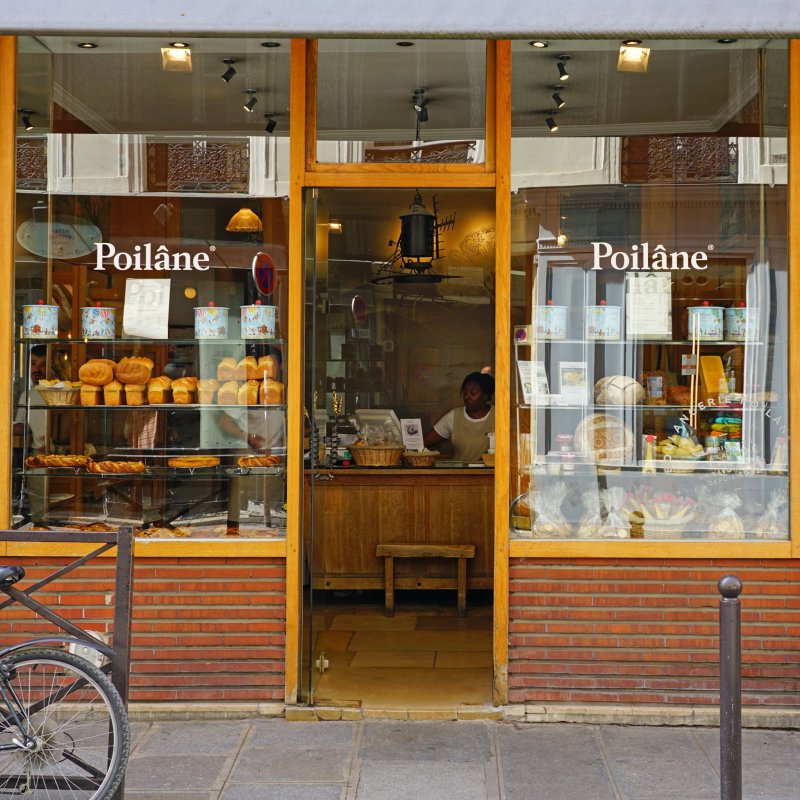 As a former baker in New York City, I have a special appreciation and love for French bread and pastries. My appreciation deepened when I moved to Paris in 2005 and started to learn the art of bread and pastry making following the strict rules the French government sets to control pastry quality.
Did you know that in order to be called an official boulangerie (bakery) in France, you have to bake your bread on the premises, and you can't use premade or frozen dough? Baguettes have their own set of rules when it comes to ingredients and sizes. A baguette must be made with only the following four ingredients: wheat flour, water, salt, and yeast, and it must weigh between 8.8 and 10.8 ounces and measure between 8.8 and 10.6 inches long.
Bread and bakeries are such a fundamental part of French life, as is the summer holiday period, during which most French workers have five weeks of vacation to be taken in July and August. Many bakeries close for an entire month, but there's a law that states that a bakery must be open in every neighborhood during the vacation period so Parisians are never without their daily bread.
On almost every street corner in Paris, you can smell the unmistakable scent of bread and croissants being freshly baked, and as you stroll into the bakery, your mouth will water as you encounter the sights and smells of tempting breads and pastries. Best of all, you may be lucky enough to be there in time for a warm baguette or crusty croissant straight from the oven.
Below is a list of the seven best bakeries in Paris. Warning: Don't read this article on an empty stomach!
1. Maison Landemaine
A small chain of bakeries, Maison Landemaine consistently produces some of the best breads and pastries in Paris. Each branch has its own baking facility on premise, preparing everything from baguettes to fruit tarts to pain au chocolat to buttery croissants.
Owner Rodolphe Landemaine took years to develop his craft of traditional French breadmaking, studying at two culinary schools and working with top bread makers, pastry chefs, and culinary chefs Pierre Herme, Lucas Carton, and Paul Bocuse. Maison Landemaine also makes quiches, fresh sandwiches, and pizzas.
2. Du Pain Et Des Idees
Located near the trendy Canal Saint-Martin, Du Pain et des Idees is consistently rated one of the top bakeries in Paris in best bakery articles published around the world. Owner and baker Christophe Vasseur quit his corporate job to follow his passion to become a baker. He patiently waited almost two years to find the proper space and settled on a former bakery from 1875 that already had the equipment and ovens. Self-taught, he only uses the highest quality flour and other ingredients.
Most bakeries in France also make and sell pastries, but Du Pain et des Idees sets itself apart by concentrating on bread only. Special attention is given to their loaves of sourdough country bread. However, they do turn out their famous pistachio chocolate roll, apple turnover, and raisin escargots, too. The interior and exterior of the bakery still retain architectural and decorative remnants of the original bakery from 1875, including glass etchings of wheat, a hand-painted glass ceiling, and gilded gold moldings.
Du Pain et des Idees has won numerous and prestigious awards, including the best bakery in Paris according to the Pudlo and Gault Millau food guides.
Pro Tip: Du Pain et des Idees is closed on the weekends.
3. Pralus
In 1955, August Pralus invented a new brioche bread speckled with bits of crunchy praline and proudly put it in his showcase. It became an instant hit, and the rest is history, as they say. On Saturdays, the shops are known to sell over 800 loaves, and they are also shipped internationally to the U.S. and Japan. What makes the loaves so special is the secret blend of the praline bits, which incorporates hazelnuts from the Piedmont region of Italy and almonds from Valencia, Spain, which are then coated in rose-flavored sugar to give them that extra crunch.
Today, Pralus is owned by August's son, Francois, who not only keeps up the tradition of his father's culinary masterpiece but is also a serious chocolatier. Francois is one of the few chocolatiers in France who imports his own beans from his plantation in Madagascar and makes his own chocolate directly from the beans. He also imports beans from other countries, too, offering 15 varieties and flavors, including dark and milk chocolates with flavors of praline, nougat, pistachio, and coffee.
Besides six shops in Paris, Pralus has a shop in almost every major city in France.
4. Poilane
Behind one of the most beloved bakeries in Paris, Poilane, is the fascinating and tragic story of a three-generation, family-owned business.
In 1932, Pierre Poilane opened his bakery in between the Saint Germain and Montparnasse areas of Paris, on the Left Bank. His specialty was a sourdough, a country loaf made with stone-ground flour and weighing almost five pounds, and he baked them in the original 18th-century ovens in the basement. Many struggling artists lived near the bakery, and to accommodate their meager or non-existent earnings, Pierre asked them to give him paintings of bread in exchange for loaves of his bread. The gallery with the bread paintings still stands in the original shop, along with a chandelier made of bread by Salvador Dali.
Pierre's son Lionel took over the business in 1970, expanding its bread production by building a factory with 24 ovens, exact replicas from the shop, outside of Paris, which now produces 15,000 loaves per day and shipped worldwide. At the height of his career, Lionel, at the age of 57, and his wife, were killed in a helicopter accident. His daughter Apollonia, who had just started as a student at Harvard University, took over the bakery, and since then, has grown Poilane into an international brand.
The shop still sells its eponymous sourdough loaf, proudly embossed with the letter P, and you can purchase a full loaf (it freezes well), a half or quarter loaf, or even just two slices. Interestingly, Poilane does not sell baguettes. Their other specialties include raisin rolls, apple chaussons, and flan. Do not leave Poilane without buying a bag or gift box of their scrumptious and irresistible butter cookies, called punitions.
5. Arnaud Delmontel
Every year, there's an award given out to the bakery with the best baguette in Paris. If you win first place, you receive a cash prize of 4,000 euros, but the real award is that the baker is then given an exclusive contract to supply their bread to the president's palace for a year. Many times, small local bakeries become famous overnight from the publicity they receive.
In 2009, Arnaud Delmontel received that honor, which helped him expand his one bakery into three additional locations. In 2016, Delmontel switched to using organic flour in all of his products and went on to receive the prize for the best organic bakery in Paris in 2016 and 2018. To top his prize-winning creations, his millefeuille — paper-thin, pastry layers with pastry cream in between — was voted the best in Paris in 2010.
Even with all of the awards and accolades, the Arnaud Delmontel on Rue des Martyrs is still a neighborhood bakery, catering to local residents, although you will find tourists and other Parisians making a special trip for their baguettes and millefeuilles.
6. Gontran Cherrier
Blessed with good looks and a great talent for baking, Gontran Cherrier is a star baker in France who frequently appears on television. He's a fourth-generation baker, and his traditional training came from working and studying with his father at his bakery in Normandie. He later completed classes at two well-respected cooking and baking schools and, after finishing school, he worked at a number of Michelin-star restaurants in Paris as a pastry chef. His worldwide travels have also influenced his baking, and he infuses foreign flavors into his breads and pastries.
Cherrier opened his first bakery in the residential part of Montmartre in 2010, and it is one of the few bakeries on this list that also has a cafe. One of his specialties is his monochrome bun range, which comes in five colors and flavors including a black bun with squid ink and a red bun baked with paprika. Besides staples such as baguettes and peasant bread, Cherrier has added some surprising flavor pairings such as miso rye bread.
If you visit Gontran Cherrier at lunchtime, make sure to have one of their excellent sandwiches or other savory dishes followed by a sweet pastry.
Pro Tip: Gontran Cherrier makes a selection of gluten-free breads and pastries.
7. Gerard Mulot
One of the most popular bakeries in Saint Germain des Pres on the Left Bank, Gerard Mulot represents French baking at its best. In addition to the classics such as croissants, baguettes, fruit tarts, eclairs, creme brulee, Paris Brest, and Baba a Rhum, Gerard Mulot offers a full range of takeout foods such as quiches, mini-pizzas, open-faced sandwiches, salads, and three-course dinner plates. If that wasn't enough, they also sell a line of fine chocolates.
Pro Tips
Boulangeries are required by law to close at least one day a week, so make sure you look on their website or shop window to see what day or days (some close two days a week) they are closed. Also, every bakery on this list has more than one location, except for Gerard Mulot.