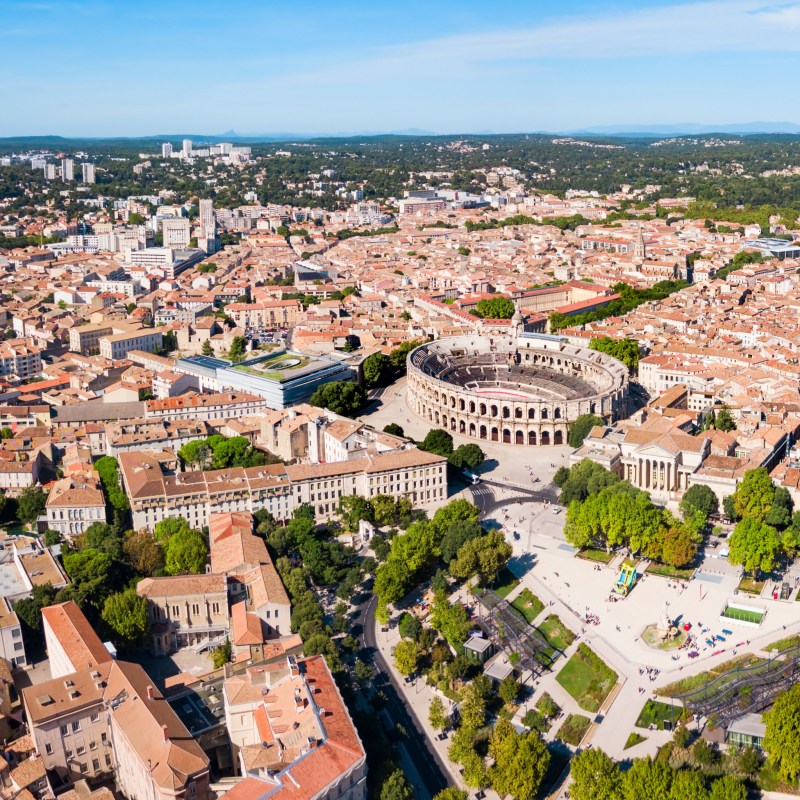 Nimes, in southern France near the Mediterranean Sea and the popular Provence region, is one of the less-traveled cities in France by American travelers. Ripe for discovery, Nimes was a major city during the Roman Empire dating back to 28 B.C. with a population of approximately 55,000 people. A number of significant structures from the Roman period still exist, including an arena and a temple. The city has undertaken the delicate and arduous task of restoring and maintaining them.
Things To Do In Nimes
Almost all of the Roman remains are located in the old part of the city, a compact area that's easily walkable and accessible.
The Arena
The single most important attraction of the city is the Amphitheatre of Nimes, a Roman amphitheater/arena constructed in 70 C.E., a short time after the Colosseum of Rome. It's one of the best-preserved Roman arenas in the world and is still in use today. The impressive arena is the centerpiece of Nimes, measuring 145 yards long and 110 yards wide, with 60 arcades, and it once held up to 24,000 people. Since it can seat such a large crowd, the arena hosts rock concerts, bullfights, and reenactments of Roman gladiator spectacles. There are multiple galleries in the arena, such as the gladiators' quarters, where costumes and weapons used in gladiator fights are displayed. Three short films illustrate gladiator training and combat, and the bullfight gallery contains artifacts, outfits of the matadors, posters, and documents.
Maison Carree
Another formidable Roman treasure in Nimes is Maison Carree, an ancient temple linked back to the first century. Rising nine stories in a rectangular formation permeated by Roman columns, Maison Carree is a sturdy specimen of the Vitruvian style of architecture. A recent restoration that took place from 2006 to 2010 cleaned the dark facade marred by air pollution, and now the brilliance of the limestone stands out. Inside Maison Carree, a 25-minute film about the history and construction of the temple is shown on a loop.
Across from Maison Carree is Carre d'Art, a contemporary art museum and library built in 1993 and designed by British architect Norman Foster.
Jardins De La Fontaine
After the Roman Arena, the next must-visit place in Nimes is the spectacular Jardins de la Fontaine. Christened in 1745, Jardins de la Fontaine was one of the first parks open to the public in Europe. The 37-acre neo-classical garden, filled with sweeping stone staircases, monumental statues and clinging cherubs, marble vases, and expansive rows of balustrades, is a wonderland, so take the time to explore and wander.
Waterways run below the park, which originally was a spring from Roman times. The Mediterranean garden has pine, cypress, and oak trees, plus there's a rock garden, grottos, and a pool with aquatic plants.
Two more important Roman structures are inside the park: the Temple of Diana, a temple from the first century, and Tour Magne, a nearly 60-foot-tall stone tower, and the sole remnant of the Augustan fortifications. Tour Magne was brought to use again during the Hundred Years' War to protect from English invasion.
Pont Du Gard
About 30 minutes outside of Nimes is Pont du Gard, a Roman aqueduct bridge built in the first century, spanning the Gardon River to transport water to Nimes, a distance of 31 miles. An architectural marvel of its time and even now, the 52 uniform archways rise over three levels at 161 feet. At one time, the aqueduct sent over 10,000 gallons of water to the homes, fountains, and baths of Nimes. An appointed UNESCO World Heritage Site, Pont du Gard is one of the most visited tourist sites in France.
Roman Museum
Although it houses artifacts that are thousands of years old, the recently opened Museum Romanite is a fully modern and technologically advanced showplace for Roman architectural ruins. Appropriately located across from the arena, the museum has a treasure trove of over 5,000 items, including ancient columns, statues, sculptures, pottery, and mosaics. The 65 interactive multimedia displays let you explore 25 centuries of history, including the pre-Roman, Roman, and Medieval periods. A rooftop terrace overlooks the Nimes skyline with a 360-degree view, with markings for the important monuments on the horizon. A sizable garden in the rear of the museum is laid out on three levels with a timeline of the pre-Roman, Roman, and Post-Roman periods, with each level displaying plants and fauna. Admission to the garden is free, and the entrance to it is beside the museum.
Best Restaurants In Nimes
Nimes is famous for brandade de morue, a local favorite prepared with salted codfish, mashed potatoes, and garlic baked in a casserole dish.
La Nimoise
La Nimoise specializes in authentic brandade de morue with a family recipe dating back to 1851. There are three locations in Nimes: One location is the kitchen and factory shop where you can purchase jars of brandade to take home, the other location is in a food market, and the third location is a sit-down restaurant.
Les Halles De Nimes
Les Halles de Nimes is the official indoor food market of Nimes. Foodies will have a culinary blast tasting local foods, including brandade de morue, picholine olives, cassoulet, and Roquefort cheese. The expansive market has 85 stalls with fruits and vegetables, butchers, prepared food, bread and pastries, cheese, seafood, condiments, spices, wine, and flowers.
Duende And L'Impe
Parisian master chef Pierre Gagnaire, with 16 Michelin stars under his culinary belt, has now graced Nimes with two restaurants in the five-star Maison Albar Hotels L'Imperator. Duende is a haute cuisine restaurant only open for dinner four nights a week and lunch two days a week. Two tasting menus are offered: six courses for 160 euros and nine courses for 205 euros.
L'Impe is the more informal brasserie. Born and raised Nimes resident Chef Nicolas Fontaine, under the direction of Pierre Gagnaire, prepares cuisine inspired by Provence and the Camargue regions surrounding Nimes. The airy dining room has a glass wall that overlooks a terrace garden, which also tables under a lush Gingko tree.
Barns
Set in a lovely tree-lined plaza with modern sculptures, Barns serves organic, handmade food sourcing local ingredients. Monday through Friday, Barns offers a two-course menu for 19 euros and three courses for 23 euros.
Best Places To Stay In Nimes
Villa Meridia
A private mansion from 1912 with a Mediterranean garden and a saltwater pool, Villa Meridia has been converted into an elegant but relaxed bed and breakfast. The four contemporary rooms have air conditioning, Nespresso machines, flat-screen televisions, and French linens. In the summer, homemade breakfast is served in the garden by the pool.
L'Imperator Hotel
The only five-star hotel in Nimes, the Maison Albar Hotels L'Imperator, an art deco gem from the 1930s, had a complete makeover recently. The one-time hideaway of Ava Gardner, Ernest Hemingway, and Pablo Picasso, the hotel retains a hidden oasis-like feel. The sumptuous rooms and suites have a smart, contemporary design inspired by art deco elements. A sprawling outdoor garden, restaurant, and lounge area is surrounded by a lush garden brimming with trees, plants, and flowers. There are also one- and two-bedroom villas with full kitchens, a dining area, and living rooms located in a separate building. There's an outdoor freshwater heated pool, and in the Codage spa is an indoor pool with a setting to control the current so you can swim laps. The Codage spa also offers massages, customized facials according to skin type, and skin peelings, plus a steam room and sauna. The sleek Hemingway Bar offers an extensive cocktail, wine, and beer menu in an opulent, sexy setting. The two restaurants in the hotel are mentioned above in the restaurant section.
Pro Tips
Trains from Paris are the fastest and most efficient way to get to Nimes. The TGV train from the Gare de Lyon station takes 3 hours. Make sure to choose the Nimes station, not the Pont du Gard station, when booking your ticket. Rates start at as little as 40 euros per person round trip.
Nimes is the warmest city in France, and it's common for the temperature to rise to the mid to high 90s in July and August. May and October are the best months to visit, although the temperature rarely goes below 50 degrees during the day, even in January and February.
The Nimes City Pass allows access to most local attractions and the ones listed above. They offer a two-day pass for less than 40 euros per person, and there's also four-day and seven-day passes available.
Looking to read more about the beauty of France? Here are a few of our recommendations!