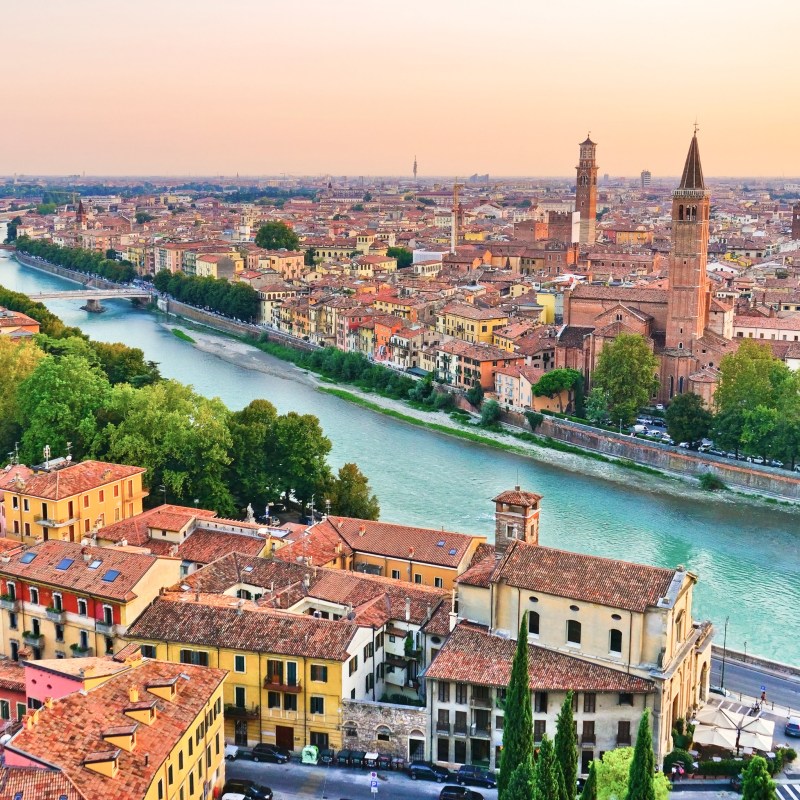 A hop, skip and a jump from Venice, Verona lies on the autoroute coming from Milan, via Lake Garda, to Venice, but strangely, is often bypassed by visitors. In the northeast of Italy, the Veneto region in which Verona lies is famous for its meandering hills, and its light wines, with Prosecco being probably the most famous. Verona is best known for its Shakespeare connections as Two Gentlemen of Verona and Romeo and Juliet were set here. Then there is its world-famous open-air opera festival in the ancient Roman amphitheater.
But there is plenty more to see and explore, with Verona being easily explored on foot and sights of historical interests found at every turn. The small old city, conveniently looped by the Adige river, is a perfect place for an Italian weekend break filled with history, culture, food, drink, and a bit of shopping.
Things To Do In Verona
Listen To Opera In The Arena
The Arena di Verona dates to 30 A.D. It was once an amphitheater set outside the Verona city walls, where a crowd of up to 30,000 visitors would have watched gladiators fight and chariots race. Partially destroyed in the 1100s, it was restored and is still in demand as an events venue today, most famously for the annual opera festival, held every summer. The operas performed are often shown in Verona before they head off to major cities around the globe, and they are generally chosen to appeal to a wider audience, making it possible even for non-aficionados to enjoy a performance in this spectacular setting. But, if you really cannot handle opera, simply opt to visit and explore the arena itself during the day.
Before you go to see an opera though, and if you have booked a seat on the stone steps, make sure to bring a cushion as 3 hours sitting on rock can be, quite literally, hard. Bring a jacket and wear comfortable clothes as this is an ancient amphitheater open to the elements and not a comfortable sheltered opera house.
Pro Tip: Have dinner beforehand on the lovely Piazza Bra just outside the arena.
People Watch On Piazza Delle Erbe
This square, the Square of the Herbs, is full of architecture, history, sights to see, and a market, all hemmed by countless cafes and restaurants. You can easily spend an entire day just enjoying this spot in Verona. My favorite way of enjoying this gorgeous setting is to find myself a nice spot on a terrace and settle in for an hour or two over a coffee or a glass of prosecco. Or two. People watching is at its best, with locals and visitors alike milling past, shopping at the market, and bustling around some of the sights. This square is an homage to the wealth of the merchants who resided here, but beware, as it is also popular with the not-so-wealthy pickpockets trying to make a living. So hang onto your possessions.
Scale The Heights Of Torre Dei Lamberti
For a break from people watching on Piazza delle Erbe, pop across to the Lamberti Tower that stands in the middle of the square. Eight hundred years old and standing 275 feet tall, you get some fabulous views from the top of the towers across the old city. You can scale the tower's 368 steps — which is rewarding and maybe an option if you need to work off some of the scrumptious and calorie-laden Italian food, but can be hard on the knees — or you can take the lift to the top to save your breath.
Pose On Juliet's Balcony
This is where romance wins over truth, but Verona makes it all feel so real. Visiting Juliet's House and standing on her balcony from where she ached for her beloved Romeo, all seems to make perfect sense, making you completely forget that they were fictional lovers. But there is no denying the romance if you can just look past the crowds of people and the queue for posing on the balcony. What makes the line between fiction and reality even more blurry is that the house was actually lived in by the Cappello family, very similar to Juliet's family's name of Cappelletti, and that, if you post a letter or even send an email to Juliet about a personal love dilemma through the Juliet Club, you may actually get an answer back.
Editor's Note: Try using Google Chrome's "Translate this page" option if you would like to learn more about Juliet's House or the Juliet Club and do not read Italian.
Go For A Walk Along The River
Verona's Adige is Italy's second-longest river, springing in the Alps and flowing into the Adriatic Sea, meandering through Verona along its 250-mile journey. The Adige nearly holds old Verona in a loop, only open at the southern end, and makes for a nice walk, studded with some pretty bridges to pop across and take pictures from. Check out the castellated Ponte di Castel Vecchio from the 1300s, which is a perfect setting for sunset, and the truly ancient Ponte Pietra (Italian for stone bridge) dating to 100 B.C. A couple of more modern examples complete the eclectic roundup. If you are feeling like stretching your legs, walk for an hour to the village of Chievo on the outskirts of Verona to see the Ponte Diga Chievo, which doubles as a dam.
Ride The Funicular Castel San Pietro
For a great view across the river and the old city, take a ride up the funicular to Castle San Pietro. If you are a funicular aficionado like I am, this is a must-do. Either way, the views are fabulous, and there is a bar, so a sunset aperitivo rounds off the trip up the steep hill very nicely.
Editor's Note: Read more about Ulrike's take on the 11 best funiculars in the world here.
Stroll The Giardino Giusti
For garden enthusiasts, the Giusti garden is a must-see. Manicured and perfectly laid out, the tall and slender cypress trees mark the various sections of the garden, which include a maze. Over the years, this gorgeous setting inspired the likes of Goethe and Mozart, who visited on their respective Italian tours.
Best Restaurants In Verona
This is Italy, and it is difficult to go wrong with Italian food, to be quite honest. Yes, there are some tourist traps, especially on Piazza Bra by the arena, but even a humble slice of pizza bought through a shop window and eaten on a bench in a piazza is usually better than anything you get back home.
For breakfast, head either straight to Piazza delle Erbe for a coffee on a cafe terrace accompanied by a brioche filled with pistachio cream, or a local cream puff bought at a small bakery such as Pasticceria Barini.
For a lunch on the run, pop into Pizzeria Zio Lele. With more than 50 different pizzas to offer, and many available as smaller slices for take-out, this is an easy and cheap place to grab a bite between the sights.
For dinner, why not try the local delicacy of risotto Amarone, which combines the locally grown rice variety and locally produced red wine? Visit one of the city's oldest restaurants, the Bottega Vini, have a bottle of red wine to accompany the dish, and just revel in the comfort the risotto exudes and the history of your surroundings.
Editor's Note: Hungry for more? Read up on 15 delicious types of pasta to try in Italy and where to get them. A Verona staple made the list!
Where To Shop In Verona
Verona is dotted with fashionable individual boutiques and old-fashioned shops as well as all the high street brands. With the old city center mostly pedestrianized, both window and real shopping are a delight, especially as the setting is so historic and a million miles away from modern malls.
Around Piazza delle Erbe, where the daily market (except Sundays) is fun to explore, lie many antique shops offering everything from appropriate Roman coins to sleek art deco decor items and marvelous furniture that can be easily shipped abroad. And to combine history with shopping, the Corso Sant'Anastasia and Corso Porta Borsari (two lovely Verona streets) are lined with beautiful architecture and exclusive shops.
If you are driving yourself, on Verona's outskirts you can find a handful of designer outlet shops where you can get high-end fashion and home decor items at a huge discount.
Best Places To Stay In Verona
Verona truly seems to have it all: You can have a Juliet-inspired romantic four-poster bed in a historic hotel or self-cater in a low-cost but historic Airbnb. It really depends on your budget and what brings you to Verona. For a romantic weekend — and there is no such thing as an ordinary weekend in Verona because the city oozes romance throughout — why not splash out and go historic and plush?
Stay in Juliet's house, or as close as it comes, in the same complex and with rooms overlooking the actual balcony at Sogno di Giulietta. Pure romance, even if the outside gets a little busy during the day.
On the other side of the river but within walking distance to the old center, you can stay in a converted private art nouveau house, where the service is personal and family-run, and your budget won't be stretched too thin.
For an Airbnb in the historic center and complete with its own Juliet balcony, try something like this apartment.
If, however, you are traveling around Europe in an RV, you can park up at a nearby camping village.
Pro Tip: If you want to pop into a few museums, maybe the arena, and make use of public transport, get yourself a Verona Card for a couple of days. This will afford you free or reduced entry to many sights.