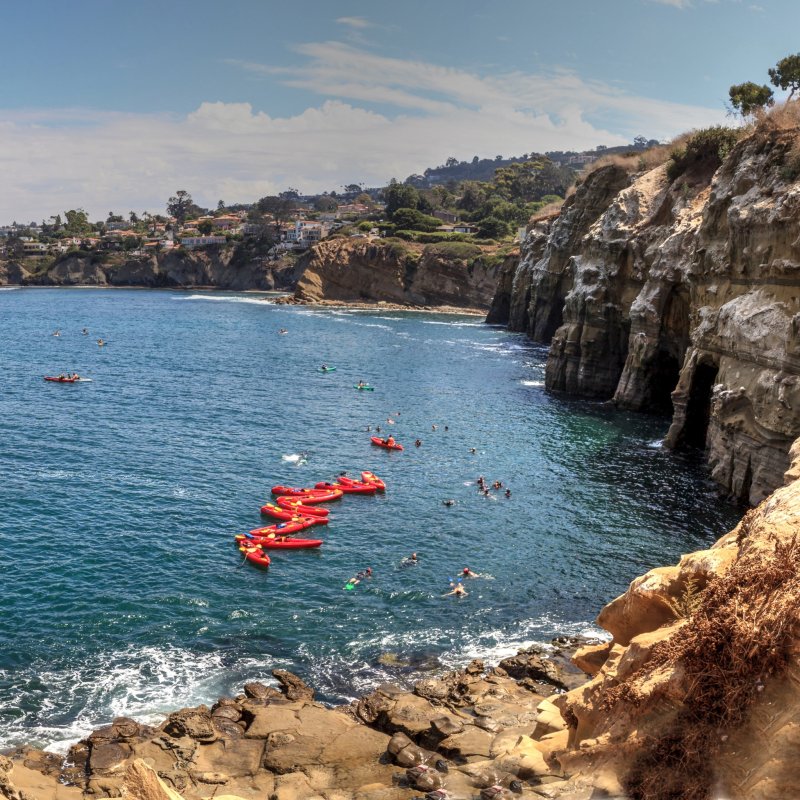 Thanks to its location on the Pacific Ocean and its comfortable year-round weather, Southern California is a kayaker's dream come true. Whether you're looking for a short paddle in calm waters or something longer and more challenging, you'll find the perfect kayaking opportunity between Santa Barbara and San Diego. If you're new to kayaking, or want some expert guidance while exploring a new region, consider booking a tour. This can be a great way to learn about the birds, wildlife, and history of the area.
Here are seven of the most beautiful kayaking spots in Southern California.
1. Channel Islands
With the highest density of sea caves in the world and abundant marine life, Channel Islands National Park and its surrounding National Marine Sanctuary should not be missed by kayak enthusiasts. With just about 100,000 visitors to the area each year, your paddling experience will not be marred by crowds and noise. But you are likely to see curious harbor seals, bright orange garibaldi, colorful sea stars, thick kelp forests, and a wide variety of seabirds. It's even possible to see dolphins and blue whales.
While there are five islands in the park, the most popular one for kayaking is Santa Cruz. Getting to the island requires a ferry ride of about 90 minutes and should be booked in advance through Island Packers Cruises. If you want to paddle on your own, a rental can be arranged — in advance — through Channel Islands Kayak Center. If you'd prefer a guided tour, make a reservation with Channel Islands Adventure Company. They offer tours ranging in length from 1.5 to 3 hours.
Kayaking around the Channel Islands can be challenging depending on the winds and currents. First-timers are always welcome, but they should be reasonably fit.
2. Santa Barbara
Whether you want to leisurely enjoy the calm waters of the harbor or explore the scenic coastline, Santa Barbara is an ideal spot for kayaking. In the harbor, you'll have the opportunity to observe sunbathing sea lions, watch motorboats and yachts floating out to sea, or check out the nearby Stearns Wharf. Afterward, refuel by popping into one of the many seafood restaurants. Rentals are available through the Santa Barbara Sailing Center or the Paddle Sports Center.
If you'd prefer a guided tour of the area, the Santa Barbara Adventure Company offers a 2-hour harbor fun paddle, a 3-hour coastline kayak tour, and a 2-hour sunset experience. These are all great ways to learn about the history of the area and get help spotting wildlife. In fact, this portion of the coast is home to more than 1,500 species of plants and animals.
Consider combining a trip to Santa Barbara with a visit to the Channel Islands. Santa Barbara is located about 40 to 50 minutes north of the Oxnard and Ventura Harbors, where the ferry to the islands launches. After your day of exploring Channel Islands National Park and National Marine Sanctuary, spend the night in Santa Barbara, and then explore this coastal city the next day.
3. La Jolla Cove
The city of La Jolla is located just north of San Diego and has long been a popular seaside destination offering high-end hotels, restaurants, and shopping. But it's also home to the La Jolla Ecological Reserve that protects seven sea caves, kelp forests, and marine life. In fact, kayakers may see leopard sharks, garibaldi, and sea lions. If you're here in the winter, it's possible to see gray whales on their annual migration from Alaska to Mexico.
To explore the reserve, kayakers enter the water at the La Jolla Shores Beach. Nearby are several shops offering rentals, including La Jolla Kayak and La Jolla Sea Cave Kayaks. Both companies also offer 90-minute tours with the opportunity to paddle into one of the caves. To explore the reserve even further, consider booking a combination kayak and snorkel tour. Everyday California offers a whale-watching kayak tour from December 1 to March 1.
Similar to kayaking in the Channel Islands, kayaking in La Jolla can be challenging depending on the winds and currents. No experience is necessary, but paddlers should be reasonably fit.
La Jolla Shores is a very popular beach and can get quite crowded. If you've booked a tour, be sure to allow plenty of time to find parking.
4. Mission Bay
Located in San Diego, Mission Bay is a great kayaking option for beginners, since its protected waters are almost always smooth. In fact, it's more like a lake than the ocean. But if you're looking for more of a challenge, it's possible to continue on into open ocean waters.
Mission Bay offers scenic views, easy access to white-sand beaches, and plenty of marine life for entertainment. If you tire of paddling, take a break on one of the beaches for a while. And if you prefer to kayak with your dog, that's not a problem — Aqua Adventures allows dogs to participate and even provides the appropriate life vests.
Mission Bay is a very popular destination with locals and visitors alike, so don't expect this to be a quiet spot. You'll be joined on the water by a variety of watercraft. If you prefer thinner crowds, arrive early to rent your boat. Or try a nighttime experience with See Bottom Kayak Rentals. Their neon-lit, two-person kayaks are a great way to explore the bay after dark.
5. Catalina Island
If you're looking for an island paradise, there's no need to travel all the way to Hawaii. Instead, hop on a ferry from Los Angeles or Orange County, and in 90 minutes or less, you'll arrive on Catalina Island. Like on most islands, water activities reign supreme, and those include kayaking.
Rent a kayak from Descanso Beach Ocean Sports and explore the protected waters surrounding Catalina. As you paddle through the dense kelp forest, keep an eye out for garibaldi, sea lions, and dolphins. Overhead, you'll see a wide variety of birds, including California brown pelicans, cormorants, and eagles. You'll also appreciate a great view of the historic Catalina Casino and Green Pier from the water. Take advantage of the expertise of a naturalist and book a 2-hour guided kayak tour highlighting the area's marine animals, like leopard sharks, dolphins, and sea lions.
After kayaking, spend the rest of the day relaxing at the Descanso Beach Club. Soak up the sun on the sand, or grab a bite to eat at the restaurant.
6. Alamitos Bay
Head to Long Beach, a seaside town south of Los Angeles, for some really unique kayaking in Alamitos Bay. Start by exploring the Naples Island Canals, an Italian-inspired community developed in the early 1900s. Here you'll enjoy easy paddling while admiring the waterfront homes. Feel free to stop along the way and grab a bite to eat at one of the restaurants or cafes. Then head to a cove packed with moon jellies. Don't hesitate to touch these jellyfish, since they don't sting. Boat rentals are available through KayakRentals.
Alamitos Bay is a popular spot for a variety of water sports, so expect it to be busy. For a quieter experience, get out on the water early in the day.
7. Huntington Harbor
Huntington Beach has long been known as Surf City, USA. This funky seaside town can be found in Orange County, about an hour south of Los Angeles. The nearby Huntington Harbor is a great kayaking destination, especially if you're looking for an easy paddling experience.
Bordering both Huntington Beach and Seal Beach, Huntington Harbor was built in the 1960s and comprises five man-made islands, a series of waterways, and five public beaches. Facing the water are about 500 homes, most with private docks. This isn't the place to go for wildlife viewing, but it sure is a great destination for gazing at some lovely waterfront homes.
OEX Sunset Beach rents both standard kayaks as well as Hobie pedal kayaks. For something really unique, reserve an evening guided kayak trip in December to admire the holiday lights on the surrounding homes and boats.
This is an especially good spot for beginners due to the calm waters and light boat traffic. In fact, a locally imposed speed limit prohibits any boat from exceeding 5 miles per hour. When you need a break, hop out at one of the beaches.
Thanks to its location on the Pacific Ocean, there's an abundance of great kayaking spots throughout Southern California. And whether you're a beginner or pro, there are destinations to suit you. Just select the spot, make your reservations, and head out for a fun day on the water.