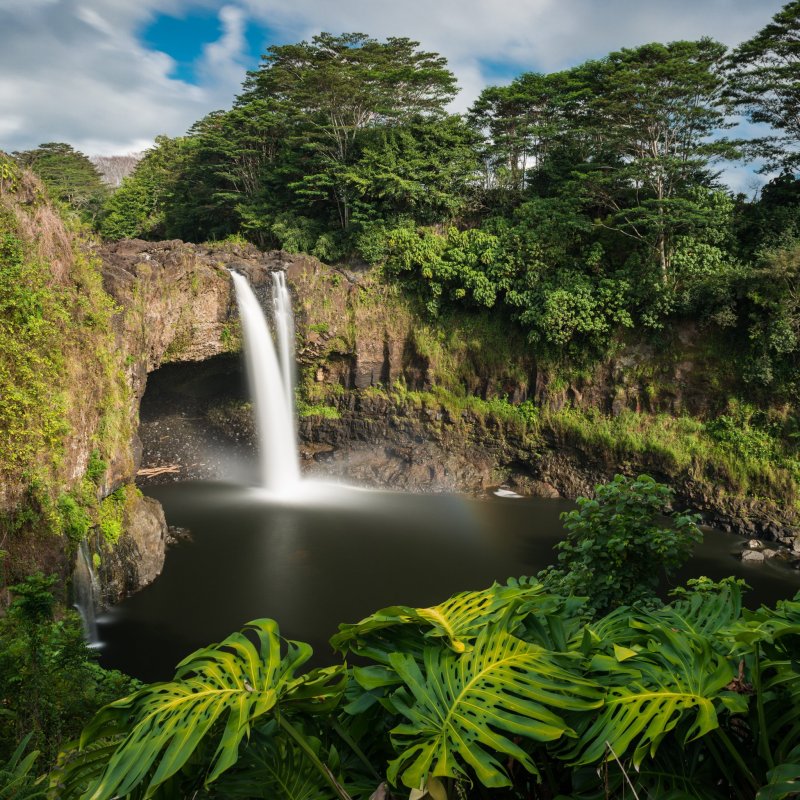 While many visitors to Hawaii's Big Island fly directly into Kona and spend time only on the western coast, the city of Hilo is also worth consideration. Located on the eastern side of the island, Hilo is just as accessible from the mainland, with direct flights from several large airlines. And it's a spot you won't want to skip on your Hawaiian adventure. With its incredible natural beauty, there's plenty for outdoor enthusiasts, with loads of culture and history added for good measure.
Here are a dozen reasons to include Hilo on your next Big Island itinerary.
1. The Grass Really Is Greener
First things first: Hilo is one of the greenest places on the planet. Located on the windward coast, the city receives an average of 130 inches of rain each year, making it one of the wettest cities in America. While you will want to make sure you pack a rain jacket and umbrella for your visit, there are substantial breaks in the clouds. And all that moisture results in a gorgeous, lush environment that leaves the entire city and surrounding area feeling like a tropical Garden of Eden, with gorgeous gardens and green spaces.
2. You Can Chase Stunning Waterfalls
Hilo is a hiker's dream. It's full of natural wonders to explore, and there's no better place to get in your steps than Wailuku River State Park. This special spot boasts two incredible highlights: Boiling Pots and Rainbow Falls. Boiling Pots comprises several large pools of water connected by underground flow. This gives them a roiling look, as if they were giant pots ready for pasta. Rainbow Falls features a stunning 80-foot drop, and if you time your visit here properly, you'll be ready to look for a pot of gold: Its namesake rainbow is best seen — and photographed — around 10 a.m. every morning.
Pro Tip: There's no reason to go off the trail here, so don't do it. The river is susceptible to flash flooding and can be dangerous.
3. It Offers High-Flying Adventures
With its gorgeous tropical rainforests and incredible canopy views, Hilo is the perfect spot for zip-lining. There are several outfitters in and around Hilo, each offering different runs and scenic vistas. Depending on where you book your adventure, you could soar above waterfalls, the lush rainforest, river gorges, and ravines. Length, price, and height all vary between zip-line providers; Umauna Falls, about 10 miles north of Hilo, is a favorite of visitors and locals alike.
4. It's The Perfect Home Base For Visiting Volcanoes National Park
Hilo is the perfect home base for a day spent at Hawai'i Volcanoes National Park. Just a 45-minute drive away, this incredible spot includes the summits of two active volcanoes: Mauna Loa and Kilauea, which erupted in 2018 and shifted the entire landscape of the area. Here, fire meets the sea, and new land is created from lava flows emitted by the volcanoes. Go for a hike, take the Crater Rim Drive Tour, and marvel at the place held sacred by Native Hawaiians. You can learn more about the park here.
5. You Can Get Closer To The Stars
Thousands of years ago, the Polynesians were the first to reach the Hawaiian Islands after using the stars to navigate their way across the Pacific Ocean. Learn more about these intrepid explorers, their journey, and how the night sky aided them at the Imiloa Astronomy Center. Part of the University of Hawaii at Hilo, the hands-on learning center celebrates the area's cultural traditions and the science of astronomy, with a focus on space discoveries made at the nearby Mauna Kea.
6. The Gardens Are Gorgeous
For the perfect, tranquil breather during your vacation, head to the gorgeous Liliuokalani Park and Gardens for a stroll. Hawaii's queen donated the park site to the city, and much of it now consists of stunning Japanese-style gardens, complete with ponds, bridges, and pagodas. Located directly on the bay, the site is blessed with stunning views and pleasant breezes. The park — which is a great place to picnic — is maintained by the Hawaii Parks and Recreation Department and the nonprofit group Friends of Liliuokalani Gardens.
7. It's Home To The Nation's Only Rainforest Zoo
The Panaewa Rainforest Zoo packs a lot of fun and beauty into a 12-acre package. Lushly landscaped — and the nation's only zoo set in a natural rainforest — Panaewa is home to 80 different species, including a giant anteater, alligators, and two Bengal tigers.
The zoo is currently undergoing a significant renovation to make it compliant with the Americans with Disabilities Act and will reopen to the public in 2021.
8. The Beaches Are Beautiful
Of course, this is Hawaii, and you will want to work in a fair amount of beach time during your visit. Coconut Island, just offshore from the Liliuokalani Gardens and easily accessible via footbridge, is a great swimming and sunning spot. It boasts several small white sand beaches, and there are restrooms on-site.
This island — also known as Mokuola — is important to Native Hawaiians. It was once known as a healing place, where warriors, kings, and queens swam in the waters to recover from illness or injury. Today, it's a lovely spot to spend a sunny afternoon. Keep an eye out for the daredevils who leap from the island's 20-foot tower into the ocean below.
9. There Are Several Fascinating Museums
Hilo has several worthwhile museums that delve into the city and region's past, culture, and even weather.
During the 20th century, Hilo experienced three deadly tsunamis that killed a total of 222 people and caused millions of dollars worth of damage. The Pacific Tsunami Museum explains the human toll and scientific process behind the devastating tidal waves that occur after earthquakes. The museum also seeks to educate the public about the dangers of these events so that future lives can be saved.
To work in your culture fix, head to the Hawaii Museum of Contemporary Art to view works by local artists and special exhibitions.
The Lyman Museum and Mission House houses an extensive collection of artifacts that showcase the island's heritage. These include shells, minerals, and animal models.
10. The Charming Downtown Is Well Worth Checking Out
Hilo's downtown district is well worth checking out during your time here. Many of the shops, galleries, and cafes are housed in wooden buildings that are listed on the National Register of Historic Places. Stroll and shop along Kamehameha Avenue; you'll be sure to find the perfect souvenirs and gifts to bring back to the mainland.
There are also several historic spots nestled in downtown Hilo. The city's Downtown Improvement Association has an excellent self-guided walking tour that stops at many of them; check out the map here.
11. It's Got A One-Of-A-Kind Farmers Market
Be prepared: Hilo's farmers market likely isn't what you're used to experiencing back home! Open seven days a week, this spot is a riot of color, fragrance, and flavor, with beautiful tropical fruits, flowers, and other island treats and handicrafts on offer. Chances are you've never even heard of some of the fruit that's locally harvested and for sale at the market, including mangosteen, breadfruit, and Buddha's hand. We recommend buying a few you've never tried before to truly sample a bit of the Big Island. And don't forget to shop for souvenirs or gifts!
12. You Can Learn All About Macadamia Nuts
Macadamia nuts are delicious, nutritious snacks, and they are grown right around Hilo. The Mauna Loa Macadamia Nut Corporation has cultivated, harvested, roasted, and sold the nuts for three decades from their farm facility just south of Hilo. You'll drive through 3 miles of orchards before reaching the Mauna Loa factory and visitor center, where you can see the nuts being processed, flavored, and packed. There are samples as well as plenty of macadamia treats for you to purchase on-site.
What To Know Before You Go
As mentioned above, Hilo gets a lot of rain! The good news is that it tends to move quickly across the island and out to sea. That said, make sure you're prepared with a good raincoat and umbrella at all times. Don't leave your hotel without them.
Also, be sure to check the volcanic smog forecast prior to your arrival. With volcanoes like Kilauea so close, atmospheric gases can often accumulate, which can aggravate some medical conditions, including asthma. If volcanic smog levels are high while you're in Hilo, you might want to pack a mask, and if necessary, your rescue inhaler.