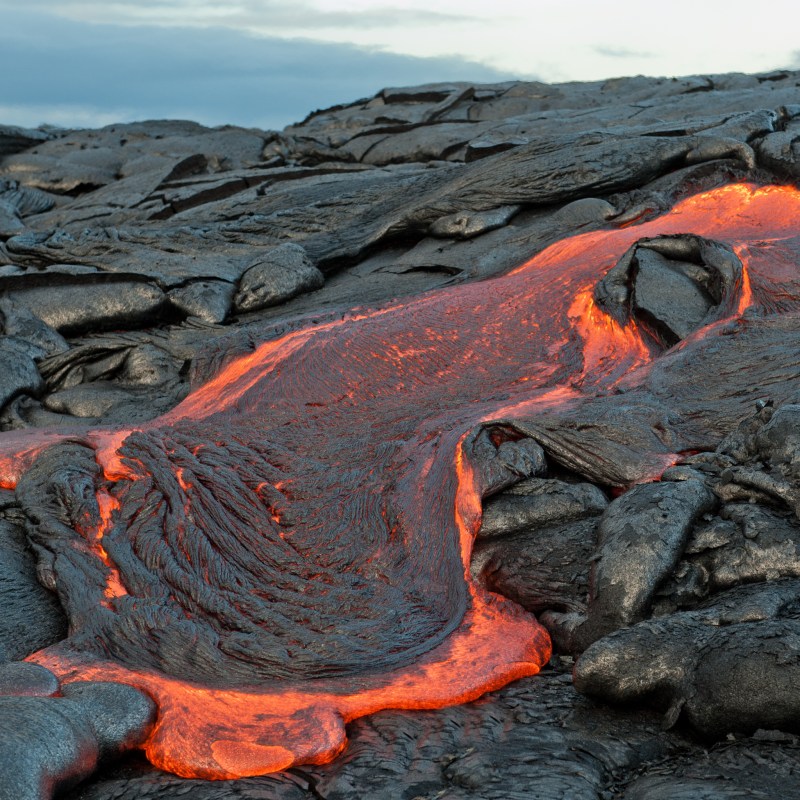 Home to Kilauea and Mauna Loa, two of the world's most active volcanoes, Hawai'i Volcanoes National Park is constantly changing as the lava ebbs and flows. It has the unique distinction of being one of the only places in the world that is growing — the fresh lava forms new land as it spills into the ocean and hardens. But that's not all that's remarkable here. The park is home to unique historic and spiritual sites, rare plants and rock formations, and some of the most beautiful views in Hawaii.
As is true of most national parks, it's a good idea to check in with the park rangers before you start your day. You can learn about their free daily programming, including children's activities and guided talks and hikes. However, at Hawai'i Volcanoes National Park, there's an extra-important reason to check in before you go. In 2018, multiple parts of the park were damaged by lava flow. Happily, significant reconstruction work has restored access to much of the park, and there's more work planned for the immediate future. However, it's best to confirm conditions before heading out.
Here are four incredible experiences to have at Hawai'i Volcanoes National Park.
1. Make The Crater Rim Drive
Hawai'i Volcanoes National Park's Crater Rim Drive offers access to some of the most popular attractions in the park. Try to take in the following sights, some of which are subject to restoration projects.
Kilauea Overlook
The Kilauea Overlook provides the most dramatic views of the Kilauea Caldera and Halemaumau Crater. It's also the starting point of the Crater Rim Trail, an easy hike that goes around the edge of the Kilauea Overlook to just past the Keanakakoi Crater.
Wahinekapu (Steam Vents)
When the groundwater of the park seeps down to rocks heated by magma deep underground, the heat is so intense that it vaporizes the water, returning it to the surface as steam. Think of it as nature's spa experience — and chances are good that your hair will frizz with humidity!
Nahuku (Thurston Lava Tube)
When a river of molten lava stops at the end of an eruption or gets diverted elsewhere, it leaves behind an empty tunnel. Walking through the Thurston Lava Tube is like a cross between exploring a rainforest and being on the set of a science fiction movie. It's one of the most popular attractions in the park, so the small parking lot will likely be full during peak hours. For a quiet experience, visit between 8 a.m. and 9 a.m. or 4 p.m. and 8 p.m.
2. Drive The Chain Of Craters Road
This gorgeous scenic drive takes you from the heart of the park near Crater Rim Drive all the way down to the ocean, with plenty of must-see stops and attractions along the way. Past lava eruptions have caused road closures on more than one occasion, and, as you drive, you'll see multiple fields of hardened lava from different decades in various stages of regrowth.
Here are some special spots to note along the way.
Puu Huluhulu Day Hike
This moderate 2.5-mile round-trip hike takes visitors to the site of the Mauna Ulu lava flow of 1969 to 1974. During your excursion, you can walk 210 feet to the top of a forested cinder cone, see all the way to the Pacific on a clear day, and check out lava tree molds. Lava tree molds are cavities or holes that show where trees once stood before the lava flow. They're like the ghosts of trees past!
Puu Loa Petroglyphs
With a name that translates to "Hill of Long Life," Puu Loa is a sacred site that has been used ritually for over 500 years. It is the largest petroglyph field in Hawaii. Of the 23,000 petroglyphs at the site, about 84 percent are pukas, or circular forms that once held portions of umbilical cord. Other designs at the site depict canoe sails, lizards, and feathered capes.
It's a 1.5-mile round trip over a 500-year-old lava field to see the petroglyphs. In general, it takes 1 to 1.5 hours and is considered a moderate hike with some uneven terrain. Sticking to the path is essential, since the lava field and petroglyphs are very fragile. Note that there is no shelter from the elements on the hike, and it's wise to wear sunscreen and a hat and bring along water and a jacket (if it's windy on the drive, it'll be much windier on the hike!).
Holei Sea Arch
A special reward awaits those who drive all the way to the end of Chain of Craters Road. The Holei Sea Arch is a 90-foot natural arch of lava rock that extends into the ocean, and it makes for a terrific photo op. There's just one catch — in order to see it, you have to walk about 1,000 feet past the end of the road. You can thank a lava flow for cutting off road access all the way to the arch!
Pro Tip: Before you make the Chain of Craters drive, fill up your tank at a gas station in the nearby town of Volcano. This author may or may not have forgotten to do so and had a very nervous drive back to the visitor center after exploring Chain of Craters Road!
3. Hike The Mauna Loa Volcano
If you have the time and ambition and are physically fit, consider hiking Mauna Loa. This is arguably the most rewarding activity in Hawai'i Volcanoes National Park. However, it's not a hike to take lightly.
"The summit is high altitude and the trail is over rough, jagged, and often loose lava. The trail is marked with ahu (stacked rocks) and can be very easy to lose in times of low visibility," the National Park Service advises.
A basic cabin with thin foam mattresses is as luxurious as it gets on the 13,678-foot hike up the volcano. This is a carry-all-your-gear kind of trek — and you'll need some serious gear. Rain suits, all your own water, and sub-zero sleeping bags are among the items on the lengthy packing list.
But if you're successful, you'll have bragging rights for climbing the largest active volcano in the world!
4. Visit The Gift Shop For A Drink
Hawai'i Volcanoes National Park has a small gift shop at the Kilauea Visitor Center that sells books, posters, magnets, children's items, clothing, and water bottles.
Those eco-friendly water bottles are good to have on hand, because next to the gift shop is the best watering hole in the park. You see, the park is home to the largest public rainwater catchment system in the state, providing 5.5 million gallons of drinkable water per year. You'll find spigots around the park for refilling your water bottles, including one at the Kilauea Visitor Center next to the gift shop. These pump out filtered, chilly water produced by a system entirely powered by solar energy.
While you can drink water to your heart's content, note that the gift shop doesn't sell food or other drinks aside from local macadamia nuts.
What To Know Before You Go
Where Is Hawai'i Volcanoes National Park?
Hawai'i Volcanoes National Park is located on the island of Hawaii, which is often called the Big Island. It's 30 miles from Hilo and 96 miles from Kailua-Kona. The community of Volcano Village, just outside the park's gates, offers accommodations, basic groceries, fuel, and several good restaurants that cater to park visitors. You can find a helpful roundup of food choices, including breakfast and vegetarian options, here.
When Should You Visit Hawai'i Volcanoes National Park?
Hawai'i Volcanoes National Park is open 24 hours a day, seven days a week — even on holidays. The Kilauea Visitor Center is open from 9 a.m. to 5 p.m. daily. Hawaii's mild climate makes the park an ideal destination, but visitors should note that it is often 12 to 15 degrees warmer at sea level than it is around the Crater Rim Drive. And at higher elevations such as Mauna Loa, it is often below freezing.
While there's no substitute for visiting in person, if you're fascinated by the science happening at Hawai'i Volcanoes National Park, you can learn about recent eruptions and environmental changes and check out the park's webcams here.
What Accommodations Are Available?
Volcano House, the only accommodation within the park, offers 33 guest rooms, 10 cabins, and 16 campsites. Many of the comfortable, cozy hotel rooms feature crater views, and all offer modern amenities like king (or two queen) beds and Hawaiian-style decor. The campground and cabins share a communal comfort station with hot showers and are situated in a eucalyptus grove.
No matter which form of accommodation you choose, book early to avoid disappointment.