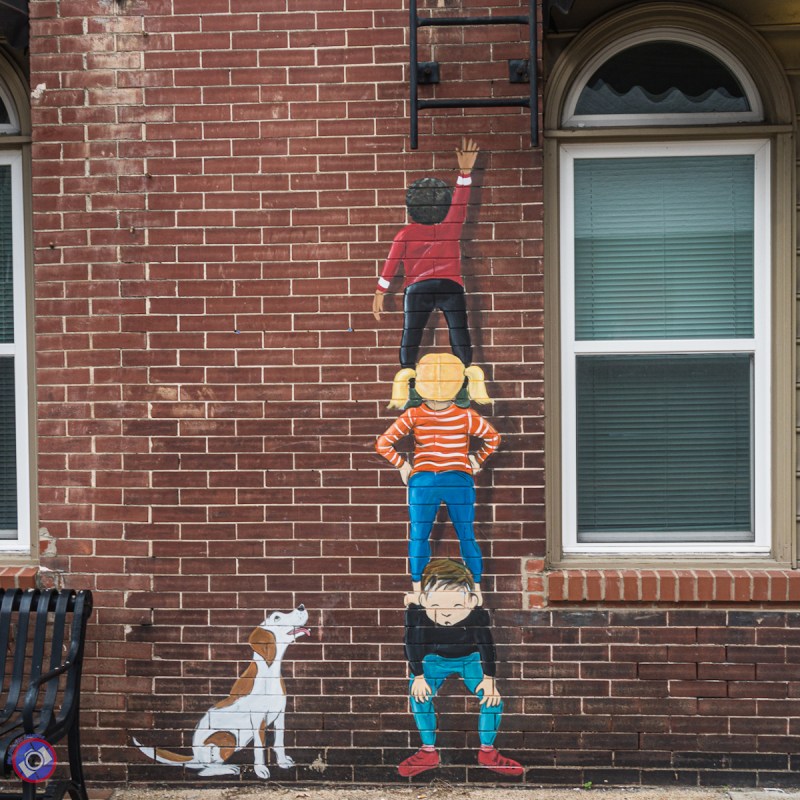 There's something to be said for big cities when it comes to the variety of things to do, but smaller towns also provide plenty of ways to stay occupied and entertained. Johnston County — JoCo, as it is known to residents and frequent visitors — lies approximately 30 minutes southeast of North Carolina's capital of Raleigh, at the crossroads of I40 and I95. JoCo's welcoming towns know how to keep boredom at bay, minus the noise, congestion, and traffic.
The towns and surrounding areas of Selma, Smithfield, and Four Oaks are excellent examples of what an activity-filled vacation without crowds can be. My husband and I put them to the test over 2 days and were delighted with the results.
Disclosure: Although our visit was graciously hosted by Visit Johnston County, all opinions are entirely my own.
1. Selma
Selma is large enough to offer numerous options for visitors, yet manages to exude a warm small-town aura. The downtown area is walkable with plenty of exciting eye candy. Spend an afternoon shopping and taking in the historic buildings and delightful murals. Enjoy treasure hunting at Trackside Antiques, Treasury Antiques, and Barn Shelter Antiques.
Best Things To Do In Selma
Selma Historic Union Station/NC AMTRAK
Selma began as a railroad town, and despite its growth, the trains are still rolling. In 1924, Selma-Smithfield, NC (SSM) Union Depot was constructed to serve the Atlantic Coast Line Railroad and Southern Railway. The historic structure was destined for demolition in 1975, but the city wisely chose to rescue this local treasure from the wrecking ball. Today, Selma is one of five stations in the country with north/south and east/west rail service.
Visit Union Depot featuring exhibits and memorabilia on rail history and the town of Selma, then tour the caboose.
Hinnant Vineyards
A few miles from Selma, you'll find Hinnant Vineyards, the largest muscadine vineyard in the state, and one of 8 stops along the JoCo Beer, Wine, & Shine Trail. Since 1972, this family-owned winery has been serving and selling wines to please every palate. Schedule a tasting in the newly-renovated tasting room and bar and sample wines from homegrown grapes and Washington state wines bottled and labeled on the premises.
My husband and I tried several of both and fell in love with the dry rose and the pinot noir. Everything — from the refreshing wine slushies to the whimsical labels on the wine bottles to the wines themselves — was a sweet surprise.
Old North State Food Hall
The first roadside food hall in the U.S. is located in Selma at Exit 97 off I95. Since its opening in August 2022, Old North State Food Hall has become a favorite among locals, visitors, and travelers looking for road food options that are freshly prepared and taste amazing.
Located in the former JR Cigars Outlet building, this food hall is spacious and clean and offers food choices from 10 locally owned vendors. The Long Leaf Tavern, a full bar, is located at the back of the food hall within the walls of what once had been a giant humidor.
My husband and I almost swooned the moment we walked in from the tantalizing aromas wafting from Curry in a Hurry. I opted for the butter chicken and my husband chose the lamb curry. Both generous portions arrived piping hot and tasted as good as they looked and smelled. In the interest of research, we saved room for dessert from Butter Cream, consisting of vanilla ice cream with a dizzying array of mix-ins and toppings from which to choose.
Other choices include creative gourmet burgers named after movies (like The Godfather) from Barley and Burger and Cuban sandwiches, empanadas, and first-rate Cuban coffee from Aroma De Cuba.
2. Smithfield
Larger than Selma, and JoCo's county seat, Smithfield will woo you with its bounty of activities and friendly locals. Smithfield is located in the center of the county, with the Neuse River running through it, making pleasant strolls along the Buffalo Creek Greenway a popular pastime. The town also has a charming historic downtown district that's ideal for shopping. Take a short drive to Premium Outlet Mall and treat yourself to some serious retail therapy.
Best Things To Do In Smithfield
Ava Gardner Museum
JoCo holds the distinction of being the birthplace of Ava Gardner, one of Hollywood's most glamorous and talented legends. The Ava Gardner Museum, which tells her remarkable story, is located in downtown Smithfield and is one of the area's most popular attractions.
We spent a fascinating hour touring the museum and discovered some of the lesser-known details of Ava's life and career. Exhibits included personal items and letters. Some of the magnificent dresses Ava wore in her movies seemed even more vibrant and elegant behind glass than they did onscreen. By the time we left, it felt as if this stunning movie star had come to life for a precious few moments, and I know I would have liked her.
The Ava Gardner Museum presents rotating exhibits and special events throughout the year, including the annual Ava Gardner festival, held in October.
Simple Twist
This gem of a restaurant prides itself on fresh, locally sourced ingredients, and Simple Twist definitely delivers.
We stopped for lunch and dined alfresco on fresh, beautifully presented salads. I had the So Fresh and So Green with grilled chicken, which reminded me of a Cobb salad on steroids, only far more flavorful. My husband's Kale Caesar, also with grilled chicken, was just as fresh and satisfying.
Simple Twist serves a variety of sandwiches, small plates, and entrees, as well as adult beverages.
Smith's Nursery And Smith's Farm Market
Heading out of Smithfield toward Benson, we took some time to explore Smith's Nursery and Smith's Farm Market.
As the name implies, Myron and Sarah Smith have a lot going on. The Smiths' transformed the land — once a tobacco farm — into a thriving business selling plants, dairy products, and pick-your-own berries in the spring and summer. The fall schedule includes hay rides and pumpkin patch visits. The Smiths sell some of their fresh produce at a roadside market. They also run an ice cream and coffee shack.
A family could easily spend a pleasant half day at the farm, which has a playground, farm animals to feed, and an old tractor to climb for the little ones. If you bring your fishing pole, you could do some catch and release at the pond for $5, or choose from an assortment of plants and bushes so you can take a permanent souvenir of your day home with you.
The Redneck BBQ Lab
We ended our day with dinner at The Redneck BBQ Lab, located between Smithfield and Benson on Highway 201 in a gas station building behind the pumps. We didn't know what to expect when we walked in, but the impressive line of barbecue competition trophies sent our expectations through the roof. Owned and operated by members of the Redneck Scientific competition barbecue team, The Redneck BBQ Lab slow smokes pork, brisket, chicken, turkey, and ribs to perfection, and serves their meats with a choice of three sauces.
The made-in-house sides held their own paired with the barbecue. It was difficult to choose, but the jalapeño mac and cheese was our favorite. As for the barbecue, both the brisket and ribs were outstanding with bold flavors and fork tenderness.
3. Four Oaks
The quaint town of Four Oaks, population under 3,000, is a delightful, walkable town with older houses and lots of trees.
Best Things To Do In Four Oaks
Visit Downtown
Stroll the downtown area and check out the shops. Then stop in at Stanfield's General Store for some coffee and a look around. Stanfield's is a traditional North Carolina general store with an impressive amount of just about everything from antiques to irresistible classic candy.
Bentonville Battlefield
Just outside Four Oaks, you'll find Bentonville Battlefield, the largest Civil War battlefield in North Carolina. Begin with a visit to the small museum and a short video describing events leading up to the battle, the battle itself, and its aftermath. You can also follow the battle troop movements, day-by-day on the electronic wall map in the visitor center.
Walk around the battlefield, or take a self-guided driving tour. Most of the battlefield is barrier-free, with the exception of the Harper House, which involves climbing wooden steps to enter. The house was pressed into use as a field hospital on the first day of the battle. Although there is no charge for visiting the battlefield, a guided tour of the Harper House will set you back $2, and the experience is well worth the pocket change.
Bentonville holds special events throughout the year, including battle reenactments and the Bentonville Battlefield Fall Festival, a family-friendly event that we were fortunate to catch during our visit to JoCo. Activities included hayrides, corn-shucking contests, and townball (19th-century baseball). We saw demonstrations of open hearth cooking, spinning, and candle making and learned the reason why lye soap smells so bad.
We made the Hampton Inn & Suites in the charming town of Benson our headquarters. Clean, comfortable, pet friendly, and with breakfast included, it was the ideal location for exploring the varied offerings throughout Johnston County.