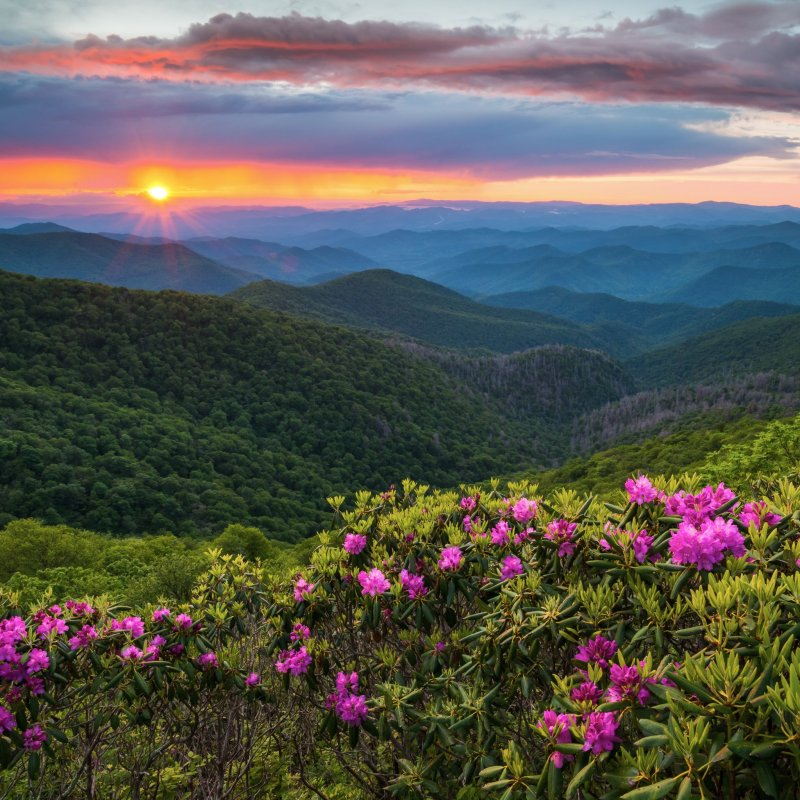 Travel from the mountains to the coast on a road trip from Asheville to Myrtle Beach. You'll start your journey in the Blue Ridge Mountains in Asheville, surrounded by the highest mountain peaks along the Eastern Seaboard. Enjoy fresh mountain air and wide-open spaces before traveling south with stops in cities in both North and South Carolina to end at Myrtle Beach with its 60 miles of beautiful coastline.
The best times to take this road trip are during the spring and fall for stunning foliage colors and cooler temps. Or, go in the summer to take full advantage of the beach.
This road trip takes a scenic route from Asheville to Myrtle Beach, winding through Fairview and Chimney Rock in North Carolina before heading into South Carolina to visit Spartanburg, Columbia, and Florence, and ending at Myrtle Beach.
Asheville, North Carolina
Asheville is known for its mountaintops and remote locations to experience zen moments. One way to explore this mountain escape is with a tour. Namaste in Nature tours take you to hidden waterfalls and peaceful spots for yoga in nature. With Asheville Wellness Tours, you can experience a forest-bathing experience with a certified forest therapy guide, plus essential oil archetype readings, tea and tarot cards, and stand up paddleboard yoga tours.
Take a hike to discover mountain balds — open spaces void of trees with 360-degree views of the surrounding mountains, reminiscent of the picnic scene in The Sound of Music. The peaks of Southern Appalachia are known for rolling greenery and layers of misty blue. Amongst it all, dotting the landscape are these mysterious mountain balds. The closest bald to Asheville is Bearwallow Mountain Trail. The hike to this bald is less than a mile. Take a picnic and enjoy the views.
Explore nearby waterfalls with a scenic drive. The Blue Ridge Mountains that surround Asheville are home to winding mountain roads and thousands of beautiful cascading waterfalls. Discover the six waterfalls that can be enjoyed from the road — no hiking required.
After you've had your fill of hiking and waterfalls, there's plenty to do in town. With 50 breweries in the region, there are a variety of options to try. Sip a beer in the meadow at Highland Brewing Company, sit on the back porch at New Belgium's Liquid Center, or stop by Turgua, a small farmhouse brewery.
Asheville is hailed for its chef-driven and award-winning restaurants. Enjoy memorable meals at restaurants such as The Dining Room at the Biltmore; Curate, a hip place for small plates; and Rhubarb, a chef-driven restaurant downtown.
There's a mix of lodging options in Asheville, with everything from glamping and retreats to luxury hotels and log homes. If you've wanted to try glamping, at Asheville Glamping you can stay in a skylight dome, an Airstream, a safari tent, a tipi, or even a treehouse. For a retreat experience, OM Sanctuary provides renewal through personalized wellness programs — yoga, sound therapy, forest bathing, meditation, and more — all set on a scenic 52-acre campus just above the French Broad River. Or stay in a secluded Cliffside log home at Paradise on Cliffledge.
If you have more time in town, check out our recommendations for a weekend getaway in Asheville, North Carolina: eight things to do.
Fairview, North Carolina
Just south of Asheville, you'll find the farm community of Fairview with its pastoral views and on-your-honor farm stands for grabbing local produce for the road. Stop to sample award-winning cheese at Looking Glass Creamery, a top spot on the Western NC Cheese Trail, before heading on to Chimney Rock.
Chimney Rock, North Carolina
Continue south to Chimney Rock at Chimney Rock State Park for the 75-mile views over Lake Lure (featured in the film Dirty Dancing). It's a haven for hiking and birdwatching as falcons and hawks often soar around the massive monolith rock face.
Visit Chimney Rock, for which the park is named, a 535 million-year-old monolith — considered one of the most iconic sites in North Carolina. If you're adventurous, you can hike to the top of the 315-foot rock formation on Outcroppings Trail. An easier route is the elevator that will get you close to the top and leaves just 44 steps to walk to the breathtaking view.
If you're interested in additional hiking, the Hickory Nut Gorge area is home to Wildcat Rock and the surrounding trails, wildflowers, caves, and a waterfall. The newest trail in the area features a stunning waterfall, spectacular views from a rock outcrop, plus a picturesque ridgeline meadow. It's a strenuous three miles out to the ridgeline meadow and back for a six-mile hike. If you'd like a shorter hike, it's one mile to Little Bearwallow Falls, or two miles to Wildcat Rock.
Spartanburg, South Carolina
Once you've had your fill of hiking, head south another 45 miles to enter South Carolina and arrive in Spartanburg. Learn about history with a visit to the Walnut Grove Plantation, where volunteers and staff recount how free and enslaved people settled the South Carolina Backcountry, fought for independence, and worked to build a new nation.
Spartanburg has a diverse arts scene boasting South Carolina's most respected, progressive, and diverse art communities. There's ballet, symphonies, and opera, plus street performers, graffiti, and dance mobs. In the cultural district downtown, walk and explore art galleries, music venues, breweries, culinary arts, local publishers, museums, and more.
Southern-style eats are a specialty, so stop by one of the barbecue huts or fish camps to experience authentic Southern-style dining. Try Bubba's BBQ and Bash for award-winning barbecue or Carolina Barbecue for Lexington-style juicy pork barbecue. For crispy Southern fried chicken, try Flavorshack.
Stay for the night at a bed and breakfast, hotel, or campground. The AC Hotel Spartanburg provides Southern hospitality in a beautiful 10-story hotel in downtown Spartanburg.
Columbia, South Carolina
Whether you're interested in open-air artisan markets, craft beer, or more outdoor activities, Columbia's small-town charm serves up a variety of Southern favorites. Artwork is visible throughout the city, with murals and sculptures woven into the scenery.
Food writer Kim Jamieson (@eatinSC on Instagram) shares food finds across the state. She recommends these must-hit food spots in Columbia: Mr. Friendly's New Southern Cafe; Kiki's Chicken and Waffles for soul food; The Gourmet Shop, an upscale grocery, and her favorite; and True BBQ, which she says is a must-visit.
The Sheraton Columbia Downtown Hotel puts you in the center of downtown life in a landmark hotel.
Florence, South Carolina
Reasons to visit Florence are many and include its recognition as the birthplace of barbecue. It also has a 43-mile trail system, an active live music and arts scene, and oodles of Southern hospitality. Enjoy plenty of Southern specialties, such as Southern fried chicken at Maryland Fried Chicken served with another specialty, fried okra.
Mac 'n' cheese is celebrated in Florence with Mac Madness Day in July. Try the mac 'n' cheese with a shrimp po'boy at Julia Belle's Restaurant. Florence is also the hub of the South Carolina Pecan Trail, so get your fill of pecan-inspired dishes and creations at more than 20 participating restaurants.
Myrtle Beach, South Carolina
What better place to end a road trip than at the beach? In Myrtle Beach, you'll enjoy 60 miles of coastal activities. Often called the golf capital of the world, you'll find some 88 courses where you can spend the day. When you're not enjoying relaxing on the beach (or golfing), there's plenty to do. Take in the undersea world at Ripley's Aquarium, enjoy a show at the Carolina Opry or the Alabama Theatre, or visit the upside-down house known as WonderWorks, where you'll find an amusement park for the mind with more than 100 hands-on exhibits.
You can get your fill of seafood at the many seafood buffets, beach bars, and fine dining restaurants. Crabby George's seafood buffet has 120 items to choose from — everything from fried oysters to white clams and stuffed flounder. Or visit Drunken Jack's for fresh seafood. Start with the shrimp and crab fondue served with toasted ciabatta, then satisfy your seafood craving with the sesame encrusted ahi tuna. Or really get your fill with the Drunken Jack's Sampler, which includes bacon-wrapped crab, stuffed shrimp, bacon-wrapped sea scallops, blackened beef tips, and mini crab cakes topped with a bearnaise sauce.
For something different, spend a few nights at the Waikiki Village Motel just steps from the beach. You'll have a vintage Myrtle Beach experience with a modern twist at the National Historic Register retro motel. Or stay in an upscale luxury resort: the Anderon Ocean Club and Spa. Enjoy a full-service spa, views of the Atlantic Ocean, and an oceanfront tiki bar while staying in a condominium.
Want more road trip inspiration? Consider this Blue Ridge Parkway road trip: the perfect five-day itinerary.