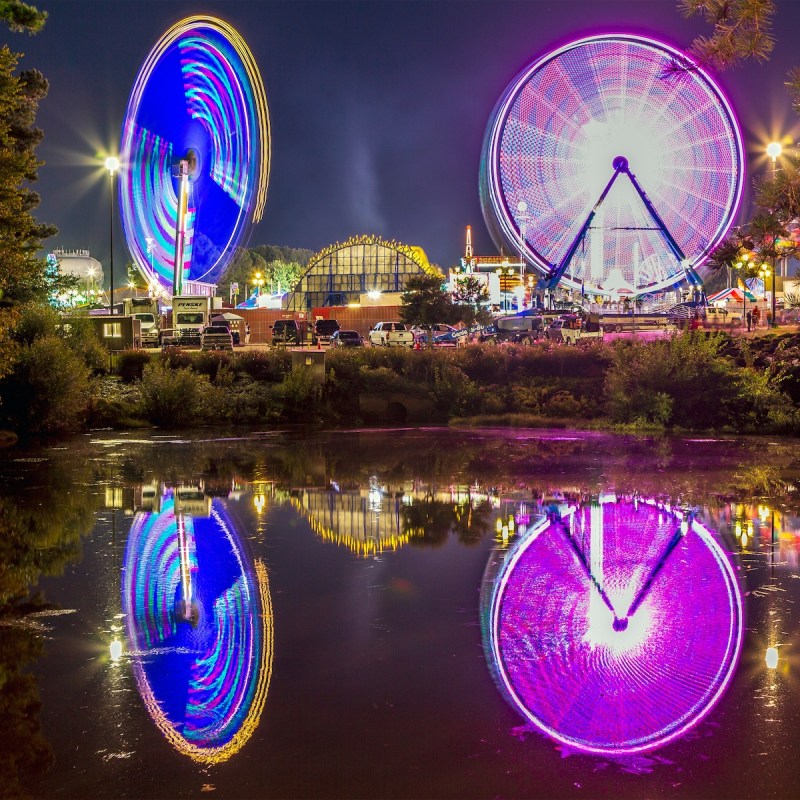 North Carolina is one of the fastest growing states in the country, with people here moving from all over the U.S. and the Northeast in particular. North Carolina is a mix of sophisticated cities like Charlotte and Raleigh. It has a rich history in places like Greensboro, tons of farmland, and beautiful coastal communities like Wrightsville, Carolina, and Kure Beaches.
A couple of years ago, I road-tripped the Piedmont region, which extends from the coastal plain to the Blue Ridge Mountains. The region has farmland and rolling wooded hills, especially on the I-40 stretch near Hillsborough. I started in Raleigh, then drove the short distances to Greensboro, Winston-Salem, and on to Charlotte where I attended the inaugural BayHaven Food & Wine Festival. It was October and the leaf-peeping was spectacular. In a few days, I discovered what all the buzz is about.
Fall is a great time to visit the state with all its fairs and agri-fun going on. Here's a look at some events to add to your North Carolina getaway.
1. North Carolina State Fair
This 10-day event, October 12–22 at the North Carolina State fairgrounds in Raleigh, is the granddaddy of fall festivities. Expect everything from monster truck rides, horse pulls, tractor pulls, live music for all tastes (from bluegrass and rock to hip hop), horse and bird shows, livestock competitions, comedy performances, fire arts, the flower and garden show, an antique farm machinery exhibit, a demolition derby, a slew of vendors, rides, games and much more.
If you want to trip down memory lane, the Heritage Circle is where you can see volunteers working in the tobacco barn and curing tobacco the old-fashioned way. At the Old Grist Mill, you can experience a historic, working grist mill (which grinds grain into flour) and be rewarded with a hush puppy sample to enjoy.
2. North Carolina Apple Festivals
North Carolina ranks seventh in the nation for apple production. Fall is full of apple festivals. Two favorites are the North Carolina Apple Festival in Hendersonville, held over Labor Day weekend and noted for its King Apple Parade; and Brushy Mountain Apple Festival, one of the largest 1-day arts and crafts festivals in downtown North Wilkesboro, held on the first Saturday of October. Brushy Mountain features more than 400 arts and crafts vendors, 100 food concessions, music stages, folk and square dancers, and more.
Elsewhere in the state, the third weekend in October is apple time too. That's when Taylorsville hosts its apple festival with some 400 booths, rides, friendly competitions, pitching booths, puppet shows, mechanical bull rides, music, and a flea market. Then there's the NC Mountaineer and Apple Butter Festival in Bakersville, featuring a homemade apple butter demonstration, a chili and cornbread cookoff, a car show, music, arts, and crafts. In Waynesville, that weekend is all about the Apple Harvest Festival. Anticipate apple pies, tarts, caramel apples and ciders, music, arts and crafts, and old-school fun like hand-cranking ice cream and pressing apple cider.
3. Valle Country Fair
Odds are you've never gone pumpkin bowling. You can check that off your bucket list at the Valle Country Fair in Valle Crucis/Banner Elk. The day-long event, October 21, includes alpaca visits, bluegrass and country bands, Brunswick stew, roasted corn on the cob, barbecue, and fresh-pressed apple cider. See if you can keep up with the foot-stomping of the clog teams.
4. Clayton Harvest Festival
This 4-day fete, October 26–29, in Clayton is chock-full of festivities. Enjoy the car show; the Latin American Festival with music, food trucks, and dance troupes; the Squealin' on the Square BBQ pig-cooking competition; pony rides; the motorcycle show; the talent showcase; carnival rides; and more.
5. North Carolina Pecan Harvest Festival
Make your way to Whiteville from November 3–4 for the Pecan Harvest Festival. See who takes home bragging rights for the best pecan pie and the burger brawl. The vintage car show, parade, vendors, and live music up the fun factor.
Pack Your Bags
While the fall festivals and fairs may draw you to these cities, there's plenty more to their stories.
Take, for example, Raleigh, the state capital. The culinary culture holds its own against big cities that are havens for foodies. Then there's the lively music scene. The abundance of public art and murals is also easy on the eye. Care for a cold one? The Raleigh Beer Garden serves one of the world's largest draft beer selections.
You'll find more beyond the Harvest Festival in Clayton. The city's downtown boasts a sculpture trail and you can enjoy a concert or performance at the Clayton Center. Whiteville, with a population of just under 5,000, and Taylorsville, just over 2,300 people, both have small-town charm. There's no time like the fall, when the hot summer heat is long gone, to experience North Carolina.