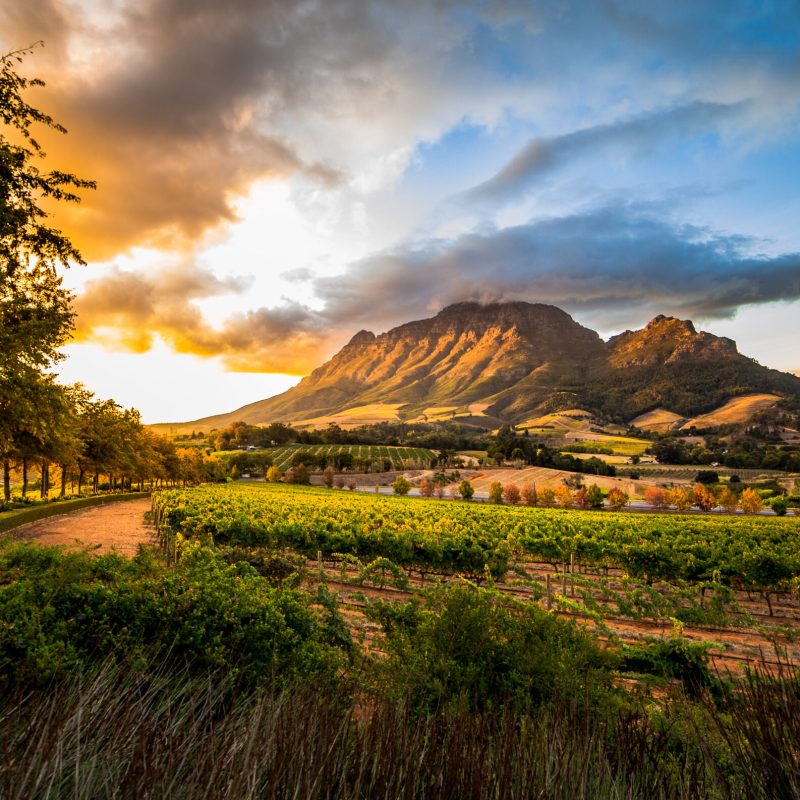 Cape Town captures the attention of every traveler to South Africa. But beyond the big city, you'll find another destination that will leave you enchanted: Stellenbosch. A university town surrounded by hundreds of wine estates and sprawling vineyards, Stellenbosch invites visitors to explore a different side of South Africa. Its relaxed pace creates the perfect atmosphere in which to appreciate the historic charm of the Cape Dutch architecture, the cool shade of the towering oak trees that line the avenues, and the public art installations that pop up on every corner. And about that wine — you'll be able to sip, savor, and quaff Stellenbosch's famous reds and whites in tasting rooms scattered throughout the second-oldest town in South Africa.
Looking for the perfect day trip from Cape Town? Check out these eight things to do in Stellenbosch.
1. Take The Bites & Sites Tour
Stellenbosch is arguably the prettiest town in South Africa. But the best way to experience it is not with your eyes, but through your belly. Fortunately, you'll get to use all your senses on a Bites & Sites adventure in Stellenbosch. The cultural food tour immerses you in the town's history and culinary scene. Enthusiastic guides (some of whom were born and raised in Stellenbosch) take you around the town, explaining how it evolved from a small pioneer village to a vibrant college community. Along the way, you'll sit down at some of the town's most popular restaurants for nibbles that reflect the heart and soul of Stellenbosch. You'll enjoy a local tea and dessert, taste biltong (a dried, cured meat), dig into a crusty loaf of bread from a historic bakery, sip wine at a rock 'n' roll-themed bar, and finish with lunch at a gorgeous hotel. What could possibly be a better introduction to a town than eating your way through it?
2. Check Out The Local Art
As you walk around Stellenbosch, you'll definitely notice some quirky sites: a giant pink comb stuck into the sidewalk outside an old church, a curly red oak leaf that looks like it fell from a tree just moments ago, and oversize paper clips standing at an angle along the street. These zany sculptures are part of an outdoor exhibition made up of locally made pieces that double as bike stands. Each work gives you a fresh look at the culture of the town and its creative spirit. Try to spot all of the sculptures as you walk around Stellenbosch — or, better yet, rent a bike from the Adventure Shop and explore them on two wheels.
3. Hike Through Jonkershoek Nature Reserve
It's impossible not to be awestruck by the craggy mountains that serve as the backdrop for Stellenbosch. But the best way to appreciate them is not from afar, but up close on a hike through the Jonkershoek Nature Reserve. The reserve is home to a variety of short, casual nature walks as well as more challenging trails that take hikers through patches of indigenous forest, up rocky peaks with panoramic views, and even to a waterfall. If you're craving a little bit of nature therapy, there are few better places to find it than at this nature reserve outside of Stellenbosch.
4. Try Your Hand At Falconry
Chances are that you're going on a safari at some point on your trip. Seeing lions, giraffes, and rhinos is a quintessential South African experience. But the country offers another type of animal encounter that might surprise you: falconry. You can experience the relationship between humans and raptors at the ecotourism venture Eagle Encounters in Stellenbosch. Cofounded by Hank Chalmers, who was raised by one of the first falconers in South Africa, Eagle Encounters invites travelers to come for interactive displays with these fascinating feathered creatures. You'll learn how falconers use ancient techniques to train birds of prey, watch a simulated hunt, and see how the raptors have developed unique adaptations to help them thrive in the wild. There's no shortage of owls, buzzards, hawks, falcons, eagles, and other beautiful birds to photograph up close. Eagle Encounters is dedicated to conserving and rehabilitating these birds, so you can feel good about each rand you spend at this nonprofit.
5. Wander The Botanical Garden
Whether you're a botany enthusiast or a weary traveler in search of zen, you'll find something to love at the Stellenbosch University Botanical Gardens. A blooming oasis in the historic center of Stellenbosch, the botanical garden features a stunning array of plants, from the indigenous to the exotic. The bonsai collection is a favorite among visitors — it includes an 80-year-old pine tree in petite form, flat-crown and baobab-style bonsai, and even a mini wild olive tree. Stellenbosch University Botanical Gardens is also home to an array of themed gardens, including a lush fern house and a water lily pond that looks like it belongs in a Monet painting. Swing by the on-site Katjiepiering Restaurant to refuel with pastries and salads under a red-flowering gum tree.
6. Check Out The Village Museum
If you're looking to travel back in time, drop by the Stellenbosch Village Museum. It comprises four historic homes (plus their gardens) that give travelers a glimpse into the different periods of Stellenbosch's architectural development. One building, the Schreuderhuis, dates to 1709, making it the "oldest restored and documented town house" in South Africa, according to the museum. You'll see strings of onions, herbs, and fish dangling from the rafters and an open hearth, giving you a sense of an 18th-century kitchen and the pioneer spirit of the early residents. Museum visitors can also tour Blettermanhuis (a Stellenbosch home with an H-shaped ground plan), Grosvenor House (an example of the two-story, flat-roofed homes you can see throughout Stellenbosch), and the O. M. Bergh house (an everyday home from the mid-19th century with patterned wallpaper). All four homes depict how families lived during Stellenbosch's earliest days.
7. Tour The Vineyards
No trip to this renowned wine region would be complete without tours of the local vineyards and (of course) guided tastings of the wine. Wine Flies will introduce you to the local viticulture on its popular wine tours of Stellenbosch, which run seven days a week. Guided by true wine aficionados, the tours visit five carefully selected estates that showcase a broad spectrum of farms and producers in the region. You'll learn how the wine is made and taste a diverse range of wine styles paired with locally produced cheese, cured meats, and artisanal chocolates. Plus, the experts will point out the subtle notes of each wine and give tips on which bottle to order during your next meal out. Want to take an even deeper dive into the local wine scene? Wine Flies also offers private wine tours that include bucket list-worthy activities like horseback riding through vineyards, private picnics, tastings with the winemakers, and more.
8. Dine With The Locals
Stellenbosch is a melting pot of cultures, from Afrikaans and English to Xhosa and Khoisan. That's one of the reasons why the Dining With Locals experience has become one of the most popular things for tourists to do in Stellenbosch. The 2-hour dining experience puts you side by side with locals to try traditional food, learn the language, and make new friends. You'll choose from one of two menus: African traditional, with roasted chicken, pumpkin fritters, pap, chakalaka, and baked pudding; or Cape Malay, with samosas, bobotie with sambal, yellow rice with raisins, koesisters, and melktert. Throughout the evening, you'll be entertained by local singers, dancers, craftspeople, and storytellers. When it comes to things to do in Stellenbosch, this is certainly one that will stay with you long after it's over.