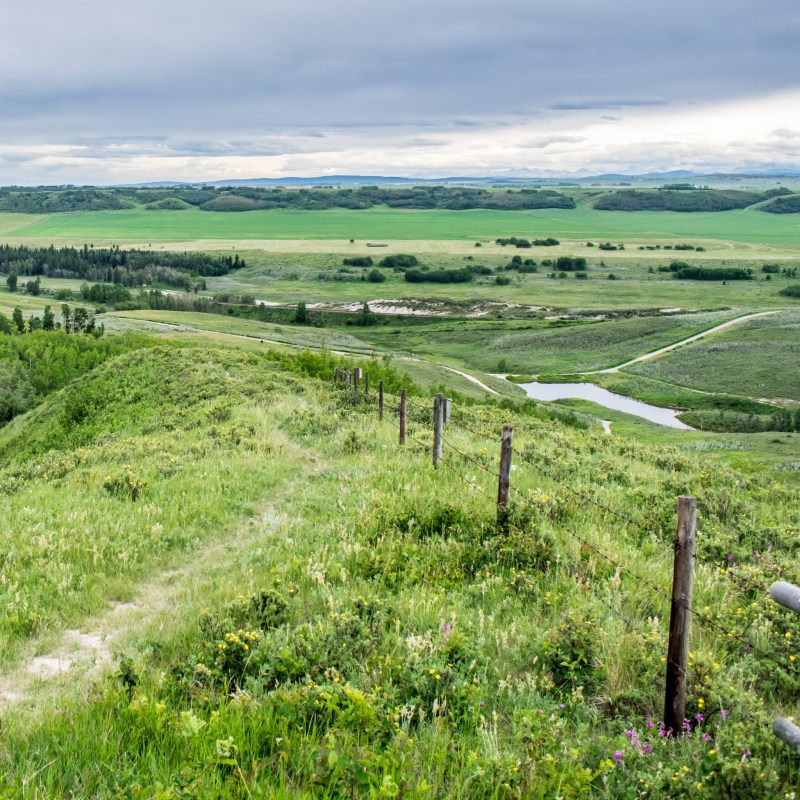 A short drive from Calgary, Alberta, and Banff National Park, Cochrane has become a bit of a bedroom community. But at its heart is a rich Western heritage and a charming historic downtown. It's fun to go there for an afternoon ice cream stop, some shopping, or a picnic.
With lots of green space and two provincial parks, Cochrane makes outdoor relaxation easy. Here are seven other reasons to visit historic Cochrane.
1. It Offers Fantastic Views Of The Rockies
Cochrane's downtown is in the valley of the Bow River, though much of the newer parts are on the surrounding hillsides. Driving west from Calgary on Crowchild Trail (Highway 1A), you'll suddenly find a Canadian Rockies panorama in front of you. For your first photo opportunity, check out The Links of GlenEagles, an 18-hole public golf course with a spectacular view. Keep your camera handy at Cochrane Ranche's Men of Vision statue, and again when you go up to the Bert Sheppard Stockmen's Foundation Library and Archives.
2. MacKay's Ice Cream Is Worth The Drive
MacKay's Ice Cream in Cochrane was already an institution when I moved to Calgary back in the Middle Ages. The MacKay family started their ice cream business in 1948, making the ice cream in the back of their grocery store. The business is still family owned, and they still make their own ice cream, but it's at a plant in Cochrane, not in the back of the store.
One of my secret reasons for visiting Cochrane recently was to have a MacKay's cone. I went for a two-scoop combo: black cherry on the bottom and — wait for it — maple bacon on top. It doesn't get more Canadian than that!
3. Parking Is Free And Easy
Want to raise eyebrows in any town or city? Just mention parking.
We found a convenient, free parking spot with no effort, but of course that could have been unusual. I checked it out. In 2019, Cochrane's council looked at the results of a study based on 2017 traffic and parking and found no big problem with offering free parking in the historic downtown area.
Of course, parking right in front of MacKay's could be an issue on a hot day, but you shouldn't have to walk far.
4. Cochrane Ranche Is Where Big Canadian Ranches Started
A short drive from the historic downtown, Cochrane Ranche is a Provincial Historic Resource. Now it's home to a big park with parking, trees (and welcome shade in the summer), trails, hills, Bighill Creek, the Cochrane Historical Museum, and lots of room for picnics, family hikes, and biking. We found plenty of parking and accessible washrooms.
Large-scale cattle ranching started later in Canada than it did in the United States. In 1881, Senator Matthew Henry Cochrane, a successful businessman and livestock breeder, was able to lease a vast tract of land for a ranch at a favorable rent. This was a radical change from the way the Canadian government had been managing land in the West. It was an opportunity for capitalists to establish agricultural businesses on an entirely new scale.
A giant capital C hangs over the gate, but despite its grand ambitions and 109,000 acres of prime land, the Cochrane Ranche only lasted a few years. Bad weather and questionable decisions took their toll on the cattle driven north from the U.S. to stock the ranch. Before 1890, the Cochrane cattle were moved south and the ranch was sold.
The Cochrane area did turn out to be productive, though. Plaques in the park today tell about the brickworks and creameries that sprang up here. As far as ranching goes, the ranch is a good place for it, and over time, others succeeded. This is cowboy country now.
5. It's Home To Bert Sheppard Stockmen's Foundation Library And Archives
Up the hill from Cochrane Ranche, a huge modern building called the Cochrane RancheHouse is home to the Cochrane town administration, some conference rooms, and the Bert Sheppard Stockmen's Foundation Library and Archives.
The room itself is gorgeous, with high ceilings and exposed log framing and an overall light and airy feeling. This place exists to preserve and share the heritage of the livestock industry.
I had a good look around the well-stocked library and talked to Scott Grattidge, the executive director of the foundation, about some of their unique holdings. The cowboy hats lining some of the beams above are labeled with the names of the former owners. Taxidermied animals, including a cougar and the head of a bison, sit quietly along one wall. I saw fancy saddles and an extensive collection of barbed wire. Yes, this place is serious about their heritage. Scott explained the importance of a rancher's "land and brand" as we stood beside a rack of branding irons.
As part of its archives, Stockmen's has the original canceled Alberta brand files from lapsed brands. It's a fascinating source of history.
6. It's Got Western Art By Some Of The Best
I noticed more Western art in Cochrane on my last trip, especially bronze sculptures. If you love Frederic Remington-style art, a visit to Cochrane will delight you.
At Cochrane Ranche, up on the hill, the Men of Vision statue of a cowboy on his horse overlooks the broad Bow Valley, where Senator Cochrane's thousands of cattle once roamed. Installed in 1979, the sculpture by local artist Malcolm James MacKenzie was cast in England.
Downtown, a sculpture of a Prairie wife feeding chickens is a familiar sight across the street from MacKay's. It was created by the Studio West Bronze Foundry & Art Gallery. Artists Don Begg and Shirley Stephens-Begg have created over a hundred bronze monuments around the world. The studio and gallery are in Cochrane's industrial park, and they are available to tour.
The Bert Sheppard Stockmen's Foundation Library and Archives houses a fine collection of tabletop bronzes of Western characters and animals. I also admired the landscape paintings showing cowboys and cattle on the range. Their life wasn't easy.
7. The Rockyview Hotel Will Take You Back To Your 20s
A stone's throw from MacKay's, the Rockyview Hotel is an intriguing old building, one of the Cochrane originals. Built in 1904, it has since been restored to highlight some of the period features.
Do you remember those big old hotels with a bar on the main floor and rooms above? Every town had one — it was the place where everybody went to drink and dance on a Saturday night. That's what we're talking about here.
On the one hand, I would love to stay a night in one of the restored rooms, even though it could mean sharing a bathroom. On the other hand, I wouldn't want to have to get up early if the bar was noisy the night before. If, like me, you're a little undecided, at least try and stop in for lunch or a drink. I thought the dining room was really inviting, with its pressed-tin roof and antique player piano.
If you'd rather stay somewhere less atmospheric, Cochrane has a selection of accommodations including hotels, bed and breakfasts, and campgrounds.
What To Know Before You Go
Leaving the big RancheHouse, you can only turn right. The way back to town is left, so you'll end up driving uphill into the housing subdivision before you can turn around and come back. Don't despair! There's a nice local restaurant on this route, and you'd miss it otherwise. Forge & Smoke is a casual place with satisfying food. We went with friends who live in Cochrane, and it's one of their go-tos for an easy meal out.
From Cochrane, you could be an hour closer to Banff than from the Calgary International Airport, depending on the traffic. It's a great place to start a road trip to Banff or even Vancouver via the Coquihalla Highway.
Near Cochrane Ranche, Highway 22 meets Highway 1A. If you want a scenic summer drive, take Highway 22 south as if you were going to Vancouver on the Crowsnest Pass. This road will get you to the Bar U Ranch National Historic Site and the Head-Smashed-In Buffalo Jump UNESCO World Heritage site. Both of these seasonal sites can be visited as day trips from Cochrane.