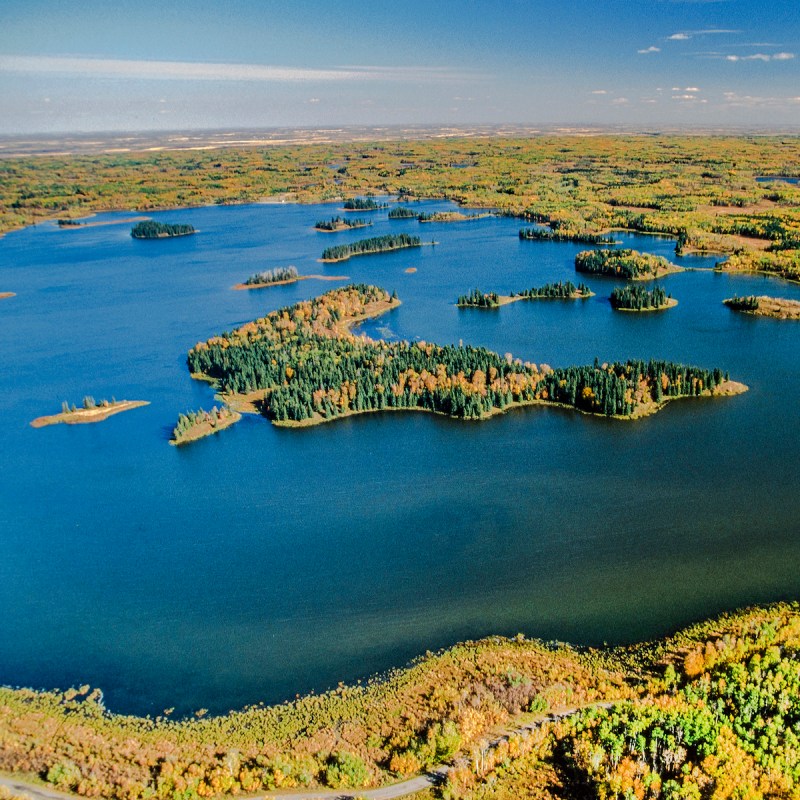 The only thing I knew for sure about my upcoming trip to Edmonton, Canada, was that it would be cold. I was preparing for an early March trip and continually checked the temperatures which were often below freezing. Living in Southern California, I didn't know another person that had ever been to the provincial capital of Alberta. So with a suitcase stuffed with warm clothing, I headed to a new city ready to be surprised.
Oil is a defining part of this city. Even its hockey team — the Oilers — is named for the city's largest economic driver. Approaching town from the airport, refinery smokestacks can be seen everywhere on the outskirts of town. But then the river valley appears — in my case blanketed with snow — and a whole other side of the city unfolds. The North Saskatchewan River Valley is North America's largest stretch of urban parkland and is a defining characteristic of Edmonton.
No matter what time of year you visit Edmonton, you'll have plenty to do. I only scraped the surface and will definitely need to return — preferably in a warmer season.
My trip was hosted by Travel Alberta and Explore Edmonton, but all opinions are my own.
1. Louise McKinney Riverfront Park
If you're going to be in Edmonton, you must spend a portion of your time along the river valley. I recommend starting your exploration at Louise McKinney Riverfront Park. Take a walk, ride a bike, or for something more adventurous, book a segway tour with River Valley Adventure Company.
Edmonton Chinese Garden
Located in Louise McKinney Riverfront Park is the Edmonton Chinese Garden, a peaceful 3-acre space that's perfect for an afternoon stroll. Or bring a picnic to enjoy amidst the pagodas and statues.
Cross The Tawatinâ Bridge
Named for the Cree word meaning "valley," the two-story Tawatinâ Bridge provides a public transit crossing on the upper level with a pedestrian space below. The real highlights here are the 400 pieces of art created by indigenous artists which are only visible from the lower level.
If you're looking for an easy walk or bike ride, start at the Tawatinâ Bridge and follow the trail for 4.4 miles to the Walterdale Bridge. The river views along the way are gorgeous.
2. Festivals
Known as Canada's number one festival city, Edmonton hosts more than 50 events each year focused on everything from theater to music and food to art. Among their best-known is Fringe Theater Festival, held for 10 days every August. Don't assume that events are offered only in the summer. In fact, there are at least 10 festivals during the coldest times of the year including the International Ice Carving Competition, the Canadian Birkebeiner Ski Festival, and the Silver Skate Festival.
3. The ICE District
I had the pleasure of staying at the J.W. Marriott in the ICE District, so I had a glimpse of all the fun activities offered in this part of town. Grab a drink, sit down for a cozy dinner, or head to a hockey game.
Catch A Game At Rogers Place
You know you're in Canada when the only sport on any screen is hockey (okay, sometimes it's curling). The ICE District was developed around Rogers Place which is home to the National Hockey League's Edmonton Oilers and Western Hockey League's Oil Kings. With a season stretching from October to April, there's a good chance a home game will be taking place while you're visiting.
Go Ice Skating
In the center of the ICE District is a large skating rink. Opened to the public from 10 a.m. to 10 p.m. during the winter, there is no admission fee, but skaters must bring their own skates.
4. The Neon Sign Museum
A collection of 20 restored neon signs appear on 104 Street and 104 Avenue, just a few blocks from the ICE District. Below each sign is a plaque that tells the story of a well known or beloved shop in Edmonton. No longer an economical way to light signage, many neon signs in the world have found their way to the trash dump. But here a group of concerned citizens sought out these vintage artworks, restored them, and installed them on red brick buildings.
We had the chance to see these brightly lit signs at night, which I would definitely recommend. There's no admission fee, so just find a nearby place to park and stroll along the street.
5. Elk Island National Park
In less than an hour, visitors and Edmonton residents can be in a national park to enjoy hiking, kayaking, snowshoeing, cross-country skiing, and my personal favorite, wildlife viewing. Elk Island National Park was Canada's first wildlife refuge, established to protect its resident elks. Today, however, it's best known for the 700 plains and wood bison that were relocated here in an effort to save these species. Start your visit at the Visitors Information Centre and look for the heat map showing common spots in the park to spot bison.
Pro Tip: There's a good chance you'll see bison at Elk Island, so if you enjoy photography, be sure to bring along your telephoto lens. In winter, the contrast of dark brown bison against the snow makes for excellent photos.
6. Happy Beer Street
Whoever nicknamed 99th Street "Happy Beer Street" was a genius. Stretched along a few blocks of this otherwise nondescript road are seven breweries, making a wide range of beers. You could make an evening of it at just one brewery, or work your way through a few. Some serve full meals while others offer small bites or occasional food trucks.
The Monolith
The Monolith does not sell your typical beers. Instead, they experiment with the ingredients and methods of fermentation to create a beverage that blurs the line between wine and beer. After fermentation in stainless steel tanks, their beer is aged in barrels previously used for wine or bourbon. The result is a slightly tart beverage that might be compared to a sour beer. Definitely come to try the beer, but if you're able to take the tour, do that as well so you can learn more about his unique product.
Bent Stick Brewing
Next door to The Monolith is Bent Stick, a brewery serving a nice selection of IPAs along with darker beers. As a fan of hazy beers, I was delighted to see that this brewery sells one called Electric Boogaloo Hazy IPA. They specialize in small batches, so the selection will definitely vary each time you visit. And feel free to bring your dog; this is a pet-friendly establishment.
7. Great Food
Edmonton's food scene is impressive. The city's chefs take advantage of locally sourced ingredients, which in this case often include bison and elk. I sampled many inventive, well-executed dishes and only wish I could go back to eat more.
Rge Rd
What started as a farm dinner grew into one of Edmonton's favorite restaurants, Rge Rd. Specializing in wood fire cooking and whole animal butchery, this is a meat lover's dream destination. However, there are plenty of good vegetable and fish dishes on the menu as well. We enjoyed the Road Trip, a multi-course, blind-tasting experience which essentially means you have no idea what you are about to eat. All of it was good, but the Pilatus farm bison was my favorite.
Biera
Biera had some of the most creative dishes I've ever seen, starting with spent grain sourdough bread served with kombucha cultured butter and Swiss chard furikake. Fortunately, since I was dining with a group, we were able to sample many of the offerings on the menu. While we enjoyed everything, I am still dreaming about the fromage blanc dumplings with kale and preserved lemon. And it was all complimented with an excellent Old Fashioned.
Related Reading: