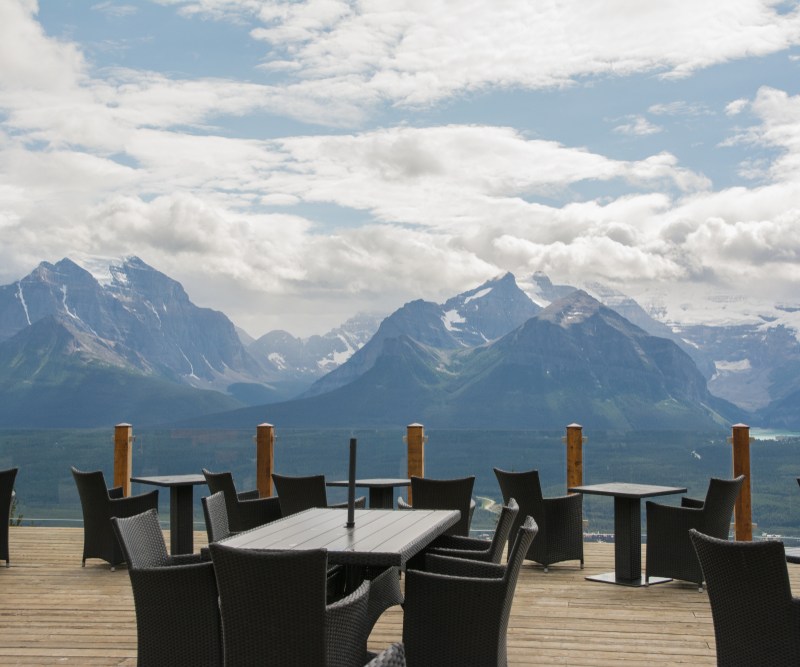 Great food and a gorgeous view, a foodie vacationer's dream destination. It can often be a challenge to find great options that offer both exquisite cuisine and panoramic vistas. In Canada's Banff and Lake Louise, it is commonplace to have a fine-dining experience with picture windows framing gorgeous, rugged Rocky Mountain views.
With views of Banff National Park and beautiful Lake Louise, dining never tasted and looked so good. Below are nine of the best restaurants with a view in and around Banff. The restaurants are listed in no particular order.
Note: Some information in this piece was obtained during a sponsored press trip, but all recommendations are my own.
1. The Vermillion Room
Take a stroll through the iconic Fairmont Banff Springs hotel, where you will be transported back in time when travel was an elegant endeavor. Visible around Banff, the Fairmont rises from the pine forest with all the grace and beauty of a grand dame. It is a wonderful destination for a special occasion or celebration.
The Vermillion Room in the Fairmont Banff Springs is a quintessential Banff dining experience. Secure a romantic table by the window. There you can enjoy a view overlooking the lawn with Banff's rugged peaks setting the backdrop. The view is only overshadowed by the exquisite cuisine.
The beef tartar is a perfect starter, served with a smoked egg yolk, black garlic aioli, and grilled sourdough bread. Alternatively, the roasted beets with an amazing orange ricotta and fennel jam will get your appetite warmed up. The entree selection will take time to peruse — the perfect opportunity to enjoy a glass of wine. The braised Alberta beef short ribs melt in your mouth and the mushroom gnocchi is delightful. Leave room for coffee and dessert — like the sinfully delicious creme brulee — to top off a relaxing dining event.
Pro Tip: Another amazing restaurant at the Fairmont is their 1888 Chop House.
2. Fairview Bar And Restaurant
The Fairmont Chateau Lake Louise is a UNESCO World Heritage Site. Known for elegant appointments and exemplary service, a stay at the Fairmont Chateau Lake Louise is a special treat.
Their Fairview Bar and Restaurant is one of the best places to experience breathtaking views of Lake Louise. Whether you visit for dinner or stop by for an adult beverage, the Fairview is a must-see on your Lake Louise itinerary. Expertly crafted regional cuisine will entertain all your senses and excite your foodie exploration.
Starters like the parmesan gratin mushroom served with creminis, garlic butter, and baguette; and the albacore tuna crudo with pomegranate seeds and jalapenos are delicious decisions to begin your culinary journey. Move forward to the likes of the burnt cedar plank sockeye salmon or the bison ribeye to round out your steakhouse-style, foodie desires. The extensive wine list will offer options for the perfect bottle to complement your elegant dinner.
Pro Tip: Short notice reservations can be difficult to attain. If you don't have the opportunity to dine, make a point of enjoying a drink at the bar.
3. Maclab Bistro
In the heart of the cultural Banff Centre for Arts and Creativity sits the charming eatery, Maclab Bistro. The bistro's modern style with floor-to-ceiling glass walls brings the outside tableside, or you can opt for al fresco dining with breathtaking patio views. The simplicity of the bistro's decor allows the scenery to capture and hold your attention.
The house specialty is the Cobb salad, an enormous plate of fresh greens topped with avocado, goat cheese, chicken, hard-boiled egg, and other assorted goodies — yummy comfort food. The Classic Maclab Burger is a local favorite — piled high with bacon, mushrooms, onion marmalade, cheddar cheese, and other burger staples. You can understand the burger's appeal.
One Banff local noted, "Maclab Bistro is just far enough from the hustle of Banff Village, but is just a short walk away — it's our favorite get-a-way restaurant."
Pro Tip: Maclab Bistro is the perfect stop if you have just finished hiking the close-by Tunnel Mountain Trail.
4. La Terrazza
Italian cuisine is always a crowd pleaser and La Terrazza is the best spot in Banff to experience Italian fare in a unique greenhouse-inspired dining room. Located in the Banff Park Lodge in downtown Banff, La Terrazza's lush tropical garden-house ambiance sets the tone for a sumptuous dining experience. Views through the large windows and ceiling glass offers diners beautiful inside and outside vistas.
Start with the lobster bisque served with a flavorful whipped basil cream or the steamed mussels with a 'nduja marinara sauce and garlic bread. Follow your appetizer with La Terrazza's signature dish, Rosellini. It is a gorgeous plate of pasta roses stuffed with ham and cheese swimming in a light tomato sauce. It is perfection on a plate!
Pro Tip: The BPL-52 is a specialty dessert cocktail that is potent and delicious. Consisting of Godiva White Chocolate Liqueur, Tia Maria, and Hennessey VS Cognac, the sweet adult indulgence is finished with a liqueur-infused cream. It's dessert in a glass.
5. Sky Bistro
Ride the Banff Gondola up to the top of Sulphur Mountain for a panoramic mountain-top dining view. Sky Bistro's patio is perfect to enjoy a brew and a nosh while soaking up the gorgeous, panoramic views. The option of inside or patio dining makes Sky Bistro accessible in any weather. Carefully selected, locally sourced, and expertly crafted cuisine awaits your arrival.
Lunch with a northern flavor profile could include the spicy elk bolognese served with a local bucatini or the cold-smoked salmon open-faced sandwich. For dinner, start with the oka, a fried Canadian cheese served with a gooseberry chutney. Follow that with the Alberta braised short ribs served with charred broccolini and baked corn polenta — a hearty meal to fuel your hiking plans.
Pro Tip: You need a separate ticket to ride the Banff Gondola up to Sky Bistro.
6. Whitehorn Bistro
Enjoy a gondola ride up to the top of the Lake Louise Ski Resort to experience spectacular views. At the top of the mountain, dine at Whitehorn Bistro. This lunchtime venue is the perfect spot to share a Swiss classic — cheese fondue — with your bestie. In true Alpine tradition, the fondue is served with fingerling potatoes, artisanal breads, gherkins, pearl onions, and assorted accompaniments.
Pro Tip: Check the website for seasonal hours. It is open for a time during the short summer months.
7. Juniper Bistro
Perched on a hilltop at the Juniper Hotel, just out of Banff Center, Juniper Bistro offers beautiful mountain vistas while you dine. The brunch menu is small but powerful, perfect to fuel you up for a day of exploring Banff National Park.
The smashed avocado toast, with the unique addition of charred corn and goat cheese, accompanies a poached egg, all playing nicely together on yummy sourdough toast.
Juniper Bistro is also open for dinner offering delectable items like their beet burger crafted with organic beets and classic burger fixings. If you are asking, "Where's the beef?" check out the Juniper Burger made with Alberta beef and smoky cheddar cheese.
Pro Tip: The Juniper Hotel is a fairly long roadside walk from Banff Village. This is one spot you will want to splurge on a Banff taxi.
8. Eden
The luxurious Eden restaurant, located in The Rimrock Resort Hotel, treats diners to stunning mountain views and multi-course tasting menus. The option of a three- or eight-course menu — and a vegetarian option — is made even better with the addition of an expert wine pairing. When you sit back and let the chef control your meal and the sommelier control your wine, you expand your culinary adventure by dining out of your comfort zone. It can be surprising and enlightening taste-testing someone else's choices.
The eight-course, grand tasting menus includes chef-driven delicacies like sour cherries, spring pea ravioli, smoked elk tartare, seared scallop, dry-aged duck, wagyu strip, brie cheesecake, and finishes with a chocolate wonder.
Pro Tip: Diners will explore the taste of the Canadian Rockies and expand their culinary repertoire while enjoying the majestic scenery.
9. Cliffhouse Bistro
Cliffhouse Bistro on the top of Mount Norquay is a fun spot for a casual lunch. The Cliffhouse offers a gorgeous view of Banff and the surrounding mountain peaks. Accessible by the North American sightseeing chairlift, you will love the charming decor.
Enjoy a salad or sandwich with a local brew while you kick back and soak up the gorgeous views. It is one of those spots where you create fun memories.
Pro Tip: Visit Jolene's Tea House in Banff Village after sipping your favorite brew at the top of Mount Norquay.
Explore Banff & Lake Louise
Foodies will love Banff National Park and all the wonderful culinary options available. When you couple great food with gorgeous, over-the-top views, it is a win-win for everyone. Dining in Banff should never be boring. With restaurants that run the gamut from bistro to fine dining, you will find something to fit your budget in a place where you can breathe fresh Bow Valley mountain air and fall in love with the scenery.
Pro Tip: Other restaurants in the Banff area that I hear are worth checking out include: Nourish Bistro on Bear Street, The Maple Leaf on Banff Ave, Tooloulous on Caribou Street, Block Kitchen and Wine Bar for great poutine, and Park Distillery Restaurant and Bar for some great Canadian cuisine on Banff Ave.
Visit the Banff & Lake Louise Tourism Office; the best place to find up-to-the-minute information about the area.
Check out the beautiful Calgary scenery that surrounds Banff: