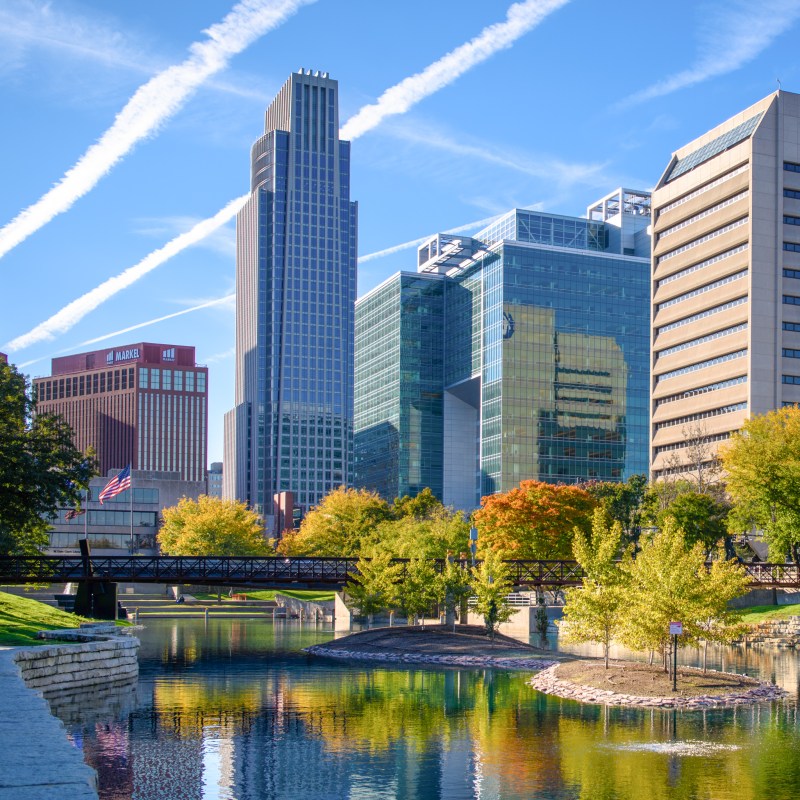 While home to outstanding tourist attractions itself, such as the Henry Doorly Zoo and Aquarium, the Durham Museum, and the Old Market, Omaha is centrally located, making it the perfect spot for day trips. Within a couple of hours, you can be in four different states, home to impressive attractions and fun places to visit, including Iowa's capitol in Des Moines as well as Atchison, considered the most haunted city in Kansas. All day trips are within about two hours of Omaha, allowing you to head out early, enjoy the day and a good meal or two, and then be home in time to sleep in your own bed.
Ashland, Nebraska
About half an hour west of Omaha, a trip to Ashland includes a safari, a ride into the wild blue yonder, and checking out its quaint downtown. Head to the Lee G. Simmons Conservation Park and Wildlife Safari, a drive-thru park home to animals, such as bison, elk, pelicans, prairie dogs, and a family of black bears. Ashland is also home to Eugene T. Mahoney State Park, where you can hike trails, climb a rope course and zipline, and visit a 70-foot-tall observation tower, which offers a beautiful view of the Platte River valley. Next door, the Strategic Air Command and Aerospace Museum showcases aircraft from World War II through the Cold War, as well as a look at spacecraft, including an Apollo command module. Downtown Ashland is home to stores and boutiques, such as Gift Niche and Gene Roncka Willow Point Gallery and Museum.
Atchison, Kansas
While the 2.5-hour drive to Atchison takes you along some interesting scenery in southeast Nebraska and northwest Kansas, once you arrive in Atchison, you'll feel you're among the spirits. Known as the most haunted town in Kansas, Atchison is home to several alleged haunted houses, including the Sallie House and McInteer Mansion. While the Sallie House is open for tours during the Halloween season, McInteer is open year-round. Contact the downtown visitor center for a tour of "Haunted Atchison" or get a map and take a self-guided tour, as well as a historical tour of the pioneer city. Ensure you visit Amelia Earhart's birth site, where you can learn more about the famous aviator who disappeared over the Pacific Ocean in the 1930s. The home sits atop a bluff offering a beautiful view of the Missouri River. With a magnificent altar and immaculate artwork, combine art, history, and religion with a self-guided tour of Benedictine College, whose abbey is also a piece of art, made of Kansas limestone.
Atlantic, Iowa
Resembling an old malt shop, the Atlantic Coca-Cola Center and Museum is the nation's third-largest collection of all things Coke, from antique bottles to toys. The city — called Iowa's Coca-Cola Capital since it's home to the state's Coke distributor — celebrates the relationship with Coca-Cola Days every September with a parade and other activities. Downtown Atlantic, about 75 minutes east of Omaha, provides a great area for a self-guided tour, including taking in views of old murals celebrating the soda and the city's history. About 15 minutes west of town, learn about Iowa's role with the Underground Railroad with a visit to the Hitchcock House in Lewis. About 30 minutes north of Atlantic, you can see Albert, the world's largest bull.
Burt County
Enjoy the 45-minute drive northwest of Omaha as you visit Burt County, home to Master's Hand boutique and chocolate shop. The Tekamah store is home to a variety of home accessories, including handmade candles, a small cafe (reservations required), and chocolate. Everything — from fudge squares to chocolates in the shape of Nebraska — is handmade. During Valentine's season, they make chocolate-dipped strawberries that will earn you points with your true love. Tekamah is also home to the Burt County Museum, which explores the area's history from when Native Americans lived in the area to the early 1900s and includes heirlooms and artifacts donated by local families. With two wineries — Big Cottonwood and Silver Hills — Tekamah is the perfect spot for local wine and cheese. You can also grab a meal and a Nebraska-brewed beer at Chatterbox Brews. Oakland, 14 miles to the west, is home to the Swedish Heritage Center. Located in a former church, it traces the area's cultural history. You can also enjoy a drive in the country as you explore the Byway of Art, featuring a storefront theater in Lyons and a streetcar garden display in Decatur.
Des Moines, Iowa
A visit to Iowa's state capitol, about two hours east of Omaha, is a must. Known for its colorful dome, a guided tour takes you to the state law library, where the antique round staircase is the true star. Shop to your heart's content with a stop at West End Architectural Salvage, with four floors of antiques, furniture, and reclaimed barn wood displayed in unique settings. While there, grab a hot coffee treat from their coffee bar. The Pappajohn Sculpture Park features more than 30 contemporary art pieces, over nearly 5 easily-accessible acres. Enjoy a walk along the Des Moines River, crossing the Principal pedestrian bridge while taking in the sights of the Des Moines Botanical Garden and interesting architecture. You may want to grab an out-of-the-ordinary dinner at Zombie Burger or Jethro's.
Elk Horn, Iowa
Visit an authentic centuries-old Danish windmill, imported by the small community, about an hour east of Omaha. The Museum of Danish America showcases the history of the Scandinavians, who sought a new land similar to their homeland. Don't forget to visit Danish Countryside Vines and Wines, which produces wine from its 15 varieties of grapes raised in the vineyard. Reserve a table at Pleasant Thymes Tea Room for an experience this side of Downton Abbey. For a true taste of Denmark, grab dinner at The Danish Table: Hygge Kitchen, which includes a Danish and American menu. A few miles north, Kimballton is home to a Hans Christian Andersen-themed water fountain and sculpture garden.
Fremont, Nebraska
From an airboat tour of the Platte River to downtown antique shops, Fremont is a nice spot for a day away from Omaha. Bryson's Airboat Tours have been patrolling the Platte River for more than a decade, offering rides that range from one to three hours long. Each tour features a different route along the river, where you may see bald eagles, herons, and other wildlife. The Dodge County community is known for its downtown antique shops and boutiques, so be prepared to leave with a carload of home accessories. You may want to grab a cup of coffee and a sandwich at Milady Coffeehouse, a convenient walk from the antique shops.
Le Mars, Iowa
Le Mars is the Ice Cream Capital of the World, and the sweet treat awaiting you at the Wells Blue Bunny Visitor Center is worth the two-hour drive. The ice cream parlor, where you can get anything from a cone to a banana split, also serves as the company's museum, tracing its history from the early days of ice cream making to today's delicious flavors. You can also enjoy a walk around town, taking in alley art and sculptures of ice cream cones in the business district.
Lincoln, Nebraska
Nebraska's state capital is less than an hour's drive from Omaha and makes for a wonderful day trip. From a capitol tour, including a visit to the observation deck, to the Museum of American Speed or Morrill Hall (University of Nebraska's natural history museum), you can take in impressive sights as well as a little state history. The International Quilt Museum includes a look into the history of the bedding while sharing the art of the craft. A walk through the Haymarket District is a must, with unique stores and boutiques, such as Licorice International, Ten Thousand Villages (a fair trade purveyor), and From Nebraska Gift Shop, plus delicious dining options.
Sioux City, Iowa
About 90 minutes north of Omaha, Sioux City is home to two outstanding museums: the Sioux City Public Museum and the Art Center. Enjoy a walk along the Missouri River, heading to Historic Fourth Street, where you can do a little shopping, admire street art, and grab a nice dinner before heading home. Nature enthusiasts will enjoy a hike along the trails near the Dorothy Pecaut Nature Center.
St. Joseph, Missouri
Home to the National Pony Express Museum, St. Joseph also features a growing downtown district featuring a sculpture walk, antique shops, and Tobiason Studio, where stained-glass art is created. Visit the Walter Cronkite Memorial at Missouri Western State University, including a replica of the CBS Evening News studio. St. Joseph, about two hours south of Omaha, is also home to the Jesse James House, where he was assassinated, and the Patee House Museum, home to St. Joseph's Western history, as well as a wood-carved carousel. The Museum Complex includes four museums, anchored by the Glore Psychiatric Museum, which chronicles the history of mental illness in America. Reserve a table at the JC Wyatt House for an upscale three-course dinner that will leave you wanting more.
Pro Tip: You don't always have to go to larger cities to have fun on a day trip. Smaller towns offer interesting attractions and great dining options, too. For more inspiration, read up on