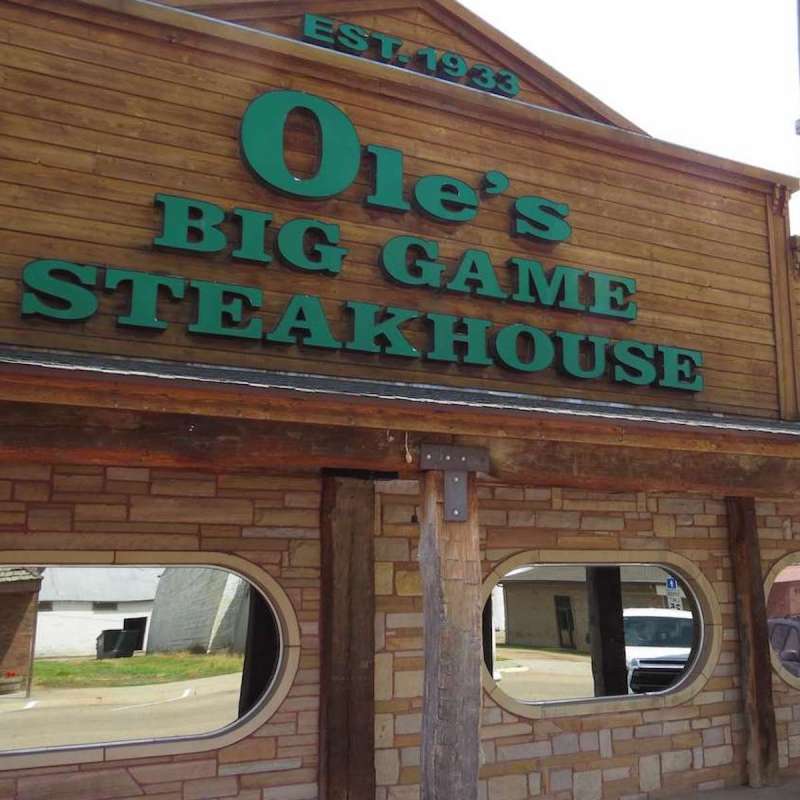 Ask anyone in Nebraska about the one food you need to try when visiting, they're likely to tell you to have a steak. As the fourth-largest beef producer in the country, it's likely you've had a Nebraska-raised steak without realizing it. Omaha is home to one of the world's top mail-order steak companies, as Omaha Steaks International enjoyed more than $500 million in sales in 2020.
From the Missouri River to the east to the Wyoming border to the west, you'll find some of the best grass-fed and corn-fed beef in the world. Whether it's a filet mignon, cowboy cut, or a tomahawk steak, you can't go wrong in choosing an amazingly delicious steak. In Nebraska, steak dinners tend to be memorable.
As you seek your outstanding Nebraska steak experience, here are 11 restaurants to try (in no particular order).
1. The Committee Chophouse, Omaha
Located at the Kimpton Cottonwood Hotel — formerly the Blackstone — The Committee Chophouse is an homage to the businessmen who met at the hotel for a weekly poker game. The "committee," as they were known, made important decisions for the Blackstone's operation. The Blackstone's chef was credited with inventing the Reuben sandwich as well as butter brickle ice cream.
2. The Office, Hooper
With a population of under 800 people, Hooper may be best-known as the hometown of Olympic volleyball player Jordan Larson. It's also home to great steak.
While you won't find Michael Scott or Dwight Schrute, you will find outstanding steak and prime rib at The Office. Prepared on its seasoned griddle or charbroiler, your steak is guaranteed to be juicy and tender. With 8 ounce filets or 16 ounce New York strips and ribeyes, The Office uses certified Angus beef, so you can be assured you're enjoying some of the best steaks in the country. The prime rib is offered on Friday and Saturday.
3. Dusters, Columbus
Columbus is home to Dorothy Lynch salad dressing, a Nebraska original. The sweet and tangy French-style dressing is the featured dressing at Dusters steakhouse in the historic downtown district. Located in a former car assembly plant, the historic building was built a century ago. A mural depicts the history of transportation in the area.
With the Gottberg Brew Pub part of the Dusters building, you can enjoy dinner in a casual atmosphere. Designed to honor Nebraska's agriculture industry, the walls resemble grain bins. The bar has tractor-style seats. The pub's ceiling looks like a grain bin roof.
4. Peppermill Restaurant And EKV Lounge, Valentine
Nicknamed The Heart City, Valentine's post office receives about 5,000 requests annually for its special Valentine's Day postmarks. Visitors pose for selfies at the red romantic heart sign in downtown Valentine.
The city in north-central Nebraska is also home to Peppermill Restaurant and EKV Lounge. A third-generation restaurant, Peppermill ages its steaks to perfection. Your steak isn't cut until you place your order for a truly personalized dining experience.
5. Farmer Brown's Steak House, Waterloo
Opening its doors in 1964 in small-town Waterloo, Farmer Brown's has been a mainstay through the years. When you've been in business more than 50 years, you've done something right. Great food, good service, and plenty of seating are key to Farmer Brown's success.
Prime rib sits on its own plate. Sides such as a baked potato, coleslaw, seasonal vegetables, or spaghetti come on separate dishes. While the prime is delicious, the steaks are the stars. With either a 6 or 8 ounce filet (have it bacon-wrapped for an extra treat), a ribeye, or strip steak, you'll salivate in anticipation. The 24-ounce Porterhouse steak is a favorite among diners.
6. Misty's Steakhouse, Lincoln
Don't be surprised to see a celebrity, famous athlete, or coach enjoying a steak dinner during your visit to Misty's Steakhouse in downtown Lincoln. A tradition among Cornhusker fans on a home football Saturday, you may want to wear red to blend in with the crowd. The legendary restaurant began as a "bottle club" in 1964. People brought their own drinks to enjoy at the establishment.
7. Sportsmen's Bar And Two Rivers Hotel, Niobrara
When customers are willing to drive more than an hour one-way for dinner, you know there's something good about your steaks. With huge portions, including a ribeye steak that extends off your plate, it's easy to see why people are willing to drive 90 miles just to enjoy dinner at Sportsmen's Bar. With sides like a large baked potato or hashbrowns that take up half the plate, you'll want to plan to take a doggy bag home. Order an add-on, such as jumbo shrimp, and create a delicious combination. Saturday is prime rib night, and it's not a night to miss.
From the outside, Sportsmen's Bar and Two River Hotel looks like a saloon from the 1800s. The owners even created a small western town look with murals resembling a Wild West town. Located in the small town of Niobrara, with a population of less than 400, the restaurant is only a few minutes from Niobrara State Park and the Ohiya Casino on the Santee Dakota (Sioux) reservation.
8. The Speakeasy, Sacramento
9. Ole's Big Game Steakhouse And Lounge, Paxton
With about 200 stuffed animals hanging out around the restaurant, a visit to Ole's Big Game Steakhouse and Lounge is more like a safari than a dining experience. What started with one hunting trip turned into a lifetime adventure, as Ole's founder traveled around the world on safari. Visitors are greeted by a stuffed Russian polar bear as they enter the steakhouse. During dinner, take a trip around the restaurant and you'll see a giraffe, elephant, and buffalo among the featured animals.
Speaking of dining, Ole's offers outstanding steaks worth the short drive off Interstate 80 in western Nebraska. From the New York strip to ribeye (bone-in or boneless) and the massive T-Bone (the New York strip and tenderloin together), Ole's serves some of the best steaks in the state. Add mushrooms or shrimp to liven up your entrée.
10. Front Street Steakhouse And Crystal Palace Saloon, Ogallala
You may feel like picking up a cowboy hat and boots for dinner at the Front Street Steakhouse and Crystal Palace Saloon. Ogallala – Nebraska's Cowboy Capital – marked the end of the trail for cattle drives from 1875 through 1885.
Front Street Steakhouse maintains the Western theme for a hot, tender, juicy steak of your choice. With 6- or 12-ounce New York steak, 8-ounce flat steak, or 12-ounce ribeye, you're sure to appreciate the meal with a side of baked beans (like they ate on the dusty trail), potato salad, steak fries, or breaded jalapeno and onion strips.
11. Brother Sebastian's Steak House And Winery, Omaha
Inspired by Spanish missions in California, Brother Sebastian's Steak House and Winery resembles a monastery, including monk chants played over a loudspeaker. Servers' outfits look like a monk's robe. Dining rooms are designed after rooms you may see at an abbey, including a library and wine cellar.
Open since 1977, Brother Sebastian's is known for some of the best steaks in Omaha. With well-aged steaks, such as sirloins and ribeyes, the restaurant's experienced kitchen staff prepares the meat at perfect temperatures. Hearty appetites may want to try the 22-ounce Porterhouse. The restaurant's prime rib is among the best anywhere.
With some of the best wine offered in the United States, Brother Sebastian's features a wine list of reds and whites from the finest vineyards from around the world, including California, Washington, and Australia. Whether by the glass or bottle, you'll have the perfect wine paired with your dinner.
Pro Tip
Don't worry about dress codes at most steakhouses. Only a handful have any type of dress code. Nebraskans' view of dressing for dinner out may be putting on a nice shirt to go with your jeans or shorts.