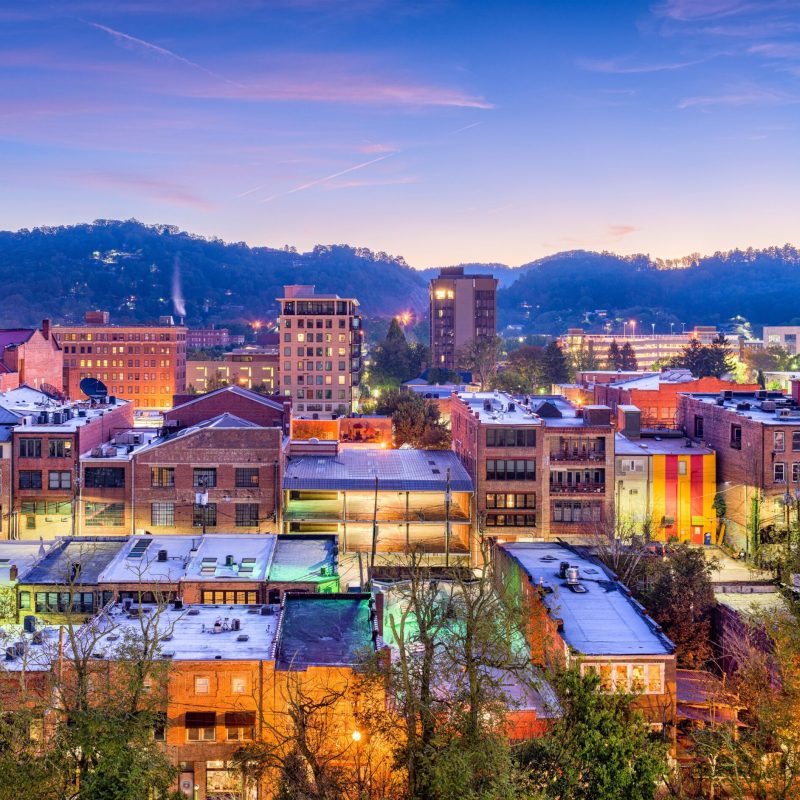 Tucked away in the Blue Ridge Mountains, Asheville, North Carolina, is a hip, thriving mountain city that's a near-perfect blend of natural beauty, quirky culture, and delicious local cuisine. It's a city of superlatives, boasting the largest home in America and the most breweries per capita in the country; GQ even dubbed it "the Coolest City You've Never Been To." Offering everything from hikes through the Blue Ridge Mountains and tours of the legendary Biltmore estate to a stunning botanical garden, great art and music, and unique food and beverages, Asheville is the perfect place to spend a weekend getaway. Here are some of the best things to do in town.
1. Visit The Largest Home In America
When George Vanderbilt commissioned Biltmore in 1889, he was thinking big — as in palatially, monumentally big. He hired the designer of Central Park, Frederick Law Olmsted, to create the 8,000 acres of formal gardens, verdant forests, and rolling lawns surrounding the 250-room house. The result? The largest private home in America, although home doesn't quite do justice to this castle-like structure. No matter where you look, you'll see something dazzling in this now-public attraction, from the massive triple fireplace in the dining room to the bi-level library to the first private indoor bowling alley and indoor pool in the country.
Be sure to take an entire day to explore the house and grounds (especially if you want to get your money's worth — admission costs $70 per person). Self-guided tours of the home take about 2 hours (spring for the $13 audio tour, which provides fascinating details and background information). Wander the formal Italian gardens and greenhouse that border the house, and then explore the rest of the wooded estate, grab a bite at one of the restaurants in the Antler Hill Village section of the property, take a ride at the equestrian center, or enjoy live music in the library lounge.
2. Sip And Swirl
Here's a fun trivia question: Where do you think the most visited winery in the country is? If you guessed Napa or Sonoma, you're way off! It's actually the Biltmore Winery in Antler Hill Village, part of the Biltmore estate. Wine tasting in the cavernous and modern wine room is included with admission to the estate. After you discover which of the North Carolina-produced vintages you prefer (the blanc de blancs bubbly is particularly noteworthy), you can buy some to take home at the attached shop. Or sit and savor a glass at the sleek wine bar across from the shop, where you can also order small bites or decadent truffles.
If you want to try some non-local grapes, stop by Cúrate; the all-Spanish wine list helped the stylish tapas bar win a spot on Wine Enthusiast's "America's 100 Best Wine Restaurants of 2018." Or visit Biltmore Village (located across from the entrance to the estate — no admission fee required) and drop by Margaret & Maxwell: A Wine Salon, a charming boutique that offers both bottles to buy and a small bar in the back where you can sip a glass on a velvet settee.
3. Enjoy Farm-To-Fork Cuisine
Asheville was the first city in America to be named a green dining destination by the Green Restaurant Association, and it lives up to its farm-to-table reputation with an abundance of restaurants that offer delectable international fare prepared with local ingredients. Try Chestnut in downtown Asheville, which serves new American dishes like decadent crispy pork belly with jalapeño-and-peach barbecue sauce and rich and creamy shrimp and grits, all handcrafted with ingredients from local growers, ranchers, cheesemakers, and dairy farms.
The chefs from Chestnut also run Corner Kitchen in Biltmore Village, which in addition to dinner and lunch offers breakfast and brunch; it sports a charming outdoor patio for dining al fresco. Also in Biltmore Village is the romantic Red Stag Grill in the Grand Bohemian Hotel. With its hunting-lodge aura and gorgeous autumn palette, it's the perfect place to settle in and savor the locavore menu, which offers everything from grilled elk strip loin to mountain trout with Anson Mills grits. Red Stag offers a bargain lunch during the week for just $10 for three courses, allowing you to enjoy the plush room while still having enough left over to splurge on a bottle of wine from the restaurant's impressive cellar.
4. Immerse Yourself In Nature
The Blue Ridge Mountains and the scenic road — known as the Blue Ridge Parkway — that runs along its rolling ridges are renowned for their panoramic views and stunning scenery. To enjoy all the spectacular vistas, take a slow drive along the twisting, climbing road and stop at the multiple overlooks, each offering a perfect photo opportunity. But be sure to pack some sturdy sneakers or hiking shoes, because to truly experience the beauty of the area, you need to get out and explore the greenery. Many people like to hike the Great Craggy Mountains, and in particular the 1-mile Craggy Pinnacle Trail, which offers 360-degree views of the mountains.
For something a little more adventurous, consider heading to Pisgah National Forest and Sliding Rock, a natural 60-foot waterslide that plunges into an 8-foot-deep pool that's a favorite of locals. Celebrate your exhilarating dip at Dolly's Dairy Bar, where the homemade scoops draw crowds from miles around.
5. Tap Into Asheville's Beer Scene
If you like suds, you're going to want to leave plenty of time to raise a few cold ones in Asheville, which has more breweries per capita than any other city in the United States. With nearly 100 microbreweries in the city and just beyond its borders, there is something for you, whether you like hoppy IPAs, dark stouts, fruity sours, or crisp lagers. A few breweries to try include Hi-Wire Brewing, which has multiple locations in the city with expansive tasting rooms, plenty of citrusy IPAs, and easy-drinking lagers; Green Man Brewery, the second-oldest brewery in Asheville, known for its ales and its cool three-story indoor/outdoor taproom and brewery; and Wicked Weed Brewing, which specializes in West Coast-style hoppy ales, barrel-aged sours, and fermented Belgian beers. You can sample the Wicked Weed beers and get some great pub grub at both the Funkatorium and the Pub locations.
6. Listen To Music Outdoors
Stroll through downtown Asheville to discover the toe-tapping melodies that run through the Appalachian Mountains. Outdoor performers pick banjos, strum guitars, and sing all evening on the weekends. On Friday night, head down to the square for a different side of Asheville: a drum circle that draws hundreds of percussionists, dancers, and people-watchers.
Don't worry if the weather doesn't cooperate on your weekend visit; there are plenty of indoor music venues in town, too, including The Orange Peel, which hosts well-known acts like Lord Huron and the Alabama Shakes, and the Alley Cat Social Club, with its laid-back atmosphere and up-and-coming local acts.
7. Shop For One-Of-A-Kind Works Of Art
Don't forget to spend a day in Asheville's River Arts District (RAD), where more than 200 local artists have studios and galleries in 23 different historic buildings along a mile-long stretch of the French Broad River. Some artists operate from museum-like spaces that are open every day, while some share multiroom spaces that are only open for a few hours or days a week. However, no matter when you arrive, there will always be something to see, whether paintings, pottery, glass, or polished minerals and gemstones — and it's all free to explore (although if you decide to purchase something, that's a different story). You'll also find spots to eat and drink throughout the RAD.
Feeling inspired to create something of your own? The North Carolina Glass Center offers glassblowing workshops where you can create your very own work of art, such as a blown-glass ornament or paperweight. The shortest classes take just 30 minutes, and fees start at $60 per person.
On the second Saturday of each month, you can ride a free trolley to each building, watch demonstrations, meet the artists, and even enjoy refreshments.
8. Stop To Smell The Flowers
Every season brings a new reason to visit the 434-acre North Carolina Arboretum. In the spring, a riot of azaleas bloom. Other blossoms delight in the summer, and in the fall, the leaves of the towering trees along the Bent Creek Road thoroughfare turn to brilliant hues of crimson and gold. Forest Meadow, which was designed with a special emphasis on fall color, is also glorious in autumn, and in winter, there's a special holly garden in bloom. There are miles of hiking and biking trails, and special events are held in the outdoor amphitheater. Note that parking costs $14 per car, but there's no other entrance fee.
If you're ready to book your own Asheville getaway, check out these rental homes:
Dreaming of Asheville – your dream vacation awaits you
Top guest reviews
This is a lovely house and was perfect for our family getaway. The wrap around porch and the fire pit area are especially nice. The round dining table was big enough for 11 of us to fit around, and the communal areas in the kitchen and downstairs sitting rooms were great for gathering and conversation. It was an easy drive to downtown Asheville. My recommendation is that if you have more than 8 people, you probably will want to bring an air mattress or two, depending on sizes and ages of people. ( Is four people in a room with two double beds ok, or is that too tight for adults?) The hosts were very helpful and communicative and had a gift basket waiting for us with wine and ingredients for s'mores! Highly recommend!
We had a wonderful stay at this home, which was more beautiful than the photos online. The house was clean and they had nice details, like fresh flowers. Kids loved the wild turkeys, the swing, the fire pit and the space. One warning, it's on a mountain, so there is no cell service. Wifi worked for calls and there is a landline you can use.
Even better than the photos! So comfortable and extra hospitality touches were wonderful.
The house is gorgeous, we were two families a total of 11 people and there was plenty of space for everyone to relax and have fun. We loved everything, the décor is absolutely beautiful. The kids loved the book room, the porch is gorgeous so many beautiful flowers. My husband enjoyed watering the flowers one morning and its so relaxing to just sit and enjoy a cup of coffee with a beautiful view. The owners were very helpful and they even left us a gift basket in the kitchen with lots of goodies when we arrived, it was wonderful. We will definitely be back again and again!
This house was amazingly cozy, tastefully decorated, and perfectly accommodating for a group of of girls celebrating an engagement and many years of friendship. And the porch—WOW! We spent hours and hours outside on the porch, enjoying each other's company in the fresh air while absorbing the views. It was The perfect house for a getaway.
Read Less ∧
Read More ∨
Dreaming of Asheville – your dream vacation awaits you
Top guest reviews
The house is nicely decorated with everything you need. Kitchen fully equipped
The property was great and convenient to all our needs quick trips to all the local things we wanted to do.We got very quick response from property owner with a few minor questions we had definitely appreciated that.Our overall experience was fantastic and we will definitely recommend to family and friends heading that way or like to stay again ourselves if back that way and that's truly real possibility Thank you Martha B.
We enjoyed our week at the round house. It was close to everything in the area, very clean, comfortable beds, and had everything we needed for our stay. We enjoyed sitting on the expansive deck and watching turkeys and birds every morning. Will definitely return when visiting the Asheville area. Thank you for sharing your beautiful home with us!
This property is updated, comfortable, and an easy 10-15 min. ride into town. The road up to the property is a little windy and only firs one car so need to be cautious.
This gem in Asheville is the perfect place to bring the pups and enjoy the outdoors. The house was beautiful, comfortable, and well-stocked. Couldn't ask for a better spot! A quick drive to restaurants, breweries, sites too! Thank you!!
Read Less ∧
Read More ∨