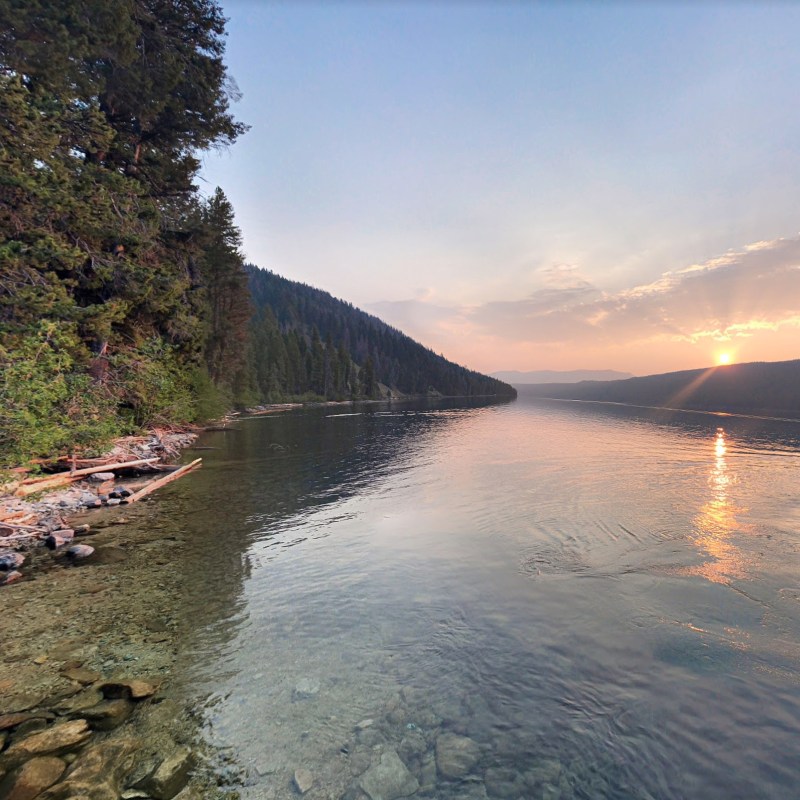 My father-in-law grew up in Idaho. He moved back there for a short time later in life, so my wife spent the sixth and seventh grades in Idaho. She still has family there, so we have visited several times. So much so, that when we went with our 24-year-old son several years ago, he decided that's where he wanted to live. He moved there a few years ago, met a girl, and will marry her soon. The wedding? In a meadow in the middle of the mountains in Idaho.
I've been amazed by the state on my recent visits. It's hard to comprehend how "tall" Idaho is. On the southern tip: a border with Nevada where you'll see high deserts with tumbleweeds blowing across the highway. On the northern tip: a border with Canada and mountain lakes you would not believe.
Because my son has settled there, and because that's where my future grandchildren will be, my wife and I anticipate many visits there in the future. Hiking is her favorite activity, and we've already discovered tons of trails in Idaho on our recent trips. I consulted with my son to see if there were any I was missing. Here are our 10 favorite hikes.
1. Soldier Creek To Free Gold Creek, Soldier Mountain Ski Area
Fairfield
When my son asked his girlfriend to marry him, he planned a surprise engagement party with her family and our family the following weekend. We rented a home in Fairfield up near Soldier Mountain Ski Area. The ski area is closed in the summer (obviously), and there's a great trail up and over those same hills.
Just past the parking lot for the ski area is Pioneer Campground, so if you want to make this an overnight trip, there's your spot. This is a hefty trail that involves around 1,500 feet of climbing, but it's a long, gradual climb, not a super-steep journey. You're climbing those 1,500 feet over four miles, so it's only 375 vertical feet of climb per mile. That's not easy, but it's a lot simpler than many other hikes in the Sawtooth Mountains.
Once you reach the top, you have two choices: Walk the same four miles back down, or keep going and follow Free Gold Creek back down. Please note that if you walk that route back down, you're adding an extra mile to the eight-mile hike as you'll have to walk along the shoulder of the road a little over a mile back to your car.
2. Canyon Rim Trail At Shoshone Falls
Twin Falls
This trail is my father-in-law's top pick. He grew up in Twin Falls, and Shoshone Falls was at the center of his childhood. He (and others) refer to it as the Niagara Falls of the West, and when the Snake River brings snowmelt from the mountains, it's truly a sight to behold.
If you're looking for a hike in the area, the Canyon Rim Trail provides outstanding views of Snake River Canyon and the falls. I'm trying to provide all kinds of hiking experiences, and this is a paved trail. It's still steep in sections, especially the long climb up from Shoshone Falls to the rim of the canyon, so don't expect this to be a very easy hike. It's more than 12 miles long, which allows you to choose the kind of hike you want.
The easiest hike is the section near the Perrine Bridge in Twin Falls. Park at the visitors center there and take the trail in either direction — it's perfectly flat. Or, if you want to hike the steep section, start at Shoshone Falls (please note there's an entrance fee for each car) and then hike back toward town for whatever distance you want to go. If you go far enough, you'll walk past the spot along the canyon where Evel Knievel tried to jump the entire canyon in a rocket-propelled motorcycle. (He came up short, but his parachute saved him.)
3. North Crater Trail, Craters Of The Moon National Monument
Butte County
Craters Of The Moon is exactly how it sounds. And perhaps the best way to experience the area is the North Crater Trail. The best place to start is the North Crater Trailhead (right on the main loop road), which you'll follow all the way to the Spatter Cones.
On that hike — which is approximately 1.7 miles from the trailhead to Spatter Cone, so around 3.5 miles round trip — you hike through two volcanic craters. The reason it looks like you're on the moon is that you're hiking up and over lava formations. This volcanic activity created the two main crater areas on this hike: North Crater and the Big Craters. Notice where eruptions tore through previous lava formations — it's like nothing I'd ever seen before.
There's a parking lot near the Spatter Cones, so you could begin your hike there if you wanted. Or that can be your turning-around point. Whichever way you go, make sure to check out the North Crater. You really might think you landed on the moon.
4. Redfish Lake Loop, Redfish Lake
Custer County
This is my pick for the best hike in Idaho. Check out TravelAwaits' picks for the best hikes in all 50 states here. This was the one spot in the mountains that my father-in-law insisted we see. Because he's older, we only walked certain portions of this trail to see different parts of the lake, but the full trail loops around the lake in its entirety. That's 14 miles in total, so not many will want to hike the full loop (that's mostly reserved for mountain bikers), but the north ridge is where most hikers map out their routes.
There are many different trails here, so stop in at the Redfish Lake Lodge to get a trail map. It's a great old lodge, and you'll want to check it out. From there, the loop trail links up with the "bench lakes" on that northern slope. Many people will walk a portion of the loop trail and then peel off on one of the spurs to climb deeper into the hills above the lake. There are relatively flat trails, and there are very steep trails, so choose the one that best suits you. If you want more inspiration for a trip to this part of the state, read up on my top eight reasons to visit Idaho's Redfish Lake.
5. Upper Priest Lake Navigation Trail
Boundary County
Here's how large Idaho is: The distance between Shoshone Falls (Twin Falls) and Upper Priest Lake? 616 miles. That's nearly the same distance as a trip from New York City to Myrtle Beach, South Carolina. And that trip would take you through seven different states.
But you'd be missing out if you didn't explore this part of Idaho. Priest Lake (and Upper Priest Lake) are not far from the Canadian border. If you're familiar with Priest Lake but have never seen Upper Priest Lake, this is a great hike. And if you're looking to hike into a campground, spend the night, and hike back out, then this is definitely your hike.
Start at the trailhead off National Forest Road 2512. From there, it's about a five-mile hike to Navigation Campground right on Upper Priest Lake. If you're hiking in with camping equipment, perfect. If not, you'll double back on the trail (walking right along Upper Priest Lake) and back to your car.
6. Kane Lake Trail
Ketchum
Ketchum is known for its famous ski area, Sun Valley. There's an airport just to the south in Hailey, and in the winter, you'll see private jet after private jet landing in Hailey (with towncars whisking the rich and famous off to their mountain homes). In the summer, though, it's much quieter. And there are some excellent hikes in and around the mountains.
This hike is perhaps the most difficult of the 10 I'm listing here. Some hikers are looking for a challenge with a big payoff at the end, and if that's you, this is your trail. This hike climbs some 1,900 vertical feet over four miles, so it's a workout. But the mountain lake at the top makes it all worth it. Many hikers bring swimsuits in the summer and cool off after their hike with a dip in the pristine mountain lake.
7. High Point Trail, Farragut State Park
Kootenai County
The Coeur d'Alene area is one of the most beautiful parts of Idaho. This is just across the state line from Spokane, Washington, so you're in the northern part of the state. Just north of Coeur d'Alene is the largest lake in Idaho, Lake Pend Oreille. And on this lake, you'll find Farragut State Park.
There are many hiking trails here. I've been recommending some strenuous hikes, so maybe we should talk about some easier treks. This hike still has a climb of around 500 feet, but it's an easier ascent that takes you to a great overlook above the lake. So, if you're visiting the Coeur d'Alene area and are looking for a short day hike, this is a great choice.
I guess I shouldn't say that this trail is "easy" given that there are some rock formations to navigate. But it's just over a mile from your car to this overlook, and you'll want to push through all the rocky parts to get to that view.
8. Huckleberry Loop Trail, Ponderosa State Park
McCall
It feels like I'm writing about six different states. The McCall area is yet another destination spot in Idaho. There are several ski resorts here, all surrounding Payette Lake. And in the summer, this is a great hiking destination.
Payette Lake is a horseshoe-shaped lake with a skinny peninsula in the center. That peninsula is Ponderosa State Park, and in that park you'll find dozens of hiking trails. My top choice here: the Huckleberry Loop Trail. You'll walk the east slope of the peninsula and then loop around and walk down the west slope for incredible views of the lake.
Get a trail map because this whole area is a "choose your own adventure" hiking destination. With a half-dozen trails all connecting to each other, you can design the exact hike you want. Flat trails next to the water, ridgeline trails up above — you name it, you can hike it here.
9. Tea Kettle Trail, City Of Rocks National Reserve
Cassia County
It was the biggest surprise the first time I visited Idaho — the volcanic rock everywhere. I knew about the mountains, and I was aware of the Snake River Canyon, but I had no idea there were so many areas that looked like moonscape. One of the best places to see topography like that: City Of Rocks.
My son is a rock climber, so this is the destination for him and his cousin to clip in their ropes and go rock climbing. But there's hiking as well, and one of the best trails to take (where you might get to see some rock climbers) is the Tea Kettle Trail.
If you park at the Elephant Rock parking lot, this trail will be a slow climb (750 feet over two miles) up to a flat area that will take you to Bread Loaves Group Campground. There will likely be rock climbers camped here, trying out various rock faces in the area. After that, you double back and take the same 2.5-mile trail back to your car. It's all downhill on the trek back.
10. Lady Face Falls, Stanley Lake
Custer County
I saved the special one for last. I asked my son his favorite hike in Idaho, and he's a little biased: He chose the hike where he got engaged. On this hike, somewhere between the trailhead and Lady Face Falls, he dropped to one knee and asked his girlfriend to marry him.
The Stanley Lake area is probably the hiking destination in Idaho. There are so many different trails in the area. The hike to Lady Face Falls is fairly simple in that it's a five-mile out-and-back trail that is nearly flat for the first two miles (and the last two miles as you double back). That other mile in between is a half-mile climb to see the falls (you'll climb approximately 350 feet) and then the descent back out. But it's a very moderate climb with plenty of opportunities to take a break.
And when you get to the long meadow with Elk Mountain in the background, that's where he asked her.
Pro Tips
As we discussed, Idaho is a very large state. North to south, as the crow flies, it's nearly 500 miles. Because of that, the weather can be quite different from one spot to the next. On one of my visits, I was both too cold and too hot the same day within less than 100 miles. I woke up near Cannonball Mountain and, having not brought any pants in the middle of the summer, was freezing in my long-sleeve shirt and shorts. That afternoon, we drove 80 miles to Twin Falls and I was regretting wearing my long-sleeve shirt because the hike along the canyon was extremely hot and dry. So just know where you're going and check the specific forecast for that area — you could go from cool mountain valley to hot, rocky crater in what seemed like less than an hour.
This article is presented by Keen Footwear. For my hikes, I wore my KEEN Newports. I wear these shoes on nearly every hike near water because my feet can get wet, yet I'm still wearing a lightweight shoe with a toe cage that protects my feet as I'm climbing around rocks. I recently got my third pair after wearing out the first two. Shop KEEN's Newports and other hiking shoes here.