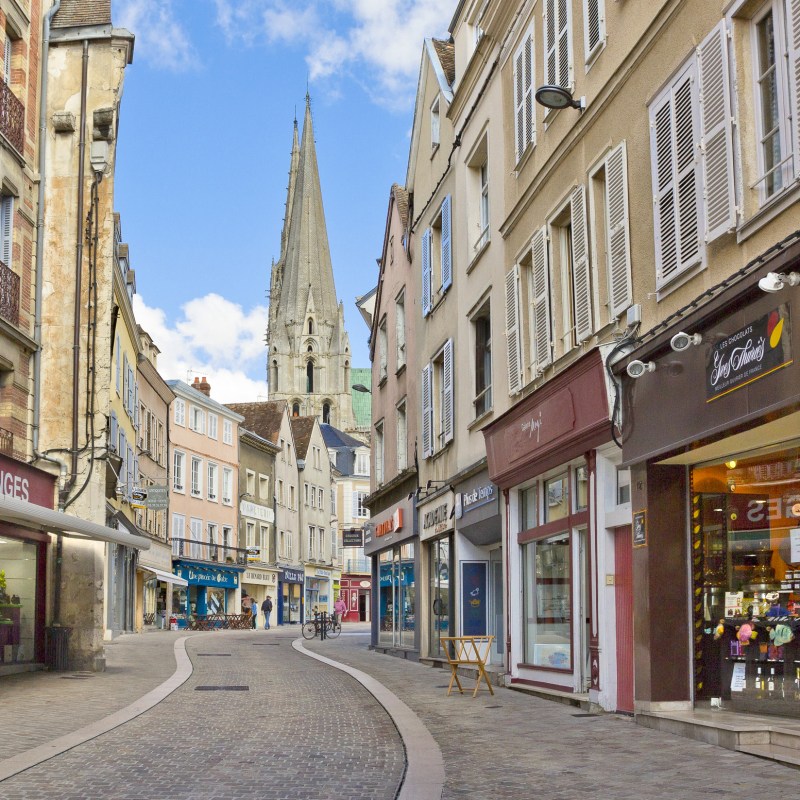 A pillar of French gothic architecture, Our Lady of Chartres is one of the most significant and best-preserved churches in Europe. Chartres, located close to the famed royal chateaux of the Loire Valley and on the left bank of the Eure River, close to Blou, offers a diversity of other sites to see and things to do as well.
Chartres is an easy day trip from Paris, just an hour train ride from the Montparnasse station, where trains depart hourly, and it's a 10-minute walk from the Chartres station to the cathedral.
Our Lady Of Chartres
Declared a masterpiece and the high point of French gothic art by UNESCO, Our Lady of Chartres commenced construction in the early 1200s and was consecrated by King Louis IX in 1260. A major difference between Our Lady of Chartres and other gothic cathedrals in France is that Our Lady of Chartres had very few architectural modifications, as opposed to Notre Dame in Paris, which was almost entirely renovated and rebuilt in the mid-1800s because of the damage it suffered during the French Revolution.
Walk around the perimeter of the cathedral to appreciate the original, intact stained-glass windows, the dramatic flying buttresses, and the richly carved figures of biblical characters on the three portals.
Our Lady of Chartres became a magnet for French pilgrims passing through the area because they were able to view an important religious artifact, the tunic believed to have been worn by the Virgin Mary at Christ's birth.
The cathedral was almost destroyed in WWII because it was thought to have been occupied by the Germans, but luckily it remained untouched because an American colonel defied an order to have it blown up.
The best and least expensive tour of the cathedral is given every day by legendary guide Malcolm Miller, who's been leading tours for over 60 years and is still going strong in his 80s. Besides leading thousands of tours for the public and for private groups, Miller has lectured internationally about the cathedral and was bequeathed two of the highest civilian honors in France, Knight of the National Order of Merit and Knight of the Order of Arts and Letters. His tour is given at 12 noon and 2:45 p.m. and lasts 90 minutes. The cost is 10 euros for adults and 5 euros for children. Each day, Miller teaches about a different part of the cathedral, and he invites guests to come back another day if they want to learn more. The day I took my tour, he lectured about the details of the stained-glass windows on the north side of the cathedral.
Maison Picassiette
A long walk or a 15-minute bus ride from Our Lady of Chartres is Maison Picassiette, a quirky cottage from the 1930s with a fascinating story.
Raymond Isidore, a local of Chartres, built a small house in 1930 for his wife and family. A few years later, Isidore was rummaging through an empty field and was attracted to remnants of glass shards, bottle caps, and broken bits. He collected the bits and began using them to decorate his house. This became a lifelong obsession, and for the next 24 years, he relentlessly transformed his modest cottage into an arts and crafts masterpiece. He spent 29,000 hours and installed 15 tons of his found objects into the house. Adding to his artistic talents, he painted a series of murals to accompany the mosaics in a room of the house that was converted into a small chapel.
The sculpture garden in the rear of the cottage is the highlight of the house. A series of wall sculptures include mosaic replicas of the Eiffel Tower, an ancient windmill, and the rose stained-glass windows of Our Lady of Chartres.
After Isidore's death in 1964 — only two years after he completed the work on his home — it was deemed a historic monument and is now owned by the city.
Museum Of Fine Arts
Next to Our Lady of Chartres is the Museum of Fine Arts, or Musee Des Beaux Arts, which occupies the former bishop's palace. The handsome building with a brick and limestone facade, built throughout the 17th and 18th centuries, houses a varied collection of 13th-century medieval art, renaissance Italian artworks, and paintings from the 18th and 19th centuries including works by artists Chaim Soutine, Camille Corot, and Andre Derain. A set of enamels representing the 12 Apostles, created in 1547 by artist Leonard Limousin, has been declared a historic monument.
Chartres In Lights
Started in 2003, Chartres In Lights, or Chartres En Lumieres, is now the second-largest tourist draw in Chartres after the cathedral. Over 25 structures throughout the city, including buildings, churches, bridges, and garden walls, are illuminated with a sophisticated and elaborate light show. Of course, Our Lady of Chartres is magnificently lit up with a live soundtrack playing. There's a mini-train, which travels the route of the light show attractions and departs from across the plaza of the cathedral. The city provides numbered maps and embeds small, colored lights in the ground to guide visitors to the light show stops. Chartres En Lumieres runs from the last week in April to mid-October, starting at nightfall.
Where To Eat In Chartres
If you want to get a quick bite after visiting the cathedral, visit Le Comptoir de Sarah, an adorable bakery, cafe, and tea salon. Everything is freshly baked on the premise daily and the menu is focused on gluten-free and vegetarian products including cookies, brownies, cupcakes, and cheesecake. At lunch, they serve quiches, soups, and salads, and the house specialty is a savory scone sandwich served with a petit green salad.
A glass-enclosed garden courtyard, Brasserie la Cour in The Grand Monarque Hotel is an ideal setting for lunch or dinner. Menu specialties include steak tartare, rabbit stew with foie gras and chestnuts, Normandy oysters, and their spicy burger of Iberian ham and chorizo on a homemade black curry bun, which rivals any great American hamburger.
Listed in the 2020 Michelin Guide, Esprit Gourmand offers traditional French cuisine in a cozy atmosphere. It's reasonably priced; from Wednesday to Saturday, they have a three-course menu option for 25 euros per person excluding drinks. Dishes include leek soup topped with sea scallops, braised lamb shoulder, and roasted duck stuffed with apricots and figs.
Places To Stay In Chartres
The Grand Monarque Hotel is the premiere, four-star hotel in Chartres. Three distinct buildings make up the hotel: a coach inn from the 1700s, a Directoire-style mansion from 1805, and another mansion built in the Second Empire period, so around 1870. The 215-square-foot Comfort rooms have queen beds with espresso machines, air conditioning, free Wi-Fi, and 32-inch flat-screen TVs. The Exclusive rooms have king-size beds and the same amenities. If you are on a tighter budget or are a single traveler, the hotel also has Mini-Tradition rooms, which are 160 square feet with double beds.
Georges is the posh, one Michelin star restaurant in the hotel, and there's also the less-formal Brasserie la Cour and Terrace cafe outdoors. Other services include a spa and beauty salon.
An Art Deco hotel built in 1930, Jehan de Beauce was refurbished in 2014. Keeping the spirit and many of the details of the original design, the hotel still retains the elegant art deco feel. The lobby looks like a film set from the 1930s, with leopard carpeting, ivory leather club chairs, and wood cocktail tables. Le Fitzgerald lobby bar is a tribute to the late, great Ella Fitzgerald, and every Wednesday night, there's a musical jazz trio performing her songs. The hotel has 35 rooms and a spa offering Swedish, California, and Ayurvedic massages, plus a gym and sauna.
Pro Tip: Even though Chartres is a great day trip, staying overnight to see the light show is absolutely worth your while.