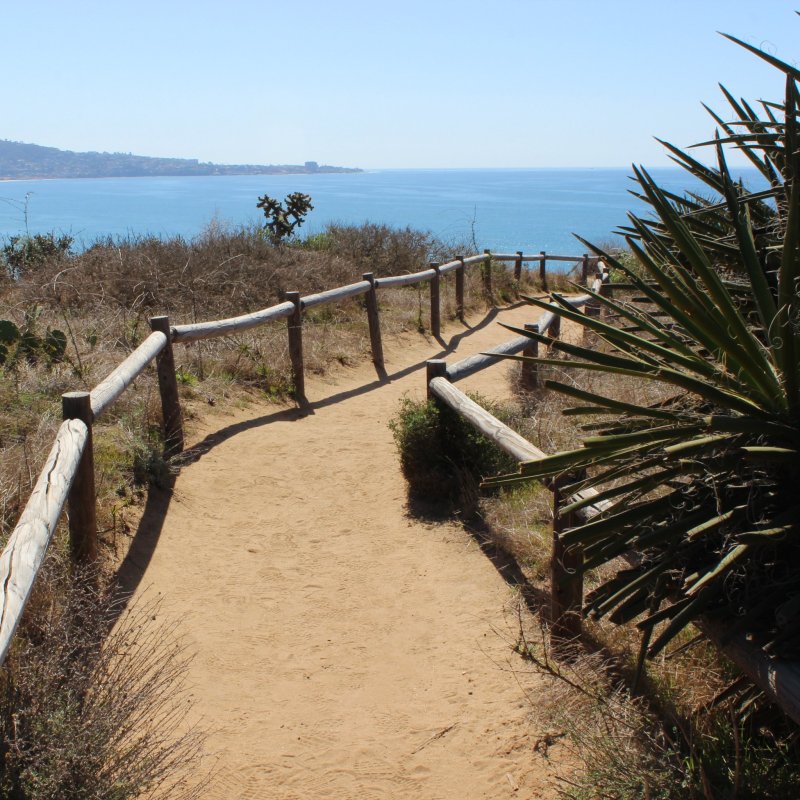 When it comes to hiking in Southern California, the options are endless. On one day you can trek to a waterfall, on the next you can wander through a cactus-dotted desert, and on another you can hike through the canyons to appreciate a view of the Pacific Ocean. And if you really want a challenge, you can climb to the top of a mountain peak.
Hikers of all abilities can find a Southern California trail that matches their time and interests. The real challenge is trying to decide where to go in a state that offers so much natural beauty.
Here are some of my favorite hikes in the region.
1. 49 Palms Oasis Trail, Joshua Tree National Park
Riverside And San Bernardino Counties
Joshua Tree National Park has long been a popular destination for hikers in Southern California. Located 2 hours east of Los Angeles, Joshua Tree comprises two deserts: the Mojave and the Colorado. Its namesake tree, with its spindly branches and spiky leaves, can be seen everywhere.
The 49 Palms Oasis Trail is among the most popular in the park. Don't be deceived by the short distance of 3 miles, because this trail is considered moderately strenuous and will take 2 to 3 hours to complete. I found that some points along the trail felt more like rock scrambling than hiking, and I was really grateful for my hiking shoes — I would not recommend typical gym shoes for this route.
The trail climbs to a ridge punctuated by barrel cacti and then descends into a rocky canyon filled with giant palm trees. Take some time to relax near the palm trees and enjoy the cooler temperatures. Or bring a picnic lunch to enjoy in this peaceful setting. Just be prepared to climb back out of the canyon when you're finished!
2. Moro Canyon Trail, Crystal Cove State Park
Laguna Beach
Crystal Cove State Park can be found in Orange County just north of Laguna Beach. It's a popular spot for beachgoers and campers, but also for day hikers. So if you're hoping to combine a hike with a swim, this is the place. Your $15 admission allows access for the entire day, so pack some food and enjoy this beautiful spot along the ocean.
Among the most popular hikes in the park is the Moro Canyon Trail. In fact, this is the trail most people start on after parking in the lower lot. There are several adjoining trails to choose from to make your hike longer and more challenging. I usually opt for the fairly easy 3-mile out-and-back hike along the Moro Canyon Trail. When I'm feeling up for a challenge, I add the half-mile climb known as the Elevator and then enjoy the ocean views in the distance.
3. Laurel Canyon Trail, Laguna Coast Wilderness Park
Laguna Beach
This is my pick for the best hike in Southern California. Check out TravelAwaits' picks for the best hikes in all 50 states here. Located in the town of Laguna Beach is the Laguna Coast Wilderness Park, a 7,000-acre preserve that is home to some of the last remaining coastal canyons in California. Here you'll find more than 100 species of birds, including several that are endangered. Winding through this natural landscape are 40 miles of trails accessible to hikers, cyclists, and horseback riders.
Most of the trails in this region are rated moderate or difficult, so come prepared for a good workout. One of my favorite trails in this park is the Laurel Canyon Trail. At first, it follows the road and can be a bit noisy, but then it dips into a lush meadow, and all signs of modern life disappear. In the spring, you'll see an array of orange, yellow, and purple wildflowers. If you go after a rainy winter season, you might even see a waterfall. This out-and-back trail is 4.5 miles, but it can be extended by continuing on to the Laurel Spur or Upper Laurel.
4. Mount Baldy Loop
Mount Baldy
Mount Baldy is the highest point in the San Gabriel Mountains, and its namesake hike is possibly the most challenging trail in Southern California. Located northeast of Los Angeles, the snow-capped Mount Baldy can be seen throughout Southern California.
At 11 miles round trip with a 3,990-foot elevation gain, the Mount Baldy Loop is not for the faint of heart. There are actually two trails to the peak — the Devil's Backbone Trail and the Baldy Bowl-Ski Hut Trail — and hikers typically take one up and the other down. Along the Devil's Backbone Trail, there's a ski lift that can speed up your hike and cut out 1,500 feet of elevation.
However you choose to get to the summit, allow time to appreciate the stunning views at the top. The weather along the loop can be very windy, and depending on the time of year, it can be very cold at the top, so be sure to dress in layers.
5. Torrey Pines State Natural Reserve
La Jolla
If hiking above the Pacific Ocean sounds like the perfect day to you, then head to the Torrey Pines State Natural Reserve in La Jolla near San Diego. This 1,500-acre reserve was created to protect sensitive plant life and wildlife, including the rare Torrey pine. Below the trails is a lagoon that is home to migrating seabirds.
The trails here are short — most under a mile — so I typically combine three or four to enjoy a morning or afternoon of exercise. And if you park in the lower beach lot, the steep walk up to the trails will definitely warm up your legs. During your hike, allow time to stop at one of the viewpoints to enjoy the ocean scenery.
Your parking pass allows you to stay for the day, so feel free to enjoy some time at the beach after your hike.
6. Lower Malibu Creek Loop, Malibu Creek State Park
Malibu Area
Fans of the 1970s television show M.A.S.H. shouldn't miss the Lower Malibu Creek Loop, located west of Los Angeles in Malibu Creek State Park. The name is a bit deceptive, since you won't find this park in oceanside Malibu, but instead in the inland town of Calabasas. This 8,000-acre preserve is full of grassy plains, oak savannas, and dramatic peaks.
The Lower Malibu Creek Loop is an easy-to-moderate 8-mile out-and-back trail that follows the creek. Eventually, you'll walk through the filming location of M.A.S.H. Take a few moments to grab a photo with the remaining vehicles from the show. This is also a fun picnic location if you want a longer break.
Continue along the trail, or take a quick detour to Century Lake. On your way back, take another detour to the Rock Pool, a popular swimming hole.
7. Golden Canyon To Red Cathedral, Death Valley National Park
Inyo County
While California offers amazing opportunities to hike near the ocean, it also offers something completely different: Death Valley National Park. This arid landscape is home to sand dunes, colorful rock formations, deep canyons, and salt flats. Exploring the 5,700-square-mile park could take a lifetime. And one of the best ways to get to know Death Valley is on foot.
The Golden Canyon to Red Cathedral trail is among the most popular in the park, and for good reason. It's easy to access, has ample parking, and for the most part is a fairly simple hike. The beginning of the hike is a slight uphill slope in a wide canyon. But it gets much more interesting toward the end, where you'll need to rock climb to the top. The rock here is a deep red, a stark contrast to the previous golden-hued canyon walls. You'll be rewarded with stunning views at the top. I was here on a clear day, so I enjoyed blue skies over red and golden rocks.
It's important to be prepared for hiking in Death Valley. The warm temperatures combined with low moisture mean it's critical to pack enough water. It's also recommended to avoid hiking in the summer, when temperatures can reach 120 degrees during the day.
8. Murray Canyon Trail, Indian Canyons
Palm Springs
Tucked away in the middle of Palm Springs, just 2 hours east of Los Angeles, is a collection of canyons offering giant California fan palms, waterfalls, and lush flora and fauna. You'll also discover remnants of Native American life, including rock art and ancient irrigation systems. The Indian Canyons also feature miles of trails, some short and flat, others long and steep, but all offering a unique contrast to the scenery of the surrounding desert.
Among the most scenic of these trails is the Murray Canyon Trail. This 4-mile out-and-back trail includes 600 feet of elevation gain. Keep your eyes open, since bighorn sheep are occasionally spotted along this trail.
9. Smuggler's Cove Trail, Channel Islands National Park
Santa Cruz Island
Getting to the Smuggler's Cove Trail isn't easy, but it is definitely worth the effort. This challenging hike is located on Santa Cruz Island, part of the Channel Islands National Park. Most visitors begin their journey in Ventura Harbor, 1.5 hours north of Los Angeles, and then board a ferry to the island. Come prepared with all the food and water you'll need for the day, since there are no services on the island.
The 7.5-mile trail is considered strenuous but includes plenty of scenic views of the Pacific Ocean as well as nearby Anacapa Island. Be sure to look out for the small island fox, a species only found on the Channel Islands. The trail ends at Smuggler's Cove, a secluded beach that you may have entirely to yourself. Just be sure to allow enough time to hike back to the start. If you miss your return ferry, you'll be stuck on the island overnight!
This article is presented by KEEN Footwear. My KEEN Women's Explore Waterproof Boots in Plaza Taupe/Lavender Gray are very comfortable, and I would highly recommend them to others. They did not require any time to break in. After my first hike with my new KEENs, my feet felt great. Typically I have to purchase insoles for my hiking shoes, but I don't think I'll need to do that for these. Shop KEEN's Women's Explore and other hiking shoes here.