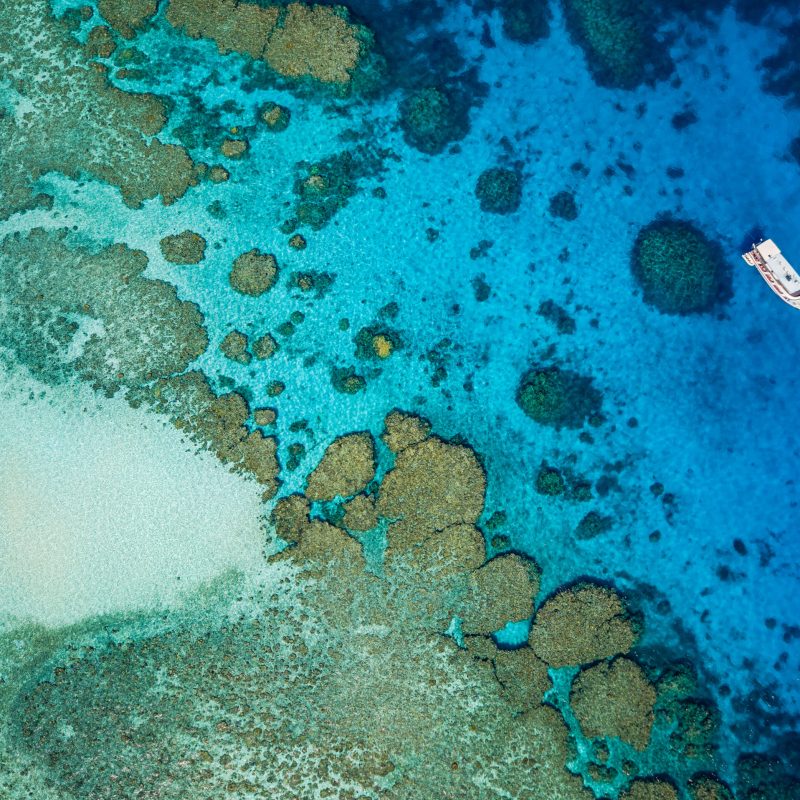 The Great Barrier Reef is the world's largest coral reef system, featuring some 3,000 coral reefs, 600 continental islands, 300 coral cays, and about 150 inshore mangrove islands. While the reef has battled in recent years against coral bleaching, global warming, pollution, industrial destruction, and many other perils that the oceans and marine habitats face constantly, there is no doubt that it still, against all odds, is one of the greatest wonders of this planet. A UNESCO World Heritage Site and protected national park, this coral system stretches along the coast of Queensland, starting roughly at the town of Bundaberg and reaching all the way north, close to the Torres Strait.
If you're planning a Great Barrier Reef island getaway, know that there are roughly 900 islands to choose from. Some are luxury private resorts; others have residential developments. Some are mere coral spits; others, quite literally, have a single tree to their name, as is the case with One Tree Island. Most are uninhabited and wild; there are some, however, that stand out for one reason or another.
I have driven the length of the Great Barrier Reef on a road trip from Bundaberg to Daintree and have also gotten to visit a number of the Great Barrier Reef islands. A non-mention does not mean an island is not a rare beauty in its own right, but only a very lucky person can see them all. Here are my best-loved islands, in no particular order, for you to consider exploring when you are in the region.
1. Heron Island For Scuba Diving
As a former marine biologist and a keen amateur scuba diver, Heron Island is my favorite island of them all. Mentioned as one of the world's top 10 scuba diving spots by the father of recreational scuba diving, Jacques Cousteau, it offered me my dive to end all dives: coral bommies, gigantic manta rays, countless turtles, huge groupers, tiny clownfish, and everything in between. And that was only one dive.
The island has a nice enough resort, some interesting nature, and the choice of transport between a fast catamaran ferry with dolphins as accompaniment and seaplanes offering some whale-watching from up high (I took one out and the other back for good measure), but its main attraction is indubitably the underwater world.
2. Magnetic Island For Its Vibe
Just a hop on a ferry from Townsville, and you enter a world that is so laid-back that even the koalas would wear sunglasses if they could. This little island, named Captain Cook Magnetic Island because the explorer's compass needle went crazy upon approach, is best explored by bicycle, mini-moke, or even the local bus, which has only a handful of stops. Magnetic, or Maggie, as the locals call it, offers great walks, history in the shape of old forts and a small town called Arcadia, self-guided snorkel tours, plenty of water sports, and a campsite where you can have breakfast with koalas. If you want nightlife and plenty of thrills, don't bother, but if you want to hike, enjoy nature, and just chill, this is the place for you. There is a variety of accommodation, from camping to five-star hotels if you want to stay the night.
3. Fitzroy Island For A Day Trip
Cairns does not have its own beach, but it does have Fitzroy Island on its doorstep. You can take the ferry in the morning, pay a day fee of $80 AUD per adult, and spend the entire day enjoying the white beaches, the small restaurants and bars, and the facilities of the island resort. There is a turtle rehabilitation station, two great hikes of varying difficulty levels, glass-bottom boat tours, and a diving and snorkeling center should you get tired of sunbathing and hopping into the clear sea. If you do decide to stay the night, there are hotel rooms and a campsite (bring your own equipment) available, although checking and booking ahead is advisable during busy times.
4. Green Island For Dry Diving
A little further out from Cairns than Fitzroy Island lies Green Island. A coral cay, Green Island is a great place for all sorts of water sports, including kayaking, glass-bottom boat trips, and snorkeling and scuba diving. But for those who don't want to get their heads in the water, or those who are not confident swimmers, there is the Seawalker experience, for which you do not need any previous diving expertise and don't need to swim. Instead, you get suited up with a huge glass helmet and can keep your glasses on or contact lenses in (and hair and makeup in place) while you walk along the seafloor and get up close and friendly with the reef inhabitants.
5. Whitsunday Island For The World's Prettiest Beach
The largest island of the Whitsundays, this island also has the prettiest beach of them all: Whitehaven Beach, so remote that you are best served to book a helicopter tour during which you'll fly in over the beach and can really appreciate its various shades of white and swirling cream and marvel at the neighboring Heart Reef, which truly is heart-shaped and only appreciated from the air. You will be dropped off for an hour and 30 minutes to enjoy the beach (consider upgrades like a special picnic basket and some bubbles), then fly back over the islands. I love visiting Whitehaven Beach for a special occasion, or just because "Why not?" This is a unique treat and such a special place to really enjoy with a few luxury frills.
6. Lady Elliot Island, The Southernmost Island
This island marks the southern end of the Great Barrier Reef, some 30 miles from Bundaberg on the coast and an hour's flight from the hub of Brisbane. Offering all you could wish for from a Great Barrier Reef island, Lady Elliot is teeming with wildlife on land and in the water. It has plenty of watersports, an ecofriendly resort where you can stay, and even a historic, still-functioning lighthouse. The island's mainstay used to be guano mining, which gives you an idea of its popularity with the local bird population.
7. Lizard Island, The Furthest North
North of Cairns some 150 miles and just under 20 miles from the mainland, Lizard Island is the only continental island close to the outer reef, and yes, it is home to a lot of lizards. The island is famous for its celebrity visitors, its luxury and secluded resort, and its nature. Whale-watching, nature walks, and stargazing (real and Hollywood stars) are on the entertainment calendar, while the local research station attracts marine biologists from around the globe. You can fly across for the day, but it does seem a shame to leave early when you could relax and enjoy dinner next to celebrities such as Ellen DeGeneres and Russell Crowe, who are known to vacation there.
8. Hinchinbrook Island, The Largest One
Hinchinbrook Island is the largest island national park in Australia, and one without a resort. The main attraction of this largely wild island, reachable by ferry from Lucinda or Cardwell, towns lying between Townsville and Cairns, is its walking trail. The Thorsborne Trail is a 20-mile hike that is on the radar of many serious walkers. Obviously, it cannot be walked in a day, at least not in comfort, but you can camp in one of the seven campsites on the island. Composting toilets and picnic tables are the only facilities provided, so you must bring everything you need, and then take it all back with you. And you need to get permission from the Australian national park wardens to hike and camp on Hinchinbrook. Find more information here.
9. Reefsuites, Not Really An Island
This one is a bit of a cheeky addition, but a pretty cool one: a floating hotel with rooms underwater and windows that allow you to watch what swims by from your bed. Moored off the Hardy Reef in the Whitsundays, this is basically a pontoon in the ocean, a playground for day trippers who enjoy watersports, sunbathing on the decks, exploring the underwater observatory, and having lunch with amazing views. But if you book ahead, you can stay after sunset, have dinner under the amazing starry Australian sky, and spend the night in one of the two underwater rooms for a superb experience.
Pro Tip
So many islands, so little time. To see just one would be a shame, so I suggest choosing at least two very different experiences that suit your personal interests, whether your itinerary includes a sporty island followed by a luxury resort, or a day trip and one more lengthy stay on a larger island. There are some truly unique experiences to be had, so if you have an excuse, any excuse, to indulge in a unique Australian island treat — the Great Barrier Reef is the place to do it.