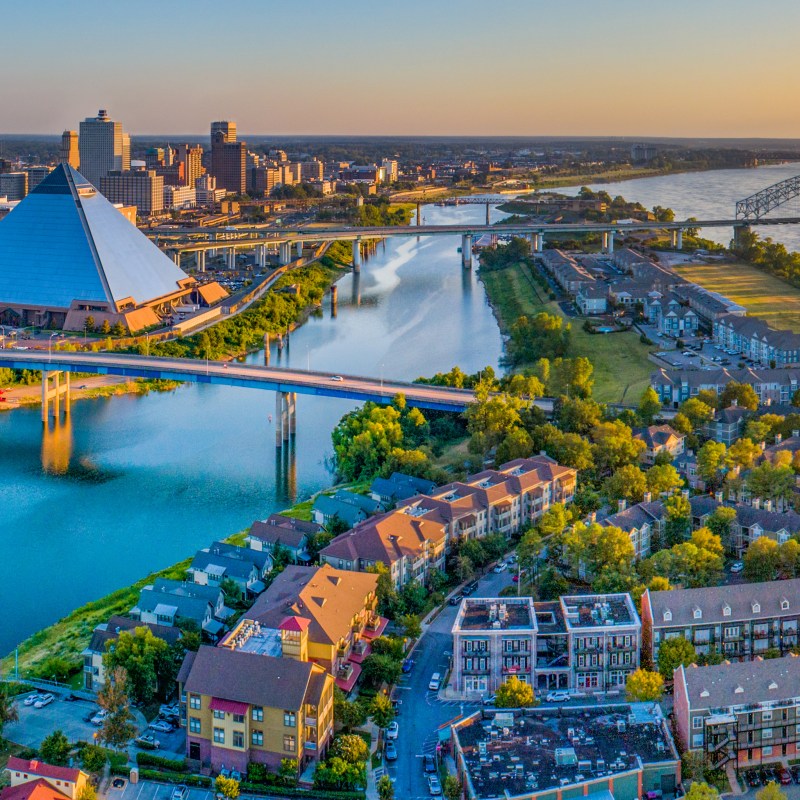 The Mississippi Delta has much to offer road-trippers. This itinerary from Memphis to New Orleans offers a great mix of interstate travel and smaller state highways, with fascinating sites to explore sprinkled along the way. It will take you to spots where two beloved American musical genres — blues and jazz — originated. It also includes Civil War sites, two state flagship universities, gorgeous homes, and some excellent eats.
Pro Tip: If you're scheduling this road trip during the summer, be aware that it will likely be oppressively hot and humid along the entire route. Make sure to stay hydrated and take breaks as needed.
Memphis, Tennessee
When you touch down (or drive up, in this case) to the land of the Delta Blues, you'll have a lot of things to see, do, and experience. Memphis is known for its live blues performances on Beale Street, its legendary Graceland, and its terrific barbecue (The Rendezvous has long been a tourist favorite; we also love Central BBQ). But there's so much more to this town.
The National Civil Rights Museum at the Lorraine Motel is where Martin Luther King Jr. was assassinated. It is now a must-stop in Memphis to learn more about the struggle for civil rights. The Stax Museum of American Soul Music and Sun Studio are the spots where legends Otis Redding and Elvis Presley got their start. And the Memphis Zoo, tucked into the Overton Park neighborhood, has delighted animal lovers for more than 100 years.
While the Peabody and its resident ducks are charming, there are many other terrific boutique hotel offerings; check out the River Inn of Harbor Town for a luxe stay to kick off your road trip.
Oxford, Mississippi
From Memphis, take Interstate 55 south for about an hour, and then exit at U.S. Route 278 east toward Oxford, home of the University of Mississippi (Ole Miss). This campus is simply gorgeous — with its lush landscape, historic buildings, and majestic live oaks — and is the perfect place to stretch your legs and get some steps in.
Oxford's iconic downtown square is built up around the county courthouse and includes many charming shops, boutiques, bars, and cafes. Our favorite is Ajax Diner, with its amazing down-home Southern fare.
Oxford also has a rich literary tradition; this is where Nobel Prize winner William Faulkner made his home and penned many of his masterpieces.
If you'd like to extend your stay, click here to read about nine fantastic things to do in Oxford.
Clarksdale, Mississippi
From Oxford, travel west along U.S. Route 278 to Clarksdale, the place where Robert Johnson supposedly sold his soul to the devil in order to become a master bluesman and guitar player. Three guitars mark the spot at the intersection of U.S. Highways 61 and 49.
Clarksdale is still a great place to experience the blues, and any fan of the music should make the pilgrimage here. Red's Blues Club is a great place to spend the evening listening to the blues live, as is Ground Zero Blues Club, owned by actor Morgan Freeman. The Delta Blues Museum is a treasure and features a portion of the cabin where Muddy Waters once lived.
The downtown area is a vibrant, thriving place with a neat arts district, and you can't leave here without trying one — or several — of Clarksdale's world-famous hot tamales. Hick's World Famous Tamales has been cranking them out since 1970.
Cleveland, Mississippi
To keep the blues vibe going, hop back on U.S. Route 278 and head south to Cleveland. Your first stop should be Dockery Farms, the iconic spot that claims to be the birthplace of the blues. Established in 1895 to produce cotton, Dockery employed many blacks who eventually became blues pioneers, including Charley Patton. Blues legends still perform here today in the old cotton storage shed.
The GRAMMY Museum Mississippi is an interactive museum that tells the story of music from rock, blues, and hip-hop to country and classical. And Cleveland's Cotton Row in the historic Crosstie district is lined with cute, quirky boutiques and cafes that are well worth a visit.
Vicksburg, Mississippi
Next, take U.S. Route 61 south about 2 hours to reach Vicksburg. Located at the confluence of the Yazoo and Mississippi Rivers, this was a key Confederate port during the Civil War. When it finally fell to General Ulysses S. Grant and his Union soldiers in 1863 after a lengthy siege, it signaled the beginning of the end for the Southern rebellion. You can learn more about the city and its significance at the Vicksburg National Military Park. The Old Court House Museum also has artifacts from the city's Civil War history on display.
For history that's decidedly sweeter, stop at the place where Coca-Cola was once bottled. The Biedenharn Coca-Cola Museum was previously a candy store, and it still serves Coke floats and confections. And for a taste of Vicksburg's scary side, you can go ghost-hunting at the McRaven House, said to be among the state's most haunted places.
When you're done exploring, head to the Beechwood for Southern comfort food, or peruse the downtown shops. The Baer House Inn is a great bed and breakfast option if you'd like to spend the night.
Natchez, Mississippi
Head south on U.S. Route 61 for another 70 miles or so to reach another famous river town: Natchez. Built high on a bluff overlooking the Mississippi, the city was founded by French colonists in 1716, making it the oldest in the state.
Natchez is known for its massive Native American burial mounds (the Grand Village of the Natchez Indians is a must-visit), gorgeous historic mansions (many offer tours), and numerous art galleries and antique shops. Exhibits at the Natchez Museum of African American History and Culture cover important places, people, and events that helped shape Natchez.
Biscuits & Blues pairs live performances with delicious eats, and if you're staying overnight, the 1835 Wilkins Town House is in a prime location and offers two luxe suites outfitted with period furnishings.
Saint Francisville, Louisiana
Another hour south on U.S. Route 61 will land you in Louisiana and the delightful town of Saint Francisville, with its gorgeous scenery and grand former plantation homes. Saint Francisville feels very different from much of southern Louisiana, having been settled by the British and not the French. The town was also a haven for Jewish settlers, who established businesses, schools, and a temple before leaving for more populated areas at the turn of the 20th century.
Downtown Saint Francisville is full of great shopping opportunities and historic bed and breakfasts; nearby Tunica Hills offers hiking, biking, and birding.
Baton Rouge, Louisiana
Travel less than an hour south on U.S. Route 61 and you'll get to Louisiana's capital city, Baton Rouge. The city boasts two capitol buildings: one old, one new, and both worth exploring. The USS Kidd, a battleship-turned-museum now permanently docked on the Mississippi, gives visitors an idea of what World War II was like on the high seas. Louisiana State University is well worth a stroll with its gorgeous grounds and Memorial Tower, and when you're done there, you can grab a brew and a bite at The Chimes — they're famous for their Gulf oysters and other classic Southern fare.
New Orleans, Louisiana
An hour south on Interstate 10, and you'll be ready to let the good times roll in New Orleans! Of course you'll spend time in the French Quarter with its restaurants, bars, legendary live jazz, and market, but be sure to venture out past that charming confine to check out more of the city.
Magazine Street is famous for its shops and boutiques (Mignon Faget is a must-stop for jewelry lovers), a streetcar ride will take you past some of the most beautiful homes in the South, and City Park with its excellent art museum also make great destinations.
Cajun and Creole cuisine are central to the food scene in the Crescent City. Click here to learn about places in New Orleans where you can truly eat like a local. Remember: Vacation calories don't count!
New Orleans is a city like none other, so make sure to pace yourself. When you're ready to call it a night, treat yourself with a stay — and maybe even a spa treatment — at the famed Windsor Court Hotel.
For much more on exploring New Orleans, see this page.