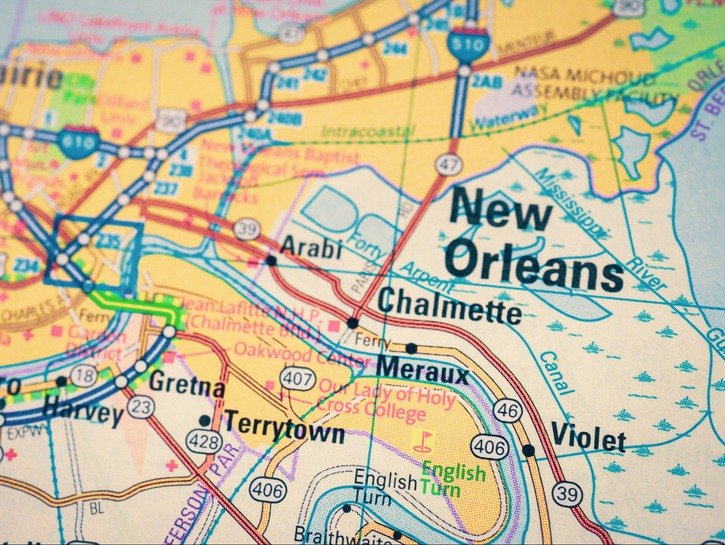 You can spend hours wandering the streets of the French Quarter, the oldest section of the city of New Orleans. The city just celebrated its tricentennial, so it's no surprise that history can be found on every corner. You can hear it in the soulful jazz performances, smell it in the melting pot of cuisines being served, and see it preserved through generations of traditions.
The next time you find yourself in the Big Easy, skip overcrowded Bourbon Street and try these 10 things instead.
1. Stroll Through Jackson Square
A visit to New Orleans must include a stop at beautiful Jackson Square. Modeled after the Place des Vosges in Paris, the 2.5 acres served as a market and military center when New Orleans was a French colony.
New Orleans changed hands from France to Spain, to France again, and finally to the United States through the Louisiana Purchase. After Major General (and future President) Andrew Jackson defended New Orleans from the British in 1812, the square was named in his honor.
Jackson Square has since become an iconic landmark of New Orleans, and it welcomes more than 2 million visitors each year. Stroll through the square, people-watch from various benches, and gaze at the magnificent Saint Louis Cathedral. Although the square itself closes in the evenings, the perimeter of the square is always alive with artists showcasing their work against the iron fence.
2. Groove To Jazz Music On Frenchmen Street
Bourbon Street is to tourists what Frenchmen Street is to locals.
That's not to say that tourists don't meander over to Frenchmen Street, but the locals know that you go to Frenchmen Street to enjoy the best jazz.
A half-mile walk from Bourbon Street will land you in the middle of a bustling street lined with restaurants and bars. Live music streams out of open doors and windows into the street, inviting passersby to peek inside. Featuring both local musicians like the Hot 8 Brass Band and national stars like Jimmy Buffett, Frenchmen Street provides entertainment every day of the week.
Go to The Spotted Cat's cozy venue for jazz, blues, funk, and an occasional swing dance. If music, food, and drinks are more your flavor, visit Three Muses to get a hearty filling! Whichever bar or restaurant you choose, it'll be a musically memorable evening out.
3. Explore The Garden District
Just a short streetcar ride from the French Quarter is the beautiful, serene Garden District, known for its remarkable mansions, oak-lined streets, and distinguished restaurants. A stroll through this neighborhood is essential. What started out as several plantations with large gardens has become an immaculately maintained urban district.
Many actors, authors, and athletes reside in the Garden District. Take a free guided tour or self-guided tour of the neighborhood and admire the mansions of Sandra Bullock, Anne Rice, and Archie Manning.
End your tour at Commander's Palace, right across from the historic Lafayette Cemetery No. 1, for lunch (11:30 a.m. to 1:30 p.m.) and 25-cent martinis. If you're visiting on a weekend, be sure to attend the jazz brunch featuring a seasonal menu.
4. Visit The Museums
Although history seems to be tucked behind every board and stone in this picturesque city, there's nothing like a classic museum to transport you back in time. Voted the third-best museum in the U.S. by travelers on TripAdvisor, the National World War II Museum in New Orleans is captivating in both its architecture and its exhibits. You'll leave with a new perspective on the war that changed the world.
Across the street from the National World War II Museum is the Ogden Museum of Southern Art, home to one of the largest collections of Southern art in the country. Ogden's mission is to "broaden the knowledge, understanding, interpretation, and appreciation of the visual arts and culture of the American South."
One block north of the Ogden Museum is Julia Street, renowned for its art galleries. Although this area stored imported goods in the 19th century, it's now referred to as Gallery Row. On the first Saturday of every month from 6 p.m. to 9 p.m., the galleries invite guests to see new exhibits.
5. Take An Unconventional French Quarter Tour
An incredibly beautiful part of the city, the French Quarter brims with tours of all kinds. Whether you fancy ghosts, vampires, voodoo, or gastronomy, there are 422 acres of the French Quarter to explore.
Gaze at the intricately designed homes while enjoying haunting tales of the people who lived in them. Ghost tours take visitors through the supernatural world, exploring stories of lost love, revenge, and evil.
Continue experiencing the paranormal on a voodoo tour that delves deep into the practices, notable people, and noteworthy places of this misunderstood religion. You'll learn what voodoo really is, why it's a belief system based on love, and how its reputation became twisted over the years.
If you didn't lose your appetite during the spooky and mysterious tours, you can enjoy a top-notch food tour that covers the best dishes New Orleans has to offer. From jambalaya, red beans and rice, and shrimp étouffée to inventive cocktails, the Big Easy has it all. You'll undoubtedly fall into a food coma upon returning to your hotel room.
6. Indulge In Sugary Beignets
Beignets, or soft, pillowy doughnuts topped with powdered sugar, are gobbled up by tourists and locals alike. This addictive dessert originated in 16th-century France and traveled across the ocean to Louisiana.
Opened in 1862, Café Du Monde, located across from Jackson Square, is the beignet master. For a complete meal, pair your three beignets ($2.75) with a French Market chicory coffee or a café au lait. A true expert in the beignets-and-coffee field, the café serves nothing else. And fortunately for tourists, Café Du Monde sells packaged boxes of its beignet mix to bring home.
Café Beignet, just a few blocks from Café Du Monde, also sells classic beignets. Head to The Vintage in the Garden District for unconventional beignet flavors like s'mores, raspberry, and coffee. Bakery Bar also puts a twist on the simple beignet with its daily beignets du jour. During Mardi Gras, it offers king cake beignets topped with yellow, green, and purple sprinkles.
7. Float Down The Mississippi River
Revolutionary in the 19th century, steam-powered boats soon made their way to New Orleans. Commonly used for trade, steamboats were faster than other forms of transportation. Once trains became common, however, steamboats became places of entertainment.
There are two options for exploring the Mississippi River on a steamboat: the Steamboat Natchez and the Paddlewheeler Creole Queen. Both provide cruises down the river with buffet meals, jazz music, and spectacular views of New Orleans from the water.
Whether you're a history enthusiast or you're just celebrating a special occasion, you'll enjoy this method of transportation from a different era.
8. Discover The Above-Ground Cemeteries
Living in a city that's located below sea level has its challenges, and many visitors to New Orleans wonder what happens to the deceased. The solution? Above-ground cemeteries.
Saint Louis Cemetery No. 1 is the most famous cemetery in New Orleans; it attracts more than 100,000 visitors each year. Founded by the French in 1789, it's the city's oldest functioning cemetery.
To prevent vandalism, the cemetery only allows visitors to enter with a tour group. Seeing the hauntingly beautiful graves is worth the $20 entrance fee. You'll be able to visit the vault of the most widely known voodoo queen, Marie Laveau, and the pyramid tomb installed by Nicolas Cage.
9. Encounter Swamp Wildlife
Going on a swamp tour will give you an understanding of what New Orleans was like before it became a city.
There are two types of tours: airboat tours and swamp boat tours. Swamp boats are the most popular, since they can accommodate more visitors. Faster and smaller, airboats are boats with large fans on the back.
Regardless of the tour you book, you'll see a lot of wildlife. The swamps are full of alligators, raccoons, nutrias, turtles, and birds.
Since alligators are cold-blooded, the best time to take a swamp tour is during the fall or spring. Most animals hide during the winter. In the summer, the animals sunbathe, but most visitors find the heat and humidity uncomfortable.
If you're staying in New Orleans, consider taking a swamp tour with a plantation tour. Packages usually include a plantation tour in the morning and a swamp tour in the afternoon (or vice versa).
10. Remember The Lives Of The Enslaved
Without the fusion of the French, Spanish, Creole, West African, and Haitian cultures, New Orleans wouldn't be the city that it is today. For example, okra, a New Orleans favorite and a staple of Southern cooking, originated in the West African culinary tradition. It's important to learn about the enslaved people of New Orleans and the atrocities they endured — and to realize at what cost you are enjoying the melting-pot culture of New Orleans.
Within an hour of New Orleans are several historic plantations, including Whitney Plantation, Laura Plantation, and Oak Alley Plantation. Each shows a different side of plantation life, but Whitney Plantation is the only one that focuses exclusively on the lives of the enslaved. Over the course of 90 minutes, you'll hear the stories of 350 enslaved people who were held against their will at Whitney Plantation. It's a harrowing and truly eye-opening experience that everyone should have when visiting New Orleans.
Photo Credit: Alexander Lukatskiy / Shutterstock
Photo Credit: Mike Flippo / Shutterstock