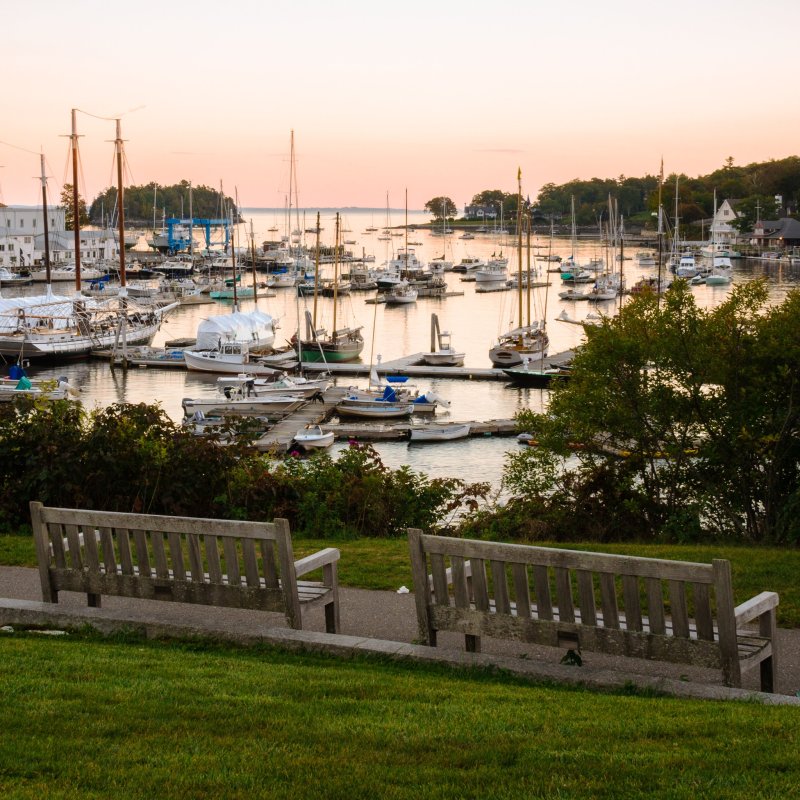 From the Piscataqua River at the New Hampshire border to the banks of the Saint Croix Reservoir in Calais, Route 1 extends 315 miles along Maine's marvelous and meandering coast. The road passes through dozens of towns where tourists can enjoy the best of New England: quaint downtowns, exciting boat trips, tender lobster, and a few surprises along the way.
Here are eight seaside towns to see on your next journey through Maine.
1. Ogunquit
What keeps people coming back to Ogunquit, Maine? That's easy. Ogunquit is a charming town with a spacious beach. With its wide expanse of relatively flat packed sand, Ogunquit Beach is perfect for walking, running, sunbathing, and playing in the water. True, the North Atlantic waters might be chilly for some, but the views make this a great place to plant a beach chair and relax.
Of course, Ogunquit has other attractions, with a downtown featuring numerous locally owned shops, restaurants, and art galleries. If you're looking for entertainment, try The Front Porch, with its lounge/piano bar.
After exploring the town center, walk the Marginal Way, a narrow path with magnificent views connecting Ogunquit to Perkins Cove. A compact but spirited waterfront, Perkins Cove is very much a working harbor for fishermen. It offers its own assortment of galleries, shops, and restaurants. And, if you're looking for an aquatic experience, fishing boats and sailing vessels can be chartered here.
2. Kennebunkport
This coastal community has gained notoriety as the summer home of the Bush family. Kennebunkport, however, has been a resort destination for the rich and famous for more than a century. Indeed, President George Herbert Walker Bush's great-grandfather first purchased land here in the late 19th century.
The town's heart, Dock Square, is replete with trendy shops displaying the latest fashion, unique gifts, antiques, and that rarity in retail today: bookstores. There is also no shortage of restaurants and eateries where you can enjoy succulent seafood or refreshing ice cream on a steamy summer day.
Kennebunkport is known for its historic and stunning architecture. Cruise Ocean Ave, where mansions (known locally as cottages) overlook the Atlantic. Have the camera ready for the arresting Colony Hotel and St. Ann's-by-the-Sea Episcopal Church, which boasts impressive stonework. The Bush Compound, located at Walker's Point, can be viewed from a distance. For a natural spectacle just as photo-worthy, stop at Blowing Cave Park, a great vantage point to experience the ocean's power.
3. Bath
While most of Maine's seaside towns have storied histories when it comes to shipbuilding, Bath reigns supreme. In 1607, after their settlement failed, English colonists built the first ship in the area, and Bath has been a boatbuilding mecca since. Today, Bath Iron Works, which produces ships and boats of all kinds, including vessels for the Navy, is the area's largest employer.
Start your Bath visit at the Maine Maritime Museum. The museum pays tribute to Maine's maritime history through a variety of exhibits, including the actual site of Percy and Small Shipbuilders, the last wooden shipbuilding yard in the United States.
Walk Front Street to explore Bath's many stores and restaurants. If you have a pet at home (or traveling with you!), don't miss Loyal Biscuit Co. For lunch, visit Mae's Cafe and Bakery, which offers a tasty assortment of sandwiches and baked goods.
For outdoor adventure, head to Popham Beach State Park. The beach is known for its strong surf, which can be great for water activities, but be mindful of the strong undertows. Lifeguards are on duty during the summer.
4. Boothbay Harbor
While surveying Boothbay Harbor's busy waterfront, network of docks and piers, signature footbridge, and water-facing businesses, it's easy to forget that there is an entire continent behind you. Boothbay Harbor is built for boats.
Fortunately, there are numerous opportunities to test your sea legs here. For a trip that combines luscious lobster with a seafaring excursion, try Cabbage Island Clambakes, which shuttles guests out to a private island for a traditional New England clambake. If you want to see wildlife, Cap'n Fish's Cruises offers whale and puffin sightseeing trips.
Back on land, stroll the town center, where you will find plenty of stores and restaurants to keep you busy. Boothbay has a number of galleries, including Abacus Gallery, with its colorful artwork, jewelry, and home goods; the shop has other locations, but this was the first. For more splashes of color, head to the Coastal Maine Botanical Gardens in neighboring Boothbay. Set on nearly 300 acres, it's the largest botanical gardens in New England.
5. Rockland
This coastal town has long been associated with Maine's fleet of windjammers, but Rockland has evolved an artistic flare in recent years. Boasting two notable art museums, many fine galleries, and a few murals decorating its downtown buildings, the town has become a destination for artists and art admirers.
Launch your Rockland experience on the water with a trip through the Maine Windjammer Association. Their fleet of eight privately owned sailing vessels offers multiday excursions into Penobscot Bay. Many trips have themes, including sunsets, lighthouses, wildlife viewing, and even yoga.
In town, visit Rockland's Farnsworth Art Museum. Featuring more than 15,000 works of art, the museum celebrates the important part Maine, and its residents, have played in American art. Continue your tour at the Center for Maine Contemporary Art. The center is worthy of a visit just for the building's futuristic architectural design. If you want to meet an actual local artist and watch them work, stop into Rockland's Art Space Gallery.
Still deciding what to do during your vacation? Be inspired by our guide on how to spend a perfect weekend in Rockland.
6. Camden
Among Maine's crown of coastal jewels, many believe Camden shines brightest. The town's picturesque setting is hard to beat: a gorgeous harbor dotted with yachts and schooners set against a backdrop of forested hills. Camden's downtown features every shop you could want. For gifts, stop into The Smiling Cow, a mainstay in Camden. Got a craving for something sweet? Try Uncle Willy's Candy Shoppe.
But getting on the water is the best way to appreciate the harbor, and Camden offers a plethora of boat tours. Visitors can choose from overnight excursions aboard a historic windjammer, harbor cruises on a lobster boat, and beyond. If your stay in Camden is short, book a two-hour cruise on Sloop Anjacca.
Once you've had your fill of the water and the town, head for Camden Hills State Park. Drive the Mt. Battie Auto Road to the wonderful overlook. For an even better vantage point, hike to the 1,385-foot summit of Mount Megunticook. The four-mile round trip hike has a few steep sections but is otherwise moderate, and the payoff is sweeping views of Penobscot Bay.
7. Bar Harbor
Situated on Mount Desert Island, Bar Harbor is known as the gateway town for Acadia National Park. And any visit to the area should begin here. Start by driving the 27-mile Loop Road, the park's main thoroughfare, which boasts awe-inspiring overlooks and access to hiking trails and other natural attractions.
A park highlight is Cadillac Mountain, which, at 1,530 feet, is the tallest mountain on the Eastern Seaboard. The summit can be reached by car or on foot and is a popular spot to watch a sunrise. Visitors can also experience the park from the water as several outfitters offer kayak tours of Frenchman Bay as well as the island's less-populated western side.
When you've finished your park excursions, head to Bar Harbor for relaxation and refreshment. Agamont Park is perfect for people watching and ocean views. When it comes to refueling, Bar Harbor has many options, most featuring Maine's tastiest crustacean. For a different experience, have a burger at McKays Public House. Or, if fine Italian food with a view of the bay sounds appealing, head to La Bella Vita.
8. Machias
Machias is the capital of wild blueberries, Maine's state fruit. These low-bush blueberries thrive in the region's soil and have been harvested by generations of farmers. For more than 40 years, the town has hosted a popular blueberry festival. Take a drive outside of town to see the blueberry barrens, large swaths of land decorated with the colorful fruit. Back in town, stop at Helen's Restaurant, a fixture in Machias since 1950, and enjoy the wild blueberry pie — you'll taste why it's award-winning.
Given its remoteness — Machias is 30 miles from the Canadian border — the town has a surprisingly rich history. The Burnham Tavern Museum tells the story of the American Revolution's first naval battle, when, in 1775, local farmers stormed a British naval ship.
To continue with the history theme, head to Fort O'Brien State Historic Site in neighboring Machiasport. The site preserves the remnants of a fort originally constructed here in the late 1700s that was later destroyed by the English. A subsequent military fort was also destroyed during the War of 1812. Today, the grounds make a great place for a picnic and to unwind.
Pro Tip
While Route 1 is a coastal road, traffic can be heavy as it passes through town centers, particularly in summer. Consider using Maine's interstates — 95 or 295 — if you need to save on driving time.