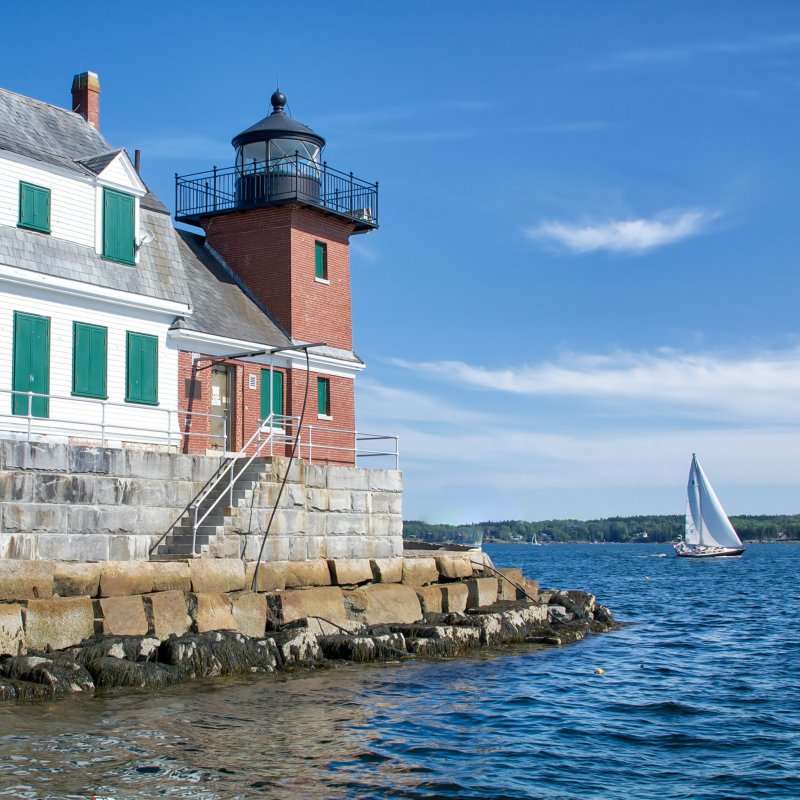 After spending a few days in Rockland, Maine, you'll probably find yourself asking, "Why don't I come to places like this more often?" The quintessential small town situated along Maine's rocky and scenic Midcoast blends an assortment of activities and attractions, glorious harbor views, and fabulous food, all packed into a charming downtown.
Located 3.5 hours north of Boston by car, Rockland can also be reached by bus and air. Train service stops in Portland, Maine, where travelers can rent a car or take the bus. No matter how you get there, though, Rockland makes the perfect destination for a weekend getaway.
Things To Do In Rockland
Rockland hasn't always been a tourist destination. The town's origins are tied to limestone and granite; it's called Rockland for a reason. For decades, it held onto that hardscrabble exterior. And its harbor has always been a working harbor, supporting commercial lobster and fishing vessels. Today, though, more and more leisure boats dot the harbor, and the town has evolved into a lively artistic community with top-notch restaurants and activities to keep everyone entertained.
Explore The Local Art Scene
With its many galleries and museums, Rockland has gained recognition as Maine's art capital. Those artistic roots can be traced back to 1948, when the Farnsworth Art Museum opened its doors. The museum honors the significant role Maine has played in American art and features works from artists including Gilbert Stuart, Winslow Homer, and, of course, the Wyeth family. For those whose tastes lean to the more modern, there are sections of the museum dedicated to contemporary art.
Speaking of contemporary art, don't miss the Center for Maine Contemporary Art, mere steps from the Farnsworth. Based in nearby Rockport, Maine, for decades, the Center relocated to Rockland in 2016, opening in a brand new, ultra-modern building with 5,500 square feet of gallery space.
More Museums
There is no overstating the importance of the harbor (the Abenaki Indians called it Catawamteak, meaning "great landing place") to Rockland. So, finding a museum dedicated to lighthouses and America's maritime history should be no surprise. The Maine Lighthouse Museum displays a dazzling array of Fresnel lenses first developed two centuries ago for use in lighthouses because they effectively carried light greater distances. Many of the lenses, with their intricate designs, could pass for works of art themselves.
If you prefer the land to the sea, make your way to Owls Head Transportation Museum south of Rockland. What sets this museum apart from other transportation museums is that its exhibits — the majority, anyway — are operational. Even if you're not an antique car aficionado, this collection is impressive. The 1886 Benz looks something like a large tricycle merged with a park bench but was the first vehicle powered by an internal combustion engine. The stylish and lavish 1905 Panhard et Levassor, with two rows of seats and the early use of a steering wheel, underscores how far automobile design had come in just 20 years. The museum also houses vintage aircraft, motorcycles, and bicycles and hosts numerous demonstrations and festivals throughout the year.
Set Sail
For me, a trip to Rockland isn't complete without getting on the water. Fortunately, Rockland is home to the Maine Windjammer Association — a small fleet of privately owned schooners or windjammers. These magnificent sailing vessels offer three- to five-day excursions gliding through the waters of Rockland's picturesque harbor and the grander Penobscot Bay beyond.
Only in town for a few days? You can still set sail on a windjammer and view Maine's coastline from the water — really the best way to see it. The Boyd N Sheppard, built 130 years ago, takes would-be sailors on overnight cruises and day trips.
Walk The Breakwater
As Rockland's population grew throughout the 19th century, so did its commercial boat traffic. After a number of Nor'easters damaged boats in the 1850s, the Rockland Breakwater was constructed to protect the inner harbor. Today, the nearly mile-long stretch of granite boulders makes a great place to experience the harbor from a different perspective. The massive stone blocks are relatively easy to navigate, but mind the larger openings between the rocks. Also, scan the water for the bobbing head of a harbor seal. At the end of the breakwater sits Breakwater Light, a modest lighthouse built in 1902 to mark the way for ships heading into and out of Rockland's harbor.
Perched on a hillside overlooking the other side of the harbor is Owl Head Light. A light station at this strategic spot dates back to 1825. The current lighthouse was built in 1852 and restored a decade ago to resemble its original appearance. There is a climb of some 60 stairs to reach the base of the 30-foot lighthouse, but the reward is worth it. On a clear day, you get sweeping views of Penobscot Bay, its islands, and perhaps even Cadillac Mountain in Acadia National Park some 40 miles away.
Become An Apprentice
Make sure to drop into the Apprenticeshop. Founded to keep the art of traditional boatbuilding alive by training new generations in the craft, the non-profit organization offers different apprentice opportunities and sailing classes. Visitors can also watch while boats are actually being built — a rare and intriguing sight to witness in today's world. You might just be inspired to order your own skiff.
Hop A Ferry
More than 200 islands decorate Penobscot Bay. The largest of these, Vinalhaven, can be reached by ferry from Rockland and makes a great day trip. The island was once the home to large granite quarries that supplied stone blocks for iconic structures such as the Brooklyn Bridge and Washington Monument, according to the Vinalhaven Historical Society. Those quarries now serve as wonderful watering holes on the island. Nature lovers will enjoy Lane's Island Preserve and Basin Preserve, both worth exploring for their hiking trails and birdwatching opportunities. In total, there are 20 preserves on the island, all managed by Vinalhaven Land Trust.
Best Restaurants In Rockland
In addition to gaining notoriety for its growing art scene, Rockland has also emerged as a culinary hot spot in Maine. Here are a few restaurants to try.
In Good Company
Chef-owner and native of Rockland Melody Wolfertz opened In Good Company in 2004, and it has been delighting diners ever since. Located on Main Street in a renovated bank (a former walk-in vault serves as a wine cellar), the casual setting gives off a feeling of warmth and a buzz of energy. The ever-changing menu of tapas and some larger plates, often with a Mediterranean influence, are prepared with locally-sourced ingredients. And, the wine list is justifiably acclaimed.
Cafe Miranda
One restaurant that launched Rockland's cuisine culture is still going strong. Cafe Miranda opened in 1993 and has become a fixture in town. Driven by its award-winning chef, Kerry Altiero, and renowned for a diverse menu ranging from Thai to Mexican to Italian dishes, plus ingredients grown on Altiero's local farm and the aroma of freshly baked bread, the restaurant has a devoted following. Definitely call ahead for reservations in summer.
McCloons Lobster Shack
Rockland is known for its lobster — it hosts an annual lobster festival — and many of its restaurants serve up the region's best crustaceans. But McCloons Lobster Shack in neighboring South Thomaston is the go-to lobster stop for many locals. And, it accommodates boaters as well — it is Maine, after all.
Best Places To Stay In Rockland
There are plenty of lodging facilities in neighboring towns, ranging from luxury resorts to motor inns. Here are some options, however, if you prefer to be in Rockland's downtown.
If you enjoy the coziness of a bed and breakfast, the Historic Inns of Rockland is for you. This lodging group comprises three magnificent properties in Rockland's historic district. The Berry Manor, LimeRock, and Granite Inns are all exquisitely restored and beautifully appointed homes perfect for a romantic getaway or a chance to meet other travelers at breakfast.
Opened in 2016, 250 Main Hotel provides travelers with a more modern lodging experience. This 26-room boutique hotel boasts views of the harbor, large open spaces decorated with artwork, and a low-key yet contemporary vibe.
Pro Tips
Rockland's main attractions, waterfront, and downtown are all close together. So, if you're planning on staying in town, you won't need a car. However, if you want to visit Owls Head, Camden, or beyond, having your own transportation is important. Uber does operate in Rockland and there is a taxi service in Owls Head.
Continuing with the no-car theme, the ferry to Vinalhaven only has a few spots for vehicles. Many of the island's sites, however, are walkable from the main port. But, to see more of the island, bring a bike with you. Rental shops are available in Rockland if you don't have your own.
When you're planning that next weekend trip, get to Rockland. You'll be glad you did.