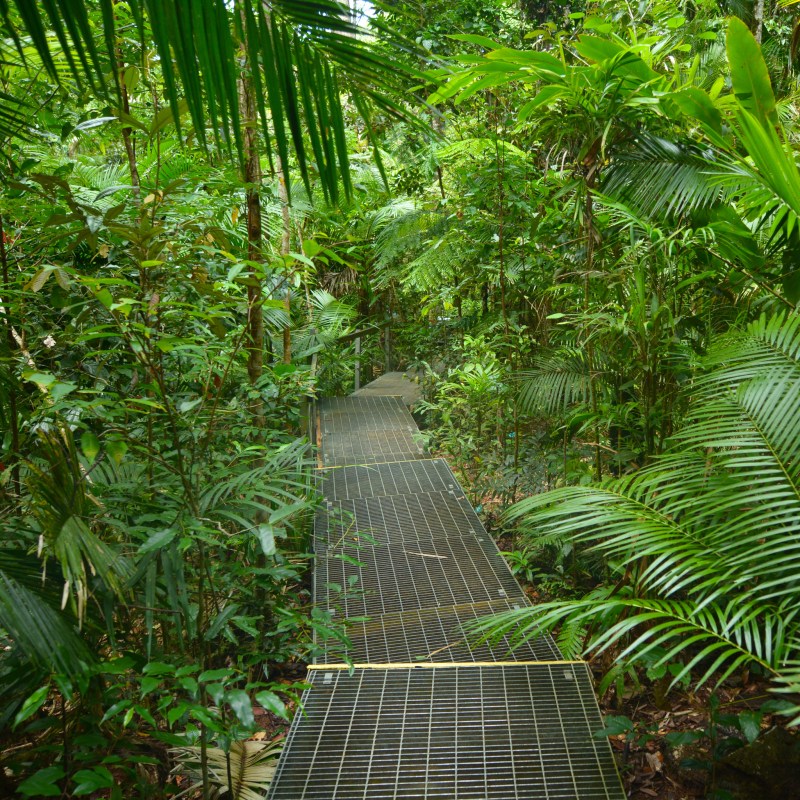 The Daintree Forest is the oldest rainforest on this planet, 180 million years older than the Amazon rainforest, and the last remaining example of a rainforest from when the Earth just had one continent: Gondwanaland. This treasure is located about an hour's drive north of Cairns on the Northern Queensland coast in Australia.
Where this 3.5 billion-year-old forest meets the Great Barrier Reef, you can experience the rare wonder of these two natural UNESCO World Heritage Sites meeting, and quite honestly, taking your breath away with their natural beauty.
To get into the forest, which is a protected national park, you have to drive up the Cape Tribulation Road, part of the Great Barrier Reef road trip: Bundaberg to Daintree, cross the crocodile-infested Daintree River by small ferry, and then drive north through a forest so dense, it is not surprising it still is full of secrets.
While I truly love the ocean and am a city girl at heart, ask me about my favorite natural site, and this stunning forest ranks right up there in the top three. It is quite literally time travel to step into this prehistoric forest, which contains living examples of ancient plant lineages that are found nowhere else on this planet, and both flora and fauna species that are unique to this part of the world. Every day, scientists learn something new in and from this natural wonder, and to even visit a tiny part of it is a true privilege.
Here are some of my favorite experiences to look out for when you are there.
1. A Daintree Crocodile Cruise
While you are waiting for the ferry across the river, you might just as well hop onto the little boat moored by the side and take a one-hour cruise along the Daintree River, which is literally teeming with crocodiles — so much so that you are not supposed to stand too close to the water while waiting for your ferry. Those creatures can be fast and are always hungry. To learn a little more about these prehistoric beasts in their prehistoric setting (see what I meant about time travel?), the short cruises, offered by Bruce Belcher and Son Daintree River Cruises, are perfect. While cruising, you'll spot the crocodiles swimming or sunning themselves on the river beaches. Unlike many of the Northern Queensland "crocodile experiences," this is seeing them in their natural habitat, not just a touristy gimmick.
2. The Daintree Discovery Centre
This is a one-stop-shop where you can improve your experience of the forest. Admission affords you access to an interactive learning center, an Aerial Canopy Walk, and a self-guided walk with an audio component. You'll also receive a book that will help you identify some of the critters you are most likely to come across, plus maps, guides, and information to help with tailoring your Daintree visit. There's also the very important access to a cafe and toilets, which are not to be underestimated, as from the center on out, you are pretty much entering one of the most remote regions in the world.
This is a great informative stop, and you could easily linger for two or three hours, but remember that this is only the beginning, and there is much more to see.
3. An Unparalleled Network Of Boardwalks
To discourage visitors from heading off into the forest on their own, there are many boardwalks leading from the road into the forest, usually in loops, so you can take in an easy walk. The distances tend to be short, telling you at the entrance exactly how long they will take. The walks are flat and on timber paths, with many signs along the way explaining exactly what you can spot in the forest.
The map you will have picked up at the Discovery Centre will give you details on the various walks, but each has something different to offer, so try to stop as often as you can afford timewise.
One of my favorite walks is the Dubuji Boardwalk on Myall Beach, which takes about an hour to complete (the boardwalk is about three-quarters of a mile long), and where you might be able to spot a peppermint stick insect sitting on the palm fronds.
4. A Rainforest Walkabout
While there are 18 tribes that call this extended region home, the Daintree Forest area you'll explore is the home of the Eastern Kuku Yalanji Aboriginal people. And while there are many tours on offer that educate about diverse aspects of this fascinating region, you might want to consider giving back to the local Aboriginal people by going on walkabout with an indigenous guide who can teach you about their peoples' history, traditions, and culture. You can hear the old stories, try some bush tucker — also called bush food (fancy a nibble of some green ants, anyone?) — and see the forest through their eyes, which are open to many more wonders than you would discover on your own. If this Daintree experience appeals to you, try booking with a company like Walkabout Cultural Adventures.
5. Beaches That Are Off Limits For A Very Good Reason
This is a region of the world that is still uninhabited and visited by few. Strict rules allow nature to always come first, and human beings are kept at bay. And that means that some of the beaches here are just breathtaking. White sand, driftwood making for natural art installations, and the ocean glittering in front of you all make you desperate to stay a while. But, do not even think about settling down for a picnic and a swim on your own. Each and every beach has a big sign warning you of the saltwater crocodiles, whose beaches these are. These animals can grow up to 20 feet in length and more than 2,000 pounds in weight. They have the strongest bite of all animals and can move at a very fast pace considering their size. They hide in plain sight and can offer a scary surprise.
But that does not mean that you cannot enjoy the beaches. If you want to enjoy the water, make sure you join a group led by someone who knows what to look out for. You will find watersport centers in the few campsites along the way, including Cape Trib Camping. There, you can participate in water activities while prioritizing your safety — and the animals'.
6. Birding (And The Opportunity To Spot Tree Kangaroos)
With more than 430 species of birds having been recorded in this region, reportedly making up more than half the bird species in the whole of Australia, this is a great spot for bird enthusiasts. But with so many exotic species, even those who might not be dedicated birders can get a lot out of sitting still and having a look at what flies and hops and walks through this forest. Pick up a Discovery Centre guidebook for easy identification. One of the easiest birds to spot is the huge flightless cassowary, another leftover from prehistoric times that is very distinctive with its blue head. If you do spot one, stay back, though, as they are known for having a bit of a temper.
If birds aren't your thing, then how about trying to spot the elusive tree kangaroo or a rainforest frog? Thirty percent of all Australian frog species live here. There are also many colorful butterflies (the Daintree has 65 percent of Australia's butterfly and bat species). No doubt you will also come across some of the 12,000 species of insects living in the forest, too.
7. A Stay At An Aussie Rainforest Lodge
This is a truly unique place, so if you can afford to spend a little more time in the Daintree, all the better. There are a few eco-lodges situated in the forest, all built to make the most of the location, and look after said location, while pampering the visitors. My favorite is Silky Oaks Lodge, a luxury boutique resort on a gurgling river right in the forest. They pamper you not only with their remote location, but also the setup, restaurant food, spa treatments, and the fabulous overall experience. It's not the cheapest place to spend a night or two, but how often do you get to stay in the oldest forest on this earth? If you need to get away from what life has recently thrown at you, this is the place to relax.
Pro Tips
To enjoy the Daintree during the best weather conditions, visit between May and September, when the temperature is comfortable and it's relatively dry. And, while there, don't forget to constantly protect yourself from some of the peskier animal species in the forest, the mosquitos. Cover yourself regularly in strong insect repellant and wear long sleeves and trousers for your walks.