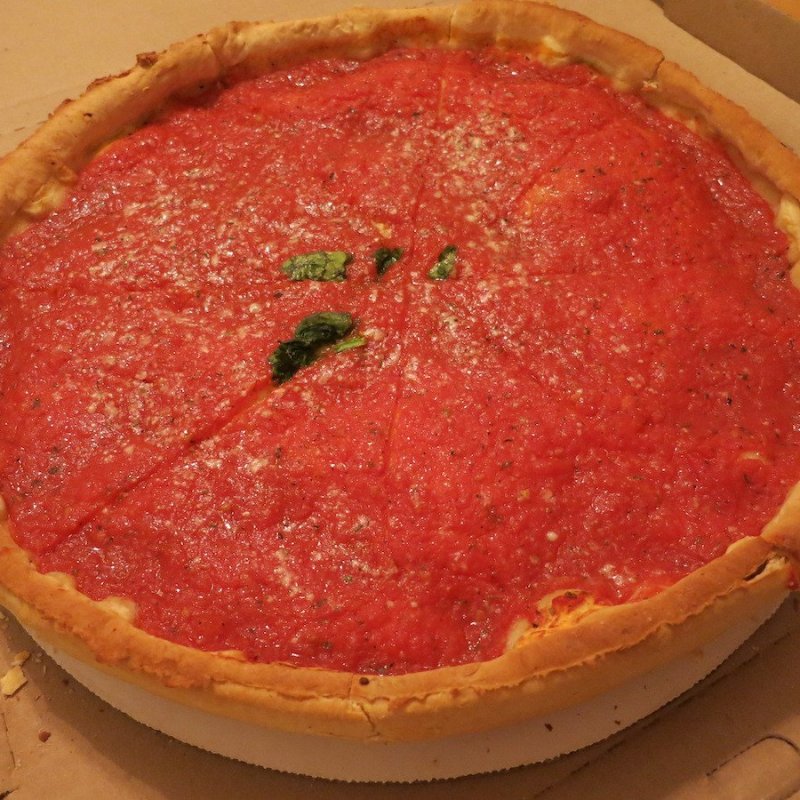 Chicago is famous for its deep-dish pizza, and there are certainly some incredible places to try it if that's what you want. While locals and visitors alike love their deep dish, there are many other unique and delicious pizza options that Chicagoans love.
These are some of the tastiest pizzas you can try on a trip to Chicago. You won't have any trouble getting locals to join you, especially if you're going to try one of their favorites.
1. Pizano's Pizza & Pasta
Pizano's pizza is the stuff of legends. They offer a thin-crust pizza as well as a pan pizza. The pan pizza is a bit thicker than the thin-crust pizza, but not as thick as deep dish.
Although he was raised in a deep-dish-making family, Rudy Malnati Jr. opened Pizano's serving thin-crust and pan-crust pizza. It's said that his mother had a secret weapon — her crust recipe, which is buttery, crunchy, chewy, and altogether satisfying. We love to top Pizano's buttery crust with fresh ingredients, including sausage made with Pizano's own proprietary spice blend.
Everything served here is fresh and plentiful. Oprah has said that Pizano's thin-crust pizza is her favorite pizza, and President Bill Clinton once refused to leave Chicago O'Hare International Airport before getting a Pizano pizza delivered to Air Force One. That's how devoted Pizano's fans can be.
2. Edwardo's Natural Pizza
For those who love the idea of deep-dish pizza but think that pizza pie should be more like a real pie, Chicago-style stuffed pizza is perfection. While deep dish has a thick bottom crust with sauce, cheese, and toppings piled on, stuffed pizza takes it to a whole new level. There's a nice thick bottom crust, as with deep dish. Then there are layers of toppings and cheese. On top, there's another thin layer of dough. Tomato sauce goes on top of that second layer of dough, creating a stuffed pie.
Various pizzerias put their own spin on the dish, but one of our favorite stuffed-crust pizzas comes from Edwardo's, which claims to be the originator. Their incredible fresh spinach pizza is an award winner. We also like their wheat crust, which is delicious and healthier, too.
3. Piece Brewery And Pizzeria
For a bit of Connecticut in Chicago, head to Piece Brewery and Pizzeria for some delicious New Haven-style pizza and great award-winning craft beer.
New Haven-style pizza, often called "apizza," is yet another style of pizza served in Chicago. It's a thin-crust pizza focused on simple ingredients. The basics include a Pecorino-Romano cheese blend, oregano, and olive oil. You can get a red pizza with tomato sauce and mozzarella or a traditional tomato pie without mozzarella. You can also try a white pizza with the mozzarella but without the tomato sauce.
Other toppings are available, but two you won't find on any other pizza are Chicago's own honey butter fried chicken and Hog Doug's Atomic Sausage. The pie may be in the New Haven tradition, but Chicago pizza lovers have made it their own.
4. Chicago Pizza And Oven Grinder
One of the most unusual pizzas you'll find anywhere is at the beloved Chicago Pizza And Oven Grinder. Their unique pizza pot pie is something you'll have to see to believe. It's an individual crust made from Sicilian bread dough that's stuffed with sauce and various toppings, can include sausage or be vegetarian, and is covered with cheese. The dough is then wrapped over a bowl and baked. When it's ready, the whole thing is turned upside down, the crust is separated from the bowl, and the hot and melty deliciousness beneath is ready to enjoy.
Another specialty that we love is their Mediterranean bread. It's basically pizza dough rolled out super thin and sprinkled with cheese and spices. There's no way to leave this place hungry, and Chicagoans love that about it.
5. Spacca Napoli Pizzeria
Spacca Napoli Pizzeria serves up authentic Neapolitan pizza exemplifying the love and craft that are at the heart of the Neapolitan tradition. Their special pizza oven was built by third- and fourth-generation artisans from Naples. They source many of their ingredients from trusted Italian producers to produce a taste that is pure and genuine. San Marzano and Corbarino tomatoes, Parmigiano-Reggiano, Sardinian artichokes, and Calabrese soppressata are just a few of the authentic flavors you'll find on their pizzas. Spacca Napoli offers an authentic taste of Italy that engages all of your senses.
6. Vito & Nick's Pizzeria
Chicago's South Side may be known for its incredible barbecue joints, but it's also home to Vito & Nick's Pizzeria, established in 1932, a true Chicago landmark. Those who love the cracker-thin, crispy crust that's so hard to find will love Vito & Nick's. This small spot makes more than 60 pizza pies an hour, so you know they're doing something right.
Whether you want the traditional cheese and sauce, the breakfast pizza, or your favorite combo, Vito & Nick's pizza is the stuff of dreams. Served in Chicago party-cut squares, you won't be able to stop eating it.
When Guy Fieri tried their Italian beef-topped pizza, he said, "That's it. Anybody that would come to Chicago and not come here and try this should be arrested. I'm moving in!"
Pro Tip: Stop by an ATM on the way, since Vito & Nick's only takes cash.
7. Connie's Pizza
If you don't know what style of Chicago pizza to try, head to Connie's Pizza. The family-owned parlor offers thin-crust, original, deep-dish, stuffed, and specialty-style pizzas.
Their original pizza is so popular that you can now get it frozen from retailers throughout the Midwest. They've also created a take-and-bake version called Giacobbino's so that you can have restaurant-quality pizza from your own oven. As part of its Pizza With A Purpose, Connie's donates 55 cents from each pizza's sale at Jewel grocery stores to SocialWorks, an organization founded by Chicago's own Chance the Rapper to empower Chicago's kids.
8. Pequod's Pizza
Among Chicago's most controversial pizzerias is Pequod's Pizza. Why? Pequod's pizzas come with a caramelized crust! Before baking the pizza, the chef spreads a thin layer of cheese on the outer crust. After baking for about 40 minutes or so, this cheese turns chewy-crispy and caramelized. Some people loathe it, while others love its unique texture. But what's certainly the case is that you need to taste it and judge for yourself.
9. Italian Fiesta Pizzeria
Part of the fun of trying Chicago pizza is hearing the stories that go along with the pies. We especially loved one story that Jonathan Porter, owner of Chicago Pizza Tours and professed pizza fanatic, told us about Italian Fiesta Pizzeria.
The pizzeria serves Michelle Obama's favorite thin-crust tavern-style pie and has since she was a child. She once got it as a reward for earning good grades in school. Once married to the president, she ordered it incognito for "Robinson," her maiden name. In fact, she liked it so much that she invited the co-owners to Washington, D.C., to serve their pizza at the presidential inauguration expo.
Italian Fiesta Pizzeria has several locations, but you need to order by calling in advance for pickup or delivery, because there's no inside dining. Just don't tell them you're ordering for Robinson. That name is already taken.
10. Coalfire Pizza
If you're a fan of pizza made in a coal-burning oven, stop by Coalfire Pizza for Chicago's original coal-oven-fired pizza. Coal-oven pizzas are different because they're baked at 1,500 degrees. You can get their pizza with its distinctive charred crust at either of their two locations. In addition to that incredible coal-fired taste, the pizzas boast unique toppings such as black garlic, Berkshire pork sausage, stracciatella, and house-pickled jalapeño. One of the most popular combinations is Berkshire pork pepperoni with whipped ricotta. They use clean-burning coal, so you won't have to worry about any residue — just amazing flavor.
11. Big G's Pizza
Big G's Pizza is one spot that locals love for their completely wild toppings. If mac and cheese, fried chicken and waffles, campfire s'mores, barbecue steak and French fries, or Philly cheesesteak on a pizza sound amazing to you, Big G's will definitely have something up your alley.
Chicago's pizza culture offers great variety and much to love beyond deep dish. So when you visit Chicago, you ought to try a slice of deep dish — but check out some of the other authentic pizzas that Chicagoans love. You might just find a new favorite of your own.