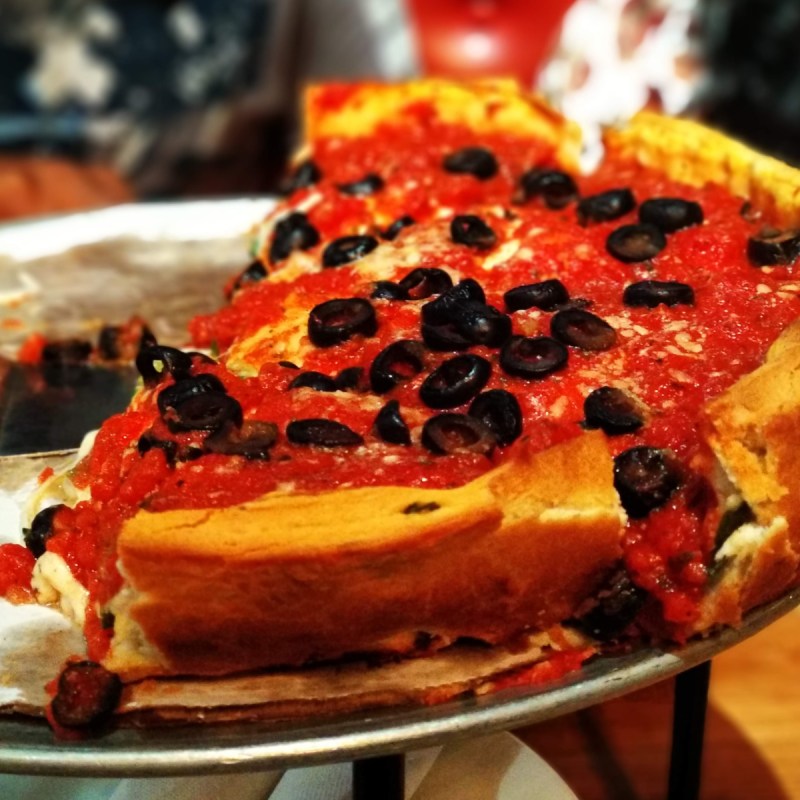 Ah yes, the famed Chicago-style deep dish pizza. It's what Chicagoans and New Yorkers have been feuding over for decades, and a significant factor in what makes the Windy City so unique.
If you've never tried Chicago-style deep dish pizza before, you're in for a real treat. Famously described as pizza pie, pizza casserole, or pizza cake, Chicago-style deep dish pizza is known for turning the typical ingredients of a pizza inside out. You'll find the toppings and gooey cheese on the inside — and the chunky tomato sauce on the outside, all piled on top of a thick and flaky crust.
As a Chicago native, I've spent my entire life taste-testing the best deep dish pizza in Chicago, from household names to local and lesser-known pizza joints. Read on to discover the best spots for deep dish pizza in Chicago, as told by a Windy City native.
Giordano's Vs. Lou Malnati's
These two popular pizza parlors need to be mentioned together, as many Chicagoans will have a strong opinion on which is the best and why.
My family has personally always chosen Giordano's over Lou Malnati's, mainly because we had a location near our home growing up. What makes Giordano's stand out from the rest, though, is its warm, doughy crust, topped with a thick layer of cheese and an even thicker layer of tomato sauce. I've personally always preferred more sauce over cheese on my Chicago-style deep dish pizza, another reason I prefer Giordano's.
If you want to order the best-quality Giordano's deep dish pizza, ask for your pizza well-done, especially if ordering delivery. Deep dish pizza has a tendency to become soggy during delivery due to its thick layer of tomato sauce, so ordering your pizza well-done will ensure the best-quality crust.
There are several Giordano's locations throughout Chicago and the greater Chicagoland area, but if you decide to try this famed deep dish pizza in downtown Chicago, be sure to arrive early. The restaurant does not take reservations and you're guaranteed a long wait time any day of the week.
Wondering what's up with Lou Malnati's? The main difference between their pies and Giordano's is the crust. Lou Malnati's pizzas have a thinner, flakier, crispier crust that's arguably the number one reason some Chicagoans prefer Lou's to Giordano's.
Lou Malnati's is known for its signature Malnati Chicago Classic, made with lean sausage that covers the entirety of Lou's famous buttercrust. Established in the 1940s, Lou Malnati's is a staple of Chicago's deep dish pizza scene and has several locations throughout the city.
Chicago Pizza And Oven Grinder Co.
Putting a spin on deep dish pizza in Chicago, Chicago Pizza and Oven Grinder Co. (commonly referred to simply as "Oven Grinders") has recently gained an immense amount of popularity after Chopped TV judge Marc Murphy said their pizza pot pie was one of the tastiest things he's ever had.
Located on North Clark Street, Chicago Pizza and Oven Grinder Co. has been made famous for said pizza pot pies, served upside down in a ceramic bowl and topped with a triple-raised Sicilian crust. This curious pizza pot is baked then, when served, flipped over at the table right in front of your eyes, the ingredients so thick and overflowing a knife and fork are required for consumption.
Similar to Lou Malnati's and Giordano's, Chicago Pizza and Oven Grinder Co. doesn't take reservations, and you can wait up to two hours for a seat at this now-famed Chicago pizza joint. Make sure you arrive with time on your side and a full appetite.
Pequod's
A local favorite amongst Chicagoans, Pequod's, located on North Clybourn Avenue, looks like any other dive bar, but secretly serves some of the best, most mouthwatering deep dish in the city. Receiving endless local and national Best Pizza honors, Pequod's is available for dine-in, delivery, carry out, and event catering.
Pequod's pizza is best known for its caramelized and blackened crust, which is particularly scrumptious around the edges of the pizza. This is a characteristic that many other famed deep dish pizza parlors tend to neglect. Technically serving what are considered pan pizzas, Peqoud's is well-known for its sausage. If you opt for a sausage pie, prepare for thick and juicy pieces spread edge to edge on the crispy crust.
Labriola
Founder Rich Labriola has become one of the nation's top artisan bakers and bakery entrepreneurs since establishing the Labriola Baking Company in 1993.
In 2008, he opened his first restaurant in Oak Brook, Illinois, and later opened Labriola Chicago, which is situated on North Michigan Avenue in downtown Chicago.
Labriola is known for its focaccia-style dough, which is dressed with mozzarella that results in a caramelized cheese crust. Crispy on the outside and light and fluffy in the center, Labriola's deep dish pizza is thoughtfully designed and stuffed with toppings ranging from Russo sausage and mushrooms to green peppers, onion, and pepperoni.
Want to try another Windy City staple? This is why you need to try a Chicago-style hot dog at least once in your lifetime.