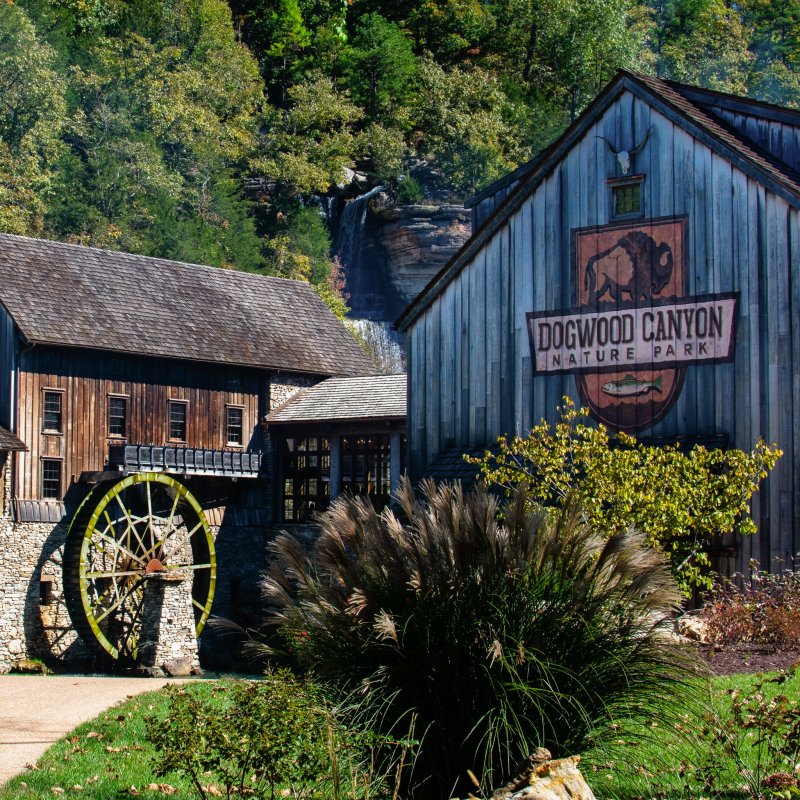 The Ozark city of Branson, Missouri is best known for its live shows and musical entertainment, but you might be surprised, as I was, to discover just how much else there is to see and do in this hospitable city.
1. Silver Dollar City
Silver Dollar City is an amusement park, historical village, and heritage craft center, all in one location. This 1880s-style theme park has the look and feel of an Ozark mountain village.
Historical buildings on site include an 1843 log cabin and an 1849 church, both of which were dismantled, moved and reassembled in the park. There is an authentic one-room schoolhouse. Throughout the park, resident craftsmen demonstrate heritage crafts, keeping Ozark traditions alive. Watch a woodworker carve figurines, a glassblower create a delicate vase, a potter shape a mug, a blacksmith forge a candleholder, and a candy maker craft a treat for your tastebuds. The goods created by the artisans can be seen throughout the park and are available for purchase in its shops. A master culinary craftsman conducts cooking classes as well.
Silver Dollar City developed around the site of Marvel Cave, a wet limestone cave that became Branson's first tourist hub in 1894. Underground tours of the cave remain one of Silver Dollar City's attractions. The park features amusement rides for all ages. If you dare, take a ride on Time Traveler, the newest installation, where cars on the World's Fastest, Steepest and Tallest Spinning Coaster spin around as they travel the track at 50 miles an hour, take a 90-degree drop, and reach heights of 100 feet.
Musicians, magicians, and comedians perform in various venues in the park. A variety of festivals and special themed events are scheduled throughout the year. If you plan to spend more than one day at Silver Dollar City during your visit to Branson, you should buy a season ticket, since this is cheaper than two days admission. All attractions within the park, with the exception of culinary classes, are included in the price of admission.
2. The Branson Strip
For more amusement park type thrills and other entertainment options, head to the Branson Strip, a three-mile section of Highway 76 running through town. The dozens of attractions here include mini-golf, go-kart tracks, water parks, theme park rides, arcades, laser games, the Hollywood Wax Museum, and Ripley's Believe It or Not Museum, as well as numerous theater venues. The Strip is home to the 150-foot tall Branson Ferris Wheel. Its gondolas supply great views of the Strip and the Ozark Mountains. Each evening, weather permitting, a music and lights spectacular lights up the wheel with 16,000 LED lights.
3. Titanic Branson And Other Unique Attractions
There are an unexpected number of museums in this small city. For a nostalgic trip down memory lane, visit the World's Largest Toy Museum. If you like to fish, you will enjoy the antique collection of lures, reels, rods, boats and motors and the History of Fishing Museum.
But perhaps the most famous, the Titanic Branson museum located on the Branson Strip, shares the stories of those who perished during the ill-fated 1912 crossing. It features authentic artifacts from the ship, contemporary news coverage, and personal items belonging to passengers. Recreated areas of the ship, such as the Grand Staircase, and interactive experiences, let visitors experience what life was like on the doomed luxury liner.
Purchase your advance tickets for Branson: Titanic Museum here!
4. Historic Downtown Branson
Restored buildings dating to the early 1900s, Victorian lampposts, brick facades and a smalltown atmosphere make historic downtown Branson feel worlds away from the Branson Strip, as opposed to just a couple of miles. The several blocks of downtown are easily walked and contain unique shops and restaurants, whose staff offer genuine welcomes and friendly conversation.
Make sure to visit Dick's 5 & 10, a nostalgic 5 & dime store that has been owned and operated by the Hartley family since 1961. Give yourself plenty of time to browse through the 1,500 square feet of old-time candy, vintage toys, household goods, clothing, souvenirs, crafts and novelty and retro items.
5. Branson Landing
Situated on the Lake Taneycomo waterfront in downtown Branson, Branson Landing is a combination of a town square and a modern boardwalk with restaurants, national retail brand stores, specialty shops and galleries. The Fountains in the heart of the Landing put on a dramatic water and fire show every hour on the hour from noon to 10 pm (9 pm on Sundays). The Fountains shoot 120-feet geysers and blast fire cannons accompanied to light and music.
6. Ralph Foster Museum
The Ralph Foster Museum, located on the College of the Ozarks campus, is known locally as the "Smithsonian of the Ozarks." Its primary focus is to collect, preserve, interpret and exhibit items relating to the surrounding region. One of its most famous and fun exhibits is an original truck from the Beverly Hillbillies television series.
7. Ancient Ozarks Natural History Museum
The Ancient Ozarks Natural History Museum contains exhibits about prehistoric creatures, collections of Native American artifacts and artwork, and galleries showcasing the American West and Civil War.
8. Veterans Memorial Museum
Veterans and active duty armed forces receive a special welcome in Branson. The city hosts America's largest Veterans Homecoming celebration each November, and other events throughout the year. Most shows recognize veterans and armed forces through special patriotic musical numbers or announcements. It seems fitting, therefore, that you will find a veterans museum in Branson. The Veterans Memorial Museum contains sculptures, murals, historical artifacts, art and memorabilia covering the wars and conflicts fought during the twentieth century.
9. Golfing
The Branson area is a growing golf destination with award-winning courses. The current eight courses, three of which have been built in the last four years, include ones designed by Gary Player and Jack Nicklaus. Three more courses are planned to open their links in the next three years. Novice to professional level golfers can practice their game amid the natural Ozark beauty of lakes, rock, woods and creeks.
10. Fishing
Branson sits alongside Lake Taneycomo, which was created in 1913 by the construction of a dam on the White River. The lake retains the look and feel of a river, and its cold, clear water is home to some of the best trout fishing in the country. Nearby, the larger Table Rock Lake, also the result of a White River dam, is recognized as a top bass fishing lake. Crappie, large bluegill and catfish are also caught in its waters.
11. Branson Scenic Railway
From inside comfortable vintage railway cars, passengers on the Branson Scenic Railway explore areas of the scenic Ozarks foothills inaccessible by automobile. The forty-mile roundtrip takes one hour and forty-five minutes. A narrator points out sites of interest, provides information about the railroad history and talks about the landscape and wildlife. The train departs from the historic 1905 depot in downtown Branson. It travels either north or south, depending on freight traffic and track conditions. The decision about which direction to travel is made just prior to departure.
12. Dogwood Canyon Nature Park
The 10,000 acre Dogwood Canyon Nature Park offers outdoor adventure in an unspoiled natural setting. Paved walking and biking trails wander through valleys of evergreen and dogwood trees and past streams, waterfalls and limestone bluffs. Guided tram and jeep tours take you into pastures of bison, elk and longhorn cattle. You can also explore the park on horseback or via a segway tour. Spring-fed streams are home to trout and provide catch and release fly fishing opportunities.
13. Lost Canyon Cave & Nature Trail
Visitors can ride through the two-and-a-half mile nature trail journey at Top of The Rock Lost Canyon Cave and Nature Trail at their own pace on golf carts. The ride takes you over covered bridges, past waterfalls and rock formations and through caves underground.
Bonus: Shows, Shows, And More Shows
And, of course, one can't forget the shows. (We know, we know — this is supposed to be a list of things to do in Branson that don't include shows…but we couldn't resist!) Branson has more theater seats than Broadway in New York, believe it or not. Venues of varying sizes stage morning, afternoon, and evening shows. Locally-produced productions and touring groups offer a variety of entertainment options, including variety shows, live music from every era, comedy, magic, Biblical stories, and acrobatic performances. All shows are family-friendly, and there is something for every taste.
Interested in learning more about Branson? Here are 12 Fun Things You Never Knew About Branson, MO, and The Best Branson Shows To See In 2019.
A former software development project manager, Donna Janke now devotes her time to travel and writing. She gets excited when she discovers delightful attractions in unexpected places. She finds fascinating stories everywhere, be it in her own backyard or halfway across the globe, and loves to share those stories through her writing. When not on the road, she can be found at home on the Canadian prairies. More of her stories can be found on her blog Destinations Detours and Dreams.