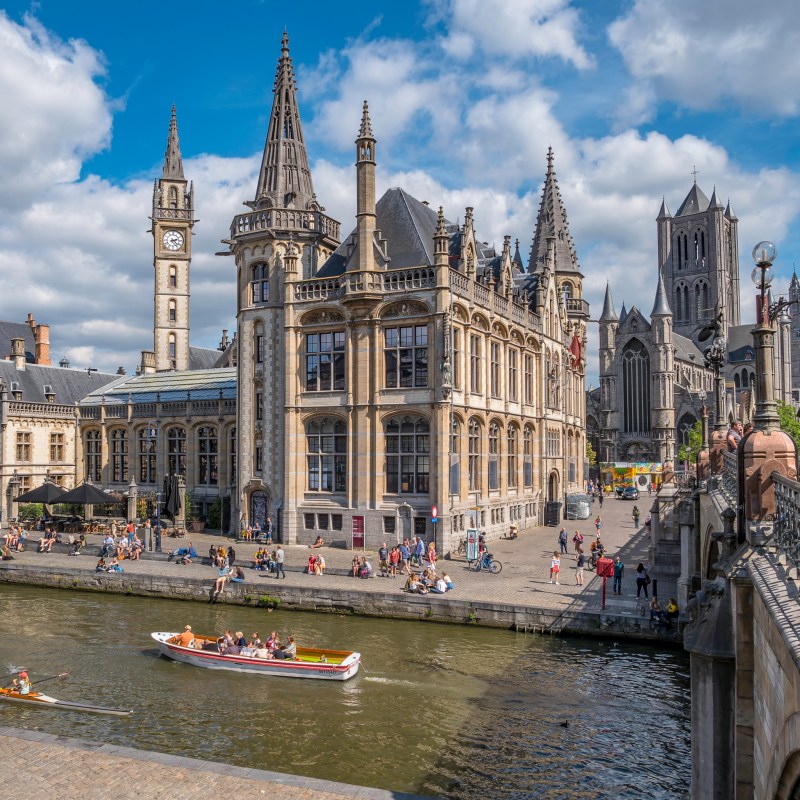 Would you like to visit a city as enchanting as Bruges and Amsterdam but without the crowds? Ghent, Belgium, is just the place. An easy 30- to 45-minute train ride from Brussels Midi or Central Station will whisk you to the charming city of Ghent. Located in the Flemish part of Belgium, Ghent is a canal-based city that's larger than Bruges and more compact than Amsterdam.
Ghent's history dates back to the 1300s, when it was the richest and largest city in northern Europe. The confluence of two rivers, the Scheldt and the Leie, made Ghent a major port city, and in the 18th and 19th centuries, the city had a thriving textile industry.
Today, luckily, much of the medieval architecture is still intact in the historic district of Ghent, thanks to the city's preservation and restoration efforts. Here are the best things to see and do during your time in the city.
Saint Bavo Cathedral
Saint Bavo Cathedral is the most significant cathedral in Ghent because of a historic masterpiece it contains. The original structure of the cathedral is from 942 A.D., but between the 14th and 16th centuries, the architecture transitioned to the gothic style that dominated most European cathedrals.
The Ghent Altarpiece, also known as the Adoration of the Mystic Lamb, was painted by brothers Hubert and Jan Van Eyck between 1420 and 1432. Consisting of 12 panels, the Adoration of the Mystic Lamb is considered to be one of the greatest religious art works in the world. It's in the midst of a major restoration expected to be complete in October of 2020.
The Design Museum
Housed in a sumptuous palace from the 1700s with exquisite woodwork and carvings, brocade wallpaper, and a grand staircase, The Design Museum traces the history of Belgian and international design from the 1860s to the present. Art nouveau, Asian artifacts, and French art deco are some of the styles represented, and the museum contains an extensive design library.
Museum Of Fine Arts
Focusing mainly on Flemish painters, the Museum of Fine Arts has a vast collection of artworks and sculptures from the 15th century to the 20th century, ranging from the medieval period to contemporary art. A section of the museum features the works of French artists, mostly from the 20th century. Rubens, Jan de Bray, Edgard Tytgat, and Paul Delvaux are just some of the Belgian artists represented by over 600 works in the permanent collection, so allow plenty of time to view them.
Canal Boat Ride
A delightful way to take in the sites of Ghent is a boat ride through the canals. There are several companies that offer various options. A hop-on, hop-off water tram service stops at six major sites and is free if you purchase a CityCard Gent. If you want a more comprehensive cruise, Benelux Rederij has a two-story riverboat with picture windows and offers five-hour cruises with a lunch option. There are several companies that offer private boat rentals, so you can drive your own boat and see the sites at your leisure. One of the advantageous things about taking a boat ride is being able to get a glimpse of the backs of the historic buildings, many of which have canalside gardens.
Castle Of The Counts
One of the more popular attractions of Ghent is the Castle of the Counts, which was built in 1180. The massive castle was commissioned by Count Philip of Alsace so he could wield his power over the city, and the lookout was installed specifically so he could view battles. The Count's son, Arnulf I, transformed it into a fortress. In later years, the castle was turned into a prison, and a collection of torture equipment still remains. An audio guide provides a comedic take on the castle's history, with humorous anecdotes and stories by a local comedian.
Where To Eat In Ghent
Visit the oldest coffee house in Ghent, Mokabon, a markedly different experience than going to Starbucks. The moment you step into the cafe, your senses are happily assailed by the unmistakable aroma of coffee beans being roasted and by the sound of coffee grinders pulverizing the beans. There are bins filled with just-roasted coffee beans from around the globe, and an antique roaster sits in the window. The cafe is old-school all the way, with soft lighting, bentwood chairs and, of course, serious coffee aficionados.
A few doors down from Mokabon is a small shop, La Petite Normandie, a delightful cheesemonger. The vast array of fine cheeses from Belgium, France, and Switzerland can be overwhelming to choose from, but their award-winning Gouda is the one to taste for sure.
Brasserie Pakhuis, a former hardware store and warehouse from the early 1800s, is a favorite amongst locals. The sprawling space laid out on three levels was transformed into a restaurant in 1991. Elements from the hardware shop are still intact, giving it an industrial but hip vibe. The versatile, a la carte menu serves Belgian and international specialties such as house-made shrimp croquettes and goose liver pate for appetizers; char-grilled lobster with basmati rice, Flemish-style steak tartare, and roasted Bresse chicken for main courses; and for a sweet finish, there's a triple threat: chocolate mousse made with Belgian chocolate and Belgian waffles with whipped cream and cranberry compote. A market menu, a three-course offering, has dishes prepared with the freshest foods currently available. The brasserie also has a lively bar and lounge area.
Mussels with French fries are something of a national dish in Belgium, so enjoying this meal is a must in Ghent. The best places to have mussels are Bridge Brasserie, where they serve mussels stewed in white wine in an orange, enamel pot, and De Graslei, which serves other Belgian specialties such as waterzooi stew with chicken and beef carbonnade made with beer.
Belgian Beer In Ghent
Ghent shows off the cultural pride of Belgian beer, with tempting local brews and beer pubs.
Gruut is a modern-day brewery but uses old-fashioned techniques, such as leveraging herbs to flavor their beer. Five different ales — blonde, amber, brown, inferno, and white — are offered, and you can even get a taste of all five for only 9 euros.
An alphabetical, five-page menu of over 500 beers makes De Dulle Griet a must-visit for even the hardest-to-please beer lovers. De Dulle Griet has a Trappist beer tasting served with cheese and salami.
Where To Stay In Ghent
Hotel de Flandre, an easy 10-minute tram ride from the train station, is a four-star hotel conveniently located close to most attractions in the old quarter. It's part of the Historic Hotels of Belgium group, which has three other properties in Ghent. The neoclassical style edifices from the 1800s still contain original architectural details from the two five-story coach houses. Hotel de Flandre has had an impressive list of guests from the past, including Johann Strauss and French writers Chateaubriand and Lamartine, who were part of King Louis XVIII's entourage.
If you are looking for a contemporary, luxury hotel experience, check into The Sandton Grand Hotel Reylof, the top hotel in Ghent, with 158 rooms and suites and also long-stay apartments. There's also a spa, a pool, and a gym. The Sandton has the trendsetting Restaurant Lof, where chef Joris Korsten creates eclectic-tasting lunches and dinners and offers a special vegetarian menu.
Pro Tips
Trains to Ghent from Brussels Central Station and Brussels Midi leave approximately every 45 minutes. There are discounted fares for people over 65.
Ghent can also be a day trip from Brussels if you are pressed for time.
The old quarter of the city, where most of the above attractions are located, is easily walkable.
Editor's Note: Don't be surprised to see Ghent written as Gent or even Gaunt. Ghent is the contemporary English spelling, whereas Gent is the Dutch spelling and Gaunt was the traditional English spelling.