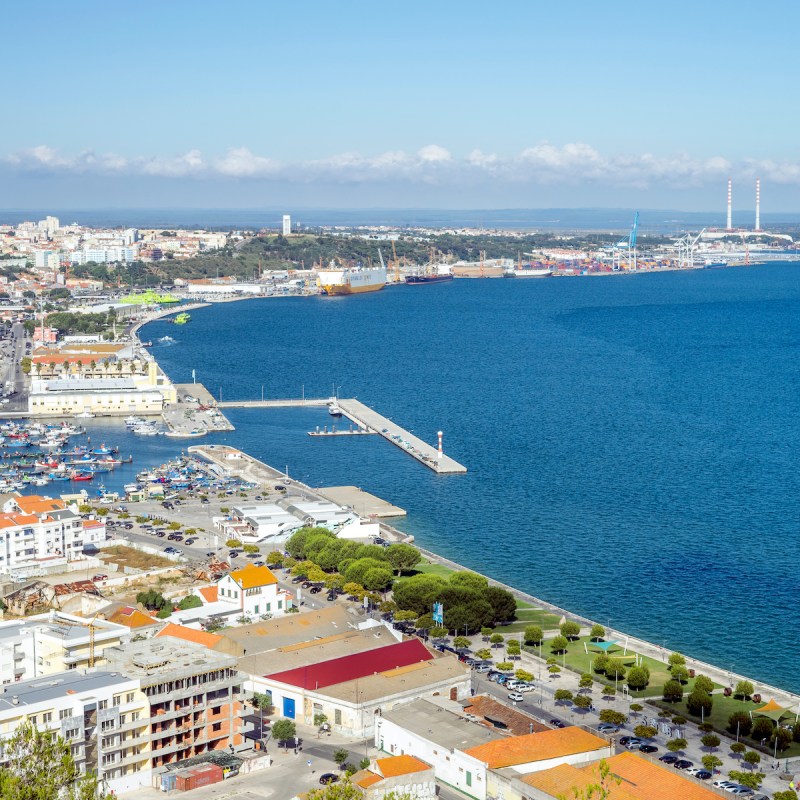 Setúbal is a burgeoning city across the bridge from Lisbon, just a 40–50 minute bus or train ride away. It offers a colorful and fun place to visit that has its own interesting history and culture. There are interesting buildings that you can explore, bright plazas with shops and restaurants, impressive fresh markets, and a vibrant and varied local food scene. The area is also a busy wine-producing region that makes a tasty fortified wine enjoyed over the country. Nature lovers will find much to appreciate in the many natural areas nearby. Art takes a center stage so it's no surprise that artists come here for the creative vibe.
Setúbal has much to offer and here are some of the top reasons we think you'll fall in love with this beautiful coastal city in Portugal.
1. Forte De São Filipe
Standing tall and overlooking the Sado Estuary is the imposing Forte de São Filipe (also sometimes called Castelo de São Felipe). It was built in the 16th century to protect the city against invading forces including pirate ships from the nearby North African Coast that tried to enter the port. The fort has an unusually irregular, star-shaped structure, built to adapt to the terrain on which it stood. There are sentry posts that stand out around the upper areas, and you can wander about looking at the spectacular views from each one. There's also a small chapel inside covered with beautiful azulejo tiles. The tiles show scenes from the life of Saint Philip, the namesake of the fort.
Cafeterìa Forte De São Filipe
From the terrace café, you can enjoy views of the Atlantic Ocean, Serra da Arrabida mountains, and Troia Peninsula while enjoying a snack and sipping on a glass of wine. It's especially nice for relaxing after your exploration of the fort.
2. Moscatel Wine
Portugal is known for great wines at even better prices. The special Moscatel wine that is produced on the Setúbal peninsula is a fantastic dessert wine, sweet and full of flavor. It evolves even more when aged for years in oak barrels. Notes of honey, raisin, caramel, dried apricot, and mandarin orange can be tasted in this wine made primarily from Muscat of Alexandria grapes. Any sweet dessert will pair well with Moscatel, but it also makes a great complement to cheese and charcuterie selections.
Setúbal Wine Experiences
Setúbal produces not only fantastic Moscatel, but also some delicious table wines. Wine lovers can choose from a variety of houses to taste some various wines as well as tour a vineyard and learn about the region. Quinta de Alcube offers a variety of Setúbal wine experiences including tastings and tours.
3. Mercado Do Livramento
Established in 1930, this hugely-popular market has been winning accolades from visitors around the world. And if you ask the locals, it's the best place in all of Portugal to get fish, which is caught fresh in the Setúbal Bay. Favorites like cod, sea bass, sole, sea bream, and sardines gleam on ice along with other fresh seafood like oysters, clams, and squid. But there's a lot more to the Livramento Market than fish. The huge tile panels are not to be missed, which would be hard considering the building itself is painted pink. Meat, fruit, vegetables, bread, pastries, cheese, flowers, wine, and many more delectables are available at the market. The one thing you won't find in excess is tourists. Just don't go on Monday as the market is only open Tuesday–Sunday, from 7:30 am–2:00 pm, and is closed on certain holidays.
4. Casa Da Baía
The lovely Casa da Baía is a multifunction space built in the early 1700s and is classified as a Municipal Heritage site. In addition to the tourist information office and local organizations having space here, the place becomes lively with weekly musical programs in the summer and local art and sculputure displays year-round. As the purpose of the place is to promote the region, there is a store that is full of products from the Setúbal Peninsula. We were surprised by the incredible number and variety of wines that were on the shelves. Cheeses, sweets, and the handiworks of local artisans round out the offerings. There's also a cafeteria that serves local food, snacks, and beverages. It's fun to wander through Casa da Baía and feel the essence of Setúbal all around.
Sado Estuary Bottlenose Interpretive Center
Also housed in Casa da Baía is CIRES, an interpretive center that explores the unique bottlenose dolphins that call the Sado Estuary home. Interesting and interactive displays educate about the development of the dolphins, their history, and even their anatomy. A large poster displays each of the local dolphins along with their names. Admission is free.
5. Dolphin Watching
While we loved learning about the dolphins, seeing them in action would be even better. The pod of about 30 of the bottlenose dolphins introduced in the CIRES center actually live in the Sado River Estuary all year. You might be able to see them on your own if you happen to get lucky. But the best way to get a glimpse is with one of the boat tours offered in the area. Several companies offer dolphin tours that vary in duration. The knowledgeable crew can also explain a lot about the dolphins, their lifestyles, and habits.
As with any nature trip, you can't be sure exactly what you'll see, but the boat tours have a lot of experience and know the best spots so you'll have a good chance of seeing some while you're there.
Dolphin Watching Tour Companies
There are a variety of companies offering tours to see dolphins in Setúbal. You can find some options at Dolphin Bay and SeaBookings. Some tours leave from Lisbon and include seeing a few of the sights along the Tagus River before heading for the dolphins in Setúbal.
6. Setúbal Local Food Scene
As does most of Portugal, Setúbal has a phenomenal food scene. Seafood lovers will delight in the abundance of fresh seafood and the dedication to its honest preparation by the many local restaurants and cafés that populate the area. In addition to the many fish and shellfish that come directly from the Atlantic Ocean, Setúbal has elevated the squid-like cuttlefish to a high ambassador of the area. Choco Frito is the name of a dish that has a special place of honor in Setúbal. It is cuttlefish cut into strips then deep fried and coated in seasoned corn flour.
Na Pas De Quois
We also bumped into something different, the French-ish Na Pas De Quois café. They have fresh-baked pastries for take-out popular with the locals. But we enjoyed a full meal in the cute garden setting. Dishes include vegetarian options, huge burgers, bagels, salads, and more. For sure, no one leaves hungry.
7. Walking Trails And Birdwatching
Birdwatching in Portugal is quite popular and Setúbal is blessed with extensive natural park areas that make for a birder's paradise. Many walking trails range from easy to hard where birds are known to make plenty of appearances. The trails also provide beautiful views of beaches, varied landscape, flowers, trees, and small wilderness creatures. The large Arrábida Natural Park boasts a wide a variety of birding places.
Flamingos In The Sado Estuary
One of our favorite birdwatching experiences in Setúbal is at the Reserva Natural do Estuário do Sado where you can actually take a boat ride and see flamingos up close. Companies offer tours if you want to see them front and center. Interestingly, Portuguese flamingos are more white than pink because they don't feast on the shrimp that causes the heightened color.
8. Praça Do Bocage
Praça do Bocage is the historical main square in Setúbal. It is the namesake of poet Manuel Bocage, who was born in the city in 1765. The statue of an adoring woman gazing at the monument of Bocage in the center of the square is said to embody the neoclassicist poet's many admirers. The plaza is both calming and energizing with lovely landscaping, many shops, and restaurants. The city hall itself makes a statement, colored in a deep purple and designed by famed Portuguese architect Raul Lino. There is a covered area set up for live performances, and the square makes a great spot for having a bite and people-watching.
Relax By The Long Fountain
There's a wonderful fountain with a waterway and charming bridges, lined with trees and occasional benches. Sitting on a bench by the water is a relaxing treat, especially in the summer heat.
9. Art All Around
It's impossible to visit Setúbal and not see art all around. There are colorful street decorations in the historical center shopping district to sculptures on the streets, statues in the park, and galleries throughout the areas. Local associations create dangling decorations, like oversized flowers and bees that form archways, and change them periodically to keep a smile on the faces of locals and visitors alike. Large colorful ceramic sculptures called Pasmadinhos by Maria Pó are so popular that small replicas can be purchased to take home. And João Duarte's charming large lady sculptures delight the city streets along with abundant urban art.
Rota Dos Saberes E Sabores
We love when local artists get a showcase and this artsy café provides a lovely one. Original art by local artists, including the owner, is joined by gourmet products. The Route of Knowledge & Flavor appeals to all the senses. Have a coffee and explore the gallery for the perfect combination.
With so much to see and do, Setúbal is a beautiful Portuguese coastal city that will capture your heart.
Sue and Diana have covered a multitude of Portugal experiences, including: