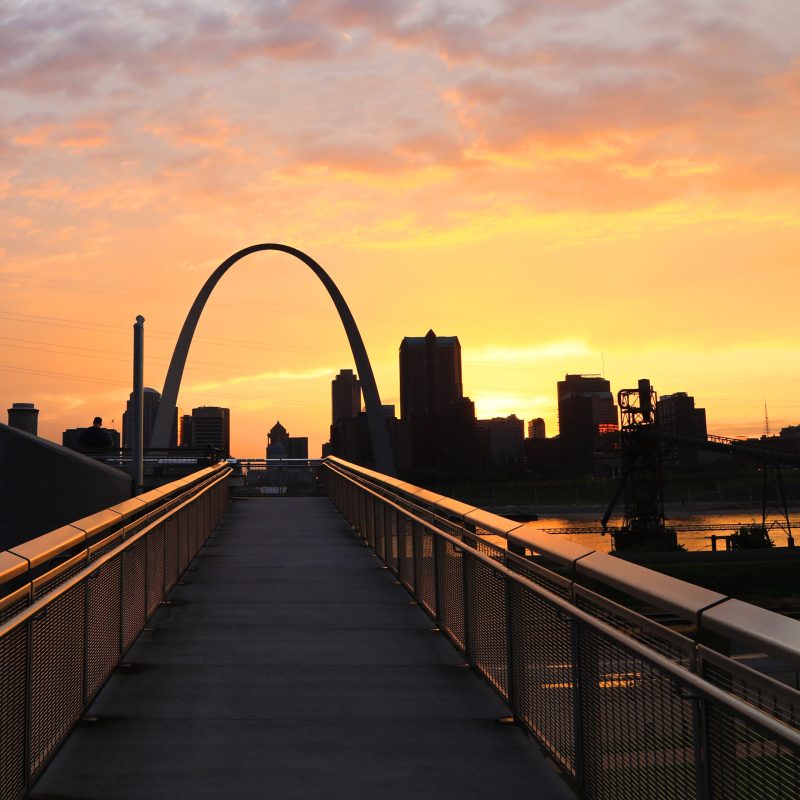 Saint Louis is best known for its beer, baseball, and of course, its world-famous Arch. But there's much more to the Gateway to the West than the Cardinals, Budweiser beer, and the fabulous and free zoo and museums. Here are 11 hidden gems you'll want to add to your must-do list the next time you visit this iconic river city.
1. Tower Grove Park
When people think of Saint Louis parks, they usually think of Forest Park. That's no surprise — the lovely and expansive green space hosted the 1904 World's Fair and is home to the city's zoo, art museum, history museum, and outdoor theater. The city's second-largest green space is not nearly as well known, but it's just as beautiful.
Tower Grove Park, located southwest of downtown, has served as a lush, Victorian oasis for Saint Louisans since its founding by merchant Henry Shaw in 1868. Tower Grove Park is the only public city park in Saint Louis to be managed by an independent board of commissioners. The board and the park's dedicated staff members have worked tirelessly to keep this gorgeous spot beautiful and accessible to all for generations. Tower Grove Park features a vast variety of trees, shrubs, flowers, and lily ponds. The walking paths are dotted with statues, stone comfort stations, and brightly colored wooden pavilions. There's even a stable where the park's two equine residents, Moonshine and Sheffield, live. Tower Grove is the perfect place for a stroll, picnic, or Saturday-morning shopping excursion at the park's farmers market. The park hosts a concert series and a Festival of Nations each summer, and it's adjacent to the Missouri Botanical Garden, another stunning Saint Louis spot founded by Henry Shaw.
2. Cherokee Street
Saint Louis is home to a wonderfully diverse immigrant population; since its founding nearly 100 years ago, the city's International Institute has helped bring thousands of refugees to the Gateway City. One place where you can see a thriving example of that immigrant culture is on Cherokee Street. This funky, vibrant stretch boasts a robust Latin American influence. You'll find taquerias, Mexican bakeries, and plenty of hipster bars and breweries, along with antique stores and art galleries. It's a great place to spend an afternoon, and as you can imagine, the area hosts one heck of a Cinco de Mayo celebration each year!
3. South Grand
For more international flavors, consider a foodie stroll along South Grand Boulevard. About 10 minutes west of downtown, this five-block stretch just around the corner from Tower Grove Park features an incredible array of restaurants and cafés founded by immigrants from all over the world. Consider stopping by several for one global course after another! From Middle Eastern (The Vine and Café Natasha's offer incredible hummus and shawarma) and Vietnamese to Thai and even Ethiopian, you'll find incredible eats on South Grand. And be sure to save room for dessert — Gelateria del Leone serves up scoops in incredible flavors, as well as coffee and pastries.
4. Compton Hill Water Tower
For a fascinating — and 10-story tall — history lesson, check out the Compton Hill Water Tower, located near the intersection of Interstate 44 and South Grand Boulevard. This impressive stone-and-brick column was constructed in 1898 to camouflage a 100-foot standpipe that was needed to help equalize dangerous surges of water pressure throughout the city. In 1929, new techniques to handle the pressure were developed, and the tower was no longer necessary. Over the years, it fell into disrepair. Not wanting to part with such an interesting and beautiful piece of the city's history, area residents mobilized in the mid-1990s to fundraise for a renovation, which was completed in 1999. Today, you can climb the tower's spiral staircase all the way to the top for a breathtaking 360-degree view of the city. The tower is open on the first Saturday of each month and on full-moon evenings; admission costs $5 per person. After your climb, stroll through the gorgeous Compton Heights and Compton Hill neighborhoods nearby.
5. The Grove
Originally an industrial and commercial area that had fallen upon hard times, The Grove started its comeback in the 1980s when several LGBT-friendly businesses and nightclubs opened. One by one, the empty storefronts were replaced with hip eateries, bars, boutiques, and coffee shops, giving the neighborhood its current diverse and friendly feel. The district is home to more than 50 businesses in all, and it is worth a visit, whether it's for lunch and shopping or dinner, drinks, and dancing. Highlights include Grace Meat + Three, a favorite nosh spot featuring down-home cooking; Everest Café & Bar, which serves amazing Nepalese fare; and Confluence Kombucha, which brews up artisan flavors of delicious fizzy, fermented tea, along with fresh vegetarian small plates crafted with locally sourced ingredients.
6. Soldiers Memorial
You don't have to be a battlefield history buff to appreciate — or be amazed by — the Soldiers Memorial Military Museum downtown. Construction of the memorial, which was designed to honor local service members who had made the ultimate sacrifice during World War I, began in 1935. The following year, President Franklin Delano Roosevelt visited Saint Louis to dedicate the site, and it opened to the public on Memorial Day 1938. In 2015, the museum underwent a multimillion dollar renovation funded by private donors, and it recently reopened with a new reflecting pool and fountain that represent the five branches of the military. New monuments in the area memorialize service members who died in subsequent conflicts, and exhibits describe and demonstrate what life was like for our country's military men and women over the years. Admission to the memorial and exhibits is free.
7. Central Library
For another peek into Saint Louis's past, duck into the city's gorgeous Central Library. Located downtown, the grand neoclassical building is the hub for the city's public library system and has stood at this spot for more than 100 years. Steel tycoon Andrew Carnegie helped transform the city's library system with a million-dollar gift in 1901; half of that money went toward the construction of the Central Library. After the recent $70 million renovation, the spot feels old and new all at once. Wander through the paneled reading rooms and marble halls, and be sure to check out the impressive staircase. If you're a true architecture or history buff, consider a free guided tour of the magnificent space.
8. Campbell House Museum
To get an idea of what life was like in Saint Louis before the World's Fair, head to the Campbell House Museum. It's a fascinating time capsule of a place, with the Campbell family's home and furnishings well preserved and displayed. Built in 1851 as the first home in an elegant, posh neighborhood called Lucas Place, the Campbell House was where entrepreneur Robert Campbell and his family lived from 1854 until 1938. Lucas Place is long gone, but the Campbell House Museum evokes the feeling of late 19th-century life right in the middle of downtown. Featuring everything from the family's furniture and portraits to clothing, art, and letters, this place truly and vividly brings the history of Saint Louis to life. Museum admission includes a guided tour and costs $10.
9. Crown Candy Kitchen
If you've worked up a giant appetite while exploring Saint Louis, head to Crown Candy Kitchen. This institution opened in Old North Saint Louis in 1913, and it has delighted generations of sweet teeth ever since! Saint Louis's oldest soda fountain maintains its old-fashioned vibe while serving up incredible sandwiches, malts, shakes, and famous World's Fair sundaes. You might also be tempted by the candy counter right up front; each Easter, hundreds of Saint Louisans place their orders for chocolate bunnies and eggs here. You really can't go wrong with anything on offer, but our favorite is the massive BLT finished off with the Newport hot fudge sundae (with lots of whipped cream and pecans!). You'll walk out with a full stomach and a hefty dose of nostalgia.
10. Turtle Playground
Chances are you'll head to Forest Park while you're in Saint Louis, but be sure to channel your inner kid and check out the Turtle Playground on your way in. Created by the late Saint Louis sculptor Bob Cassilly, this area on the south side of Interstate 64 can be accessed via the Tamm Avenue overpass. This small pocket of Forest Park includes several concrete turtles designed and crafted by Cassilly. They vary in size and species, and they've become a favorite climbing course for visitors of all ages. Even if you're not inclined to scramble about, you'll appreciate the quirkiness of this special spot.
11. Soulard Farmers Market
Founded back in 1779, the Soulard Farmers Market is a terrific place to people-watch! Located just south of downtown, the market is open from Wednesday through Saturday each week. It features a Grand Hall with shops including bakeries, butchers, and cheesemongers. There are also outdoor stalls with a vast array of produce, flowers, and even artisan goods — including soaps and honey — during the summer months. On Saturday mornings, the place is a madhouse, but that's when you'll find the most variety, with dozens of vendors hawking their wares. Grab a coffee — or a cocktail — and shop for or sample some of the freshest foods around. Getting groceries here is a time-honored Saint Louis tradition, and the surrounding neighborhood features some of the city's oldest homes, along with many terrific cafés, bars, and shops.
Planning a trip to Saint Louis? Here are 12 things you must do while you're in the Gateway City.