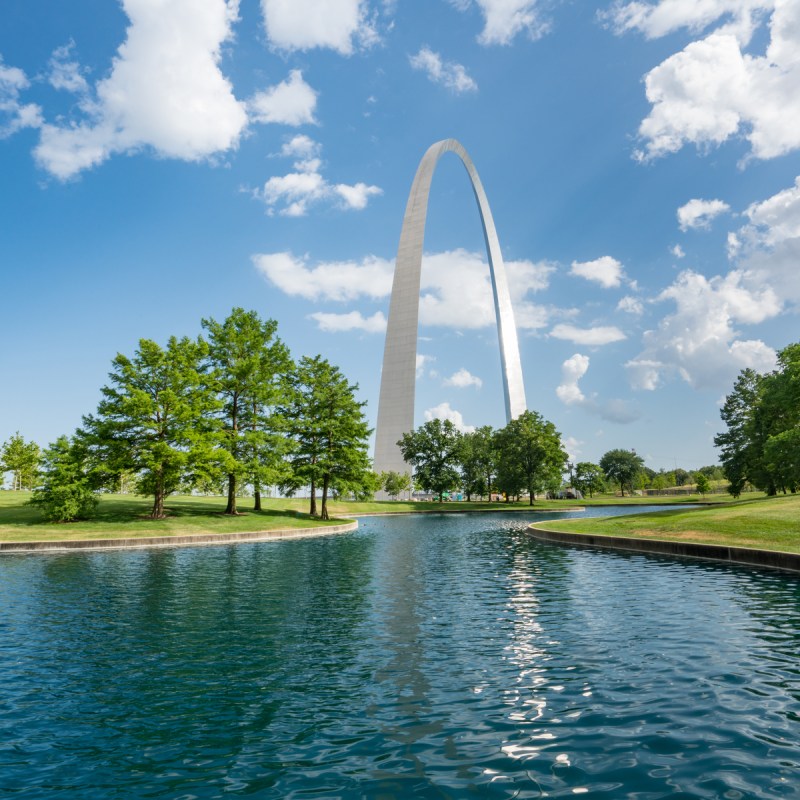 St. Louis is known for the Gateway Arch, Cardinals Baseball and the Anheuser Busch Brewery. While all three should be on your to-do list during your visit, that's really just the beginning. And get this: a lot of the coolest things to do in St. Louis are free!
One tip though: St. Louis' public transportation isn't great. Renting a car is usually best, but don't leave all your belongings in plain sight. (Car break-ins do happen.)
While planning your stay to explore the heart of St. Louis, choosing the right accommodation can enhance your experience. Opting for the best hotel in St. Louis Missouri can provide you with comfort and convenience as you navigate through the city's numerous attractions. Several of the best hotels in St. Louis are strategically located close to these popular sites, ensuring you don't miss out on any fun.
This is where Judy Garland wanted everyone to meet her for the 1904 World's Fair. (Today, the Art Museum building and the bird cage at the zoo are the only two remnants from the fair.) It's where you'll find the best of the best when it comes to free experiences in the city.
The St. Louis Zoo, St. Louis Art Museum, Missouri History Museum, and St. Louis Science Center are all free, every single day, for everyone. There are some special exhibits that charge an entrance fee, and you must pay to ride the train or see the sea lion show at the zoo (but the prices are very reasonable).
In the summer, you can watch soon-be-stars under the stars at The Muny amphitheater in Forest Park. The last nine rows are free for every performance. Gates for these free seats open at 7 p.m.
As for seasonal activities at Forest Park, movies are shown on Art Hill on Fridays in July and early August, the zoo hosts Jungle Boogie Concerts on Friday evenings from late May through early September, and in June you can enjoy Shakespeare in the Park. If you're visiting during the winter months, the Steinberg Ice Skating Rink is open November 15th through March 1st (although this attraction is not free).
Additionally, Forest Park boasts countless gorgeous trails that offer great views of the park and all of its attractions.
Though the park is fairly walkable, some visitors may be interested in the Forest Park Explorer. This hop on, hop off bus service is provided by the St. Louis Metro and runs daily from 9 a.m. to 7 p.m. during the summer months (tickets are completely free on Saturdays and Sundays).
Forest Park has so many other wonderful attractions for locals and visitors alike (the Jewel Box, the Boat House, the World's Fair Pavilion, and more). Bring a picnic, your drink of choice, and enjoy all that Forest Park has to offer!
The Missouri Botanical Garden is home to one of the largest Japanese Gardens in North America. If you're taking a trip to St. Louis with children, there is a hidden gem inside the Garden itself: the Children's Garden is one of the best venues to entertain kids in the entire city. There are places to climb and slide, a general store, and an area where you can make music. It's open from April through October.
The Botanical Garden is free to St. Louis City and County residents every Wednesday and Saturday before noon, except during special admission rate events. In the summer, anyone can get in free on Wednesdays after 5 p.m. for the Whitaker Music Festival. Bring some chairs, a blanket, a picnic basket, and enjoy the evening.
Some of the most popular seasonal events at the Botanical Garden include the Japanese Festival (Labor Day weekend), Garden Glow (November through December), and Chinese Culture Days (April).
The Fox Theatre is located in Midtown St. Louis and hosts Broadway national tours and other performances. It's a wonderful space with an opulent interior. If you can't catch a show, tours are offered most Tuesdays, Thursdays, and Saturdays at 10:30 a.m. (Tickets for the tours go on sale starting at 10 a.m.) Each tour lasts about 1.5 hours. The Saturday tour includes an organ presentation, which is a Fox Theatre tradition. (The multi-talented Stan Kann played the theatre's Mighty Wurlitzer for nearly three decades.)
This is another gem, especially if you play chess (although you don't have to be into the game to enjoy it). The World Chess Hall of Fame is free and open every day, although a small donation is suggested. You'll know you've arrived when you see the World's Largest Chess Piece outside. There are unique chess boards, information about the grandmasters, and other special exhibits that rotate. If you know how to play, you can even join a pick-up game outside!
The World Chess Hall Of Fame is located in the Central West End neighborhood, just east of Forest Park. If you're looking for a bite to eat, this is definitely the neighborhood to visit.
Though most places in this area can get a bit pricey, some local favorites nearby include the Kingside Diner (appropriately named for the gigantic chess piece next door), the Drunken Fish (modern Japanese restaurant), The Cup (local gourmet cupcake bar), Taste (upscale cocktail bar with a small, locally-sourced menu), or Up-Down STL (fun arcade bar with cheap pizza and over 60 beers on tap).
The free tour at the Anheuser Busch Brewery is well-attended by visitors to St. Louis. It lasts about 45 minutes, and while learning about the brewery process is interesting, the highlight is seeing the Budweiser Clydesdales and their stables. The building dates from 1885 and a chandelier from the 1904 World's Fair hangs in the center. (Of course, the free samples at the end aren't bad either!)
Tickets for specific tour times are given out at the brewery on a first come, first served basis, which means you may have to wait a bit. You can also reserve a time in advance, which will cost $5 per ticket. There are other tours with varying experiences and prices available.
Just across the Mississippi River in Illinois, you'll find the largest prehistoric native site north of Mexico. In fact, its population was larger than London in AD 1250, estimated to be between 10,000 and 20,000 people. During your visit, you'll learn about the Mississippian culture, see a reconstructed ancient sun calendar, and climb Monks Mound (the largest prehistoric earthen structure in the country). Guided tours are available. Admission is free, but there is a suggested donation.
7. Gateway Arch, Old Courthouse, and Riverfront Cruises
A trip to St. Louis wouldn't be complete without visiting The Gateway Arch. Known as the "Gateway to the West," it's the tallest monument in the country. If you're concerned about taking the tram to the top – yes, the ride up is cozy, but that's part of the fun! Once you get to the top, you'll be able to see for miles and get a great view of the city. If it's windy, there can be a bit of a sway. But fear not: the Arch has been standing tall for almost 60 years and has withstood all the elements the Midwest has to offer.
We recommend you reserve your tickets online prior to visiting. The entry fee to ride to the top of the Arch is just $3.
2018 marked the completion of major renovations at the Gateway Arch National Park, including an updated Museum (entry is free) at the base of the Arch and gorgeous landscaping throughout the Arch grounds.
"Featuring 201 years of history within six themed exhibit areas, this innovative and interactive museum celebrates America's pioneering spirit and explains the westward expansion of the United States with an emphasis on St. Louis' role in that era."
Part of Gateway Arch National Park, The Old Courthouse has played a significant role in U.S. history. In 1847 and 1850, Dred and Harriet Scott sued for their freedom here. It's also where Virginia Minor fought for women's rights to vote in the 1870s. The Courthouse offers guided tours daily from 8 a.m. to 4:30 p.m.
If you've got extra time and want to get on the river, try a Riverfront Cruise. These one-hour cruises are designed to help visitors "discover the mighty Mississippi's important role in America's past and in the present-day." Reservations for the cruise are recommended, and prices can vary. Purchase tickets ahead of your visit on the Gateway Arch website.
The Daniel Boone home is about 35 minutes west of St. Louis on a beautiful 300-acre site. As you take the winding roads to get there, you'll wonder how the Boone family made it here in the 1800s. The rooms of the home are very detailed, and the guided tours are fantastic. You do have to pay admission to look inside, but you can walk through the village behind the home for free.
This area of Missouri is also known for its vineyards. There are several wineries in nearby Defiance and Augusta. Chandler Hill Vineyards is actually on the way to the Daniel Boone Home! Stop by, enjoy a glass of wine, and admire the Missouri countryside.
If you're a music fan, this is a must-see attraction. The museum has several interactive displays, including one that allows you to create your own blues song! There's also plenty of memorabilia, and, of course, fantastic information about the history of the blues and how it influenced other styles of music. Be sure to check out their events calendar and go when there's a live performance scheduled. The museum is located in downtown St. Louis and charges admission. (Additionally, if you're interested in more blues history, be sure to stop by St. Louis's Delmar Loop to visit the statue of Chuck Berry across the street from the legendary Duck Room music venue at Blueberry Hill!)
St. Louis has a rich aviation history, and there's a fantastic display that many (including locals!) have never heard of: the James S. McDonnell Prologue Room at Boeing St. Louis headquarters. You'll be able to see large-scale models of the F/A-18 Hornet and AH-64 Apache attack helicopter, a full-scale model of a JDAM smart weapon, and full-size replicas of the Mercury and Gemini capsules. It's only open during the summer, but it's free. It's located northwest of the city near St. Louis-Lambert International Airport.
St. Louis takes great pride in its sports teams. It's fun to catch a Cards game, or see the Blues take to the ice if you're more of a hockey fan.
If you're interested in touring the beautiful Busch Stadium, you can purchase tickets online ahead of time ($18 for adults, $16 for seniors or active military), although you can get a good look at the stadium simply by taking a lap around the sidewalk outside. Across the street in Ballpark Village, you'll find plenty of bars and restaurants, as well as the St. Louis Cardinals Hall of Fame and Museum (which boasts one of the largest team-specific collections of artifacts and memorabilia in the world).
The home of 2019 Stanley Cup winners the St. Louis Blues can be found several blocks west of Busch Stadium at the Enterprise Center. Unfortunately, the Enterprise Center does not offer tours, although there is a huge gift shop of Blues souvenirs that is open daily (check out their hours on the Enterprise Center website).
These family-run businesses will easily be some of your sweetest experiences while in St. Louis!
Ted Drewes is a St. Louis staple, serving delicious frozen custard on Historic Route 66. Order a concrete, and don't be concerned when they flip it upside down before they hand it to you (just don't try it yourself, especially on a hot summer day)! If the lines look long when you arrive, don't worry – Ted Drewes is accustomed to large crowds and moves through them quickly.
You'll feel like you've stepped back in time at the famous Crown Candy Kitchen, which opened in 1913. You can get a milkshake to go, but try to grab a table, order a BLT or a Rueben, and then order a malt, shake, crown sundae, or the fire chief special. You will be full! If you happen to visit during Christmas or Easter, their chocolate Santas and Easter Bunnies make wonderful gifts.
*This article was updated in July of 2019.