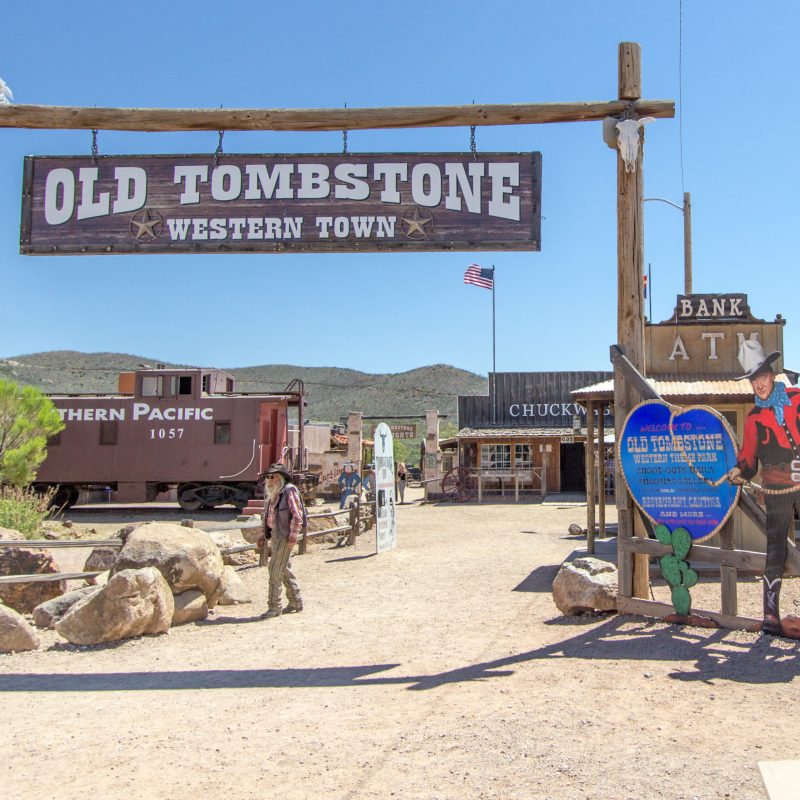 These five truly small Arizona towns are interesting, each giving a visitor a distinct experience. We discovered them over several months while we were looking for a place to settle in Arizona, where there are about 300 sunshiny days a year. Just short side trips from the larger towns we were considering, we took a peek and were hugely rewarded.
These towns are, on average, about three hours apart from each other, except for the last two, which are closer together. A three day-road trip can be designed to string them together, starting in Lake Havasu City or Bullhead City in the northwest and ending south of Tucson in the southeast.
1. The Burro Town Of Oatman, Arizona
Oatman, Arizona is a rugged former gold mining town in the Black Mountains at about 2,700 feet in elevation. It is only an hour from Lake Havasu City and just 40 minutes from Bullhead City. We went from Lake Havasu City. The access roads were old and poorly paved, but the wild chollas dotted the foothills, reminding us of a section of Joshua Tree National Park where they are also plentiful. The town's current population is down to 128 from 3,500 during its mining heyday in 1915.
I found and purchased a unique little leather purse in Oatman, as I always do in these small towns, but what made the shopping most enjoyable were the many wild burros — white, grey, brown, or spotted — that walk all around town. Like most tourists, we fed them little bits of alfalfa which can be bought from any store. They usually gather at storefronts. We couldn't enter a store when one went so far as blocking the door (to the consternation of the owner, who sprayed him with water to shoo him away, allowing us to enter).
2. The Mountain Town Of Jerome, Arizona
Jerome, Arizona is at the top of Cleopatra Hill between the cities of Prescott and Sedona. At 5,000 feet in elevation, it overlooks the beautiful Verde Valley. The view is breathtaking from many points in the town. An old mansion still stands tall, reminding locals and visitors of the town's mining heyday. An old solitary jail still stands at the outskirts of town, too. A grand old wheel lords the middle of town, another reminder of its historic past. And, of course, there is a mining museum that tells Jerome's story in detail.
The historic copper mining town once thrived. In fact, it was the fourth largest city in the state with 15,000 people in the 1920s. Now, its population doesn't even reach 450. But it has transformed itself into an artist and tourist hub. As a matter of fact, today it's known as the largest ghost town in America and was designated a National Historic Landmark in 1967. Jerome is dotted with retail and gift shops, art galleries, cafes and restaurants, and many lodging options. I even found a Filipino (like me), who had married a Caucasian partner; she owned the flamboyant Lola Boutique.
3. Tortilla Flat In The Middle Of Nowhere
For the nature lover, a drive down the Apache Trail — which starts in Apache Junction 40 minutes east of Phoenix — showcases the beauties of desert scenery. In spring, the hills even turn yellow. At the end of the trail lies Tortilla Flat, a small unincorporated community built on the last surviving stagecoach stop. With a population of just six, the Flat is the smallest community that has a U.S. Post Office and a voter's precinct. It was once a camping ground for gold prospectors, but later it became a freight camp during the construction of the nearby Theodore Roosevelt Dam.
In 1942, a flood pushed many residents away, and in 1998, an Indiana farmer bought the town. Today, there is a small country store with great ice cream for sale — including the world-famous prickly pear cactus ice cream — a saloon serving good Southwest cuisine, and a souvenir shop where I found a lovely and unique top. Many Superstition Mountain-area hiking trails start in Tortilla Flat.
The middle-of-nowhere Superstition Restaurant and Saloon oozed Old West, from the hanging man and the saddle bar stools to an old jukebox. $1 bills covered every inch of the walls, so we followed suit and signed and stuck one to the first teeny weeny empty spot we could find. But the best experience was saved for last. When we told people we met that we were going to Tortilla Flat, each one advised us not to miss the restrooms of the saloon. Let me tell you that if you weren't captivated by the end of your meal, you will be by a trip to the restrooms, where the stall art showed us how we could have looked as voluptuous saloon ladies of the West's glorious past.
4. The Gunfight At Tombstone, Arizona
Only a little over an hour from Tucson, Tombstone, Arizona receives approximately 450,000 visitors each year. It has been declared a National Heritage Site, best remembered for being the site of the famous gunfight at O.K. Corral. Since much of the fight occurred on Tombstone's Fremont Street, daily reenactments are done there. Saloon ladies frequent Allen Street, along with the many incarnations of Wyatt Earp. The most famous graveyard of the Old West is Tombstone's Boot Hill, where various victims of violence and disease — including those from the O.K. Corral gunfight — are buried.
A former silver-mining boomtown with a current population of 1,296, Tombstone has theaters, restaurants, gem shops, and lodging options galore. But what also fascinated us there was the world's largest rosebush — according to Guinness — that was planted in Tombstone in 1885 and still flourishes today. Brought in from Scotland, the Lady Banksia rose now covers 5,000 square feet of the roof of the Arcade Boarding House, and its trunk has a 12 foot circumference. Unfortunately, the rose bush was not in bloom when we were there. One must go in April to see the spectacle.
5. The Art And History Of Tubac, Arizona
Only 45 minutes away from Tucson is Tubac, Arizona. With a population of nearly 1,200, the town has become famous for its Luminaria Nights, held in December of every year, and the Festival of the Arts in February. It is also known as an artist colony, as it's home to 100 art galleries, home decor shops, jewelers, potters, and artists of all kinds. We spent a lot of time at the Sculpture Garden, which had many beautiful (but pricey) sculptures for desert homes. I was even able to find Southwestern cuisine cooking items at Tubac's Tumacookery and Santa Cruz Spices.
It was also pure delight to dine at Elvira's, the town's fine dining Mexican restaurant since 1927. It is bedecked with thousands and thousands of colorful lights. And it is where we always order our favorite flank steak molcajete — Mexican beef stewed with cactus and served on a hot volcanic pot that keeps the dish simmering while one dines. It tastes even better than it looks.
Only seven minutes away is the oldest Spanish mission on American soil, founded by the Jesuit Eusebio Francisco Kino. It was in 1691 when he founded the San Cayetano de Tumacacori, and a day later, 15 miles away, Mission Los Santos Angeles. In 1756, San Cayetano de Calabazas was also founded nearby. Now, the three missions are all protected in an area called the Tumacacori National Historical Park. It is easy to see the Tumacacori Mission. The two others, however, have to be scheduled by appointment.
I hope you are able to take this road trip. If not, don't forget that these places are relatively short drives away from Lake Havasu City or Bullhead City for Oatman; Prescott or Sedona for Jerome; Phoenix for Tortilla Flat; and Tucson for Tombstone and Tubac. You will get a unique experience, find something cool to bring home, and maybe even eat something unforgettable.
Want more on Arizona? Read up on