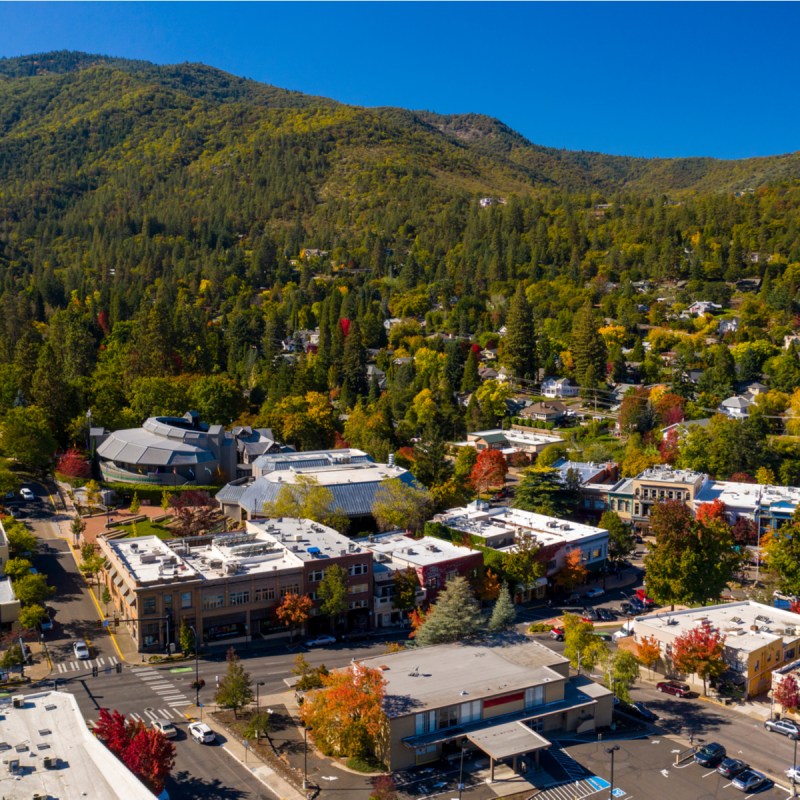 The small town of Ashland, Oregon, has a big secret: It's home to one of the best Shakespeare festivals around.
Every year, almost 125,000 people make the trek for this event, which is known for top-notch acting and beautiful, impactful performances. Whether the Oregon Shakespeare Festival is your destination or you're simply stopping in Ashland on a road trip from San Francisco to Portland, here are the key things to know about this incredible event.
It Isn't Really A Festival
Wait, so Ashland's famous Shakespeare festival isn't really a festival? What we mean is that it's not the typical three-day or weeklong event that comes to mind when you hear the word "festival." However, the city's Shakespeare festival is still a period of celebration — it just lasts months instead of days. Nine months, to be exact!
Ashland's Shakespeare festival is actually a theater company that's officially known as the Oregon Shakespeare Festival. The name also refers to the theater complex of the same name that hosts hundreds of productions each year. The complex consists of three theaters: the Angus Bowmer Theatre, the Thomas Theatre, and the Allen Elizabethan Theatre.
Established in 1935, the company started out exclusively performing Shakespeare's plays. Ever since two theaters were added to the complex in the 1970s, however, the Oregon Shakespeare Festival has put on numerous plays per season, including contemporary works in addition to several of Shakespeare's plays.
You Can Purchase Day-Of Discount Tickets
If you're on a budget and are flexible in terms of which performances you'd like to watch, purchasing day-of tickets is a great money-saving hack.
How does it work? The Oregon Shakespeare Festival decides that some of their shows will be "rushing" shows. These shows are announced day-of to the public, and tickets can be purchased at a lower price at the box office within an hour of the performance's start time.
Of course, purchasing day-of tickets can be a gamble. You may not be able to see the production you want to see, or tickets may sell out completely during the busy season. For example, during the 2017 season, the Oregon Shakespeare Festival hit 82 percent capacity between their three theaters. Finding a seat can also be an issue, since you will most likely get last dibs on seats inside the theater.
To make sure you're not disappointed with your visit to the Oregon Shakespeare Festival, buy tickets to the shows that you don't want to miss ahead of time. Then, if you have time or if tickets are available that day, attend a rush show as a way to supplement your schedule without breaking the bank.
Watching A Show At The Allen Elizabethan Theatre Is A Must
The Allen Elizabethan Theatre houses a full-scale Elizabethan stage. While the most famous Elizabethan-style theater in the world, Shakespeare's Globe, is located in London, the Allen Elizabethan Theatre is the oldest theater in that style in the Western Hemisphere.
Walking into the large open-air theater, you'll get a strong sense of excitement and magic. Perhaps it's because the theater is outdoors, or maybe it's because of the sheer size of it (there are 1,190 seats), but whatever the reason, the Allen Elizabethan Theatre makes the playgoing experience much more special.
With a slight breeze brushing against your face, you'll be sitting at the edge of your seat hanging on to every word of the Bard's classics. One thing is for certain: At least one show on your Oregon Shakespeare Festival itinerary should be at the Allen Elizabethan Theatre.
The Oregon Shakespeare Festival Has Won Several Tony Awards
One of the highest honors within theater is the Antoinette Perry Award, or the Tony Award. The Oregon Shakespeare Festival received its first Tony in 1983 for "distinguished service to the arts."
Since then, the festival has received several Tonys for its original works. In 2014, the Tony Award for Best Play was given to an Oregon Shakespeare Festival-commissioned piece called All the Way. However, 2017 was the festival's best year: One original play took home not just one but two Tony Awards. The plays Sweat and Indecent made quite an impression that year, and Indecent took home the Tonys for Best Play Direction and Best Lighting Design.
You probably don't need any more convincing, since the accolades speak for themselves!
It's Best To Visit Between Late Summer And Early Fall
The Oregon Shakespeare Festival traditionally runs from the beginning of March through the middle of October, spanning several seasons. Although Ashland is beautiful all year, each season has its own pros and cons.
For the indoor Angus Bowmer Theatre and Thomas Theatre, heat, cold, and rain aren't as much of a concern. That's why these two theaters are open for entertainment during the rainy, spring portion of the festival season.
However, if you're set on visiting the Allen Elizabethan Theatre, know that it's not open for the full season. It traditionally doesn't open until June, and it closes again in mid-October. Weather affects this theater much more. For example, July and August tend to be the hottest times of the year in Ashland, with temperatures up to the mid-90s. This should be taken into account when attending daytime performances. Thankfully, the Oregon climate usually provides cooler temperatures in the evening year-round.
Overall, your best bet is to visit between late August and early October, avoiding any spring and fall rain and the hottest average temperatures of summer.
Traveling To Ashland For The Festival Is Easier Than You Might Think
Ashland is only home to 20,000 people, so you might be wondering how difficult it is to access. Thankfully, the Rogue Valley International-Medford Airport is just 16 miles (a 25-minute drive) from Ashland, providing easy access to the Shakespeare festival. As an international airport, it's also a hub for popular airlines such as Alaska Airlines, United, Delta, American, and Allegiant. With dozens of flights arriving in the Ashland area each day, getting to the Oregon Shakespeare Festival is easier than you'd think.
Driving is also an option. Ashland is approximately halfway between Portland and San Francisco, and you could drive to the festival from either city. Whether you live on the West Coast or fly into one of the big cities, the drive to Ashland is scenic and peaceful. Although the downtown area is very walkable, it's best to have a car to get from your accommodation to the theater and to other activities.
Ashland Has Much More To Offer
Although the shows are definitely the main attraction — you could spend your whole trip going to different performances — that's not the only thing to do in the area.
The Oregon Shakespeare Festival also offers classes, workshops, talks, and tours that provide a deeper understanding of the company and its plays. Whether you'd prefer discussing the intricacies of specific play interpretations with a company member or taking a backstage tour, you'll have a chance to experience and explore what goes into great theater, art, and storytelling. And if you want a refresher on your high-school English classes, the Oregon Shakespeare Festival even offers classes that provide an overview of several Shakespeare texts (tickets to shows are included!).
When you're done exploring all that the Oregon Shakespeare Festival has to offer, venture out into the town. Ashland is home to beautiful parks and surrounding landscapes, delicious restaurants, and hip breweries.