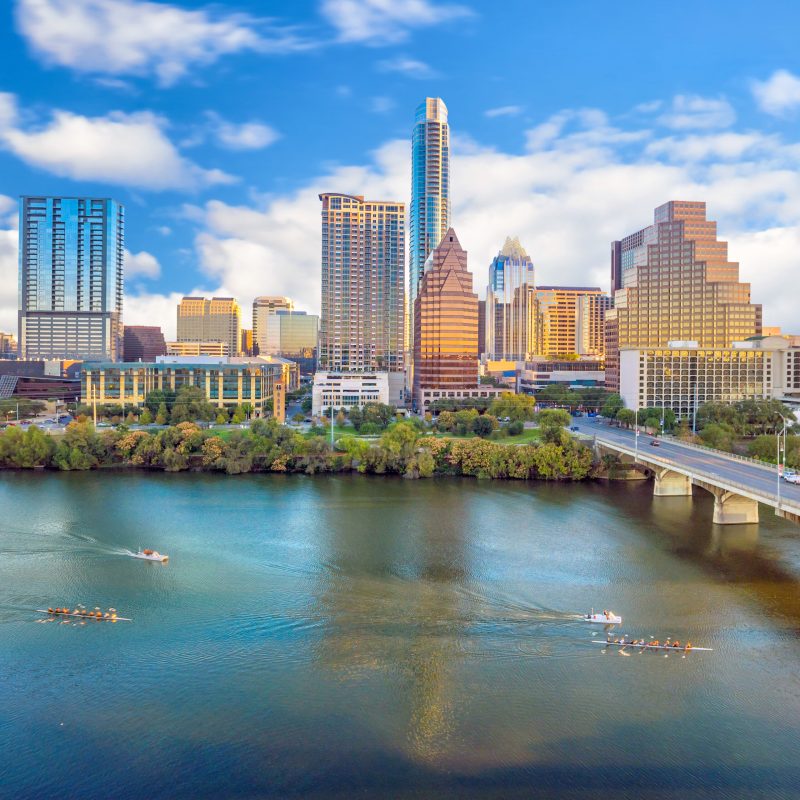 When the mercury dips, our minds often drift toward the balmy tropics for a well-needed hit of sunshine and a strong dose of vitamin Sea. Fortunately, there are plenty of sun-soaked destinations that you can get to quickly and fully enjoy over the course of a weekend.
Next time the winter doldrums have you down, check out one of these radiant hot-spots.
1. Playa Del Carmen, Mexico
Playa del Carmen is one of the most popular destinations in Mexico, and it's easy to understand why. It's full of balmy beautiful beaches, astounding ruins, and incredible marine life. Also, it's only a few hours from many U.S. cities, making it the ideal spot for a whirlwind weekend in the sun. January temperatures in Playa del Carmen and the Riviera Maya region on the whole hover around 74 degrees on average, and the pleasantly warm weather makes going to the beach and hiking up the ancient ruins in Tulum equally enjoyable. Tulum is a mere hour ride from Playa del Carmen. You can also tour the iconic ruins of Chichen Itza, although you would need to devote an entire day to visiting this famous Mayan pyramid.
Playa del Carmen is known for its gorgeous beaches and fascinating cenotes, which are essentially freshwater sinkholes that lead to vast underground limestone caves. They're a popular place to dive or snorkel, and if you have an adventurous streak, you will not want to miss them!
2. Austin, Texas
Texas's state capital is a quirky and cool place to visit during the dark winter months. Although this fascinating city is not the warmest on our list, there's plenty of things to do that don't involve lounging on the beach. Austin's Free Week kicks off in January. Free Week celebrates Austin's famous music culture, and you can check out some of the city's finest acts for absolutely no cover charge. It's a wonderful way to get a true taste of Austin without breaking the bank. Austin is also home to some fabulous natural scenery, including Mount Bonnell, the city's highest point. AllTrails rates the hike as moderate and specifically recommends ascending the mountain at sunset, when you can soak in an unparalleled view of Austin.
Planning your Austin trip? These are the best things to do in Austin during the winter.
3. Laguna Beach, California
Lovely Laguna Beach combines sophistication and natural wonder, making for the perfect stateside weekend getaway. Since January is the off-season in Laguna Beach, you can expect to have long sandy stretches of pristine beach mostly — if not entirely — to yourself. Explore some of the area's famous tide pools or learn about conservation efforts at the Pacific Marine Mammal Center.
In January, the temperatures in Laguna Beach hover in the mid-60s. It's perfect weather for partaking in plenty of outdoor activities without breaking too much of a sweat. You can even press the reset switch with relaxing al fresco yoga. Laguna Beach is one of California's crown jewels: a glorious celebration of marine life, culture, and wellness. It's the ideal spot to ease yourself out of the winter blues and reconnect with nature.
4. St. Simons Island, Georgia
St. Simons Island, Georgia, is a place steeped in history and natural beauty. It also has all the amenities that you'd want from a vacation destination, including golf courses, plenty of fine dining, and excellent shopping. It's the perfect place to step out of your busy life and settle into a relaxing island vibe for a few days. With events year-round and very temperate weather, St. Simons Island is a true Southern treasure that is still off-the-beaten-path enough to be enjoyable.
If you love the great outdoors, St. Simons Island is for you. Biking, hiking, and jogging paths criss-cross the island. One of the biggest draws of St. Simons Island is the Lighthouse Museum: a comprehensive exhibit of Georgia's maritime history. Learn all about what made St. Simons Island such a strategically relevant location in the past, and why it's still so important today. St. Simons Island marries relaxation, fitness, and education.
5. New Orleans, Louisiana
January is the time to experience the cajun sensation that is New Orleans. Early January marks the Feast of the Epiphany, a celebration marking the date that the three wise men bestowed their gifts upon Jesus. The feast also kicks off Mardi Gras, a rowdy and wonderful time like no other. The streets of New Orleans are filled with revelry and celebration, and if you need a little excitement in your life during the long days of winter, it might be just what the doctor ordered.
If Mardi Gras is a little too rambunctious for your blood, there are plenty of other things (many free) to do in the Big Easy. One popular activity is to tour one of New Orleans's above-ground cemeteries. Explore the spooky side of the city on a self-guided or guided tour. The party might be hot in January, but the temperatures in New Orleans are fairly moderate, so you can explore the city to your heart's content without breaking a sweat.
6. Phoenix, Arizona
There's a good reason why Phoenix, Arizona, is snowbird central. This Southwest city has exceptional weather during the winter months, with temperatures hovering right around the mid-60s. It's famous for its natural splendor, as well as plenty of high-end spas and wellness retreats. The desert itself is an enormous draw, and the Desert Botanical Gardens are uniquely compelling during the first months of the year. Additionally, Phoenix's balmy climate means that there is always something happening. Phoenix is the sun-drenched jewel of Arizona, and a great place to visit if you want to experience a whole new environment.
7. Key West, Florida
You don't need to get your passport stamped to have a warm weekend away. Key West, Florida is the southernmost point of the continental United States and a gorgeous example of laid-back Floridian beach culture. In January, the temperatures hover around the high-60s. It's perfect weather for a stroll on some of Key West's pristine beaches, or cruising through town on a bike or walking tour. Key West's architecture is unique, and these pastel homes are not to be missed. Key West was also the haunt of prominent author Ernest Hemingway, and you can visit his spectacular home during your weekend on the island. Ernest Hemingway's former home is a museum and haven for his famous polydactyl cats.
8. Galveston, Texas
Galveston is the family-friendly island of the Lone Star State. It's nicknamed Winter Wonder Island for the flurry of festive activities that occur there during the winter, and is the ultimate weekend getaway for families with small kids or grandchildren. Galveston is not a tropical paradise during the winter months, since it's average temperatures only reach the low-60s, but it's wholesome charm and holiday spirit put it into a class of its own. In addition to the island's winter magic, Galveston has one of the best conservation parks in the world. Moody Gardens is part amusement park, part educational facility, and all fun.
9. Hermosa Beach, California
The West Coast of the United States has its share of wonderful warm weather destinations, and one of the best is Hermosa Beach, California. This town has a tropical, beachy vibe all year round, with temperatures in the mid-60s even in the darkest days of winter. Hermosa was once a hippie haven, and the town celebrates its past with prominent street art. When you're not out and about on Hermosa's bustling streets, you can check out the famous pier as well as the Lighthouse Cafe where portions of blockbuster movie La La Land were filmed. Of course, Hermosa Beach's claim to fame isn't limited to its Hollywood cameos. The beach itself is the biggest draw. Hermosa is Spanish for "beautiful," and it's obvious how this slice of the California coast got its name.
Make a New Year's resolution to get more sunshine in your life during the dark days of winter. When the January ice and snow get you down, remember that you can slip away for a quick weekend in paradise. Pack up your carry-on, slather on the sunscreen, and hop on an airplane to one of these nine destinations.