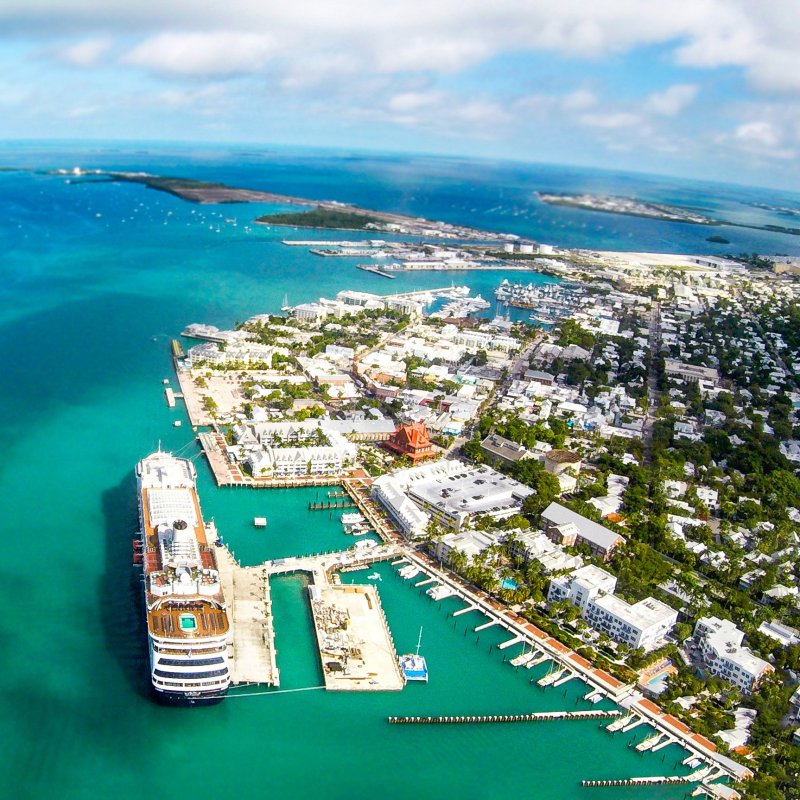 One of the most idolized vacation spots in North America, Key West offers some stunning views and exciting activities. But, it's an island, and if you're not familiar with the transit here, it can be a little intimidating to figure out how you'll get around, however you arrive.
There are lots of easy ways to get around Key West, though. I've spent weeks there and love every aspect of this place. The good news about the transit situation: Getting around was never a challenge when I planned ahead.
How To Get To And From the Airport
A lot of folks come to Key West via airline. Flying directly into Key West can be a little pricey, but it is the easiest option. But if you're flying in to another airport nearby, we've got tips for those routes, too.
Shuttle Service From The Key West Airport
Most hotels on Key West offer shuttle service to and from the Key West airport. You'll need to plan ahead for this, letting your hotel know your arrival times, et cetera, as you usually would. They probably won't offer shuttle service from the Miami airport, however, since the most populous city in Florida is about 165 miles away from the island.
Shuttle Service From The Miami And Fort Lauderdale Airports
There are two quality shuttle services that go from the Miami airport to Key West.
Keys Shuttle
This shuttle service offers direct, door-to-door service from the Miami and Fort Lauderdale airports to any location on Key West. Keys Shuttle company also provides custom options for groups and service to Key Largo and Islamorada if you feel like expanding your Florida Keys experience a bit. Book in advance for the best service possible.
Airport Super Express
Another option is the Airport Super Express. They offer more shuttle services to more locations. Call ahead and book them for your needs within Miami or to and from Key West or other Florida Keys locations.
By Bus From The Key West Airport
Key West has a public transit bus stop located at the Key West Airport. We'll flesh out more on this below, but you can certainly grab the local bus to any stop on the island.
By Bus From Miami Airport
If you groaned at the idea of riding a bus for several hours, you should know that the drive from Miami to Key West is one of the most beautiful in the country. You'll cross multiple bridges, including the famous Seven Mile Bridge, which offers stunning views of the ocean and Keys along the way.
If you're coming from Miami, you can save a bundle by taking a southbound bus run by one of a couple different reasonably priced companies.
Greyhound
Greyhound currently offers service from the Miami airport to Key West twice daily, and seats range from $30 to $50 one way. Greyhound drops you off right by the Key West airport where you can have your hotel's shuttle pick you up.
Miami To Key West Shuttle
While the company calls it a shuttle service, the double-decker can only qualify as a bus. But what a stunning way to enjoy the ride! If you're going by bus, I'd strongly recommend the double-decker option through this fantastic company for great views and door-to-door service and tours.
Taxi And Rideshare Services From The Key West Airport
Obviously, a wide range of taxi companies will happily snag you from the airport and drive you anywhere you'd like to go on the island. The price will be reasonable as the island is only 7.24 square miles.
According to adventurers on Yelp and TripAdvisor, the best taxi services on the island include:
You may also want to consider using the common rideshare services in Key West, such as Lyft and Uber. I recommend downloading the apps ahead of time, though, if you don't already have them, to save yourself waiting on the free but potentially slow Wi-Fi service at the airport.
Should You Rent A Car in Key West?
You don't really need a car in Key West unless you're planning to do a lot of shopping or are heading out to multiple far-fetched points in the Keys. The island is only four miles long and about one mile wide, so almost everything is located within walking distance.
Benefits Of Renting A Car In Key West
If you're planning to do some Key hopping, have accessibility issues or are traveling with someone who does, or just don't like walking or biking, then a rental car is a decent option. Otherwise, save the money for more interesting things and get in some exercise instead.
If you do want to rent a car, you could try any of the standard companies, like Budget or Enterprise. Or if you prefer to rent locally owned, try Tropical Rent a Car. They also offer electric cars, bicycles, and scooters.
Drawbacks To Renting A Car In Key West
There are ways of "beating" the issue, but free and easily accessible parking is limited on the island. Hotels, of course, have parking available, but their lots aren't terribly convenient for doing anything around the island.
Some restaurants have free parking, and marinas and other activity-based locations — including state parks — also offer parking, but, again, if you're planning to drive around and park elsewhere, you'll likely pay a chunk of money. This is one of the main reasons I always pass on renting a car when I hit the Keys.
How Walkable Is Key West?
If you look at a map of Key West, you'll notice that nearly all of the attractions — from Hemingway's House to Red Barn Theatre — are located within easy walking distance of each other on the western end of the island. And with 259 average days of sunshine a year, you're pretty much gauranteed walking weather year-round.
Can You Get Around By Bicycle In Key West?
My favorite way to experience Key West is by bicycle. I tend to bring my own, but you can rent one from any of the dozen or more bike shops located around the island. There are bike stands among the attractions for easy access. Just make sure you use the lock that will be provided with your rental by most bike shops.
You can rent your bikes ahead of time or pick them up the day of. Depending on the tourist population at the time, you may or may not find bikes available on the day of, though. I've tried renting a couple of times to discover that none were available due to a festival or other major tourist event, so planning and booking ahead is wise.
Some of the best bike rental shops on Key West include:
Insider's tip: Make sure you have the rental company adjust the bike seat for your height.
What To Know About Key West's Public Transportation
For those keen on experiencing the island from a more local perspective, Key West does have a modest public transit service. The buses have stops located around the island at convenient spots near major attractions and shopping zones. Key West's transit department offers single ride tickets, plus one-day, seven-day, and 31-day passes for your convenience. You can see the schedule and rates on this PDF, which also shows stops on a map of the Keys.
What To Know If You're Arriving From The Cruise Port
When you get off a cruise in Key West, you're landing at one of the most coveted spots on the island. The ships dock right where the best views of the sun sinking into the ocean can be seen. If you're on the island for the day, you'll have easy access to cabs, buses, and bike rentals right there. Plus, you're landing in the heart of Key West's tourist zone, so you're already in the middle of all the major attractions on the Key.