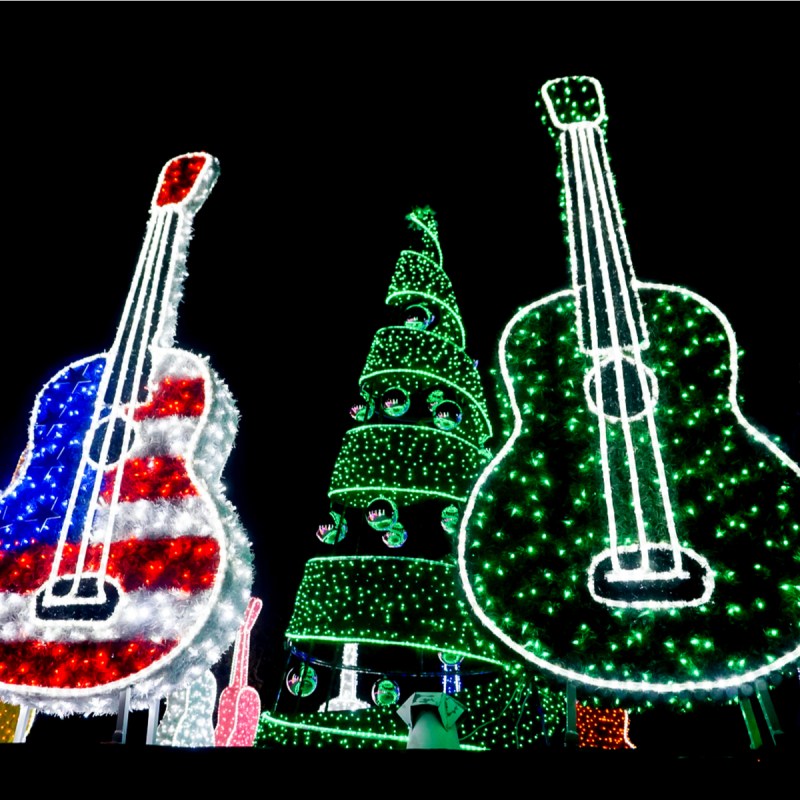 Think about what makes Austin, Texas, such a great place to visit. Texas-style barbecue comes to mind, as do live music, rollicking honky-tonks, sprawling South Congress Avenue, and pretty Lady Bird Lake — just to name a few.
As winter weather approaches, here's another wonderful thing about the Lone Star State's capital city: Most of Austin's attractions are just as great in the winter as they are during the more popular spring, summer, and fall seasons — only with fewer people, milder temperatures, and lower prices. Add in the warm glow of the holidays, and a wintertime visit to Austin is sounding pretty amazing.
Although Austin's weather can get hot and steamy from May through September, the winter months are all but guaranteed to be mild. But that doesn't mean cold: Austin's average high temperatures in December are in the mid-60s.
January highs drop to the high 50s, but the temps go back to the mid-60s in February. And Austin's winter lows rarely go below freezing.
That means that outdoor dining is still a possibility on a warm December afternoon, and the evenings are sure to be briskly cool while you soak up Austin's epic Christmas lights and New Year's Eve fireworks over the lake.
So, while the hot-weather months get much of the attention, Austin is actually a classic year-round destination.
Here are some of the best things to do in Austin during the winter.
Stroll Down The Main Street Of Texas
Austin's Congress Avenue is a must-visit at any time of the year, but a winter walk down the street nicknamed "the Main Street of Texas" has a few things going for it.
For one, the crowds that regularly form on the Congress Avenue Bridge (also known as the Ann W. Richards Congress Avenue Bridge) are much smaller.
You probably won't see the famous Mexican free-tailed bats that call the bridge home from spring until fall, but a morning or afternoon visit will still yield a wonderful view of the sparkling Lady Bird Lake. Or, go in the evening to take in a pastel-hued Texas sunset.
On a winter visit to Congress Avenue, you'll see the city's 45-foot-tall Christmas tree near the Texas State Capitol. The stately building is visible for blocks on Congress Avenue, and during the holidays, the tree takes center stage with its thousands of LED lights, synchronized holiday music, and snowflake globe at the top.
While you're on Congress Avenue, don't forget to head south a mile or two to the lively section of Austin known as South Congress. There, you'll find everything from Austin's vaunted Tex-Mex cuisine (think spicy, smooth queso dip and beef al carbon street tacos) at Güero's Taco Bar to handcrafted Mexican vanilla ice cream at Amy's to virtually any cowboy boots your heart could desire at Allens Boots.
Try Some Texas Barbecue At Salt Lick
Restaurants serving barbecued brisket are numerous in Austin, with world-class spots available all over the city.
But for a unique dining experience, head to Salt Lick BBQ. There, the long-time owners serve a generations-old recipe that has roots in Mississippi but was "Texified" over the decades with chili, cumin, and cayenne. With a splash of Japanese influence thrown in, Salt Lick offers a winning spicy, sweet, and smoky combination.
Located about 30 minutes southwest of Austin, Salt Lick occupies a series of rustic rock-and-wood ranch buildings filled with rows of gingham-clad tables and massive barbecue pits. Even in the early winter, green grassy areas and leafy trees surround the buildings.
The menus feature everything from fire-roasted brisket and sausage to rich pecan pie and peach cobbler à la mode.
With its on-site store and long lines of customers, Salt Lick can feel a bit touristy. But the food and atmosphere more than deliver.
Two-Step At Broken Spoke
Neon beer signs decorate the walls, the ceiling is low and sloping in places, and the seating is of the folding-chair variety. But once the band starts playing "Cotton Eye Joe" or "Folsom Prison Blues," the dance floor fills with smiling two-stepping couples and rows of line dancers.
Broken Spoke on Austin's South Lamar Boulevard is known as "Honky-Tonk Heaven" for a reason. Country-music lovers flock to the vintage dance hall for a taste of old-time Austin.
With its quality live music and skilled dancers, Broken Spoke is the perfect spot to while away a cool winter night in Austin.
Score Last-Minute Gifts At The Armadillo Christmas Bazaar
If you like your holiday shopping with a bit of local atmosphere, the Armadillo Christmas Bazaar is the place to head in Austin.
Starting in about mid-December, the bazaar provides a festive spot to pick up last-minute Christmas gifts. Along with an impressive assortment of local art, the bazaar features nonstop entertainment and a variety of dining options.
Tip: For the true procrastinators, the bazaar stays open through Christmas Eve.
Walk The Austin Trail Of Lights
Now in its 57th year, the Austin Trail of Lights is a true Austin holiday tradition.
Located in the city's beloved Zilker Park, the two-week extravaganza features more than two million twinkling lights, dozens of food trucks, and multiple entertainment stages.
The Trail of Lights website notes that the annual tradition celebrates "the quirky, independent character that Austin is recognized for across the country."
Take In A Show
Yes, Austin has theater, too. For more than eight decades, some version of the ZACH Theatre has been bringing professional productions to the stage in Austin, making it the longest continuously running theater company in Texas.
During the holidays, the ZACH brings to life the enduring holiday classic, A Christmas Carol.
The production begins in late November and runs through early January. It is billed as "Austin's most rockin' holiday tradition," and promises new music and surprises this year as it takes audiences along on Ebenezer Scrooge's "joyride to rediscover his heart and love for human kindness."
Visit The Magnolia Market
Of course, it's not actually located in Austin, but at just 1 hour and 30 minutes or so away in Waco, Texas, Chip and Joanna Gaines's Magnolia Market at the Silos makes for a great day trip.
The former hosts of HGTV's Fixer Upper converted the iconic Waco silos into a bustling market that offers an array of charming household items. The market is especially enticing during the Christmas season, when holiday-themed dinnerware and ornaments are displayed alongside the scented candles and decorative pillows.
Enjoy Some Solitude At Barton Springs
Known largely for its 3-acre pool fed by spring water, the Barton Springs area can become clogged in the summer months with crowds seeking a cool respite from Austin's piping-hot temperatures.
But the recreational area is a whole different scene in the winter: no crowds, just water gurgling softy over boulders.
Head to the nearby Barton Creek Greenbelt for a peaceful walk that can feel like the middle of nowhere during the winter months.
Austin might not be the first place you think of when planning your winter getaway. But the heart of Texas beats with a fun and quirky rhythm regardless of the season.
Planning a trip to Austin? Check out these cool and unusual things to do in the area, and don't miss the gorgeous Hamilton Pool nearby.