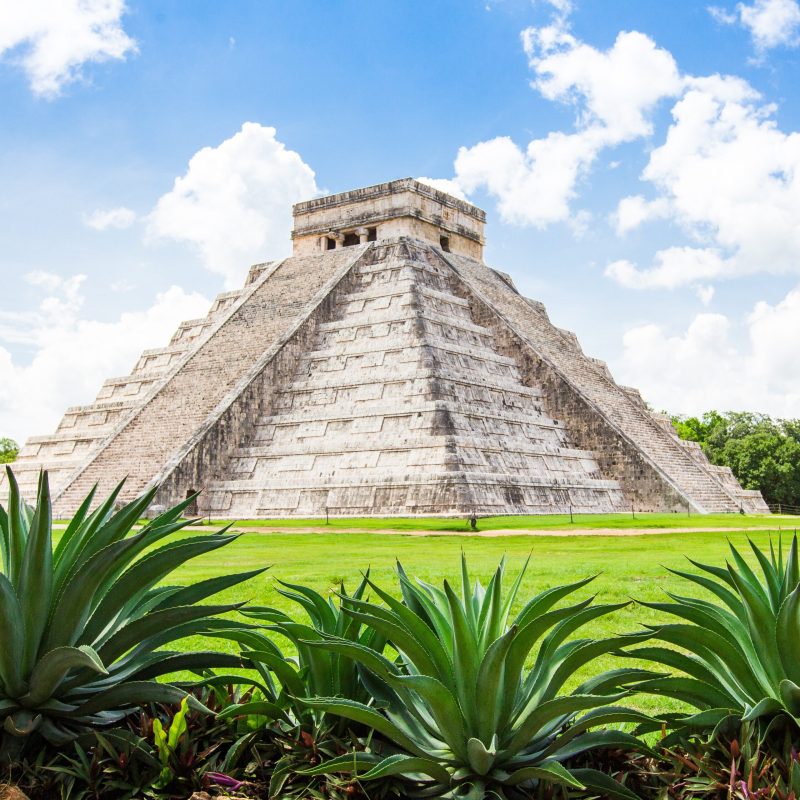 In a word Chichen Itza is, well, incredible. One of the new seven wonders of the world, Chichen Itza is a bucket-list item for lovers of culture, history, architecture, and Mexico. While you may have grown up seeing images of Chichen Itza splashed across magazines or in travel ads, there is absolutely nothing like visiting the site in real life.
Chichen Itza is Mexico's most famous Mayan archaeological site. While the country has literally hundreds of pre-Hispanic cities that span centuries and cultures, Chichen Itza is one of the most recognizable tourist attractions in Mexico. It was founded around the sixth century and has withstood the test of time, preserving the art and architecture of one of Mexico's oldest-known civilizations and offering one of the best snapshots into life as it was on the Yucatan Peninsula before the Spanish invasion.
Seeing as it is one of the world's most iconic sites, it is understandable that people from all over the globe come to visit. It can be an overwhelming experience to visit the Chichen Itza Archaeological Zone, so it's always best to be prepared and know before you go. Here are our seven top tips for visiting Chichen Itza.
1. Know That There Are Multiple Ways To See The Park
There are many ways to see Chichen Itza, and there's at least one that will speak to your personal travel style. The easiest, most convenient, and most informative way to see Chichen Itza is to book an excursion through a tour operator. Local tour operators offer many styles of packages, across all budgets, that allow for all different styles of travel to the site.
The best part is that these companies bundle everything from transportation and entrance fees to local guides, lunch, and even other stops along the way, if that's what you're interested in. Aventuras Mayas, for example, is a wonderful tour company that offers customized tours for small groups who want to visit the archaeological park. They can tailor the trip to your group's needs and can include lunch, a visit to nearby attractions, and more.
If you're a rent-a-car type of person, you can DIY a trip to Chichen Itza. Admission to the park is roughly $25. The site is about a two-hour drive from Cancun on a well-marked, safe highway. There is plenty of parking and the earlier you arrive, the closer you can park to the entrance.
That said, be warned that the parking lot is very, very large. Crossing the parking lot and getting into the site involves numerous sloping walkways and stairs. As one TripAdvisor contributor suggested, it may be possible for a visitor to be dropped at the entrance, but to see the sites, they'll have to walk up about 15 stairs, then another 100 yards to the main viewing platform.
2. Arrive Early
No matter which touring option you choose, there is one thing everyone can agree on: Arrive early. Chichen Itza has more than 6,500 five-star reviews on TripAdvisor and has more than a million visitors every year. Needless to say, it's popular. And when you visit Chichen Itza, it will likely be with thousands of fellow sightseers.
If you want to maximize your experience (and beat the southern Mexican humidity and heat), your best bet is to go early. If you're traveling from Cancun, Playa del Carmen, or Tulum, the trip to Chichen Itza takes a couple of hours at least. The earlier you leave, the more time you'll have to explore the ruins as your personal playground before the heat of the day (and the arrival of everyone else). Chichen Itza opens to visitors 365 days a year at 8 a.m.
3. Dress And Pack Accordingly
Before you get to Chichen Itza, it's important to understand the landscape. The pre-Hispanic city occupies four square miles and is made up of beautifully preserved, imposing stone temples, houses, statues, carvings, and more. It is one of the best glimpses into Mexico's Mayan past. Chichen Itza is in the state of Yucatan, which occupies the north central part of the Yucatan Peninsula. The weather here is hot year-round. While November to February are cooler, expect averages of 90 degrees year-round. Not only that, there is very little tree cover, meaning you are going to feel the heat.
Luis Garcia, director of sales and marketing for Aventuras Mayas told us, "When visiting Chichen Itza, expect to walk around 1.5 miles — and primarily in direct sunlight." With that in mind, it's good to be prepared. Comfortable shoes, a sun hat, sunscreen and mosquito repellent are always good ideas. If you can, bring biodegradable sunscreen, and mosquito repellent. This helps to preserve the deep, vibrant jungles that have shrouded the ruins for centuries.
4. Feast Your Eyes On El Castillo
When you close your eyes and think of Chichen Itza, you are more than likely picturing the imposing El Castillo temple. This temple — an undisputed architectural marvel — is the most iconic image of Chichen Itza. Its construction proves the brilliance of Chichen Itza's people and their deep understanding of the universe. El Castillo has four sides, each with 91 steps, that face a cardinal direction. Together the steps total 365: one for each day in the calendar year.
During the winter and spring equinoxes, the sun casts a shadow down the jagged steps that gives the appearance of a serpent slithering down the stairway. This is meant to represent Kukulcan, the feathered serpent who is the most important deity in the Mayan culture. Visiting El Castillo during this biannual event is one of the most awe-inspiring things to witness. But bear in mind, you'll be witnessing it with thousands of others. The equinoxes are, without a doubt, the most crowded time to visit Chichen Itza.
5. Stay For More Than The Iconic Temple
Chichen Itza does not refer to El Castillo alone. Chichen Itza is the entire city. After you snap your iconic El Castillo photo, keep walking through the rest of the complex. You are in for some other incredible history lessons (and photo ops). The ball court, for example, is one of the largest in the Americas. This was where the Mayan people played their infamous, ruthless pok-ta-pok games that (historians believe) ended with the severing of the loser's head.
Today six sculpted reliefs that run the entirety of the court, which is 545 feet long and 223 wide, remain. The acoustics are remarkable — if you whisper from the platform at one end, it can clearly be heard at the other. Tour guides are known to clap for their groups to show how the echo reverberates across the field.
Other structures in Chichen Itza include the High Priest's Grave, the Colonnade, and the Temple of the Warriors. Hundreds of columns surround this temple, and all of them are carved with depictions of warriors clad in feathers. These buildings were believed to be built between 900 and 1200 A.D.
6. Be Ready For Sales Pitches
As much as Chichen Itza is a step back in time, it's difficult to ignore the fact that you're very much in the present as hundreds of vendors set up shop daily within the complex. If you are disappointed that you didn't get your Mexico souvenir before, rest assured you'll have more than one opportunity to make a purchase at Chichen Itza.
There are vendors everywhere, selling everything from El Castillo figurines to children's toys, Catrina statues, jewelry, sarongs, and even Mexican-style decorative skulls painted in NFL team colors. You're more than welcome to get your shopping done here, but it's important to note that you'll definitely be paying higher prices, and if you are looking for authentic Mexican handicrafts, these are not it.
And while you'll want to kick back with a cold cerveza or margarita after a day in the sun, it's probably best to do so somewhere else if you want to avoid the high prices.
7. Take Stops Along The Way (Or After)
Speaking of other places, Chichen Itza is close by some other fantastic sights on the Yucatan Peninsula. If you're taking the time to make the journey, it's absolutely worth it to see what else is around. The city of Valladolid, for example, is just 40 minutes from the ruins and is on the way back to most of the hotels in Cancun and Playa del Carmen. This colonial city is one of the Yucatan's best-kept secrets.
You can also visit the stunning white Catedral de San Servasio. Grab an ice cream in the adjacent plaza park and sit and watch the performers who parade by. Wind through the narrow cobblestone streets that are flanked with buildings splashed in gorgeous, bold colors. The markets in Valladolid are where you are going to find the handicrafts and artwork that you'll want to spend your pesos on.
Chichen Itza is also close to some of the Yucatan's best cenotes. The entire peninsula sits on top of a series of thousands of underground rivers and cave systems, which the Mayans believed to be the network that led to the underworld. It's possible to explore, and even swim in, many of these cenotes today. After a morning under the hot Mexican sun, a dip in an underground pool might be just what you need!
Many tours combine Chichen Itza with a visit to the cenotes. Aventuras Mayas, for example, recently opened a new cenote park, Hacienda Chukum, which is named for the 130-foot cenote that was recently discovered there. This underground playground is great for families, with zip-lines, a repelling cable, and snorkel gear for exploring the remarkable, cavernous world that rests right underneath your feet.
If you're planning to fly into Cancun for a Mexican vacation, you'll want to know about the best things to see and do in Riviera Maya in addition to visiting Chichen Itza.