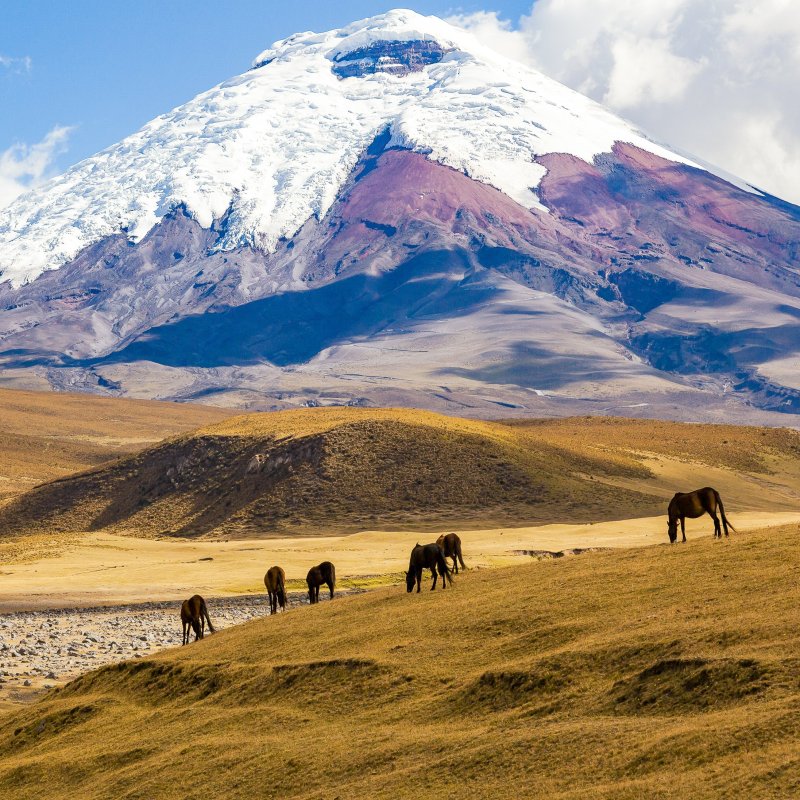 A horse running free is a thing of beauty.
These majestic, undomesticated beasts can be found all over the planet. Some are native breeds, while others are the descendants of previously domesticated animals that went feral generations ago. The origins of others, like the Namib Desert Horse, are a total mystery. The common thread is that these animals aren't tame creatures — but wild and free animals that are at home in their natural element.
If you're itching for an equine adventure, domestically or abroad, check out these eight places to see horses in the wild.
1. Outer Banks, North Carolina
The exquisite Outer Banks is a fabulous place to spot Colonial Spanish Mustangs. These hearty and handsome animals have weathered hurricanes and thrived in the Outer Banks for almost half a millennium. The Bankers, as they're nicknamed, arrived courtesy of the Spanish and are some of the area's truly multigenerational residents. They are well worth visiting, and a fabulous way to see the mustangs is by taking an open-air Hummer tour, the likes of which are offered by Wild Horse Adventure Tours, an Outer Banks company that works to offset its carbon footprint.
2. Theodore Roosevelt National Park, North Dakota
There are plenty of reasons to love Theodore Roosevelt National Park, and its wild horses are a serious selling point. Theodore Roosevelt National Park is the ideal place to reconnect with nature and spend time with animals that you would otherwise only see in captivity. The wild mustangs who roam the vast expanse of the park are nothing short of breathtaking. These feral horses are wild animals, unlike other tame horses used for horseback riding in the park, so pack your binoculars. It's advisable to admire them from a distance.
3. Salt River, Arizona
Wild horses don't just roam the plains of North Dakota or the islands off the Carolinas. Arizona's Salt River is home to wild horses, thought to be the descendants of escaped or abandoned farm animals. While some see the horses as pests, others claim that they've improved the ecosystem and assimilated into the environment. Visit these magnificent creatures by hiking or tubing through Salt River Canyon, which is part of Tonto National Forest.
4. Tahuata, Tahiti
Tahuata is teeming with wild horses, and lucky for you, this tranquil paradise has not hit the tourist map yet. It's part of the Marquesas Islands, a quiet natural Eden where people have learned how to respect and live alongside their undomesticated equine neighbors. If you're craving unparalleled natural serenity sans the crowds, Tahuata is the place for you. There are plenty of boat tours from nearby Hiva Oa, and you can spend hours seeing these beauties for yourself.
5. Cotopaxi National Park, Ecuador
There is no shortage of animals in the Ecuadorian Andes, but the horses of Cotopaxi National Park are in a class all their own. These wild creatures are striking when spotted against the backdrop of the high Andes and the landscape of Cotopaxi. You can take horseback riding tours through the park, a fabulous way to see the extraordinary landscape of the Andes mountains.
Considering climbing Cotopaxi? Here's everything you need to know about this amazing Quito experience.
6. The Camargue, France
The Camargue's claim to fame is a herd of alabaster horses that runs free through the region, earning it the nickname the Wild West of France. The pastoral south of France has a lot to offer in terms of jaw-dropping terrain and is a cherished UNESCO site, but the biggest draw to the area is the horses. Check out these snowy stallions at the Regional Nature Park. Or, take a 4×4 safari tour to see the famous Camargue horses, plus flamingos and bulls.
7. Sable Island, Canada
Nova Scotia's Sable Island is a remote paradise for wild horses. Nearly 400 roam the untouched island, and you can see them for yourself by registering with the park and taking a small airplane or boat to Sable Island. As this horse haven is very isolated, visitors are responsible for their own safety and advised to check weather conditions before venturing out. On Sable Island you can walk amongst the horses and make unique memories with these beautiful creatures.
8. Aus, Namibia
The Namib Desert Horse is a rare feral creature who roams the vast desert. Nobody knows precisely how they got to Aus, Namibia, although there are plenty of theories, including the possibility that they descended from German army horses. These horses are the wildest on our list, thriving entirely independently of humans. The best way to check out these horses is as part of a longer tour of the country.
Seeing horses in the wild is a unique and profoundly moving experience, and one that you'll cherish for years to come. If you're a nature-lover committed to planning one-of-a-kind vacations, make sure you put these equine hotspots on your bucket list.
Want to see other animals in the wild? These are the best places to spot koalas, reindeer, sugar gliders, and sloths.