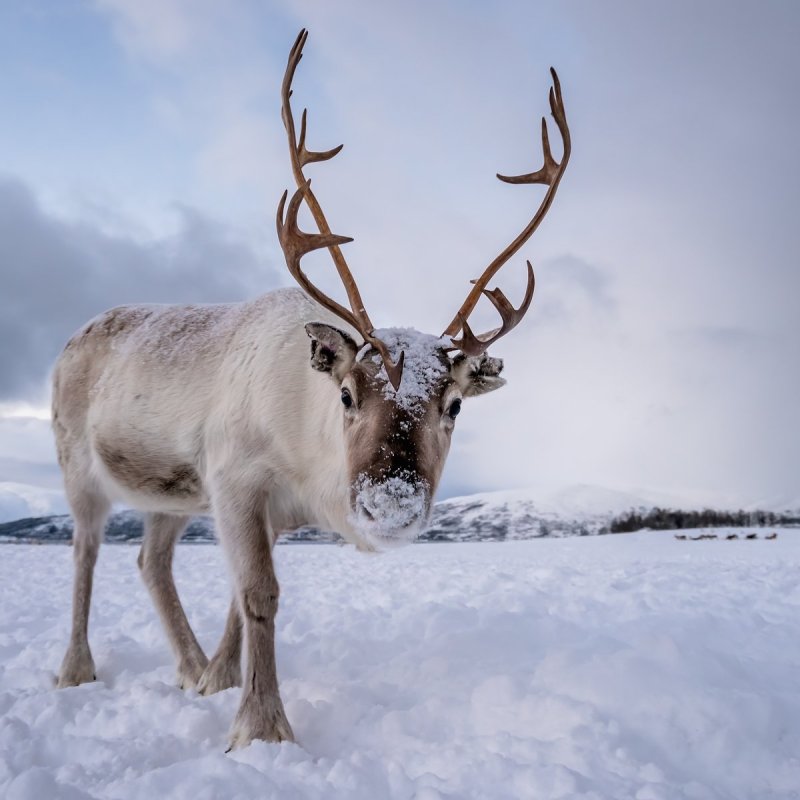 Nimble and agile in even the deepest snow, with show-stopping antlers and thick, glossy fur, reindeer are some of nature's most beautiful animals. The word reindeer comes from the Old Norse word "hreinin," which means "horned animal." However, they go by another name, too — caribou! The term caribou is likely from the Mi'kmaq word "xalibu," meaning "the one who paws."
Caribou and reindeer are the same species. In Europe, these majestic animals are generally referred to as reindeer, while in North America, they're referred to as caribou. But no matter where you are and what you call them, there's no denying that reindeer are fascinating creatures. Here's where you can see wild reindeer herds.
1. Swedish Lapland
In the northern Sweden province of Lapland, the indigenous Sami people have long lived beside reindeer, and the animals play an important role in their culture and lifestyle. You can see the reindeer in the wild and experience Sami culture, such as eating a traditional Sami meal which would include reindeer meat, in places including Jokkmokk and Boden.
2. Finnish Lapland
In Finland, they like to say that there are as many reindeer in Lapland as there are people. While it's hard to verify exact figures, that sounds about right! It's hard to spend time in Finnish Lapland and not see reindeer, but if you want a memorable encounter, try a traditional Sami reindeer sleigh ride. This practice is a traditional Sami form of transportation and the domesticated reindeer pulling the sleighs can take you close to large herds.
3. Tromso And Northern Norway
The Sami people of Norway have also worked and lived with reindeer for centuries. As such, there are many locations across northern Norway where you can see reindeer in the wild. For instance, at the Tromso Arctic Reindeer Experience in Tromso, you can participate in reindeer feeding, reindeer sledding, and experiencing a traditional Sami meal inside a traditional hut.
If you prefer your reindeer encounter to be both more hands-off and cozier, head for Viewpoint Snohetta, a sheltered observation pavilion that allows visitors to observe the last remaining reindeer herd that is descended directly from the original mountain reindeer of Europe.
4. Alaska, United States
You can see herds of caribou across Alaska, but one of the best places is at the Large Animal Research Station outside of Fairbanks, where caribou hangout next to muskoxen. The Station offers 45-minute tours for guests to see the animals and learn more about them. Tragically, woodland caribou in the lower 48 states are functionally extinct with an estimated three "grey ghosts" still in Idaho and Washington.
5. Cairngorms National Park, Scotland
There's exactly one free-range herd of reindeer in the United Kingdom, and you can find them in Scotland's Cairngorms National Park. The last record of wild British reindeer is from around 800 years ago, and this herd was reintroduced to the land back in 1952. There are 150 members of the herd, split between the Cairngorm Mountains and the Glenlivet Estate (yes, where scotch is made) and they can be visited as part of a two-hour trek to the foothills with herders to help with feeding time.
6. Manitoba, Canada
Caribou live in every Canadian province and territory except for the Maritimes. However, they are in their greatest concentrations in Yukon, Nunavut, the Northwest Territories, and Manitoba. Manitoba is home to the large Qamanirjuaq, Cape Churchill, and Pen Island herds. You can often combine caribou sightings with a polar bear safari out of Churchill, Manitoba, and may see smaller animals like foxes, weasels, and owls along with the big ones.
7. Kamchatka Peninsula, Russia
One of the best places to see reindeer in Russia is on the remote peninsula of Kamchatka. Here, the indigenous Even people move with the herds over some of the most unforgiving territory imaginable. There are no roads leading in or out, and you can only visit by sea or air before transferring by snowmobile to join a tour group for a cultural excursion with the Even. However, for some travelers, the trek is well worth it to see such a pristine piece of wilderness.
8. Greenland
The reindeer is the most widespread land mammal on the west coast of Greenland. There's an excellent chance you'll see them on a hike in the Greenlandic fells, in particular in the area between Paamiut and Uummannaq. The reindeer plays an important role in Greenland's economy.
In the late summer, you can see reindeer being hunted at many places on the west coast. In towns, you'll see people sailing in with the results of their hunt and the meat is usually available at the local meat market. At private homes, it's common to see racks set up to dry the meat. In short, the reindeer is everything here.
9. The North Pole
Of course, there's one last place where reindeer roam free but to get there you'll have to have an excellent track record of always appearing on Santa's "nice list"! The reindeer of the North Pole (which, in truth, are the caribou of the northern Canadian Arctic) embody the best of their species. Alas, getting to the Arctic and Santa's workshop is easier said than done, so perhaps this reindeer viewing area is best left to the elves!
Want to see more arctic animals? Read up on visiting the Arctic Circle responsibly with these seven things to know.