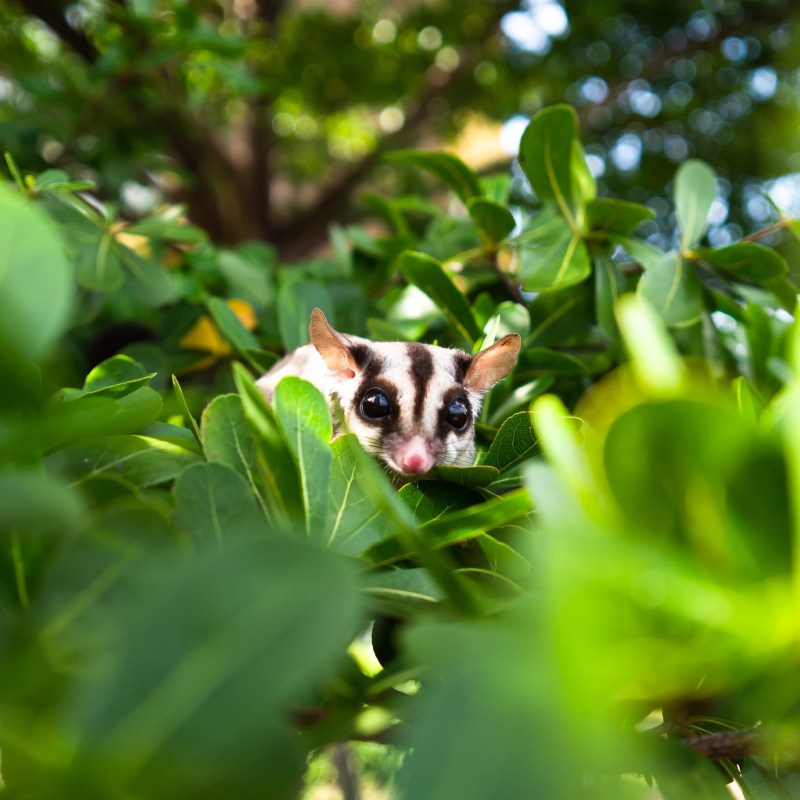 If there's one thing the animal kingdom of Australia is known for, it's unusual animals that may or may not want to munch on your leg for breakfast. And when it comes to cute ones, Australia is home to some of the most adorable animals you'll find in the world. One of those critters is a unique little ball of glossy fluff — the sugar glider.
Just looking at the photos of these critters, you might not be sure what they are. Chipmunk? Squirrel? Cousin of the chinchilla? Technically, sugar gliders are a part of the possum family. They're smaller than most of us think of, though, having bodies that are only about five or six inches long with tails of the same length. They only weigh up to 5.6 ounces.
These little marsupials use their tails as rudders and spread out their "wings" to glide from branch to branch. This is, of course, where they get their names. And while this activity makes these cutie pies sound akin to the North American flying squirrel, they are actually more closely related to kangaroos and quokkas.
These large-eyed nocturnal gliders are native to tropical and temperate rainforests commonly found in the eastern part of Australia and Tasmania, parts of Indonesia and Papua New Guinea, and surrounding islands in the region. They live their lives almost entirely in the trees, touching the ground very rarely.
And while these fuzzy gray animals with dark stripes and bushy tails have gained popularity as pets in the last few decades, they are best appreciated in the wild, where they're truly at home. Here's where you can see them during your next vacation.
Eastern And Northern Australia
Because sugar gliders are nocturnal creatures, getting out to spot them isn't like planning a day at the beach. That said, there are some ecotours, including those offered by Boobook Ecologists, that will get you out in their habitats safely during the nighttime.
Sugar gliders are most concentrated on the eastern coast of Australia — all the way from the northernmost tip down south to Victoria and South Australia. So whether you're in Queensland, New South Wales, Victoria, or the eastern side of the southern part of South Australia, you'll have a good chance at spotting some sugar gliders in the wild. There's also a population of the critters near Darwin in the Northern Territory.
Tasmania
Not to be outdone by its northern neighbors on the mainland, Tasmania has a significant concentration of these gliding marsupials as well. You'll find the largest concentrations near the island's capital of Hobart and in the northern Launceston area. Both are regions well-suited to tourism and offer a variety of tours into various wildlands of the region.
To spot sugar gliders, you'll need to book a nighttime wildlife viewing tour. You can also see sugar gliders and other Aussie animals in wildlife sanctuaries, but to get the real feel for encountering these magnificent mini-possums in the wild, you'll want to make sure you're headed into actual rainforests.
If you plan to drive yourself, you can visit Mount Field National Park outside of Hobart or the Nunamara Forest Reserve near Launceston.
Papua New Guinea
When you're in Papua New Guinea, the most likely places you'll spot sugar gliders are in the center of the country — Mount Hagen and Goroka — and down in the Port Moresby region.
Consider booking a custom tour with a company like Reef and Rainforest who can take you on an off-the-beaten-track tour around the country.
Indonesia
One of the best places to spot sugar gliders in Indonesia is near Mandaong on Bacan Island. You'll need to head into the forests to spot them. Your best bet for finding them is on a local wildlife tour. Since sugar gliders aren't as common in Indonesia as they are in Australia and Papua New Guinea, joining a tour group will get you that much closer to spotting sugar gliders in the wild.
Smaller Islands Near Indonesia And Papua New Guinea
Places such as Bismarck Archipelago, Louisiade Archipelago, and Halmahera Islands of the North Moluccas have documented sugar glider colonies, but they're smaller than those found in Australia. Again, your best bet for seeing sugar gliders on these surrounding islands is via wildlife tour with a local expert who knows where to look to spot the possums. Or, better yet, follow your guide's advice to see, and respect, these adorable creatures in their unforgettable habitats.
Sugar Glider Spotting Tips
When you head out in search of sugar gliders in the wild, you'll want to keep a few things in mind and bring along some supplies.
First, you'll be headed into forests and jungle-like terrain, so it's important that you don't go alone and that someone "back home" — this could simply be a hotel staff member — knows where you've headed off to for the day or night.
Secondly, you'll want to take the other usual precautions that accompany going into the wild. Pack snacks, extra water, and other essential supplies. Bring a map — not just your phone or GPS, which may not work in the rainforest — and dress properly for the activity, the terrain, and the weather.
Thirdly, you're looking for some nocturnal critters, so a spotlight is the light of choice for snagging some views of these cuddly critters in the treetops. Listen for rustling in the leaves and point that bright light up into the branches to spot the possums. Or, better yet, follow your guide's advice to see, and respect, these adorable creatures in their unique ecosystems.
Touring the South Pacific in search of the cutest critters? Here's how to swim with thousands of golden jellyfish in Palau, Micronesia.