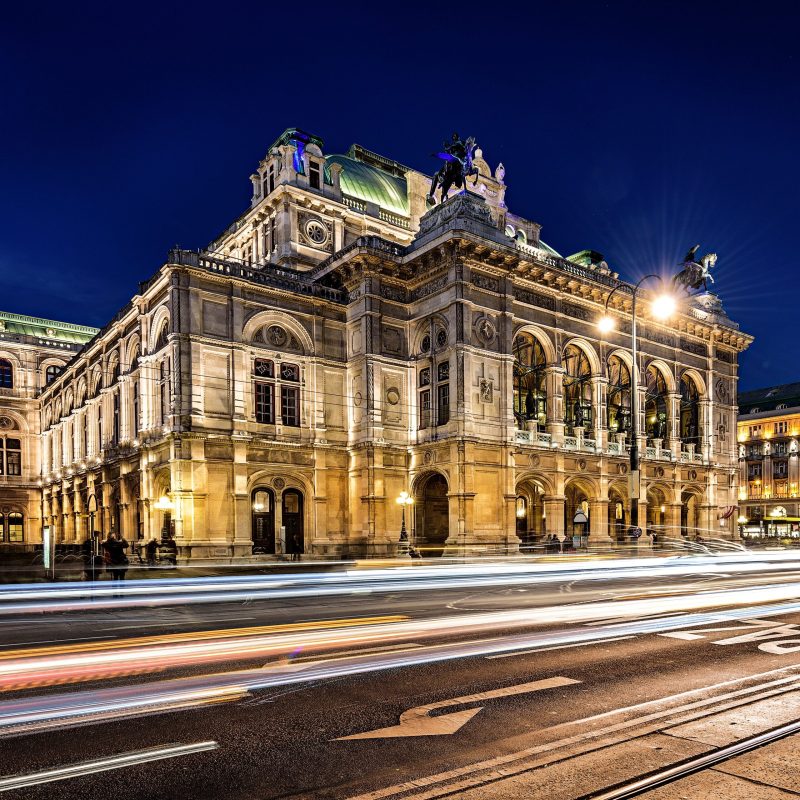 Lovers of classical music know that Europe is the magical place where the genre was born. Classical superstars like Mozart, Beethoven, Bach, and Brahms composed the gorgeous, intricate music for courts and churches throughout the continent.
What's more, their music has stood the test of time. We're still familiar with many of their masterworks, including Beethoven's "Für Elise" and Symphony No. 5 and Mozart's The Magic Flute. If your bucket list includes visits to the places where these great musicians lived, worked, and performed their music, look no further. We've got you covered!
Here are seven places in Europe every fan of classical music should visit.
1. Vienna, Austria
The undisputed crown jewel of Europe's classical music scene is Vienna. Several generations of the greatest composers lived and worked in Vienna under the patronage of the House of Hapsburg. These composers included Mozart, who first performed for the Empress Maria Theresa at Schönbrunn Palace. After years of touring, he eventually settled there and married his wife, Constanze, at Saint Stephen's Cathedral.
But it wasn't just Mozart who made his mark on Vienna. Beethoven traveled to the city to study under Joseph Haydn (no slouch himself!) and lived there for 35 years. In the city, he kept an apartment at Pasqualati House, where he composed many of his most famous works. He eventually tired of the hubbub and settled outside the city in the verdant spa district of Heiligenstadt, and his rooms there were converted into a museum in 2017. The gorgeous spot outside the city center is easily accessible by tram. There's even a charming wine tavern just steps away.
But Vienna's musical heritage doesn't stop there. You can visit the final resting place of many of these legends by taking a trolley out to the Central Cemetery, where Beethoven, Schubert, Brahms, Strauss, and Schoenberg are interred. Some modern-day music lovers are also opting for plots there for the chance to be buried among their idols.
Consider a curated walking tour of Vienna's classical music monuments and sights, and get your fill of the city's music live with a trip to the State Opera House. If you're looking for an over-the-top classical music experience, consider snagging tickets to a waltz ball during the ball season from January through March. You'll see just how important classical music is — even today — to Viennese culture and high society.
2. Salzburg, Austria
Just a 3-hour drive west of Vienna is the charming UNESCO World Heritage site of Salzburg. Situated on the banks of the Salzach River, Salzburg lays claim to Mozart in a big way. This is the place where the musical prodigy was born, and the rockstar of the genre is celebrated here everywhere you look.
No visit to the town would be complete without a stop at the place he was born and the home where he moved with his family when he was 17 (and by then, well established as a prodigy). Both buildings are now museums that celebrate Mozart's incredible career and life.
Also, be sure to stop by the Salzburg Cathedral, established in 774. It's the spot where Mozart was christened and where he played the organ as a small child. As you can imagine, there are concerts featuring his music here year-round, and it's an absolute delight to listen to Mozart's masterpieces in the place where he grew up.
Fans of classical music already making the trip to Vienna should absolutely add Salzburg to their itineraries.
3. Leipzig, Germany
Located in the eastern German state of Saxony, the city of Leipzig has more than its share of musical history.
Any music fan's first stop in the town should be Saint Thomas Church, where Johann Sebastian Bach served as cantor from 1723 until his death in 1750. Here, he composed an enormous amount of baroque music, including both secular pieces and works for worship. Bach is now buried at the old Lutheran church, and the Leipzig Bach Festival, an internationally renowned music event, takes place there every June. Just across the way from Saint Thomas is the Bach Museum, which houses a collection of the composer's original scores and manuscripts. Visitors can take a look at Bach's impressive family tree and discover how music played an important role in his family through the generations.
Many years later, the acclaimed pianist Felix Mendelssohn arrived in Leipzig in 1835 to direct the Gewandhaus Orchestra. In Leipzig, he'd compose some of his most famous works, including his Scottish Symphony. Mendelssohn's home is now a museum and furnished in period style.
4. Prague, Czech Republic
Mozart adored Prague, and its citizens adored him. It was in Prague that The Marriage of Figaro grew in popularity. After its success, his Don Giovanni premiered at Prague's Estates Theatre, where you can still hear classical music today.
Mozart aside, a number of great Czech composers left their mark on the capital city. Bedrich Smetana composed lush music focused on his homeland, and a small museum dedicated to his work is located in a villa near the Charles Bridge.
Smetana's contemporary Antonín Dvorák was born near the capital city, and today the Czech Philharmonic Orchestra performs in a hall that bears his name. As with Smetana, there's a museum housed in a villa that celebrates — and often hosts concerts featuring — the music of Dvorák, which was distinct for combining orchestral music with traditional folk melodies.
5. Saint Petersburg, Russia
The imperial Romanovs loved music and were well known throughout Europe and around the world for their patronage of both composers and musicians. They commissioned operas, ballets, and orchestral compositions, which created a hub of incredible musical talent in Saint Petersburg.
Today, visitors can listen to the music of Russian greats like Borodin, Rimsky-Korsakov, Stravinsky, Tchaikovsky, and Rachmaninoff at a number of stunning venues in the city. If possible, purchase tickets to a concert at the Saint Petersburg Academic Philharmonia or the Saint Petersburg Chamber Opera.
The Saint Petersburg State Museum of Theatre and Music, located in the former management offices of the Imperial Theatres, gives visitors a nice overview of the Russian dramatic tradition. With its more than 3,000 artifacts, the Museum of Music, housed in a former palace, is also worth a stop.
6. Budapest, Hungary
Hungary was once a part of the Austro-Hungarian Empire, and there are some incredible places still around where fans of classical music can listen to their favorite genre live in the capital city of Budapest. The Hungarian State Opera routinely performs masterworks in its gorgeous, lavishly decorated hall; Gustav Mahler served as its director for several years. If you're lucky enough to have the opportunity to catch a chamber concert at Saint Stephen Basilica, don't think twice — just get tickets!
Hungary produced several important musicians, including Franz Liszt, who was known globally during the 19th century as one of the world's best pianists and composers. A museum dedicated to his life and music is located in the flat where he lived in Budapest. Zoltán Kodály and Béla Bartók wrote classical orchestral pieces in the 20th century and incorporated folk melodies and flavor into their works. Their museums in Budapest are also popular stops for classical music aficionados.
7. Bergen, Norway
If your travels take you up to Norway, consider a stop at the home of Edvard Grieg, one of the country's most famous composers.
Edvard Grieg was a leader during classical music's Romantic period, and his music is part of the canon of the genre, including his Piano Concerto in A minor and Peer Gynt. This native son did much to elevate Norway's status as a musical city, and Bergen, located in the southwestern fjords, pays tribute to him in a big way. Here, you'll see lots of statues and monuments dedicated to Grieg, but the real showstopper is Troldhaugen outside the city center. This is the place where Grieg and his wife spent their summers. You can tour the estate where Grieg wrote his gorgeous music (including the composer's hut, where Grieg could work in absolute silence) and get a feel for what life was like for the 19th-century maestro. It's also Greig's final resting place: Both Grieg and his wife are buried here. Troldhaugen hosts international piano competitions and concerts throughout the year.