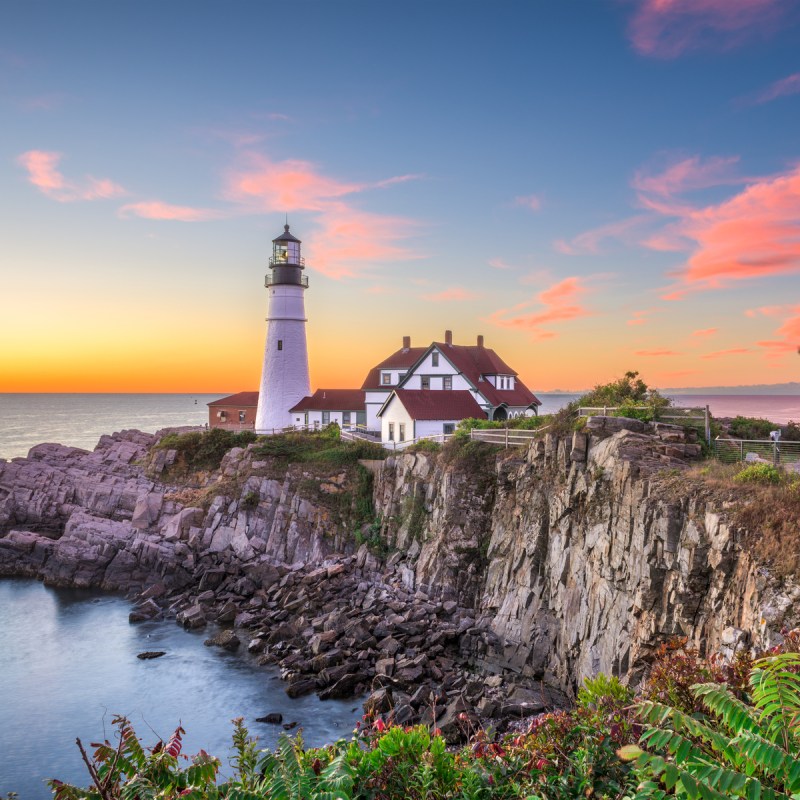 The picture-perfect New England town of Portland, Maine, offers something for everyone. This coastal spot has a rich, storied history that dates back to our country's earliest days, as well as outdoor adventures on both land and sea and an incredible amount of cultural activities and art. Here are a few ways to spend a perfect day in Portland.
1. Travel Back In Time
One of the best ways to get a feel for Portland's roots is to hoof it. Originally settled in 1633, Portland continued to grow thanks to its enviable location on Casco Bay. The city survived a devastating fire in 1866, but it was rebuilt better and stronger and became a trade and shipping leader.
There are a variety of walking tours that can connect you with seafaring Portland's past, from its pre-Revolutionary days to modern times. Consider a self-guided walking tour curated by Greater Portland Landmarks, which will get you familiar with the Old Port, Congress Street, and State Street. Another excellent option is the self-guided walking tour of Portland's Freedom Trail, which features 13 historic sites where the fight against slavery was waged; it can be downloaded here.
No matter how you take in your history, do it in sensible, comfortable shoes. Many of Portland's roads are still paved with cobblestones, especially in the Old Port; this is no place for heels.
2. Bike Away The Day
The rugged coasts just outside Portland serve as stunning backdrops for bike rides of any length. There are many bike shops in the city that offer half- and full-day rentals; Cyclemania on Cove Street even offers rentals by the week, showing just how popular the sport is in the area. Consider the Portland-Cape Elizabeth Route, a scenic route that passes by historic Portland, quaint towns, beaches, several lighthouses, and Civil War forts. This is one of the best ways to experience Maine at your own pace, and there are plenty of places to stop and rest along the way.
Want to mix beer with your bike adventure? That's understandable, given Portland's numerous fantastic craft breweries. Summer Feet Cycling offers a Bike and Brews tour for $69 per person. It's a tasting and history tour in one: As you ride, your guide will explain Portland's boozy history, from the Rum Riots to the Prohibition. You'll stop to sample a few beers at breweries along the way.
3. Make Time For Art
Not far from the waterfront, Portland's Arts District was once mostly made up of department stores. The area has since been transformed into a true, eclectic arts hub. New housing for students and artists exists alongside older buildings, with a terrific smattering of museums and galleries sprinkled in. The Portland Museum of Art has a wonderfully curated permanent collection that features historic New England art and objects as well as internationally known pieces by Edgar Degas, Pierre-Auguste Renoir, and Edward Hopper. The museum is open daily during the summer and closed Mondays and Tuesdays during the winter. Admission costs $18.
To purchase your own masterpiece, check out any one of the galleries in the District. Fore River Gallery features ceramics, sculpture, photography, and gorgeous handcrafted jewelry. For a fun and funky night out, consider taking in a concert or show at the historic State Theatre. Portland also hosts several art festivals and shows during the summer months that are worth checking out, including the Portland Fine Craft Show.
4. Catch Your Own Lobster
No trip to Portland is complete without a lobster dinner, be it on the half shell or on a roll. But for a truly out-of-the-trap experience, consider taking an ocean cruise where you'll get to catch your own crustacean.
Lobstering cruises depart from Long Wharf and head out to Casco Bay. During the cruise, you'll see several lighthouses and Civil War forts, and you'll learn about lobstering and the role it has played in Maine's history. You'll also have the chance to haul up the traps; anything you catch (and are able to keep) can be purchased wholesale. You can even take your haul to a restaurant across the pier to be cooked. This is a fun way to spend time on the water (with a delicious payoff!).
Lucky Catch offers lobstering excursions daily from the first weekend in May through the last weekend in October; prices start at $35 per person. The boat is small, so be sure to make reservations in advance.
5. Go Whale Watching
The waters off of coastal Maine also offer the opportunity to get up close and personal with some of the greatest creatures of the sea. We're talking about whale watching, and there are plenty of spots just outside Casco Bay where, if you're lucky, you can spot right whales, humpback whales, and even killer whales. The best time for Maine whale watching begins in late April, when the waters grow warmer and become a whale all-you-can-eat buffet teeming with sand eels, plankton, and fish. In October, these massive creatures take their fun farther south.
While you can always try your luck standing shoreside with a pair of binoculars, there are a number of cruise outfits that offer whale-watching tours in the area. Odyssey Whale Watch is a perennial favorite. Rates start at $49 per person for a half-day cruise. Don't forget to bring along a light jacket, since the ocean breezes can be cool. Odyssey also offers a return trip free of charge if you don't see any whales or dolphins during your excursion.
6. Hit The Beach
The beaches in Maine cannot be beat! Most have gentle surf, soft sand, and plenty of picnic areas. Whether you're ready for sunbathing or you simply want to stroll across the sand, Portland's got several great options for a day at the beach.
Willard Beach, a 4-acre stretch of pebbles and sand in South Portland, is a terrific place to take a dip and watch the harbor traffic. From there, it's an easy hike to the nearby Spring Point Ledge Lighthouse. There are plenty of small cafés and other eating establishments nearby. Be sure to snag a piece of sea glass to remind you of your visit; Willard Beach has plenty.
About 8 miles from Portland is Crescent Beach State Park. Located in the town of Cape Elizabeth, the mile-long crescent-shaped beach features white sand dunes, picnic areas, and a cove that's great for swimming. During the off-season, the beach is a favorite trek for cross-country skiers.
Last but not least, Old Orchard Beach, a 7-mile stretch of sand 20 miles to the south of Portland, has a carnival-boardwalk sort of feel. The town of Old Orchard and its beach have been tourist hotspots for generations. With its souvenir shops, clam shacks, and historic pier, Old Orchard has no shortage of things to see and do. For the very young at heart, there's even the Palace Playland, an old-fashioned beachfront amusement park. Grab some cotton candy, and enjoy the show!
7. Eat And Shop Till You Drop
Downtown Portland offers an array of shopping options; there's something for everyone here. Antiques, handicrafts, and artisan goods are all on offer, and most stores are locally owned. Lisa-Marie's Made in Maine is a terrific place to stop. The store carries clothes, jewelry, and home goods, and as the name implies, all are locally made. Waterlily Handmade features funky and colorful textiles and table goods. For the foodie in your life, head to Browne Market Trading. It offers a terrific selection of smoked seafood, caviar, and other gourmet items you can stash in your checked luggage (provided you don't snack on them during a beachside picnic while you're still in Portland!).
Of course, after all that shopping you'll need a snack. For a back-to-basics, world-famous lobster roll, go to Becky's Diner near the waterfront. You'll get a grilled split roll stuffed with a quarter pound of fresh lobster; mayo and butter are served on the side. For a handcrafted brew or two, head to Bissell Brothers. The beers there are so local, you can only buy them in Maine. And make sure you save room for dessert at The Holy Donut downtown. These decadent, life-changing donuts are light and fluffy, melt in your mouth, and come in a variety of yummy flavors. The secret ingredient: Maine mashed potatoes mixed right into the batter!
Photo Credit: Mike Ver Sprill / Shutterstock
Photo Credit: Sean Pavone / Shutterstock