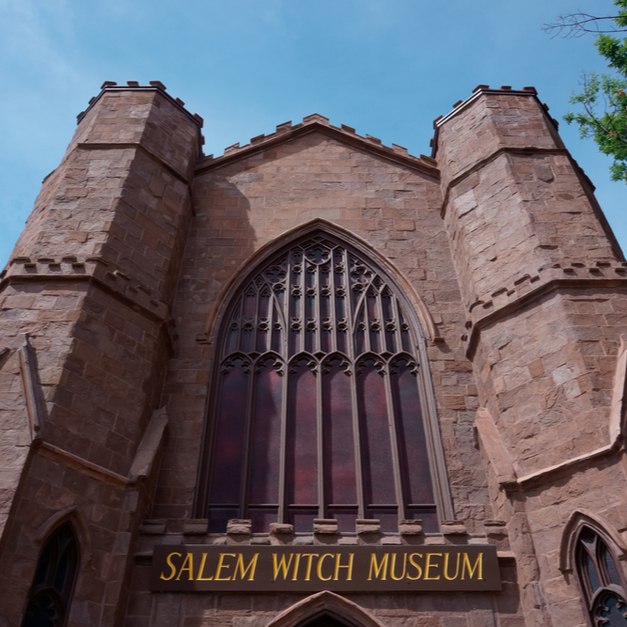 Salem, Massachusetts, is nicknamed the Halloween capital of the world for good reason. To celebrate Halloween and the rich history of Salem, the city throws a month-long festival called Haunted Happenings. On any given day in October, you can expect between 5 and 30 different events — some recurring, some that happen only once.
Bring your costumes and an open mind, and Salem will do the rest. From palm readings and seances to intense historical reenactments and meet-and-greets with famous authors, Salem takes a stab at every element of Halloween.
Follow along below for reasons why Salem is a must-visit, especially during the spookiest month of the year.
Wander Around The Festivals
Salem Psychic Fair and Witches' Market
October 1 To October 31
This one-of-a-kind market places Salem-certified psychics in the spotlight. Tarot card readings, clairvoyant visions, crystal ball scrying, past life readings, and spirit mediumship are just a few services psychics provide during the festival. While there, meet practicing witches and check out authentic spell kits, enchanted candles, crystals, and much more.
Salem Horror Fest
October 3 To October 27
This festival is described as "an exploration of cultural fears through the lens of horror." The festival delves into horror and Halloween through different art mediums. Each event varies, but visitors can look forward to live podcast episodes, screenings of timeless horror films, lectures, celebrity meet-and-greets, live music, and more.
Enjoy Live Entertainment
Carrie: The Musical
October 18-20, 24-25, 27, 31
Based on the 1974 classic by Stephen King, this book-turned-film-turned-musical (wow, that's a mouthful!) is sure to give viewers a fright.
Clue: Live
September 27-28, October 4-5, 10-12, 17-19, 24, And November 1 And 2
Clue: Live will involve dinner and a theatrical adaptation of the best crime board game around, all in the legendary Hawthorne Hotel in the heart of Salem.
Saltonstall's Trial: The Salem Witch Trial's Untold Story
October 17-20 And 24-27
Nathaniel Saltonstall — a judge and skeptic of the witch trials — "is forced to choose between integrity and self-preservation" when he is elected to carry out the court sentencing of suspected witches. Learn more about the true story during this live performance.
Legacy Of The Hanging Judge
October 11-13, 18-19, And 25-26
This live performance takes place in the home of Nathaniel Hawthorne, the novelist known for The Scarlet Letter and The House of The Seven Gables.
There are plenty of other live shows that represent the bone-chilling history of Salem, including Tales at the Witch House and Imprisoned! 1692.
Go On Mystical Tours
Trolley tours, walking tours, and harbor tours await travelers. The following is a list of a few Salem tours that caught our eye.
Bewitched After Dark Walking Tours
This beloved tour will teach you about Salem's colonial history and the history of witchcraft in Salem. Due to high demand, we recommend purchasing tickets ahead of time.
Haunted Footsteps Ghost Tours
Grab your lantern and join costumed guides on an eerie after-hours journey through Salem.
Learn About Salem's Frightening History
Although the following museums are open year-round, each manages to tap into the Halloween spirit by delving into Salem's uncanny history.
Salem Witch Museum
This museum paints a true-to-life picture of the horrors that occurred in 1692 through life-size stage sets and haunting narration. The second exhibit informs visitors about witchcraft through the ages, even touching on forms of witchcraft practiced today.
Witch Dungeon Museum
During this immersive museum experience, you'll witness a chilling reenactment of a witch trial adapted from historical transcripts.
Salem Witch Trial Memorial
Pay your respects by visiting this memorial, consisting of 20 benches, one for each witch-trial victim.
Salem Wax Museum And Salem Witch Village
Known as Salem's haunted village, this area of Salem includes a wax museum and spooky shops.
How To Get There
The best way to reach Salem is obviously by broomstick, but if yours isn't currently equipped for flight, consider traveling from Boston, which is only 15 miles south of Salem. If you want to travel by train, You can hop on the Newburyport/Rockport Line from Boston's North Station. The train will drop you off right in Salem.
You can also take the scenic route and board the Salem Ferry out of Boston's Long Wharf; the ride is only an hour each way. If you rent a car, you can drive right to Salem, but prepare for traffic and paid parking.
Salem Tips And Tricks
We highlighted some of the most magical events, but there are tons of other spooky Salem events worth looking into.
If you enjoy being active, the Witch City 5k is a family-friendly, costume-encouraged walk for the whole family. If you want to experience the spirits culture in Salem — that is, alcoholic spirits — consider Salem's Spirits Trolley, Broomstick Beer Flight Thursdays, and Wicked Bloody Mary Sundays.
Fascinating, diabolical, hair-raising fun is waiting for you at Haunted Happenings in Salem, Massachusetts. After experiencing the magic of Halloween in Salem, don't miss these 11 things everyone should do in Boston.