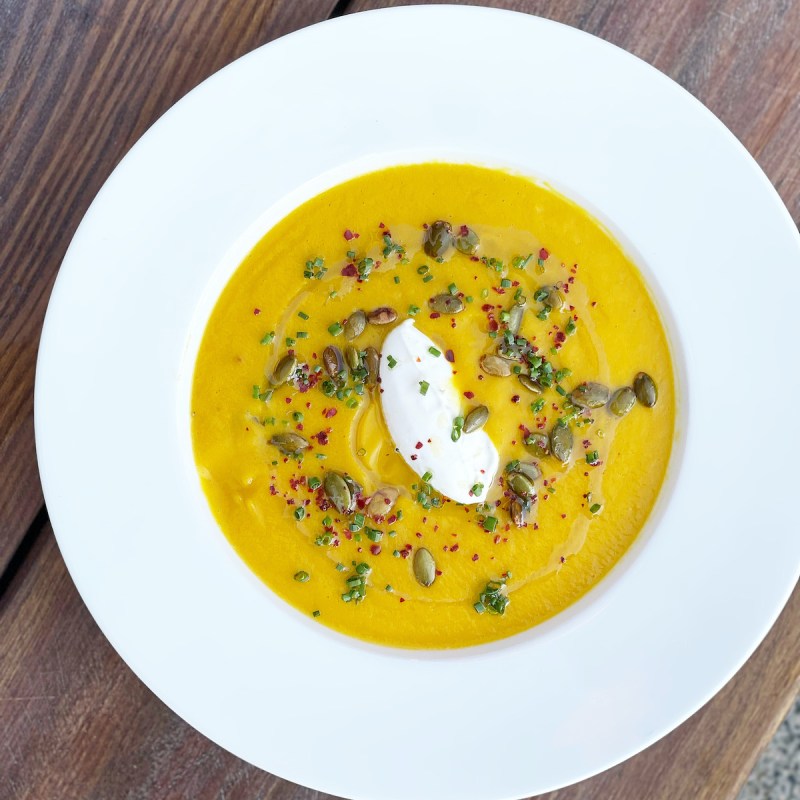 The North Shore of Massachusetts, which spans the coastal region from just above Boston to the border of New Hampshire, is rich in restaurants. As a native New Englander, I've been traveling there for decades, and have found the greatest density of eateries, and the widest variety of cuisine styles, in Salem.
Yes, Salem. The place many people only think about around Halloween. I won't get into why the city's Witch Trials history is actually not the best reason to visit — that's a topic for another story — but for now, suffice it to say there's a lot of culinary exploration to be had in this compact city.
Salem's eclectic food scene shouldn't be a surprise. It's a cosmopolitan city of about 40,000 and has a long history of immigration. This includes its original European settlers, under Roger Conant, who believed it fair to take over the villages of the local indigenous population, the nomadic Naumkeag, while they were away hunting, gathering, and farming in other parts of the region. As in many corners of the United States, few vestiges of the original inhabitants still exist in Salem. But the influence of the many diverse people who have come through its port, or over its roads and bridges, is apparent all over the city.
If you're interested in tracing Salem's culinary evolution, including its historic spice trade, book a Morning Coffee Walk or an Afternoon Stroll with Salem Food Tours. Owner Karen Scalia gives a detailed overview of food in the city, with stops for tastings at several shops, restaurants, and bakeries.
Then get ready to dig in at one of these amazing Salem restaurants.
1. Gulu-Gulu Café
A newer entry on the Salem dining scene, Gulu-Gulu Café is the rare restaurant that's open for breakfast, lunch, and dinner. It's especially popular for the first two meals of the day. On the smaller side, a little bohemian, and very homey, the café is an especially good spot for coffee, sandwiches, and sweet and savory crepes. Grab a seat near the windows for prime people watching.
I'm partial to the Strawberry Fields salad, with spinach and arugula, and the Santa Fe, a vegan crepe lined with black bean spread and stuffed with Beyond Burger crumbles, onions, peppers, and salsa. And I never leave without a piece of its fluffy, moist banana bread, served warm and redolent with fruit and spices.
Gulu-Gulu also hosts live entertainment, like music, drag brunches, and a kitschy-comic take on bingo.
2. Bambolina & Kokeshi
Two polar-opposite concepts in the same space, these two restaurants are fresh, modern, and fun. Pre-pandemic, Kokeshi was in its own building — a kicky retro spot with lots of Japanese and Chinese décor and vintage kung-fu films projected on a large brick wall. It has now joined forces in Bambolina's industrial-chic space, which has high ceilings with exposed wood beams, hanging pendant lamps and Edison bulbs, and a long, steel-top bar for communal seating.
Bambolina ("baby doll" in Italian) serves artisanal, wood-fired Neapolitan pizza and a short selection of pasta. My favorite pizza is the Forest Mushroom, with a roasted garlic cream sauce, mixed mushrooms, Pecorino Romano, truffle oil, and arugula. My husband likes the Capricciosa, which is topped with crushed tomatoes, baby artichokes, Black Forest ham, oil-cured black olive, and fresh mozzarella.
Kokeshi is all about Asian street foods and noodles, from kimchi to dumplings. I'm partial to the Ahi Tuna Poke — a bed of sticky rice piled with cucumber, radish, wasabi peas, and marinated tuna, and drizzled with a chili crisp aioli — but the rotating selection of steaming ramen bowls are also great.
3. Adea's Mediterranean Kitchen
Hearty, healthy, satisfying, and very reasonably priced — Adea's checks a lot of boxes for both foodies and casual diners. It's open only for lunch, so set aside one of your afternoon meals just for this recent addition to the Salem dining scene. The interior isn't anything to write home about, but once your food arrives, you'll have much more important things to focus on.
Adea's doesn't have a large menu, but everything I've tried has been spot-on. I'm a felafel fan, so all of Adea's variations work for me — served with creamy house-made hummus — in a pita with lettuce, tomatoes, cucumber, and tahini — or on a sampler platter with baba ghanoush and stuffed grape leaves (also excellent). On my last visit, I had sabich, or fried eggplant, boiled eggs, pickles, lettuce, tomato, and tahini in a pita. Cold weather calls for the shakshuka, poached eggs in a tomato-based sauce, served with warm pita.
4. Turner's Seafood
Turner's Seafood is a North Shore institution, with a fishing business that dates back to the 1920s. There are now three restaurants and two shops under the Turner's umbrella around the region, including this one, in Lyceum Hall.
An entertainment hot spot in the early 1800s, it was one of several thousand such halls in the United States that offered a mix of lectures, debates, live music, and more. Salem is known for being the site of the very first telephone call, demonstrated by Alexander Graham Bell to his assistant in Boston during an 1877 lecture. Because the building was erected over what was once an orchard owned by Bridget Bishop, the first victim of the Salem Witch Trials, it's widely regarded to be haunted.
For the record, I have dined at Turner's during the day and at night. I walked by it after dark, and stood in front of it, gazing up at the second-floor windows with other eager night-tour visitors. Even when they claimed to see shadowy figures in the upstairs windows, I saw bupkis.
Other than good food, that is. Turner's has an extensive seafood menu. You'll find dozens of coastal favorites: New England clam chowder, lobster rolls, crab cakes, clams casino, and more. It also has some non-seafood dishes, but that's really not the point of visiting, is it? The tuna sashimi appetizer is great — lightly seared on the edges and raw on the inside, with a sprinkling of sesame seeds. And I could write an entire essay about the lobster pie, with generous chunks of fresh meat and a crispy broiled topping.
Turner's fills up for dinner quickly. Get there early for any hope of getting a table.
5. Bella Verona
This pint-size trattoria is quaint and traditional, in the best possible way. From the checkered tablecloths to the punched-tin wall tiles and abundance of tchotchkes along a high shelf that rings most of the restaurant, Bella Verona feels old school and welcoming, and something like the Italian restaurant my grandfather owned when I was a kid.
Open since 1996, Bella Verona serves Northern Italian recipes like grilled calamari, tortellini mantecato (stuffed pasta with peas and mushrooms, baked in a Parmesan cream sauce), and linguine capesante e gamberi (pasta with scallops and shrimp in a light, spicy tomato sauce). Save room for the panna cotta with fresh berries.
Bella Verona hasn't just made an impression on me. On a research trip to Salem this summer, I met Jim and Alicia Farugia, Salem superfans who have vacationed in the city 130 times over the past 20 years. Bella Verona is so special to the couple that Jim proposed to Alicia there.
6. Settler
Billing itself as "New American," Settler blends traditional European, especially French, cooking techniques with local foods and modern flavor combinations. This is not a place for a quick dinner on the cheap. But if you're up for a leisurely splurge, book your reservation before you get to Salem.
Settler has perhaps the loveliest interior design of any restaurant in Salem. It's full of warm woods and leather banquettes and has a high-contrast color palette of black, white, and shades of gray. It's moody without being dark and feels upscale yet casual.
To me, everything on Settler's seasonal menu sounds amazing. I only wished I lived close enough that I go every night until I tried it all. Current favorites include the Moroccan Spiced Squash Veloute, Pumpkin-Ricotta Gnocchi (with the bit of amaretto in its creamy sauce), and the Nova Scotia halibut, served with a tangy, caper-and lemon-based sauce and the crunch of hazelnuts.
7. Ledger
A mainstay for the cocktails crowd, Ledger has a substantial menu with meat-based, vegetarian, and vegan-friendly options. Situated in a historic bank building, it has the feeling of a luxury loft, with exposed brick walls, wood floors, hanging pendant lamps, and lots of metal and wood accents.
Some recent online reviews have noted that service at Ledger wasn't the friendliest. This hasn't been my experience, but it's something to be aware of. Also, something to be aware of: most restaurants are doing their best to provide efficient service, despite staff vacancies caused by the so-called Great Resignation currently gripping the country. We could all stand to be a little kinder and more patient when dining out.
Start with a beverage. Ledger offers an impressive choice of wine, beer, hard cider, and spirits, plus a shortlist of creative cocktails. I'm a pescatarian, so I don't eat meat or meat products, but my husband says the popovers (made with beef fat) are phenomenal. I love the seasonal pasta. And the Curried Cauliflower, with lentils, leeks, almonds, and apricot chutney, is rich and satisfying.
Pro Tip: Ready to sweeten the pot? Stop at Caramel French Patisserie for traditional French pastry, or Jodi Bee Bakes for vegan cupcakes, cookies, and more. Pick up fresh, warm "fatties" (oversized cookies) at Goodnight Fatty. For traditional New England sweets, like saltwater taffy, fudge, and toffee, visit Harbor Sweets and Ye Olde Pepper Candy Companie, the oldest candy maker in the United States. If you prefer treats of the frosty variety, head to Melt for handcrafted ice cream in a number of regular and rotating flavors.