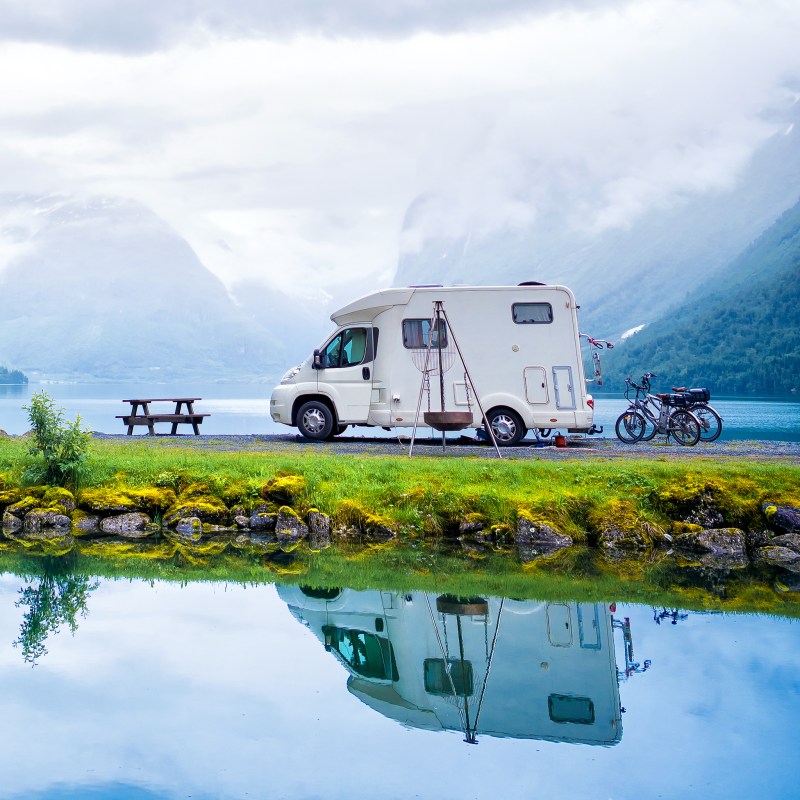 Do you love to travel but are tired of the annoyance caused by dealing with airport delays? Do you have pets and don't want to leave them behind? Think that maybe a trip in an RV sounds like an exciting way to see the country?
If you like making your own schedule and creating your own unique adventures, then you should consider an RV trip.
RV travel is a growing trend. More people are traveling the country by RV than ever before. Many of the newer RVs are smaller and designed for single or twosome travelers. Design improvements make them as easy to drive as your family sedan.
Let me share some of the biggest pros and cons of RV travel with you.
Pro: RV Travel Helps You Avoid The Hassle Of Airports
Flying used to be a great way to travel. These days, airports have become crowded, lines are long, and the airlines pack you into planes like sardines in a tin can. The inconveniences don't stop there. You must plan on arriving at least an hour and a half before your flight just to get through security.
Wouldn't it be great to travel on your own time schedule? If you travel by RV, you can do just that. Forget long lines and taking off your shoes. Quit trying to pack your life into a carry-on. Bring along as many shoes and clothes as you want, and while you are at it, feel free to throw in those personal comforts from home. There are no rules that say you have to fit anything into a 3-ounce container when you travel by RV!
Con: It Takes Time To Get There
Traveling by RV allows you to be on your own schedule, but you will need to plan time to get wherever you're going. Many experienced RV travelers will tell you to plan to drive no more than about 300 miles or four hours per day. You don't want to arrive too exhausted to explore, do you?
Travel times can also be dependent on the type of RV you are traveling in. There are many options when it comes to the sizes and types of RV you can rent or purchase. The good news: You can pick one that you drive or one that you tow behind your car. In most states, unless you are driving a very large RV (over 45 feet) or towing one over 10,000 pounds, you won't need a special license. Of course you will need to plan time for fuel stops, and sometimes weather can affect your travel times.
Plan your RV adventure to give yourself time to live life in the slow lane if you feel like it!
Pro: When You Travel by RV, You Get to Really Experience The Journey
When you travel by RV, you get to actually see the country, which isn't the case when you're flying over it at 20,000 feet. You'll learn to appreciate the beauty and splendor of the color change of the leaves on the Blue Ridge Parkway and can experience the jaw-dropping magnificence of the Grand Canyon, even if you're just passing through.
We've all seen pictures of these places. Wouldn't it be much more fun to take your own pictures of incredible locations that you visit on your adventure? You can bring along all of your electronic gadgets and share pictures and videos of your travels along the way!
Con (Or Pro?): RV Travel Means You Control Your Own Itinerary
If you like to be in control of your travel time and locations, then this one is not a big deal. That said, if you are not a planner, you may need some help with this. RV travel does require that you plan your route, and depending on the time of year, you may need to make your park reservations in advance.
Most RV rental agencies offer trip planning advice and recommendations, so don't let this one keep you from hitting the road, but do stick to a plan!
Pro: You Can Bring Your Pets With You In An RV
Do you want to travel, but don't want to leave your pets behind? One great advantage of RV travel is that you can bring your pets along with you. Many RV parks have dog parks, and kitties can stay comfortably inside. Most RV rental agencies allow pets for a small additional fee.
You will want to make sure to bring along a kennel or some way to contain your pet inside the RV.
Con: Not All RV Parks Are Pet-Friendly
Most national, state, and private parks do allow pets, provided they are on leashes and are well behaved. Some RV parks have restrictions on what type of dog breeds they allow, though. The most common RV park breed restriction we see is for pit bulls. A few RV parks have a strict no-dog rule. Cats are allowed in all parks provided you do not let them stray outside the RV.
While you are doing your trip planning, make sure you check websites or call ahead to ensure your pet is welcome.
Pro: You'll Meet Lots Of New Friends In RV Parks
People who travel by RV are generally very social. Don't be surprised if you arrive at a new location and someone immediately stops by to invite you to happy hour or a potluck dinner.
This is a great way to make new friends and share stories of your adventures with like-minded travelers. Many of the people you meet will have a wealth of experience and can offer great advice for things to do or see that aren't in the tour books.
You don't have to worry about being too lonely, even if you are a solo RV traveler.
Con (Or Pro?): RV Travelers Enjoy Interaction
If you prefer solitude or are a little shy, other RV travelers may seem a little too friendly. Don't let this put you off though, a gentle no thank you to their invites will be greeted with a smile and a wish for safe travels on your journey.
RV Travel Is A Great Way To See America On A Budget
RV travel can often cost less than air travel. According to a recent RV Industry Association (RVIA) survey, "more than 81 percent of respondents agree that traveling by RV can save 25 percent or more over other types of travel." According to RVIA president Frank Hugelmeyer, "RVing is more popular than ever and the market remains hot as younger and more diverse people learn how RVing can fit their lifestyles. RVs offer unparalleled flexibility to enjoy many different kinds of vacations and outdoor recreation activities. Whatever the activity, RVs are a comfortable and convenient way to escape stress and spend time with friends and loved ones — without breaking the budget."
You can normally rent an RV for as little as a weekend and as long as a month. Rates do vary greatly depending on the size of the RV and the season, but it can work out to be more cost-effective than staying in hotels. Plus, you can save money by cooking your meals in your RV's kitchen.
Experience The Freedom Of RV Travel
Are you tired of the same boring travel itineraries, just seeing and not experiencing the journey? Do you yearn for an adventure that is custom made just for you? Do you want the freedom to go where you want, when you want?
Maybe an RV trip is exactly what you need to make more great memories! Packing for your first trip? Don't forget the RV essentials: eight tools and gadgets you didn't know you needed!