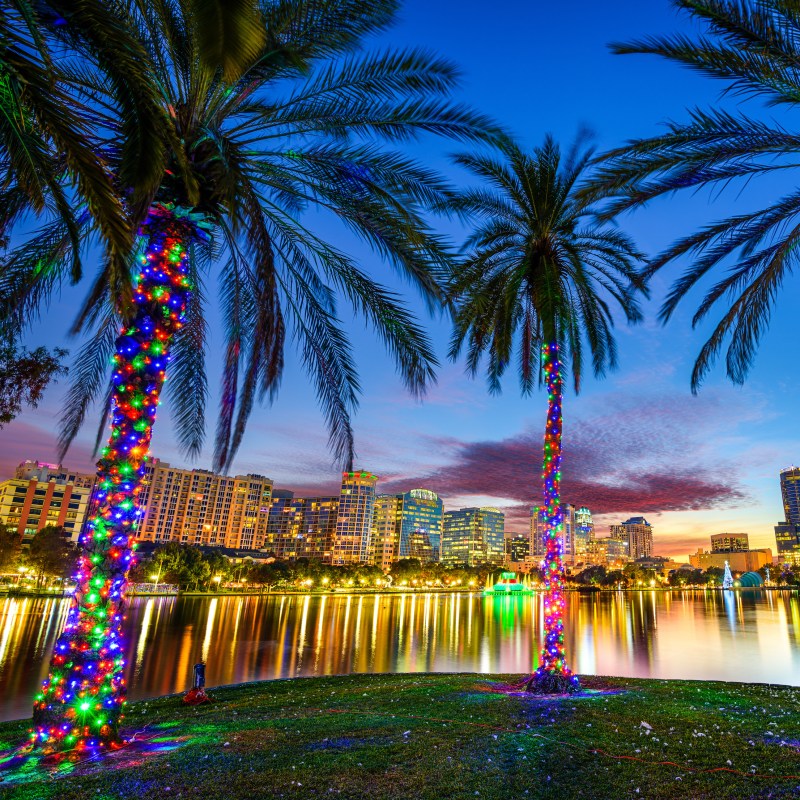 When you think of Christmas, you probably think of sleigh bells, snow flurries, and fleece coats. But for some travelers, the idea of a white Christmas is far less than holly jolly. These travelers seek warmer climes that still retain a festive spirit. Fortunately, there are plenty of destinations around the world that are both merry and mild.
Here are 8 warm cities to visit during the Christmas season.
1. Orlando, Florida
Orlando is home to the Happiest Place on Earth, and the city sparkles with magic come Christmas. Every holiday season, both the city and its resident theme parks and hotels come alive with thousands of lights, glittering garlands, and the sound of Christmas carols. Add to that an average daytime temperature of 73 degrees all December long. Does it really get more wonderful than that?
Of course, Walt Disney World adds an extra sprinkling of glitter when it comes to the holidays. All four theme parks put on quite the holiday spectacle, which is always wonderful when spending Christmas with the entire family in tow. Start with the Magic Kingdom, where Cinderella Castle glows with white lights, snow falls on Main Street, and Mickey hosts his very own Very Merry Christmas Party. There are also fireworks and a holiday parade. Another highlight is the Epcot International Festival of the Holidays, included with regular admission, which features seasonal sweets from around the world, a nightly Candlelight Processional, fireworks, and live musical performances. The festival runs from November 18 to December 30.
Of course, you don't have to have park access to celebrate the holidays in Orlando. Visit Lake Eola Park's Walt Disney Amphitheater in downtown Orlando between December 1 and January 6 to gape at the 72-foot Christmas tree that dazzles crowds with a synchronized light, music, and fountain show. Then, explore a world of handcarved ice sculptures based on the Christmas classic A Christmas Story. The annual holiday celebration features more than 2 million pounds of carved ice.
2. Tybee Island, Georgia
Savannah, Georgia, is one of America's most beloved destinations, known for its Gothic Revival architecture, heavy-hanging willow trees, and alluring Southern charm. But just 20 minutes from downtown Savannah is Georgia's best-kept secret, and one of the most charming (and warm) places to spend the holidays.
Tybee Island, a 5-mile beach full of history and hidden gems, is the perfect place to enjoy an under-the-radar beach holiday. While the rest of the country bundles up, Tybee Island's mild winter temperatures provide a haven for travelers looking to trade the snow for some sand. And Christmas is one of the most magical times to explore this slice of the South.
Tybee Island's small-town charm is on full display during the holidays. Don't miss the town's Christmas parade! If you extend your stay through the New Year, you will be treated to one of the largest fireworks displays in the Southeast. Tybee Island slows down during the winter months, making travel there a quiet, more intimate experience, and the off-season hotel rates are a great value. Choose from beachfront hotels or historic bed and breakfasts at heavily discounted rates.
3. Gustavia, Saint Barthélemy
One of the more refined Caribbean island destinations, Saint Barthélemy, or St. Barts, makes an idyllic getaway for a warm-weather Christmas. This tropical haven is renowned for its beautiful beaches, A-list restaurants and hotels, and, of course, its delicious December weather, with temperatures ranging between 75 and 86 degrees.
For the past 10 years, the tourism committee on St. Barts has hosted the annual Christmas Village on the dock at the Port of Gustavia. Picture streets adorned with sparkling lights and sidewalks lined with local artisans debuting their newest lines just in time for holiday shopping. St. Barts also hosts spectacular holiday markets that include culinary treats native to the island. On December 9, a Santa Claus parade will take to the streets, with the man himself making a special appearance. The Christmas Village will be open on nine days in December (December 7-9, 14-16, and 21-23) from 5 p.m. to 10 p.m.
Extend your trip through the New Year to enjoy the New Year's Eve Regatta, which departs from the capital, Gustavia, on December 31. A mesmerizing fireworks display will take place in the harbor at midnight, and there will be live music on the docks. Tip: The best place to see the fireworks show is up above Cour Vendôme or on the docks of the Port of Gustavia.
4. Willemstad, Curaçao
We can't deny that the Caribbean is a splendid option for travelers wanting a warm-weather Christmas. That's why Curaçao, with its rich European heritage, is at the top of our list. This Dutch island is a December paradise, with year-round sunshine and 80-degree temperatures. Curacao has 35 cove-like beaches, electric blue water, and unique colonial architecture that transports travelers to Europe for a fraction of the price and sans jet lag.
Christmas is a wonderful time to explore Curaçao. The yearly holiday celebration begins when Sinterklaas (Saint Nicholas) arrives on November 18 in Willemstad on a boat that, legend has it, comes from Europe. A crowd greets him as he enters Sint Anna Bay on a tugboat decorated with flags, throwing candy and goodies to the children lined up on the shore. After passing the iconic Handelskade backdrop, he parades through the city on horseback, singing festive songs and doling out candy and gingerbread. The night before he leaves Curaçao, on December 6, children put their shoes by their fireplace or outside their home and fill them with hay and carrots for Sinterklaas's horse to munch on as he delivers their presents.
Along with the holiday cheer that Sinterklaas brings, the Queen Emma Bridge in Willemstad is festively lit, while the streets and buildings of the capital are decorated with Christmas colors, making it the perfect winter wonderland in the warm, tropical Caribbean.
5. Barcelona, Spain
Barcelona is a city rich in culture, which makes it a fabulous destination for a warm Christmas getaway on the Mediterranean. With temperatures hovering in the 60s, travelers can spend their days outdoors exploring the colorful Park Güell, basking in the glory of La Sagrada Família, and checking out the stunning Museu Picasso.
During Christmastime, Spain's beloved city becomes even more spectacular. The festivities include Nativity scenes scattered throughout the city, a variety of Christmas markets, Christmas Eve Mass at almost every church, and, of course, the traditional Tió de Nadal, the Christmas log. The log is "fed" for days leading up to Christmas, and when it is ready, the locals sing to it and hit it with sticks so that the presents that are hiding inside fall out.
But the party doesn't stop there. For 12 days following Christmas, Barcelona's festivities continue, leading up to the feast of the Epiphany on January 6. The feast commemorates the day the Three Kings visited the child Jesus, presenting him with gifts of gold, frankincense, and myrrh.
6. Paso Robles, California
This December destination boasts zero inches of snow per year and an average of 286 days of sunshine. We'll drink to that — literally. Paso Robles, California, is a beautiful getaway along the Central Coast wine trail, with December highs in the 60s and lots of sunshine.
Come Christmastime, the city celebrates with its annual Christmas Light Parade. This year, the parade will take place on December 7 in downtown Paso Robles. The Vine Street Victorian Christmas Showcase takes place on December 14. This annual community Christmas party attracts a cast of familiar characters, including Ebenezer Scrooge, the Snow Queen, Mr. and Mrs. Claus, and more. Visitors enjoy caroling, floats, entertainment, open houses, cotton candy, cookies, and hot chocolate.
To celebrate the holidays with a glass of the native beverage, consider visiting the 46 East Holiday Open House hosted by the Wineries of 46 East. These wineries and hotels are located on California State Route 46 East, and at their annual holiday open house, locals and visitors alike are welcome to shop and sip at the member wineries. Each of the wineries opens its doors in holiday style, offering special sales along with seasonal treats. It's the perfect place to slip into the holiday spirit — and get some Christmas shopping done in the process.
7. Tucson, Arizona
The stark, rugged desert of the American Southwest is alluring at any time of year, but Christmastime is without a doubt one of the best times to visit. Tucson, Arizona, in particular, makes an ideal warm-weather getaway in December and with plenty of things to do. With an average high of 66 degrees, the weather provides plenty of opportunities to get outside and be active over the holidays.
Start with Saguaro National Park. Rent a bike and enjoy the Loop, more than 130 miles of car-free paths that encircle the city, or hike one of the many trails that lead to the five mountain ranges rising up beyond Tucson.
Tucson's downtown scene is the heart of the city, pulsing with culture, art, and culinary delights. In fact, Tucson was one of the first cities to be recognized as a UNESCO Creative City of Gastronomy in the United States. The distinction recognizes the city's culinary and agricultural heritage; food has been grown in the region for more than 4,000 years.
This year marks the 70th Annual Winterhaven Festival of Lights, one of the longest-running festivals of its kind in the country and a Tucson Christmas tradition. As part of the event, homeowners in the Midtown neighborhood deck out their houses in flashy lights and Christmas decor. The two-week event attracts thousands of visitors each year. In fact, the neighborhood was developed in the 1940s with a Festival of Lights-style display in mind. Developer C.B. Richards visited a similar neighborhood in Beverly Hills in the 1930s and kept Christmastime in mind while designing Winterhaven. You'll love the enormous pine trees and Christmas Avenue.
8. Charleston, South Carolina
There's no better place to spend the holidays than the Holy City itself. Charleston, South Carolina, known for its comfortable winter temperatures, fantastic food scene, architecture, and art transforms into a real-life Charles Dickens scene every December. Travelers can relish the ambiance of Christmas circa 1828 with city-wide events like James Island's 30th Annual Holiday Festival of Lights and the candlelight tours at the 19th-century Nathaniel Russell House.
The Holiday Festival of Lights runs from November 15 to January 1 at James Island County Park. Enjoy the brilliant holiday lights displays as well as treats from Santa's Sweet Shop, special events, giant greeting cards created by area students, and more. The candlelight tours take guests back in time on a 45-minute visit to the historic Nathaniel Russell House, complete with a glass of wine following the tour.
Those looking to spend time in the heart of the Historic District can stay in the Southern Sleigh Bell Suite at French Quarter Inn, which goes all out with its holiday decor, including garlands, mistletoe, and a Christmas tree. Guests can enjoy freshly baked warm cookies and milk while cozying up to the fireplace. Another option is HarbourView Inn, where Christmas carolers appear with Santa Claus on Christmas Eve.