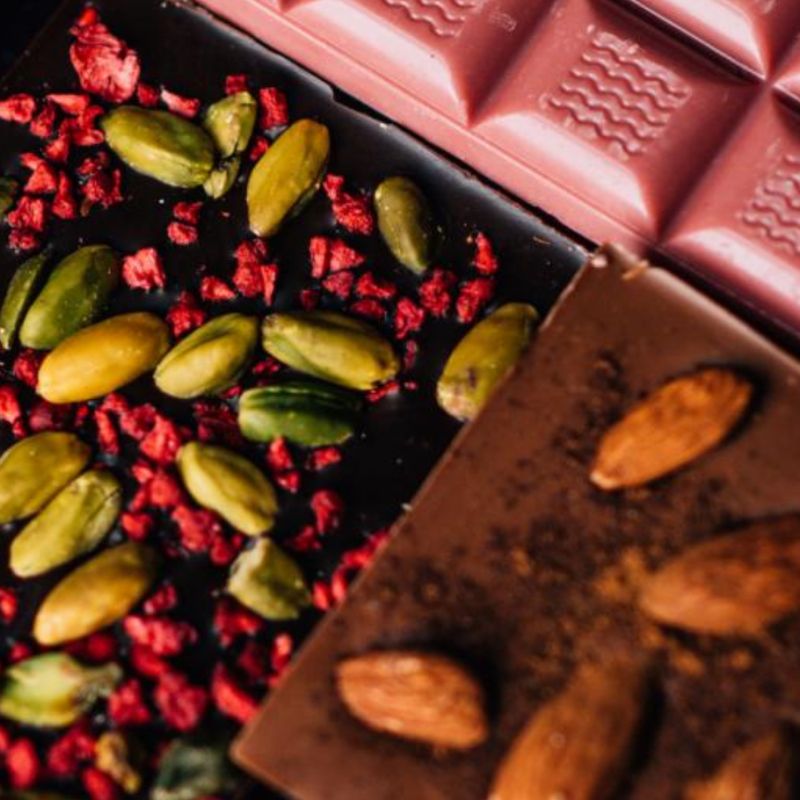 Ask anyone in all of Hungary where to go for chocolate and pastries and, inevitably, one name will be at the top of the list: Szamos. The legendary confectioner is nearly 90 years old and a bonafide Budapest institution. Still family owned to this day, the company has expanded to include outlets in Vienna, but the quintessential experience is to visit one of their central Budapest cafes for a bar of chocolate (or two!) and cake. Of all of their locations, there is one that you should visit above all others: its new location, adjacent to the Hungarian Parliament at Kossuth Square.
Visit and you'll find yourself in the heart of central Budapest, close to many tourist attractions and the banks of the Danube River. But it would be well worth seeking out this particular Szamos even if it wasn't so easy to get to. This location is not only set up differently from all the other Szamos shops; it's also home to a secret chocolate museum!
That's right – a chocolate museum! You'll sometimes see it described as a marzipan museum, and the confusion is understandable. Szamos has a marzipan museum and workshop in the Hungarian town of Szentendre. Marzipan, a moldable paste of ground almonds and sugar, is nearly as common as chocolate in Budapest. It plays a key role in flavoring and decorating confections and cakes around the country and is a hallmark flavor of Szamos' treats. Its unique texture makes it the perfect material to craft edible decorations, such as miniature fruits, animals, and flowers.
If you're really ambitious, you could even sculpt a perfect scale replica of the Hungarian Parliament building! One of the Szamos Chocolate Museum's star artifacts is a 160cm scale model of the building – made of 100% marzipan. I shudder to think of how many hours went into building it – and how many times a delicate awning or doorway would crack, requiring that piece to be made once again. There are many cute miniature marzipans on display (watch out for the Disney characters!) but a miniature copy of the coronation jewelry is well worth pausing at – as is the world's largest marzipan, a 78-kilo marzipan Swiss maiden.
While it's easy to get distracted by all the marzipan, the chocolate is the star of the show at Szamos Chocolate Museum. There are six rooms, outlining the history of chocolate, the growth of cocoa and the production of chocolate, and the technique of chocolate moulding. There are also plenty of opportunities for tasting along the way! The interactive experience also includes a chocolate pouring, where a trained chocolatier pours hot, freshly concocted chocolate onto the work surface where guests can then flavor and decorate their own chocolate bar.
The museum has a large collection of vintage chocolate-themed porcelain. Antique lovers will appreciate the Meissen porcelain hot chocolate service dishes. Less charming are some vintage products that employ racist caricatures in their design. While they are obviously a relic of bygone times, it's disappointing that they aren't displayed in proper historical context, explaining the legacy of colonialism in cocoa production. It's a missed opportunity in an otherwise excellent small museum.
Earlier I mentioned that the museum is part of a unique Szamos shop that is unlike the 25+ others in the company. It is branded as "Szamos Today" and it's the first shop in the company that is built along a self-serve model. For North American guests, that might not sound too unusual. Don't you order coffee and cake at the counter in most cafes? Not in Budapest! Or, at the very least, not in a Szamos. Part of what makes the shop such a local institution is that it has famous service. What could be fancier than having a natty waiter fuss over your precise coffee order, all while presenting a comprehensive list of luxurious cakes and pastries to choose from?
Frankly, there's room in Budapest for both styles. Szamos Today has a young, energetic atmosphere, very suitable to the inevitable tourist traffic that pops in for a coffee after a visit to Parliament or stays for cake after a visit to the Chocolate Museum. During my visit, I tried not one but two pieces of cake. I'm nothing if not dedicated to my research! A chocolate hazelnut cake made my inner Nutella-loving child swoon, while the Hungarian classic Esterházy torta (named after a Hungarian noble family) combined almond meringue dough, orange liquor, walnuts, and fondant. It's one of Szamos most popular cakes and I enjoyed it very much – but it's really hard to win when chocolate and hazelnut is your competition!
There is no shortage of excellent cafes, patisseries, and confectioners in Budapest. As an intrepid traveler, it's your duty to visit as many as possible. But if you can only put one on your must-see list, make it Szamos Today. I love the combination of old-world recipes with a modern set up. The delightful Chocolate Museum is the icing – wait, make the marzipan – on the cake.