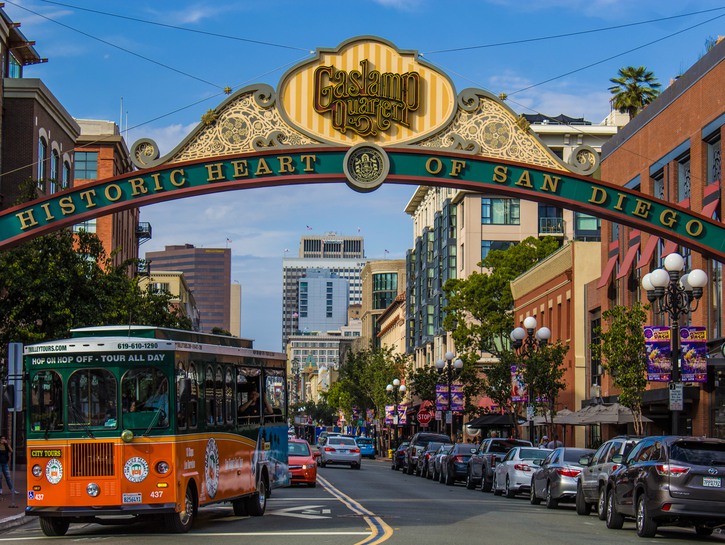 San Diego is known for its favorable year-round weather, beautiful coastal beaches, and bustling nightlife.
But in the last decade or so, San Diego's dining scene has flourished dramatically, and the city now houses several international neighborhoods with culinary specialties from around the world.
Besides Little Italy and Little India, Convoy District is San Diego's Asian restaurant row, lined with authentic eateries offering cuisines from Vietnam, Thailand, China, Japan, and Korea, while Barrio Logan is home to the city's best Mexican restaurants.
The following guide will inform you of everything you need to know about eating in San Diego's international neighborhoods, and which restaurants you shouldn't leave the city without trying.
Convoy District
Address: 4609 Convoy St.
Consistently ranked as one of Convoy District's best restaurants, Jasmine Seafood is a San Diego favorite and award-winning restaurant specializing in fresh seafood, dim sum, and other Cantonese Chinese cuisines. In business since 1993, Jasmine features a variety of popular Cantonese seafood dishes, including braised abalone, geoduck clam sashimi, and sweet and sour rock cod fillet.
Jasmine's group of master chefs have crossed the pond from Hong Kong and are expert at preparing the best and freshest dim sum dumplings. See how the chefs prepare dim sum daily in this captivating video.
Address: 4170 Convoy St.
If you're traveling to San Diego and have never gotten your hands on authentic Vietnamese pho, now's your chance.
Pho is arguably Vietnam's most popular dish, a soup consisting of a beef-based broth with rice noodles and a distinct herbal flavor. At Phuong Trang, traveler's can slurp up San Diego's best pho, or try the restaurant's second specialty, garlic chicken wings with butter.
Choosing a meal may be a bewildering process, though; Phuong Trang offers 248 different appetizers, soups, noodle dishes, and main courses. If you're overwhelmed by the restaurant's menu, waiters are delighted to steer you in the right direction, with suggestions such as fresh spring rolls, char-grilled shrimp, and beef wrapped in grape leaves.
Little India
Address: 9235 Activity Rd., Suite 111
If you're like me and are incredibly particular about what authentic Indian food is supposed to taste like, San Diego's Punjabi Tandoor is guaranteed to deliver the most bona fide Indian flavors.
Punjabi Tandoor offers typical Indian appetizers, such as chana samosa, vegetable pakora, and onion bhaji. San Diego locals favor the restaurant's chicken makhani, a curry dish cooked in butter, yogurt, and tomato gravy, then baked to perfection in a clay oven.
Another famed menu item is the tandoori mix, a combination of chicken tikka, seekh kebab, and tandoori chicken, skewered and baked until juicy and tender.
Pair any of these dishes with a side of garlic or regular naan, and you'll have yourself a complete Indian feast.
Address: 10330 Friars Rd.
Serving a variety of South Asian cuisines, Himalayan Curry & Grill specializes in a myriad of Indian, Nepalese, and Tibetan dishes. Priding itself on its spicy and healthy meals, Himalayan Curry & Grill is a perfect option for vegetarian eaters.
The restaurant features an extensive list of vegetarian dishes, including veggie vindaloo, vegetable makhani, mushroom tikka masala, and saag aloo — a dish made primarily from spinach and potatoes, cooked with creamy sauce and accompanied by Himalayan herbs and spices.
The restaurant's other most popular dishes include vegetable samosa, mixed tandoori, lamb curry, Himalayan balti, and malai kofta.
Honorary Mention
Address: 9474 Black Mountain Rd., Suite A
We're giving Baba Kabob an honorary mention because, although it's only been open for a few short months, it has a five-star rating across the board and people can't seem to stop ranting and raving about this new fusion restaurant.
While San Diego's Little India neighborhood focuses mainly on Indian food (duh), Baba Kabob features a delectable mix of cuisines, such as Afghan, Mediterranean, and Halal.
Start your meal at Baba Kabob with some house specialties, such as potato Bolani or chives Bolani, a typical Afghan flatbread.
For your entree, choose between popular dishes such as chicken or beef kabob, kofta, shawarma, or the Baba Kabob sandwich, a specialty served with gyro meat alongside chicken shawarma, topped with french fries, and bundled in between a warm pita.
Little Italy
Address: 1747 India St.
With a history dating back to the early 1900s, Filippi's Pizza Grotto will have you licking your fingers and saying, "Now that's amore!"
Original owner Vincent DePhilippis was born in New York City and raised in Naples, Italy. At the age of 18, Vincent returned to the U.S. where he met and wed his wife Madeleine in 1925.
After moving to San Diego in 1947, the pair opened up a restaurant three short years later in 1950, and created a long-lasting family business that is still very much alive today, known as Filippi's Pizza Grotto.
With more than 15 locations throughout California, Filippi's Pizza Grotto specializes in various pizzas and pasta, especially known for the Shrimp Filipi, a macaroni pasta dish made with bay shrimp, mushrooms, olive oil, and scallions cooked in a butter and white wine sauce.
Address: 2034 Kettner Blvd.
RoVino Rotisserie + Wine tips its hat to its Italian ancestors who immigrated to the U.S., committed to upholding Sicilian and Northern Italian cuisine based on traditional fresh recipes. Just like in a rustic Italian village, they support local growers whenever possible.
RoVino's fresh and authentic cooking incorporates hormone-free meats, hormone and range-free chicken, and homemade pasta and sauces made daily.
Specialties at RoVino's include cavolini croccanti (crispy Brussel sprouts), risotto al funghi (mushroom risotto), and branzino, a whole Mediterranean seabass stuffed with citrus and herbs, orzo salad, and topped with sauteed heirloom tomatoes.
Barrio Logan
Address: 1857 Logan Ave.
Las Cuatro Milpas is a San Diego institution, established in 1933 and forever dedicated to serving the best homestyle Mexican food.
Margarita Hernandez is the eldest grandchild who currently runs the business that her grandparent's started. She told Eater San Diego that, at the time of its opening, the restaurant only had one table, but today has grown to span three entire dining rooms.
This cash-only hotspot staffed primarily by women serves authentic Mexican favorites such as tacos, tamales, and on Saturdays only, serves a delicious Menudo, a traditional Mexican soup made with beef stomach and a red pepper chili base.
Address: 2154 Logan Ave.
Known for having the best chilaquiles in San Diego, El Carrito features locally crafted Mexican eats and is situated a block from Chicano Park.
Serving breakfast all day, early morning specialties include huevos rancheros and huevos a la Mexicana, made with scrambled eggs, ham, tomato, onions, and jalapenños.