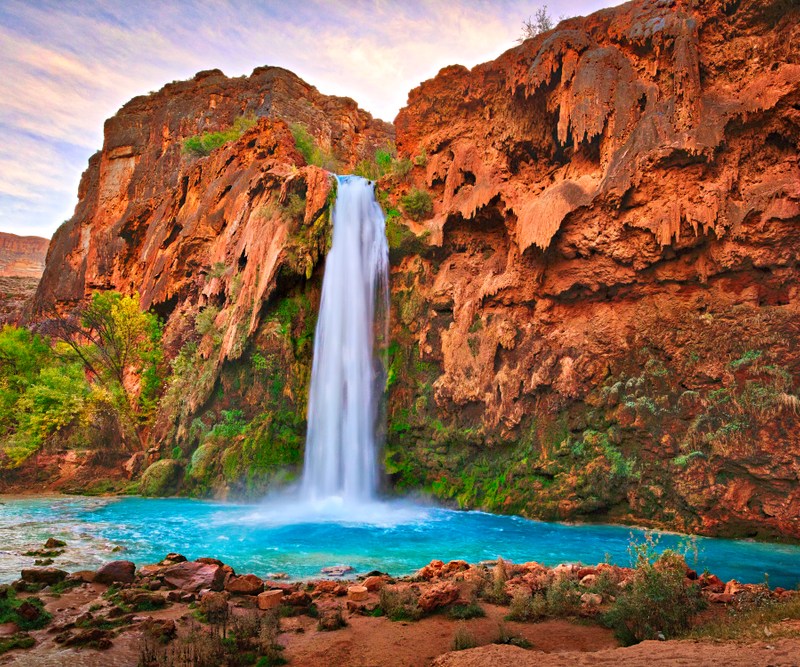 From within the sea of oranges, browns, and grays of the Grand Canyon, unexpected colors jump out, from the delicate pink of a tenacious wildflower to the vermilion of the sky at sunset. But none are as electrifying as the vivid turquoise of the Havasupai Waterfalls.
The Havasupai Waterfalls are considered one of the Grand Canyon's most stunning natural features. Of the five waterfalls, Havasu Falls are the most famous. That's not to say that the other four — Navajo Falls, Fifty Foot Falls, Mooney Falls, and Beaver Falls — aren't beautiful in their own right. But there's something about Havasu that just takes your breath away. Visiting this little paradise, with its aqua waters and lush vegetation surrounded by terra-cotta cliffs, requires some careful planning, but the reward is well worth the effort.
Where Are The Havasu Falls?
The Havasu Falls are located within the Grand Canyon, but visitors who arrive at the main gates at the South Rim of Grand Canyon National Park are in for a big surprise! The Falls are outside the boundaries of the national park and are a whopping 4-hour drive from the main gates; they are located near Supai, a village on land administered by the Havasupai Tribe.
From Williams, Arizona, head west on Interstate 40 to Seligman, Arizona. Turn off onto U.S. Route 66 in Seligman. Watch for Indian Highway 18, and then turn right and travel 63 miles north to Hualapai Hilltop.
Once you're there, you're still not in the clear! From the Hualapai Hilltop trailhead, part of the Havasupai Reservation, you must hike 8 miles to the lodge and tourist office in Supai. And there's still more to go! You must walk another 2 miles to the campground. Trust me, though — it's all worth it!
The community of Peach Spring, which is just past the turnoff to Indian Highway 18, is the closest spot to the Falls for gas, food, and water. There are no services at Hualapai Hilltop. However, in Supai there is a basic café (think burgers and fries) and a small store containing an assortment of canned goods — and ice cream!
When Is The Best Time To Visit Havasu Falls?
The Falls are closed from the end of November to the beginning of February. That's probably for the best — nobody wants to go camping in winter, after all. Peak season runs from March to October — pretty much the entire time that the Falls are open.
Note that in the summer months, the temperature can reach 115 degrees. When it exceeds 115 degrees (which does happen!), the trails may close. Summertime is also when the area is most prone to flash floods. Unless you're really into pushing your limits, avoiding July and August isn't a bad idea. The temperatures might be great for swimming your cares away, but the heat while hiking isn't worth it.
June and September give you the best of both worlds. The temperatures are slightly more bearable (though you should still be cautious), and the water is pleasant for swimming.
Ultimately, though, it pays to be flexible. Some of the most popular dates sell out almost instantly when online reservations open up. Having a few backup times in mind would be prudent. Keep in mind that February and November are still excellent times to travel, even if the water may be too cold for swimming. At least there won't be any bugs!
How Much Does It Cost To Go There, And How Do You Make A Reservation?
The journey is all for naught if you do not arrive with reservations. Get ready for some of the most important reservation instructions in the world!
There are absolutely no admissions without reservations.
There are always more reservation requests than there are actual spaces, and so early reservations are essential.
For environmental reasons, limits are placed on the number of nights you can stay should you get a reservation. The limit is currently set at three nights.
Reservations for 2019 opened up on February 1, 2019, at 8 a.m. MST. That day, you could make reservations for any date during the entire 2019 season, which runs from February to November.
The same reservation process will take place in February 2020. The date is likely to be February 1, but you should check for official confirmation.
Remember that hint about booking early? In 2019, every single spot went on the opening day, February 1. Be ready to spring into action!
You need an account with the reservation company in order to make your booking. Checking out the system in advance will help you get a feel for things before you make your move.
As of 2019, all reservations must be made online. Phone calls disrupt the work of the community.
Print your reservation confirmation and bring it on your trip. It will be checked along the way!
You cannot sell or exchange your reservation. The person in your party who made the reservation must be with you on the trip. Photo identification is required!
In 2019, the camping prices were $100 per person, per night on weekdays and $125 per person, per night on weekends.
There is also a lodge in Supai. Rooms cost $200 per night and can accommodate up to four people.
If you're hoping to visit the Falls on a day hike, you'll need to change your plans. Day hiking is not allowed; you'll have to stay for at least one night. Most travelers opt to stay for two or three nights so that they have time to visit all of the waterfalls and swim in their basins.
How Do You Get To Havasu Falls?
Securing a reservation is just the first step. As we mentioned, you must hike 10 miles from the trailhead to the campground. That's a challenging distance in the best of weather, let alone in the heat and along the uneven ground! You could, in theory, brave it and hike in with all your gear — assuming you're ultra-fit, experienced, and strong. But there are some alternative approaches that will make your experience more comfortable.
Pack mules are available for hire to help carry your gear. And, you guessed it — you'll need reservations! Hey, it's not every day you can reserve a mule online, but it's a necessity if you want one. Mules can take four bags each, with each bag weighing no more than 32 pounds or exceeding 36 inches by 19 inches by 19 inches. Hiring a mule costs a hefty $400 per round trip.
If comfort is a priority, you can hire a helicopter to transport you from the trailhead to Supai. Note that you'll still have to hike the 2 miles from Supai to the campground itself. A helicopter ride costs $85 per person, per ride. The cost includes one carry-on bag per person, and additional luggage is charged by weight. If you're bringing in camping gear, expect to pay a hefty fee for it, or arrange for it to be carried down by a pack mule. Curiously, helicopter service is the one thing you don't need reservations for. The company operates on a first-come, first-serve basis and provides service until everyone has been transported. Arrive at the trailhead by 10 a.m. to sign in and wait for your ride.
Can You Camp Near Havasu Falls?
The campground and ranger station are situated between Havasu Falls and Mooney Falls, and each landmark is just a short walk away from the campground. So while you won't be waking up right next to the gorgeous waterfalls, they'll be close by.
Once you arrive, you can choose any open spot in the designated camping zone. There are no numbered tent berths like the ones at state camping grounds. If you're especially keen to get a spot next to the river, start your journey very early in the day. Camping is only permitted by reservation, and no off-site camping is allowed. If you're caught sneaking your tent to a forbidden area, you'll be in big trouble!
Some Things To Keep In Mind When Visiting Havasu Falls
The Havasu Falls are much more than a beautiful natural feature. They're part of the sacred land of the Havasupai Tribe. When you're visiting the Falls, you're visiting someone's home. Your conduct should reflect the privilege of your visit and the importance of the site. Alcohol and drugs are strictly prohibited. Drones and risky activities such as rock climbing, jumping, and diving are not allowed.
Planning an Arizona road trip? Be sure to check out Horseshoe Bend, Antelope Canyon, and the Boyce-Thompson Arboretum.
Photo Credit: Anton Foltin / Shutterstock